This past weekend I was in DC for the first time since the summer of 2009, when I lived there for three months. While I've followed the transportation developments in the city, thanks to excellent blogs like Greatergreaterwashington and Washcycle, I hadn't actually set foot in the city since. I got to appreciate the large difference in reading about changes vs experiencing them in person. In this post, I will talk about what I saw during my weekend there. Unlike my trip to Philly, there aren't AS many pictures sadly.
Back in 2009, the city was a very different place when it came to bike infrastructure. Capital Bikeshare didn't exist, it was still the tiny Smartbike system. Pennsylvania Avenue was without the center cycle-track, and the 15h St cycle-track was just a design in a notebook. Generally, bike lanes were rare, and indeed during my time there in 2009 I barely used a bike. While I had one, I used it only a couple of times for recreation near my home in Takoma, and never downtown. This weekend, I must have ridden a loaned cycle at least ten times over the course of two and a half days.
I actually didn't ride metro at all this time. No train, no bus, no circulator. It wasn't just because I couldn't find my Smarttrip card (and DC has the nerve to charge you for the luxury of paying, if you need a new one), but simply because bike share was so much more convenient. Fatser AND cheaper? How could I say no? My friend has an annual subscription and loaned me her key while she rode on her bike.
I arrived in the city via Boltbus, which I've ridden before. The trip was fine, although we did take quite a scenic tour of Baltimore (which isn't exactly disclosed when buying a ticket). I've been to Baltimore, but hadn't quite toured the less touristy sections. I didn't realize the Baltimore close to their Penn Station was in such bad shape.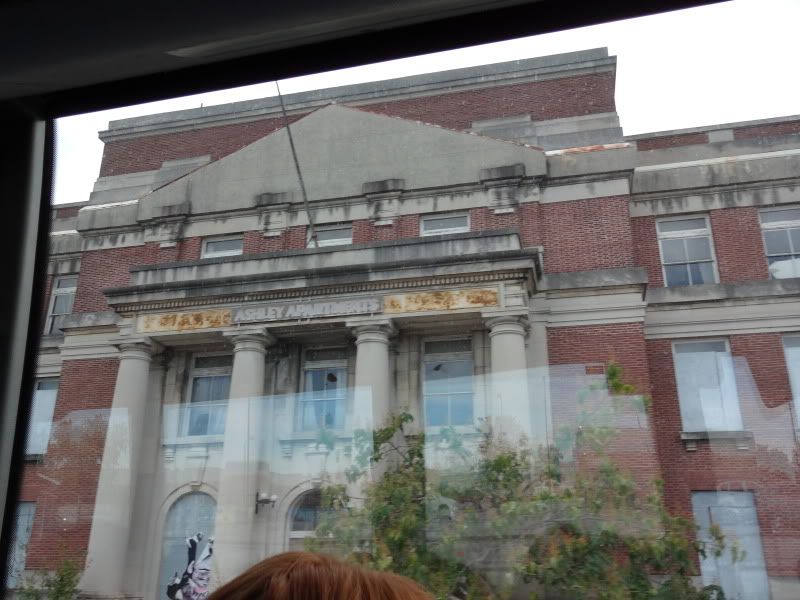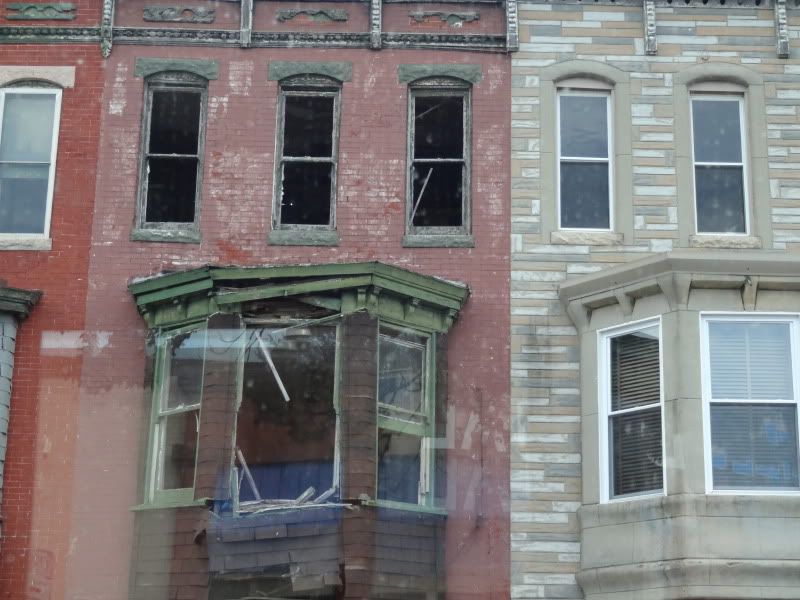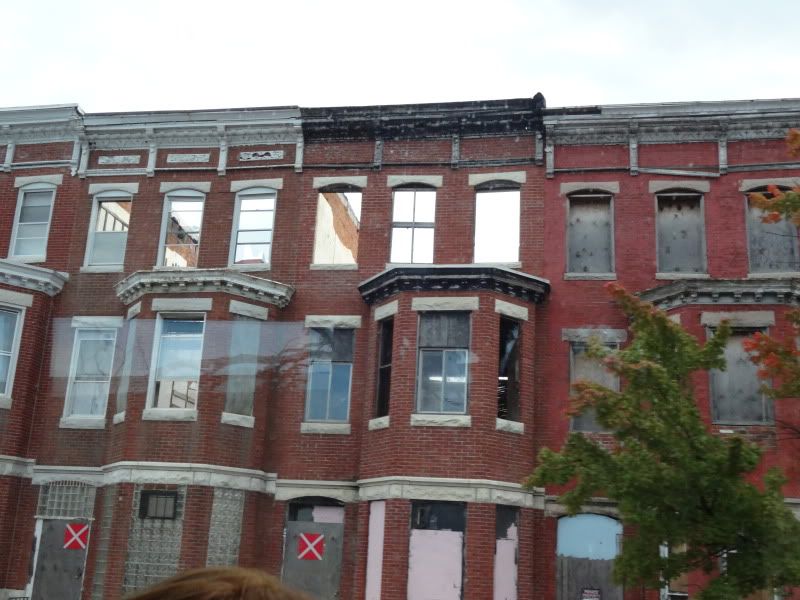 It was like mile after mile of this.
As we escaped Baltimore, I took this picture of this interesting highway infrastructure…didn't even notice the return BoltBus was there!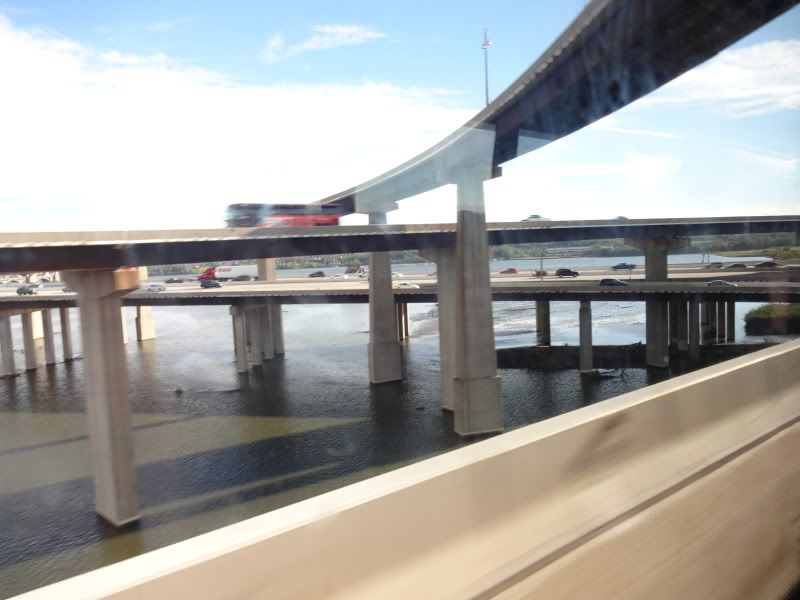 One note of warning for those taking Boltbus: My trip to DC was supposed to arrive at 4pm. There was little traffic, and we arrived at 5:30pm. My return trip was supposed to arrive at 4pm, and we didn't get back until 5:10pm…on a Sunday with zero traffic. Some more honesty with the schedule would be nice, as 4pm was never going to happen. Would have helped me make plans.
Anyway, so while I lived in DC before, I never actually had been to Union Station. Yes, I rode through it every day on the red line, but never got off…. I was impressed.
THIS is what a train station should look like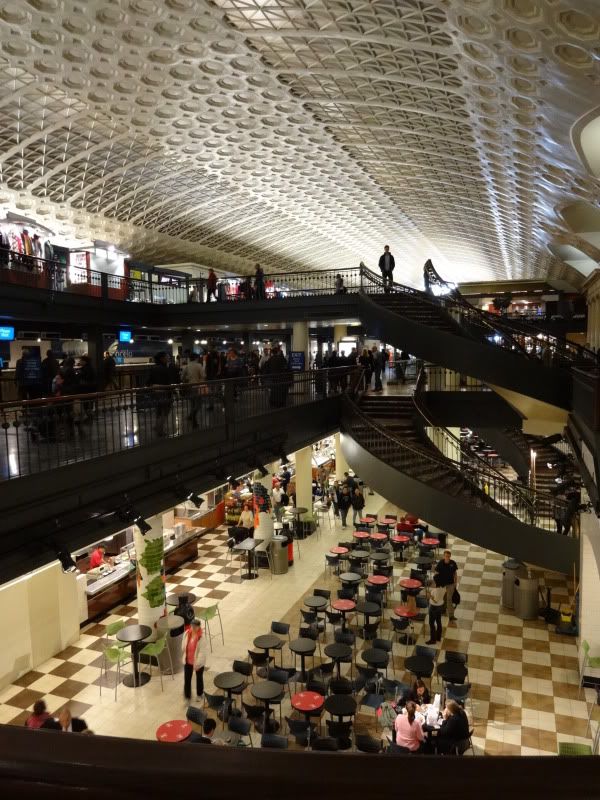 Very fancy.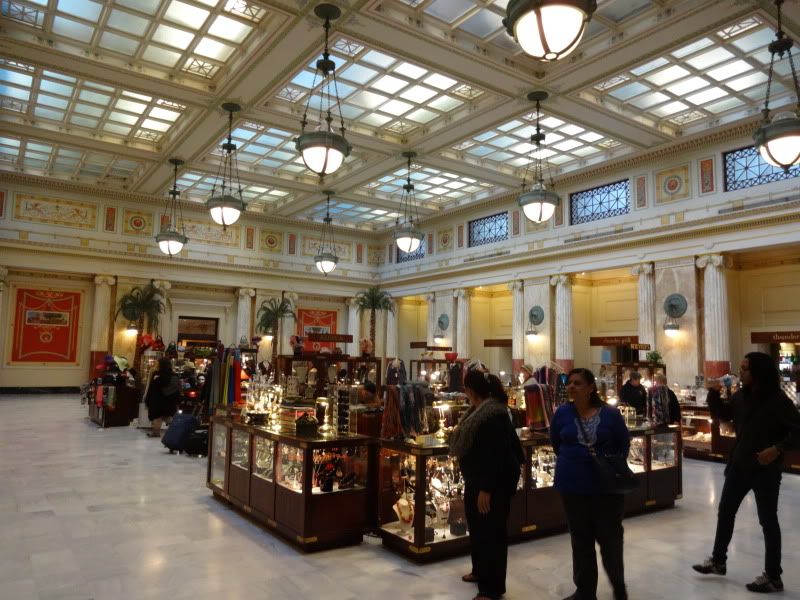 Reminded me of Milan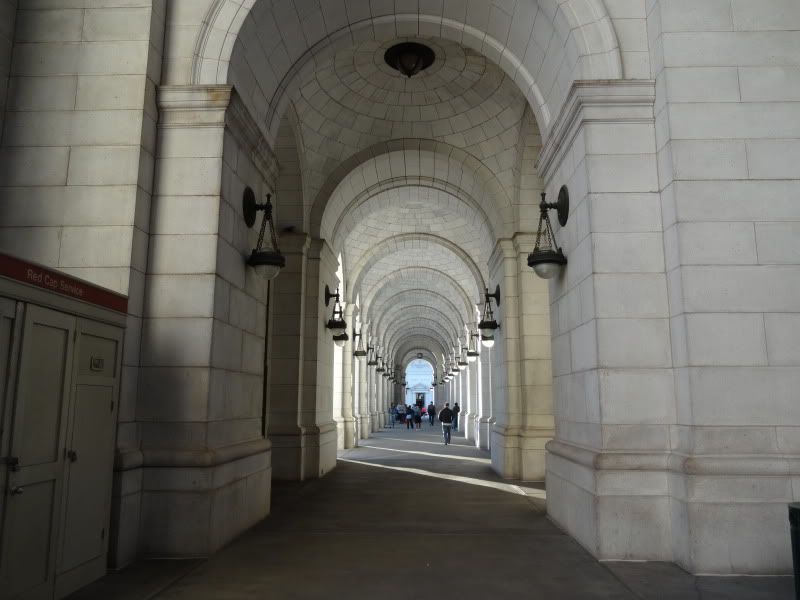 I'd say it's quite fascist, wouldn't you?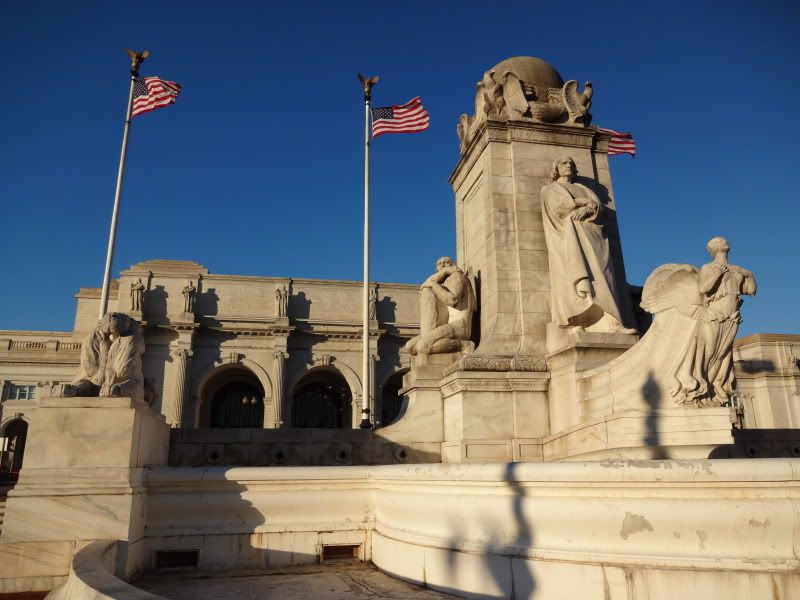 The bus area? Not so nice. But at least they sort of have a station now. It's makeshift, but much better than NYC and their annoying sidewalk boarding. An improvement for sure.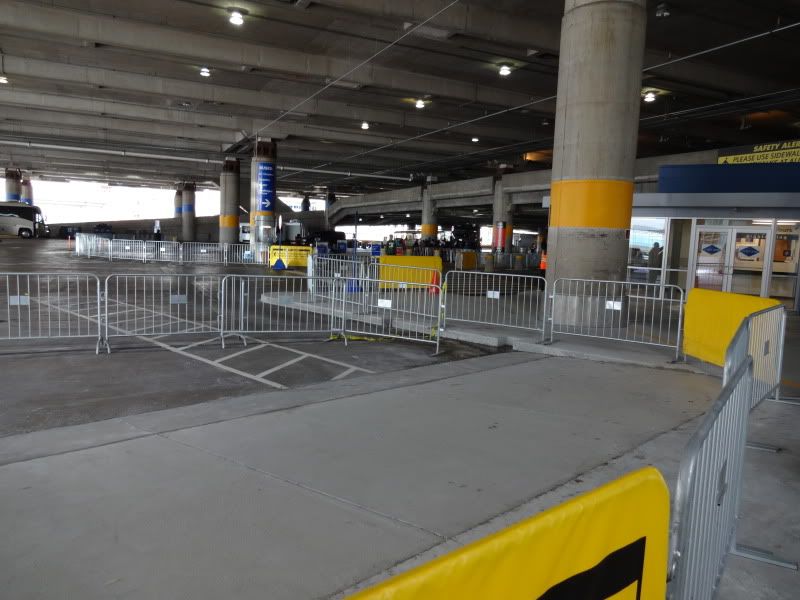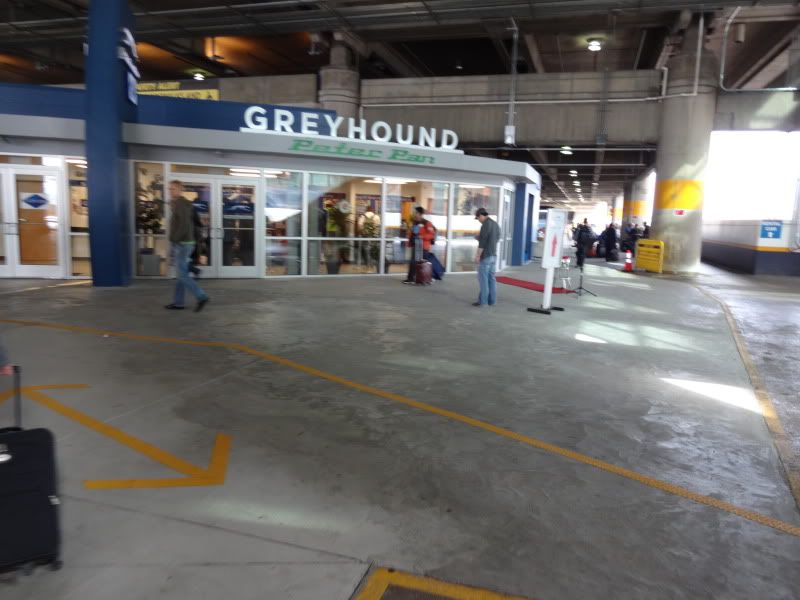 I had some time to wait for my friend, so I did get to enjoy some of the bike infrastructure around the station. The lovely bicycle rental and storage station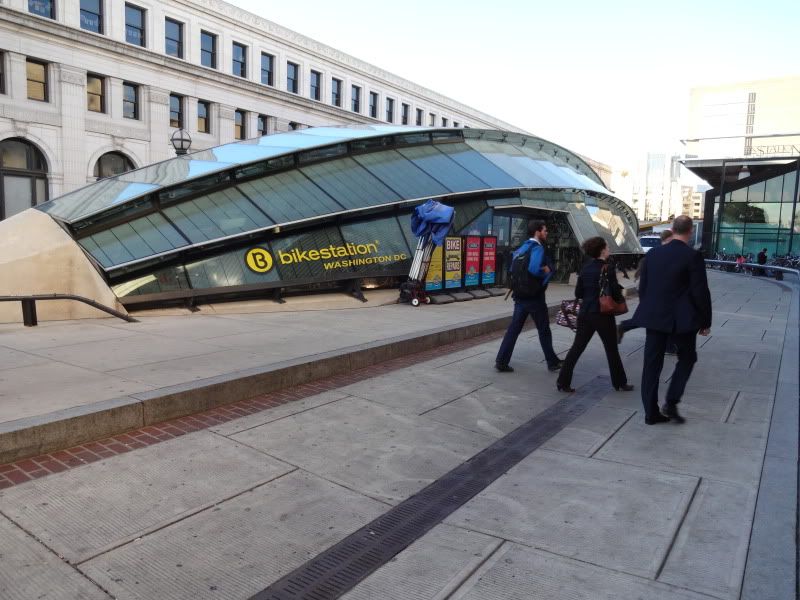 And the world's shortest bike path.
Begins here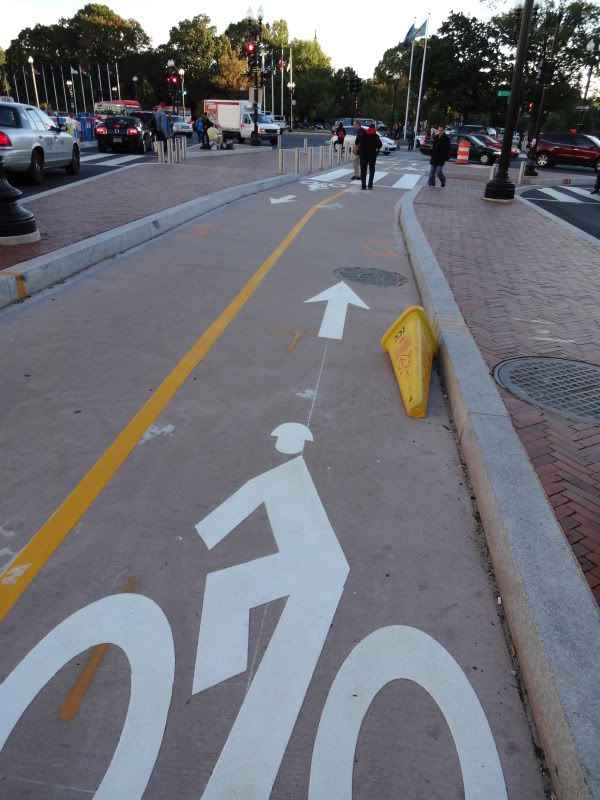 And ends like 30 feet later
Ah well.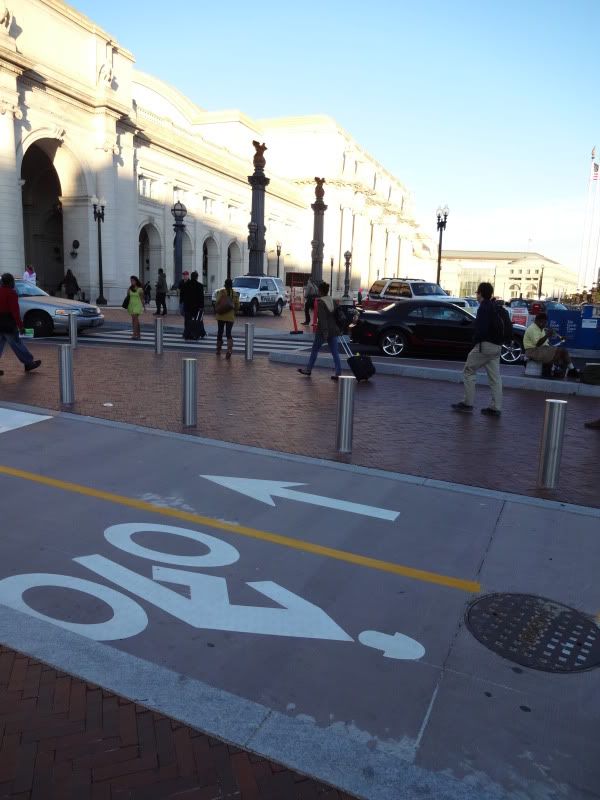 Anyway, so we headed to Eastern Market for dinner, where I'd also never been. And then it was time for the bikes. A large bike share station was conveniently close by, so I checked out a bike for the 4 mile ride to her apartment in Georgetown.
Let me start by talking about bikeshare, and then onto the riding experience.
I've ridden a Bixi bike before, in Montreal, but my initial reaction was the same: holy crap this thing is heavy. Too heavy, really. And the basket was just as useless as I remembered. I last rode a JCDecaux (Paris Velib) bike in 2009 but I don't remember them being anywhere near this heavy, and I believe they have real baskets. The weight caused an issue at one point, when it caused me to sort of tip over when making a very slow turn. I didn't fall, but it was an uncomfortable lean I bailed out of. Never had that happen on a regular bike, and the weight of the handlebar area was to blame.
Despite the weight, the bikes are easy to ride, after some initial testing. The seats are easily adjustable, and the gears are of some use (two of them anyway, the third is pointless). I did like how I rode maybe 10 bikes over the weekend and they were all in working order. The tires look bulletproof, and maintenance seems to be well done, in almost all areas.
The biggest failing? The brakes. Terrible on almost all of them, which was a problem in one particularly steep hill on a trail. Knowing the brakes sucked, I lowered my seat (so my feet could act as emergency brakes) and coasted down, emitting quite the squeal. I dared not let the bike gain any speed because I had absolutely no trust in it stopping in time.
I was also unhappy with the lights on the bike. They're useless in terms of illuminating stuff. I'm sure they're highly noticeable for drivers, but for something that's dynamo powered, the light is very weak. The battery is also bad on them, so if you're stopped for longer than 10 seconds at a traffic light, the lights turn off, making you a target for a rear end collision.
The bells are also pretty much inaccessible, but I'd wager many find that to be a good thing.
I also got some good insight into the distribution of stations in the area. I've said it before, but the stations are too spread out, especially compared to Paris where you can pretty much see one station when standing at another one.
My first poor experience came at the zoo. According to the website, there's a station directly outside the zoo entrance (the middle one in this picture).
We couldn't find it, even though we were standing at the address indicated, and checked both sides of the street. The next closest station isn't really that close. Not a bad walk, but still, a hassle. Anyone know the exact location of the Zoo station?
The larger problem came in Georgetown when I was dockblocked, and there was no bike share station in the region to park at.
This is Georgetown. The three stations on the left were all full. The one on the right was available, but it feels much further away than it looks, thanks to a bunch of highway infrastructure. It is essentially not an option if you're heading to Georgetown.
This is what the highway zone looks like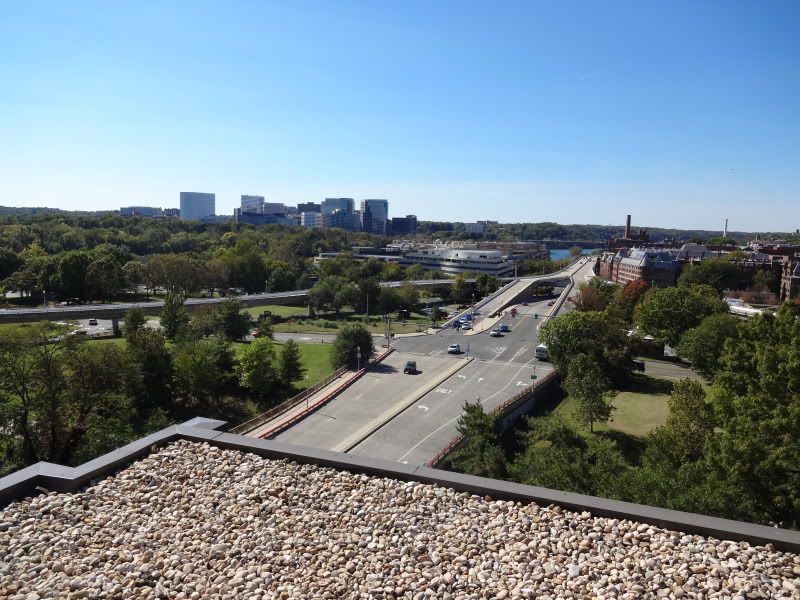 When we checked at the Zoo, M and Penn had 4 spaces, when we arrived it was full. We checked the other two stations, and they were also full. We returned to the M and Penn station as the app now said one dock was available…
What we found was some good luck. A van was there emptying in the station…..and there were four riders waiting for the CaBi employee to get going so they could dock. Poor guy, every time he removed a bike, someone would dock…. Clearly there aren't enough stations in Georgetown for the demand.
Downtown is better, but full/empty stations still appear to be a problem. As I write this, DC has 14 full stations and 17 empty ones, out of 191. That's a pretty bad ratio.
In this picture, there are 11 bikes available…..and a staggering 246 empty docks. Bigger stations help, but I'd like to see some more redundancy, to spread the bikes out so there's always a station close by.
(blue is empty, red is full)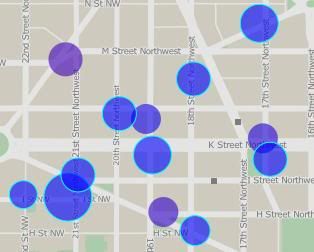 Mind you, the distribution is many times better than Boston, just not perfect.
And I do want to say, despite the fact that the bikes could use much improvement, having bike share in DC really revolutionized how I explored the city. Finally, no more 20 minute waits for a late night metro train, with fares quite possibly higher than the boltbus ticket. Indeed, with my friend's membership and a strict adherence to timing, my transport in the city didn't cost a cent. It also meant I had more money (and time) to spend at many fine dining establishments. Bucket of mussels? yes please.
So how was the actual road experience?
Let me start with one thing I was really impressed with: the drivers. Really, seriously. We biked on many streets that didn't have bike lanes (like L, which will soon), and took the lane due to parked cars….and at no point did I feel intimidated, honked at, swerved at etc etc. Cars simply changed lanes and moved along. Not even Dupont Circle was an issue. Mind you, this was a weekend, so I can't speak for weekdays.
It does help that DC has freakishly wide streets, and 2 other lanes were usually available to cars.
I also rode some of the bike infrastructure, not because I sought it out, but because it was a convenient route.
On my first night, that meant the Penn Ave cycle track, which I'd read so much about. It was fun to ride, but has many shortcomings I'm not excited about. For one, if you don't know it's exists, there doesn't appear to be any signage or instruction on the matter.
I was following my friend, and we entered the lane at Constitution Ave. She knew to swerve three lanes left, but I didn't as there were no signs and I didn't realize Pennsylvania was the cross street. As such, I got stuck on the right while I waited for the cars to pass so I could merge left into the lane.
Looking back at it, I see no signs for cyclists, and remember, it was night at this point. As a tourist, would you know to be in the left lane here? Or what to do?
Once in the lane, it was mostly smooth sailing, although it took less than two minutes to witness the infamousillegal u-turn. Aside from blatant law-breaking, the path is pretty good, with the exception of the intersections.
For one, the lanes go through the pedestrian islands, which is somewhat of an issue at night because the avenue is poorly lit. With oncoming headlights, bike-share lights that are useless, and poor ambient lighting, some of those pedestrians can be very hard to see.
The signals were also problematic, as it wasn't always clear who the green was for. I don't know what signal heads DC uses, but their turn arrows are very poor, unlike the very clearly defined ones I'm used to in California. Arriving at the 15th street cycle track, where cyclists are expected to turn right across traffic, it was hard to understand if the signal was an arrow or a bike, it appeared like a green blur. Perhaps the ones in DC are smaller or something? I don't know.
The same trip took us along the 15th St cycle track, which I used the next evening as well. I thought this path was more enjoyable, but it might be because of the lighting? The lack of pedestrian obstacles did help.
The other big piece of bike infrastructure I used was the Rock Creek Trail. I've heard it's insanely popular, and I was super disappointed. The path is remarkably thin, goes along more of a highway than a creek, lacks amenities and is generally more of a poor sidewalk than any kind of trail. It was also along this trail that I had the scary braking experience (by Connecticut Ave) although the slope is obviously not the fault of the trail. My friend kept insisting that it would be easier to take the roads, but I wanted to see the trail. I guess she was right, next time I won't even bother taking it, unless they widen it by 4 feet.
Overall, it was great to see all the changes in DC, and it's also exciting to know that a new cycle-track is going in this week, as the 15th St one was a pleasure. I just hope the current administration starts actually improving bike and pedestrian access again, as from what I understand, even the L and M street projects are simply leftover from the Fenty administration. Would be a shame to see DC stall for a few years once those are done.
I'd also hope for more bike-share stations downtown (and Georgetown), versus any form of expansion to the north. One thing I forgot to mention was that there were clearly many people using the bikes, but there's always room to grow.
Bonus Picture: I found the one and only New Jersey Transit train with a working visual board!