It's been a badly kept secret, but Megabus is returning to California later this year. Megabus originally entered the California market in 2007, but left in mid 2008 due to poor ridership. Believe it or not, but Megabus served California before they began operations in the northeast corridor, which is now their strongest market.
Back in 2007, service was focused on LA, with routes to Vegas, San Francisco, Phoenix and San Diego. The Central Valley was not served, as the buses used I-5 to express between LA and the Bay Area. Megabus was unhappy with ridership, and took all their buses east.
After pulling out of California, Megabus focused on the northeast (based in NYC), where they've constantly expanded. They then set up a hub in DC, Atlanta and most recently began operations in Texas.
If Texas can support Megabus, California sure as hell can. The bus network here is extremely underdeveloped, but that means a huge opportunity. Megabus was not patient last time, but hopefully they come in wiser.
Earlier this year, the WSJ reported
Megabus plans to expand its network of U.S. intercity coach services by 50%, purchasing assets from a rival to push into Texas and California.

…

Dale Moser, president of the U.K. company's Coach USA Inc. unit, said the proposed deal would provide facilities and extra buses to expand from its existing network serving 80 cities, mainly in the Midwest and the northeast, though it has more recently moved into the southeast and Canada.
At the time no date was given for service, but now Cyclelicio.us has reported seeing the giant buses in San Jose, making training runs. (Pictures at link). They're the same buses you now constantly see on the east coast.
Here's one of them in Boston (they now load inside South Station, not Back Bay)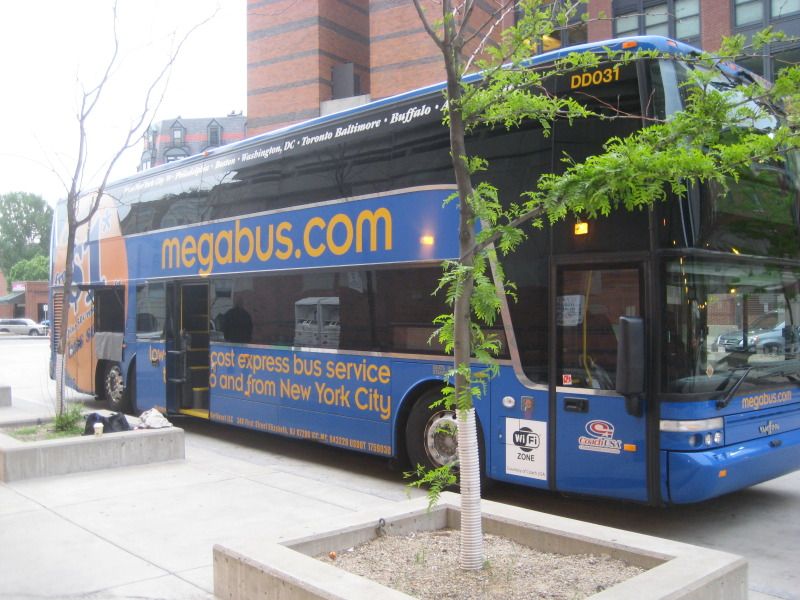 And the easily identifiable logo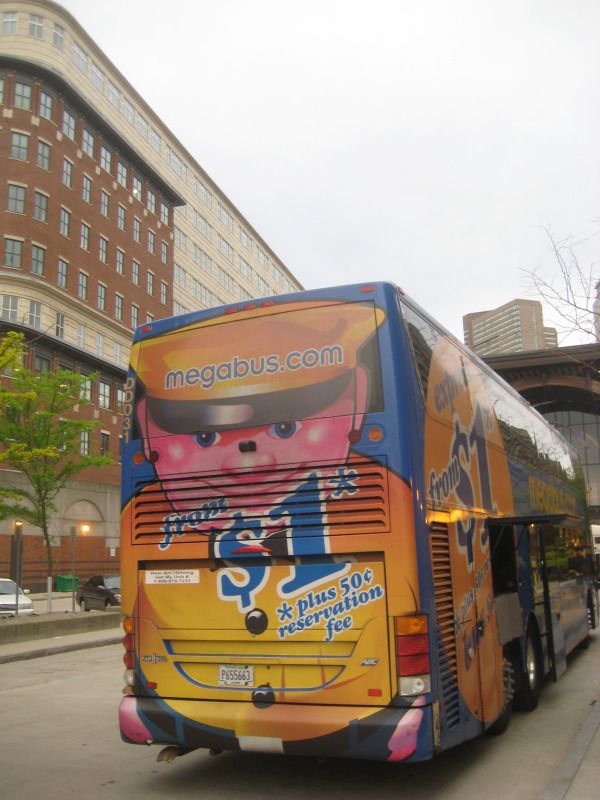 So what is Megabus? If you're reading from Fresno, you probably haven't noticed the enormous expansion in US intercity bus travel over the past 5 years.
Basically what happened is that a few different express services launched, which have successfully re-branded bus travel. Actually, let me restate that….there was a whole bunch of express service already available, but it was entirely based around Chinatown. Cheap, but with a side of risk. Then Megabus and Boltbus came in, giving the market a little bit more visibility.
If you think of Greyhound, you're probably thinking of 11 hour bus rides, cramped seats and not the best clientele. Indeed, that's the kind of service you'll get if you venture to the Greyhound station in downtown Fresno, although the company recently began to introduce newer buses and more direct service in the state (branded as Greyhound Express).
Besides Greyhound, Fresno is also served by three or four Mexican bus lines, which begin their routes as far north as Seattle and terminate at the Tijuana airport (but you're more than welcome to simply ride between Fresno and LA). As you can imagine, 95% of this customer base are Mexican nationals heading home.
The SF-LA market is somewhat similar, with a large market-share going to Vietnamese and other Asian bus lines, in the same way NYC was dominated by the likes of Fung Wah.
Unlike these traditional bus lines, Megabus (and their competitors like BoltBus) attempt to spruce up travel in a few significant way. I recently took BoltBus on a trip to DC, and while the travel time was longer than advertised, the trip was comfortable.
1. More comfortable than yesterdays Greyhound bus. More leg room and better seats. Megabus uses double-decker buses, which allows for a more comfortable bathroom and also higher odds you get to sit alone. TVs with headphone audio are inside the bus, but sadly never used.
2. Amenities like power outlets and free wifi
3. Guaranteed seating (Greyhound isn't)
4. Low fares. Megabus starts their pricing at $1.50. Every run has a single seat (or two) at this price. Prices then rise to $3, $6 etc until the bus fills, at which point the last seat is something like $25-$60 (depending on route length)
Here is what the interior looks like
What's also important is that the buses run with very few stops. LA-SF for example, might see a single stop in San Jose.
There's also one last thing that makes these buses more desirable.
The clientele. Again, this isn't your average Greyhound crowd.
While it started targeting young professionals and seniors, Moser
said female passengers between 30 and 55 have emerged as its
second-largest demographic, sandwiched by the two other groups.
Basically, your Amtrak California crowd. College students, retirees, and young professionals who prefer to text for 5 hours rather than sit behind the wheel.
Is it as comfortable as the train? No way. But it's not too far off.
On the east coast, Megabus has begun serving many small market towns, which makes it likely that Fresno won't be bypassed this time, and that's a very good thing.
If you're a fan of Amtrak, then you might be surprised to learn that this kind of bus service, which competes with Amtrak in some ways, is also very complementary, and can actually increase Amtrak ridership.
How so?
Think of it like this.
If Amtrak offered one daily departure and return from Fresno to LA, odds are, the timing wouldn't be suitable for your trip. Even if the outbound trip was perfectly timed, there's a very small chance the return would match your schedule.
In that case, you either take a car for the entire trip, or not do the trip at all because the timing fails.
If a second daily trip is added, the odds increase that the timing works for you, but it's still a long shot.
Today, Amtrak offers six daily trips each way from Fresno. That's good, but it's far from perfect. Coming back from LA? The last train is at 3:20pm. Way too early. Amtrak also offers a bus at 7:05pm, but it requires some hoop jumping to actually book it.
So how does Megabus fit into this?
Let's say Megabus comes in with 4 daily trips between Fresno and LA or San Francisco. That means the person wishing to travel without a car, now has 10 departures to look at, instead of 6.
Most people have no problem booking one way on a train and return on a bus, as long as the ride is comfortable, fast and at a convenient time.
And that's great news for car-free travel in California. Suddenly trips that might have been forgone (say, to a big concert or event) are now possible. other trips may switch from car to bus and/or train.
Indeed, the more departures that come in, even through different companies, the more convenient the trip is, and more likely that the traveler will do it.
Think of it like the "rising tide lifts all boats" statement. That means Amtrak might gain customers, even if half the trip is being served by a competitor. As the car-free intercity market grows in California, as it has in the northeast, that means improved travel options for all.
So expect to see the big buses rolling around California before the year is out, and if I'm right, in 5 years traveling between Fresno and LA or SF without a car will be as common as those kinds of trips are in the northeast.
One last tip: Enjoy the cheap fare when you can. Back in 2008, getting a $5 ticket with a week's notice was common. Today, you have to plan over a month in advance to get below $10 between major city pairs. That's not because prices were hiked, but because demand has grown so quickly.