Hurricane Sandy has reminded me of something that bothered me in the past – the lack of substitute bus service when the weather shuts down rail lines for long periods of time. For example, I lived in DC the summer of 2009, and a few months later I was reading about metro being closed for almost a week due to snow. My friend who still lived there reported the office was open, so commuters were expected to make their way in. Without a car, and without transit service, what is one expected to do? I had lived in Takoma, and without Metro, making my way to work would have been near impossible. Public officials provided no substitute bus service even though the roads had been (eventually) plowed. For a region so dependent on public transport, I've always found this to be very odd. My memory is hazy on all these snowmaggedon events, but VRE and MARC were closed for some time as well, with no provisions for alternate travel.
This time around, Sandy has closed all subway service south of 34th street in Manhattan. In New Jersey, all rail service was suspended from Sunday night until a limited restoration tomorrow morning. LIRR and Metro North began running service before New Jersey, but not on all lines. Problem is, many jobs began to require their workers show up as of Wednesday, and most certainly today.
If the trains can't run, that's perfectly understandable. Washed out tracks, flooded equipment, downed wires, broken signals, impassable tunnels are all major obstacles. I'm sure the agencies are working as fast as possible to get their lines working. So if the train can't run, then the train can't run, and I take their timetable as the best that can be done.
But the roads are open, and what bothers me is the lack of substitute bus service.
If you can't run the train, that doesn't mean the demand for rides is gone. These agencies might think of themselves as rail companies, but they're not, they're transportation companies. If NJTransit charges $9 to get from A to B, I don't care if the service has to be temporarily provided via mystery machine instead of rail-car, as long as the trip can be made.
Take today. Arriving at Newark airport and planning on using the train line to head south…or anywhere? No commuter rail, and there is no substitute service available. Live in Edison and work in Jersey City? You need a car to make that commute, and patience for the hour long gas line. Coach USA is running their regular commuter routes, but with no additional service, and there's been no coordination between the state and the private sector to get Coach buses to make all NEC stops.
NYC began running a "bus bridge" today to get people from Brooklyn to Manhattan, whcih was a great step, but nothing is in place for commuters that go further distance on the commuter rail.
When DC closed up their metro for a week, local bus routes began running when the roads were plowed and de-iced, but the routes obviously don't make the same stops as the trains because that would be redundant. While DC will send out buses for a short-term diversion (like planned construction) nothing is done for weather.
The concern is that those who live without a car, and rely on public transit find themselves in a very bad situation if work calls them in but service continues to be suspended. Taxis exist, but fares can more than wipe out an entire days wages.
Equipment is a concern, but these weather events all have one thing in common: schools remain closed for much longer time periods than work.
That's important because it means the cities and states have access to a huge pool of equipment that sits unused and readily available.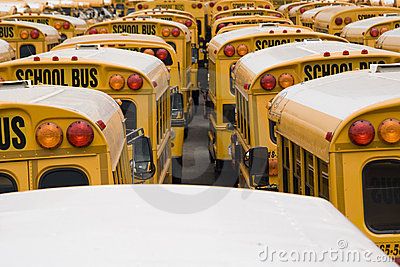 Comfortable? Stylish? Smooth? No. But they work. And given the option, I'm sure many would rather ride one of these for two or three days than be stranded and risk being fired, or have to pay $100+ for an extended cab ride.
So why is rail substitution service non-existent for weather events? These things are happening every year, and yet no provisions are in place to get people moving again while the crews clear up the rails. For a region that depends on mass transit to such a high degree, this oversight is more than odd, it's alarming.