Here's a screen capture from the headlines on the Fresno Bee website on Saturday November 25, 2012. It's not a special day, it's something you notice pretty much every time you read the paper. The same type of stories, week in and week out.
There's a theme, I think, and it doesn't take much sleuthing to figure it out.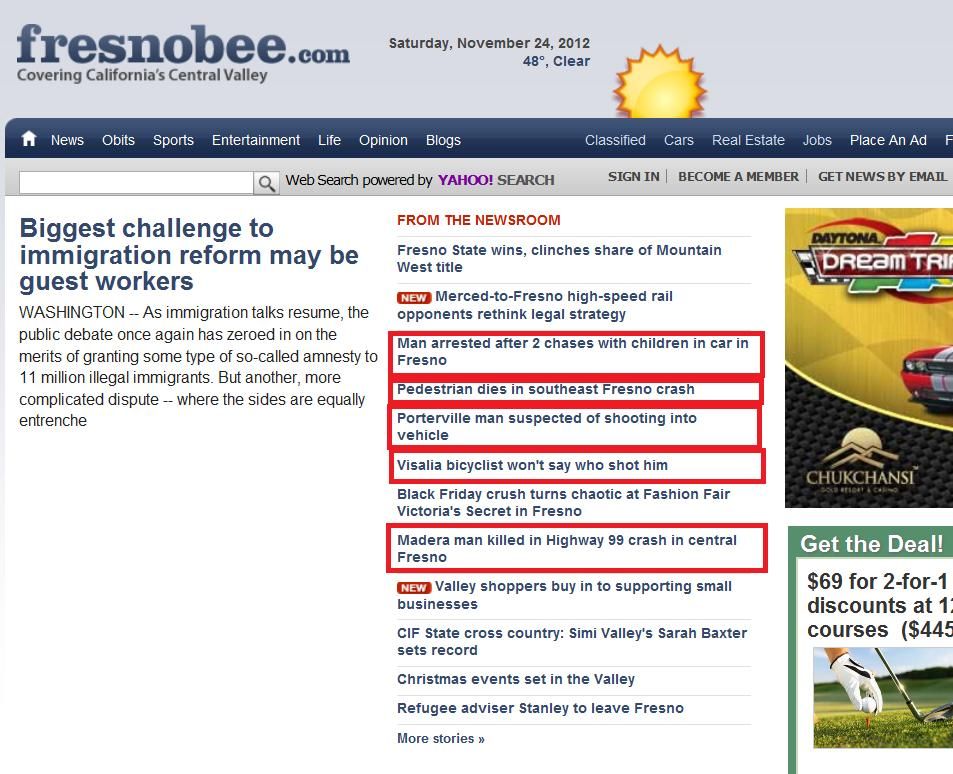 Fresno, and the entire Central Valley has a serious problem, and it revolves around the way the streets are designed.
As the area continues to ignore the transportation and economic consequences of the auto-based design, maybe it's time those in charge start to pay a little bit more attention to the crime, injuries and deaths it facilitates.
Yeah, right.
That's the second pedestrian killed this week in Fresno. Here's what the chief of police said about the pedestrian killed a few days ago, a UCSF-Fresno medical student.
Police Chief Jerry Dyer said Dowd's death is one of a number of
fatalities involving pedestrians and bicyclists in Fresno this year, and
he urged pedestrians to be vigilant about protecting their own safety.
More traffic enforcement? Perhaps some crosswalk stings? More street lights? Lower speed limits?
Nope, the victim really should have been more vigilant.
Thanks for keeping us safe Chief.
Oh, and marginally related….remember the cyclist (which happened to be a sheriffs deputy) that was shot in the back because he was on a bike?Happened just two weeks ago north of Fresno.
The good news is, the people who did that have been arrested and charged with assault with a deadly weapon. The perps were about to flee to Louisiana before being arrested,
But really, the deputy should have been more vigilant.