Shocking story in today's Fresno Bee. A man cycling in the outskirts of Fresno was shot in the back by a passenger in a vehicle, using a rifle.
Mike Montanez, a 22-year Sheriff's Office veteran, was cycling when he heard a sound and felt something strike his back, a sheriff's spokesman said. The deputy was knocked from his bike.

When he looked up, the deputy saw a passenger in the rear of an SUV pull a rifle back inside the vehicle.

The deputy said there were three people in the vehicle, which was driving north on Friant Road.

The vehicle was described as a dark blue Chevrolet or GMC Suburban-type SUV. It appeared to be a model from about 1990.
The good news is the man is ok – sort of. The bullet is stuck near his spine, and due to the location won't be removed. It's unclear at this point if that will affect his ability to work.
The other good news is that the man was a police officer. The reason that's a good thing is because it means large amounts of effort will be put into this investigation, more so than if a regular civilian was injured. Hopefully, the scumbag and the others in the vehicle are behind bars by the end of the week. I mention this because of the following line:
Investigators believe Montanez was not targeted because he is a deputy.
Which means they believe he was targeted because he was on a bike. Reports say he was wearing "cycling gear" (probably spandex) and nothing to indicate his day job. Sadly, Fresno city and county police do a bad job when it comes to investigating vehicular assault, which is why I mention that him being a cop is a good thing – there's no letting this one slide.
Location of assault: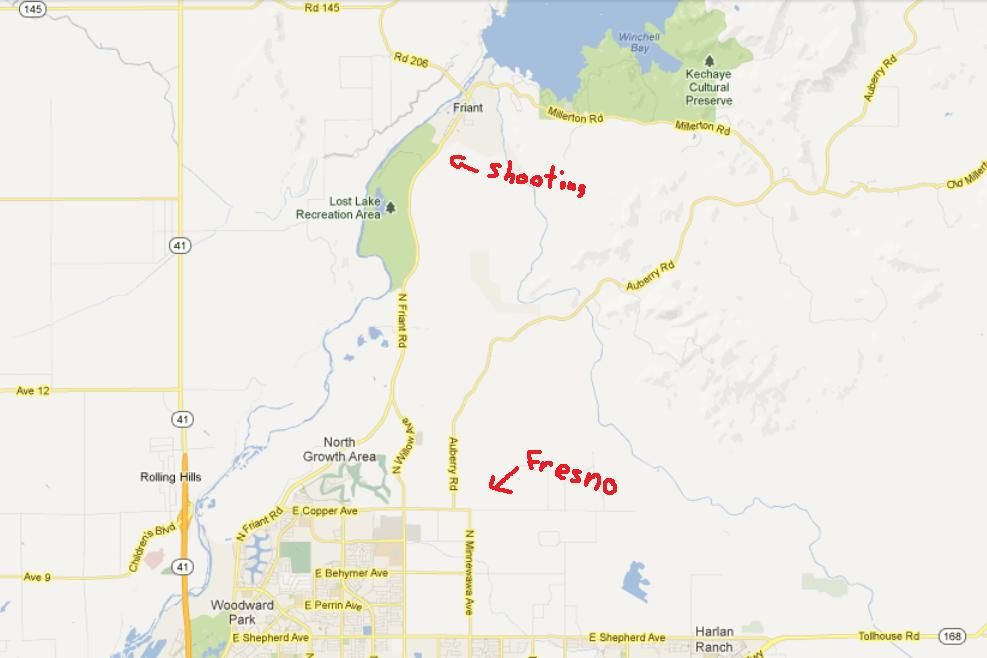 The road is a rural highway, with wide shoulders that are signed as bike lanes.
I'll post an update if we get one.