Once again, apologies for the large gap of time between these posts about the trail, but as I've said before, they actually consume a very large amount of time to put together.Taking the pictures was easy (all pictures from August by the way), it's the formatting of these posts that takes a long time. If you find them enjoyable or educational, I'd appreciate a comment.
Previously:
1) South of Shaw
2) Shaw to Old Town Clovis
3) Old Town to Sierra
This is the section I cover today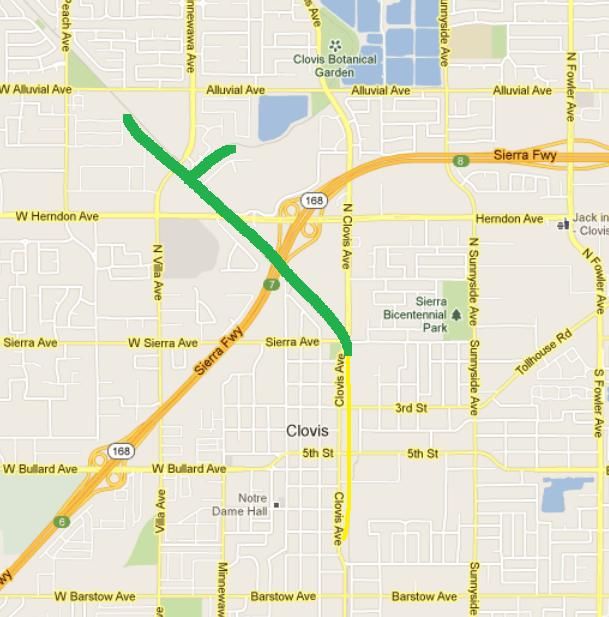 We last left off going north, approaching the intersection of Sierra and Clovis Ave, which the trail crosses diagonally.
Problem with this crossing is that absolutely no accommodations exist for the trail users. The shortest crossing would be diagonal, but instead, users must stop, push the button (as the signal does not display a walk sign on its own), and then wait to cross, only to have to stop and push the button again for yet another wait. On a bike, this is very uncomfortable.
Green: Trail
Yellow: Options
Red: What would be best, with a dedicated bicycle signal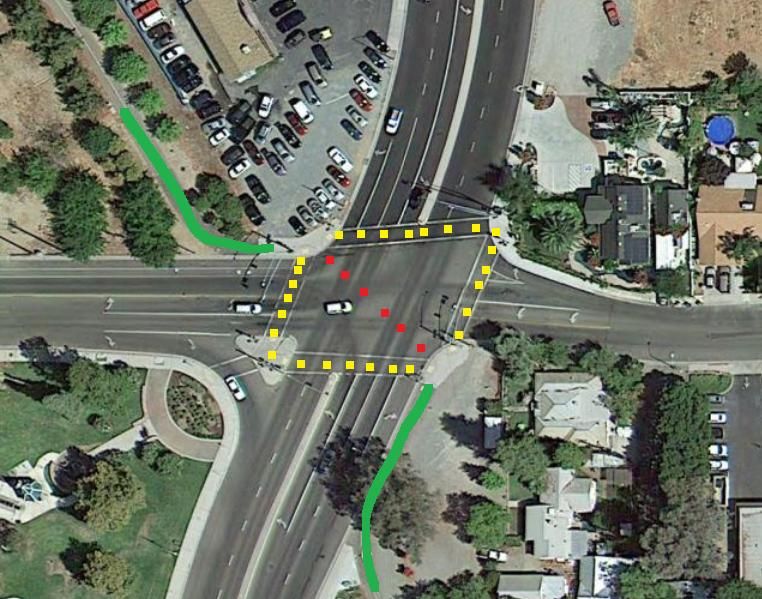 The other problem is that besides not having a dedicated crossing, the trail essentially becomes a sidewalk here – with lots of gravel. I've never seen the gravel cleared.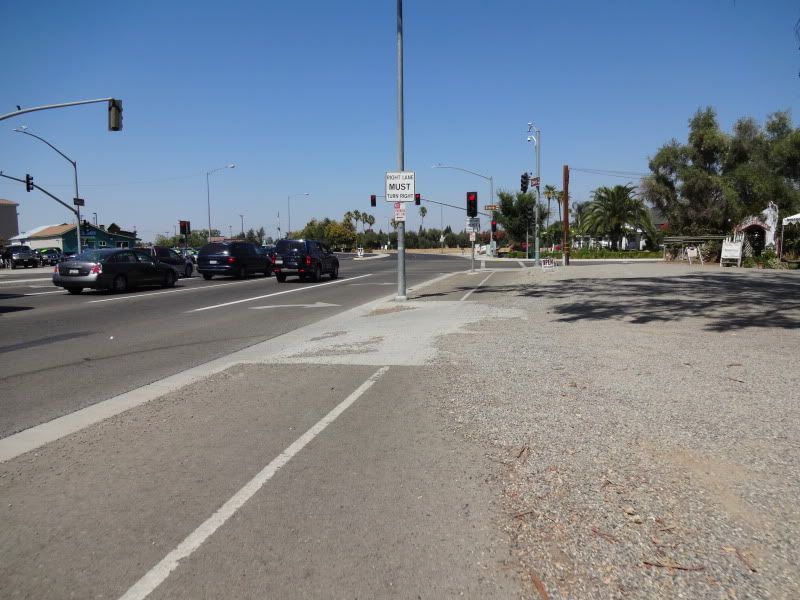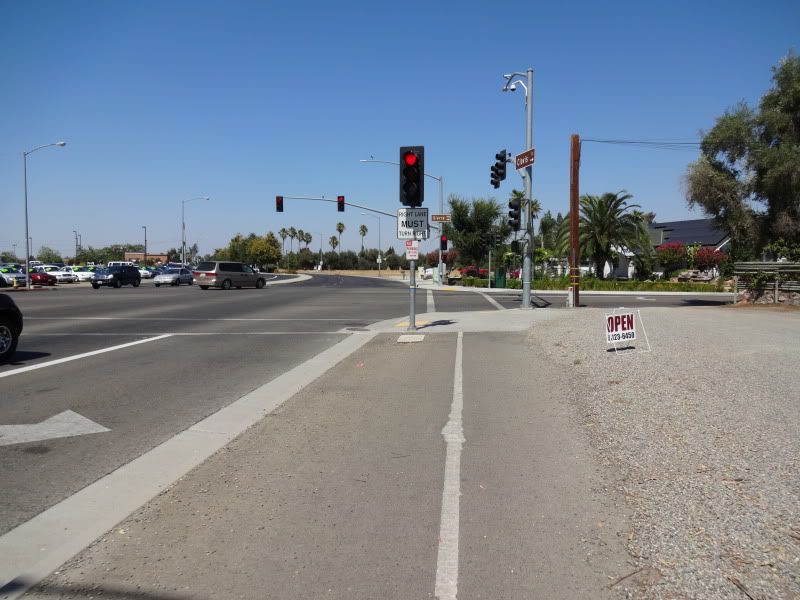 The buttons simply are not convenient for bikes, because of how the ramps are placed. Below, after crossing Sierra north, you have to ride up at an odd angle to reach the next beg button. naturally, the ramp itself is not aligned with either crosswalk, nor the button.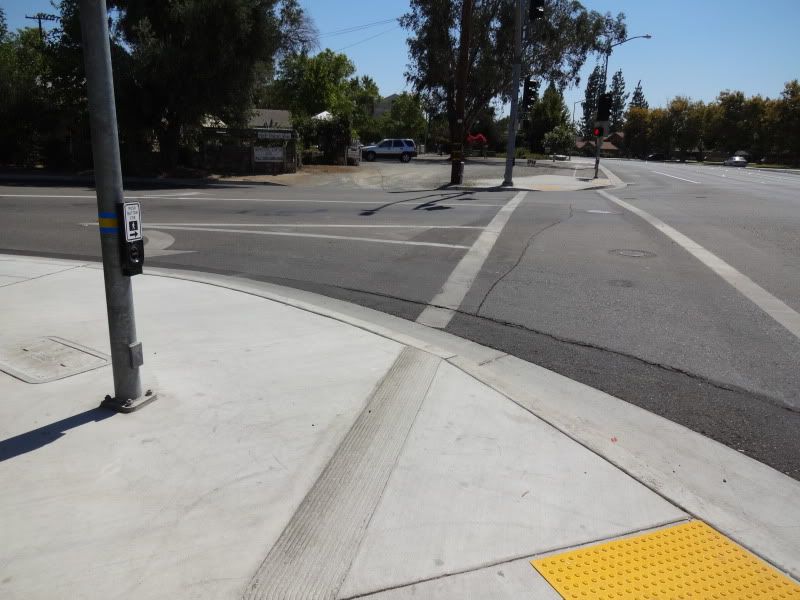 Long crossing distances, at an angle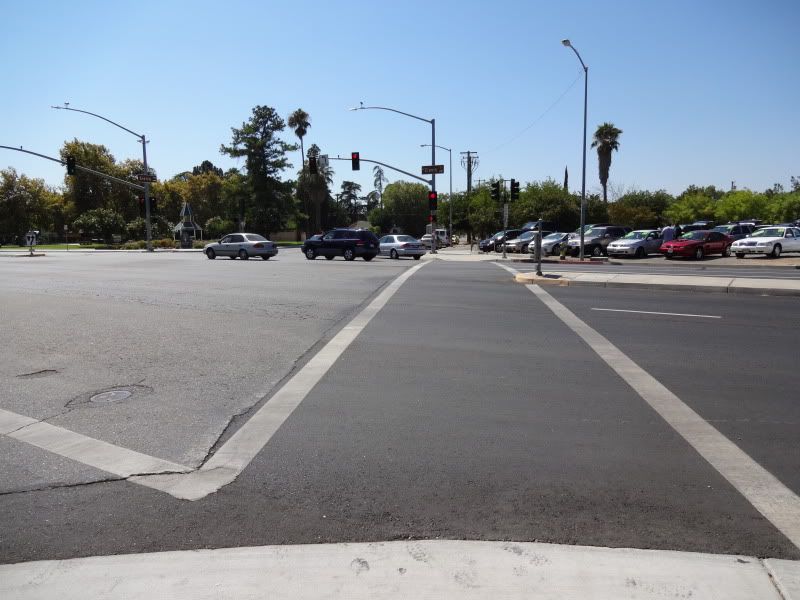 Also, if you've never ridden here before, it's hard to know where to go. Once again, there's absolutly no signage, and the trail blends in. There are 3 corners to choose, its not intuitive that the trail is diagonally across, especially because another corner has an attractive park.
Note that the trail is on a slope due to the driveway.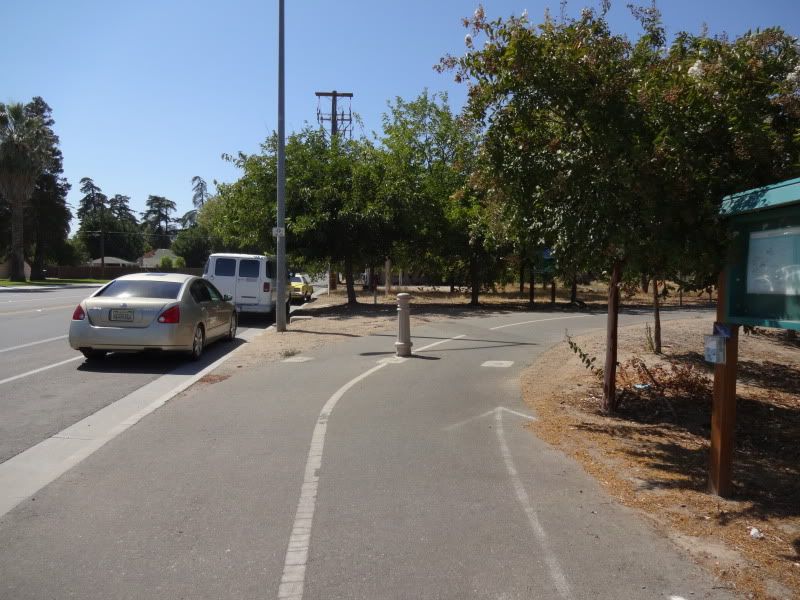 Looking back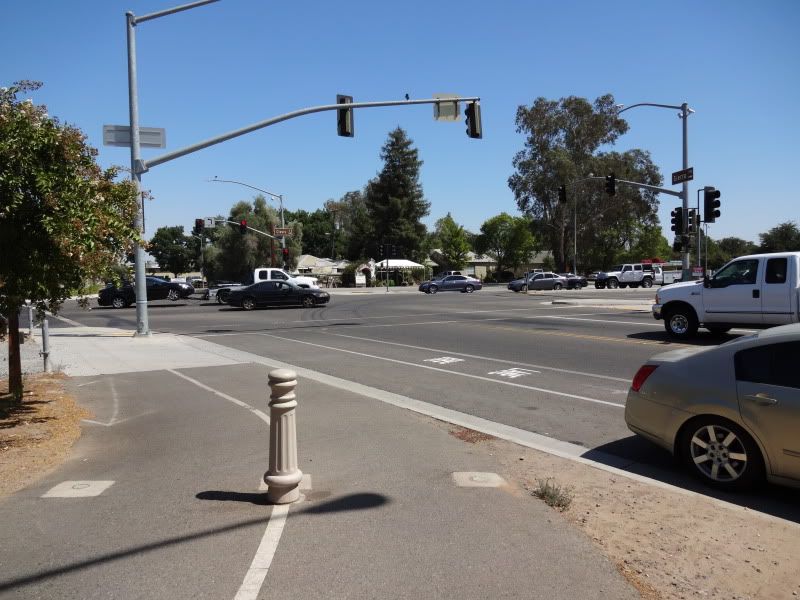 Would you know which way the trail continued?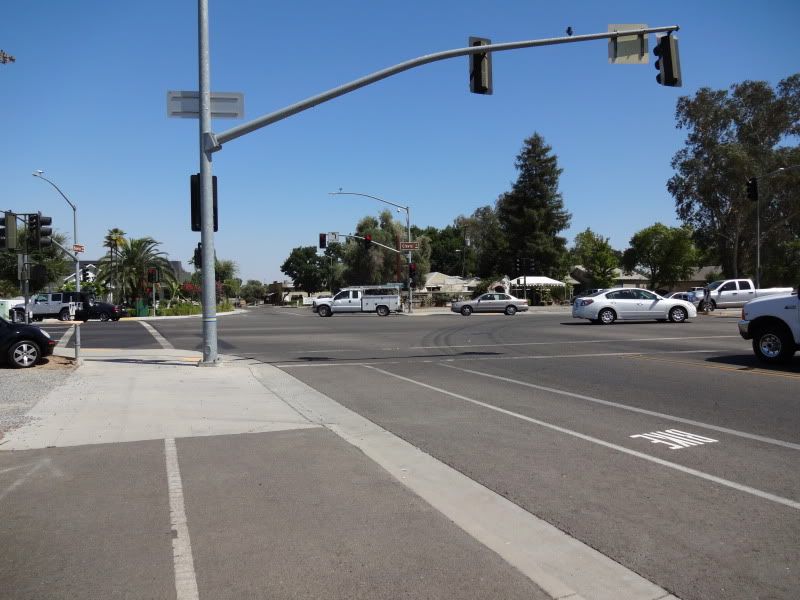 The trail crossing, like the Shaw one, is dangerous because there's no advance stop bar, just a crosswalk (and not a well marked one at that). As drivers frequently stop inside the crosswalk, those looking to make a right turn on red NEVER come to a complete stop before fully entering the crosswalk. The lack of visibility makes it worse. I was almost hit by an old man who seemed to believe there was no need to stop for red here.
Note the tall vehicle stopped in the straight lane. If a sedan came up in the right turn lane, the driver would have to completely block the crosswalk just to look left, potentially hitting a cyclist making their way across.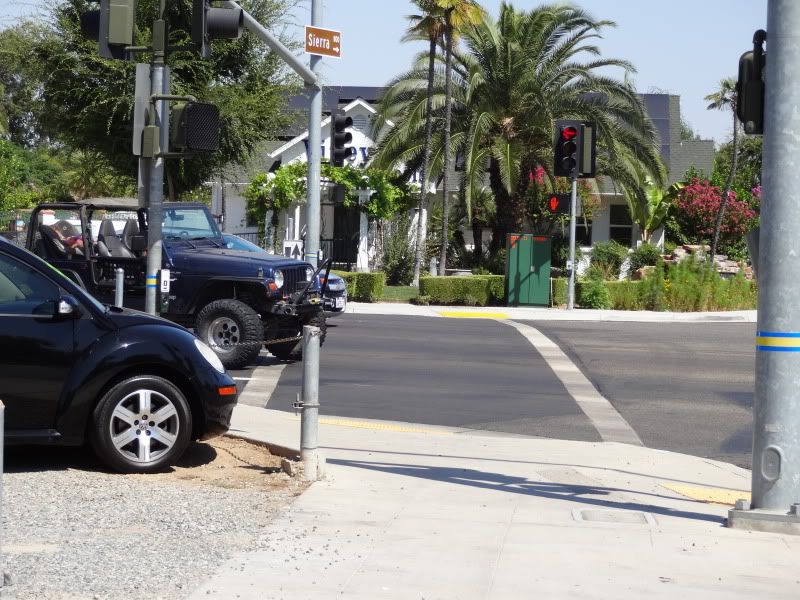 Passing the intersection, the trail returns to what it has looked like before.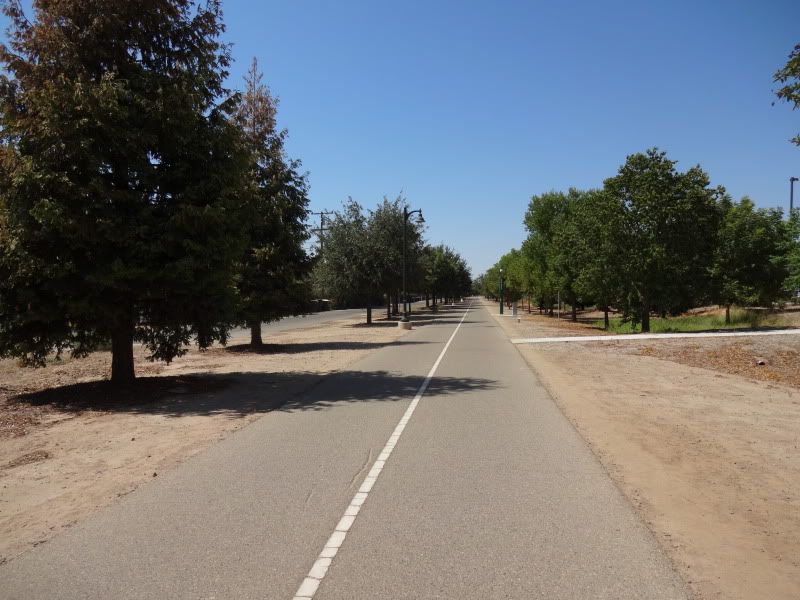 Again a hotel, with very little interaction with the trail.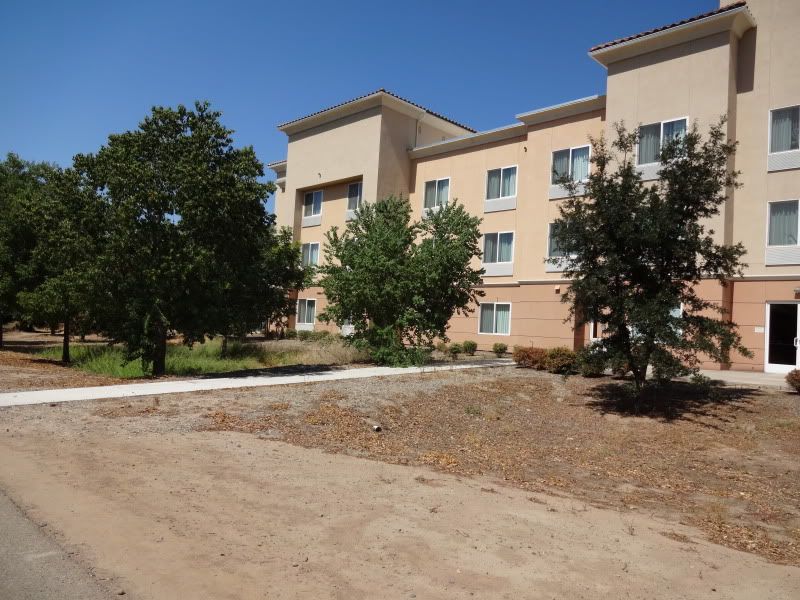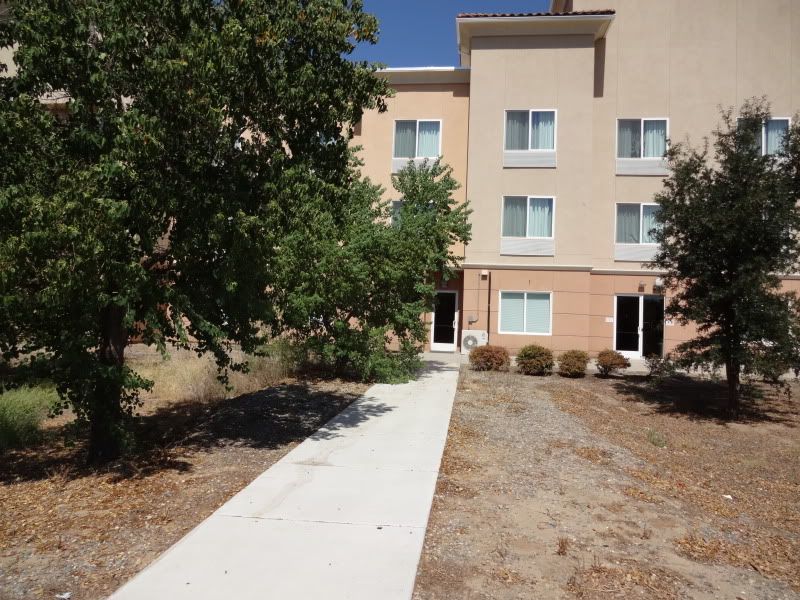 Up ahead, we come across a building that has never been leased. Apparently, it's being turned into a pharmacy school, which should provide more life on the trail. Also, one of the very few instances of graffiti on the trail.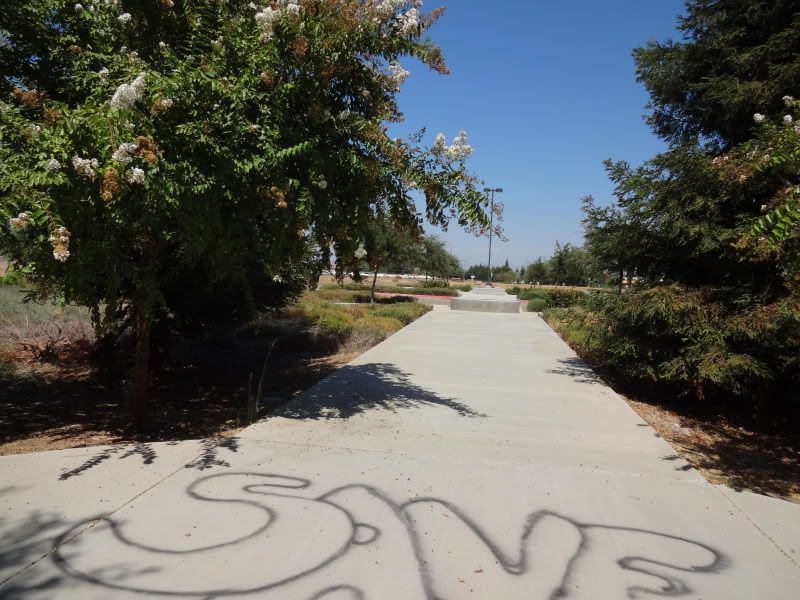 The future pharmacy school connects with the trail, but oddly, via the parking lot, and with planters that make biking almost impossible.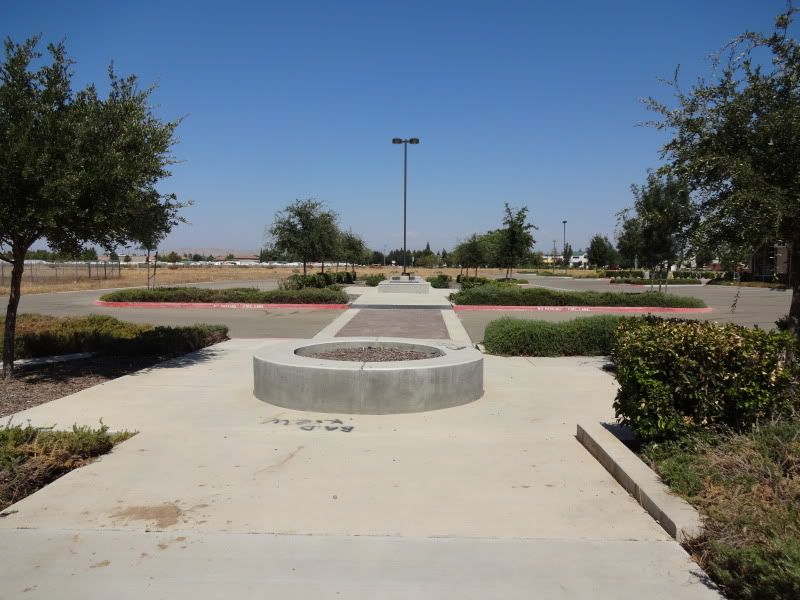 There are bike racks, bu no where near the entrance. And then we have this…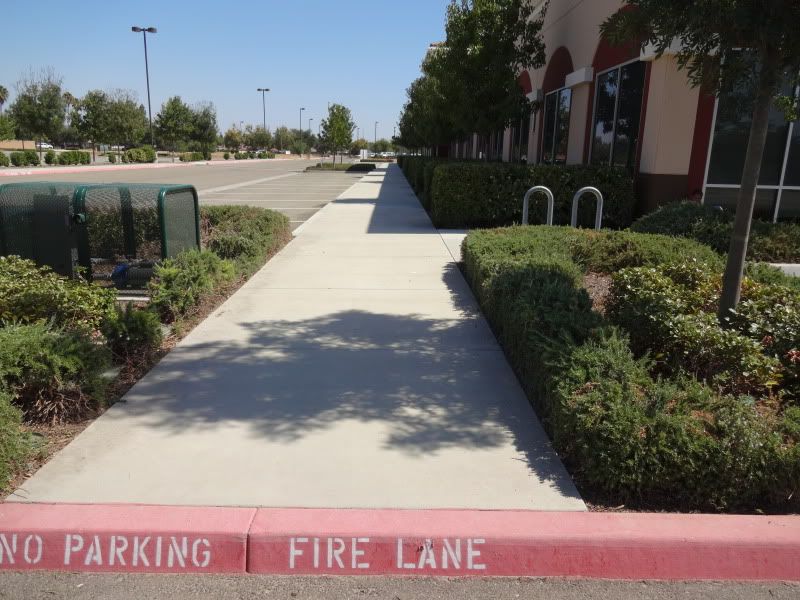 It's 2012. This was built around 2007. ADA passed in 1990. Why are we still building sidewalks and such without ramps? Why is the city approving this construction? Forget that this is a busy bike trail, wheelchair users also would use this.
Honestly, the way this building "interacts" with the trail makes little sense. Who designs this stuff?
Green: Trail
Green dotted: The apparent path that bikes and wheelchair users must make to reach the front door.
Red: What people would obviously want to do, but can't.
Orange: The bike rack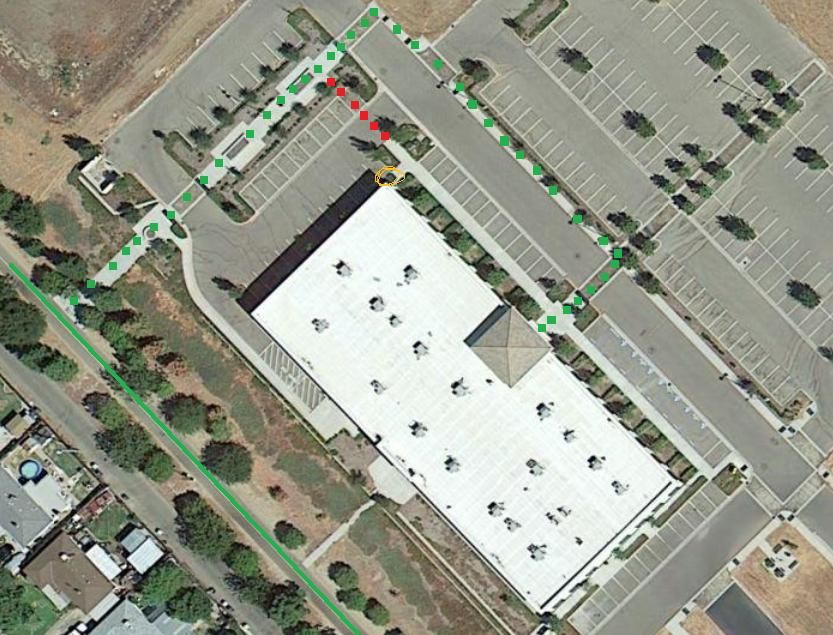 Moving on then…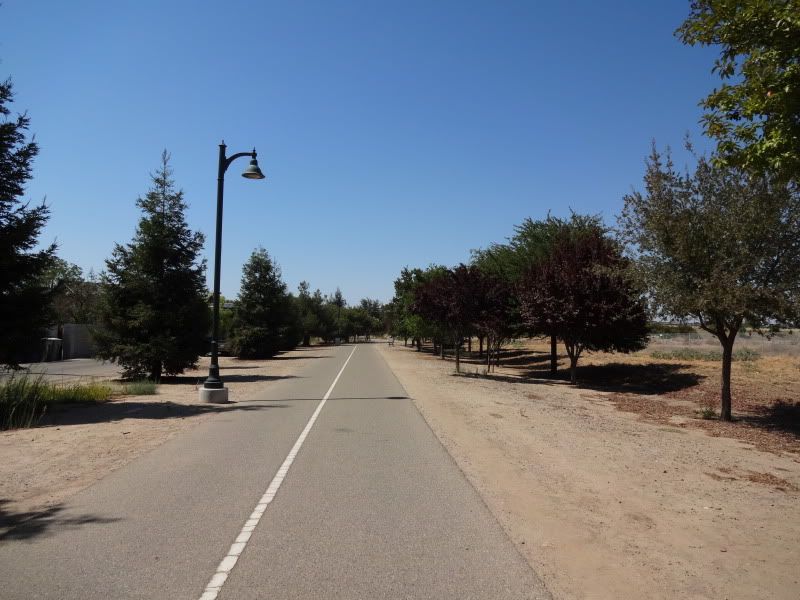 An actual connection to a residential area. As I noted in previous posts, the trail severely lacks these.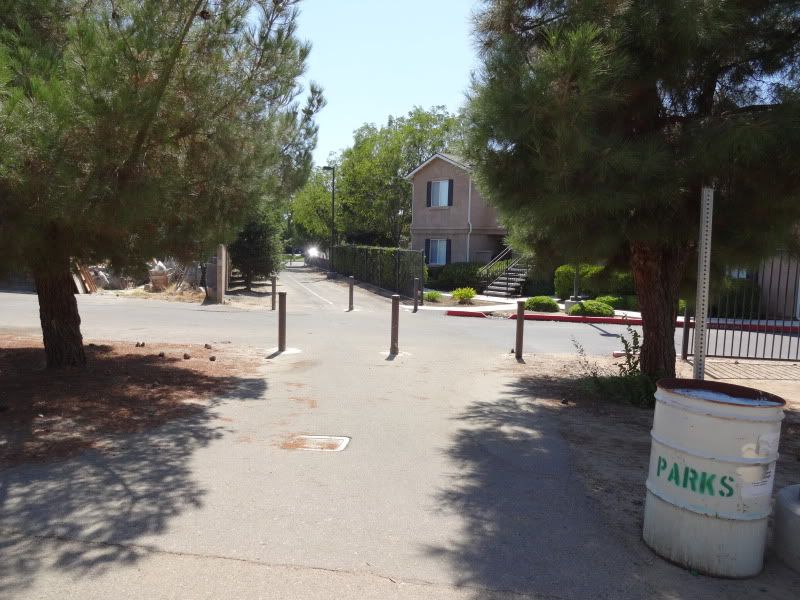 Up ahead, it's nice to see when they built Highway 168, they left plenty of room for the trail, and possible reuse in the future for transit. As it is now, it's the most comfortable highway under-crossing I've ever experienced. You certainly don't fear crime here….although like the rest of the trail, more lighting would be welcomed.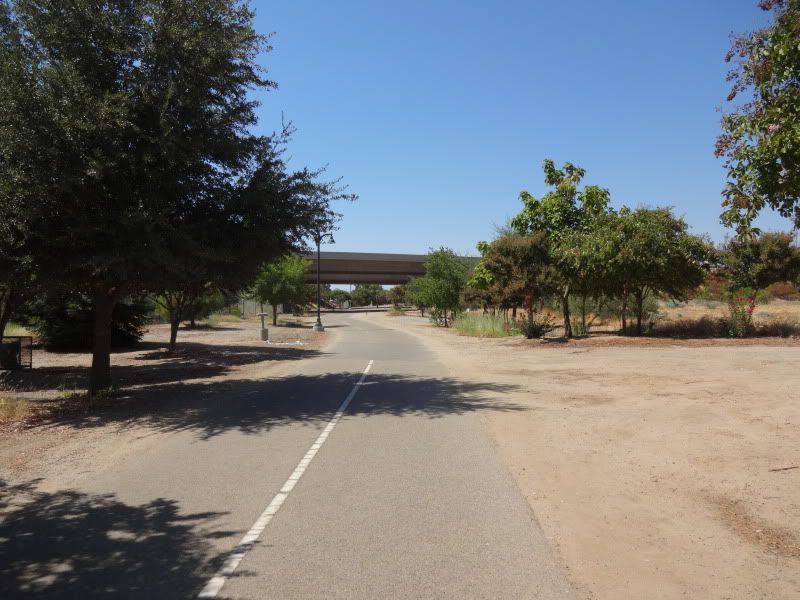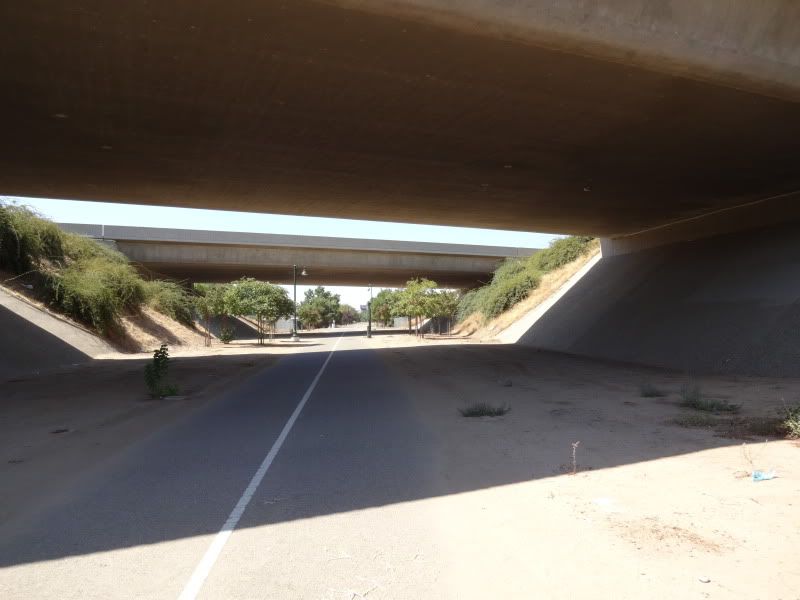 Looking back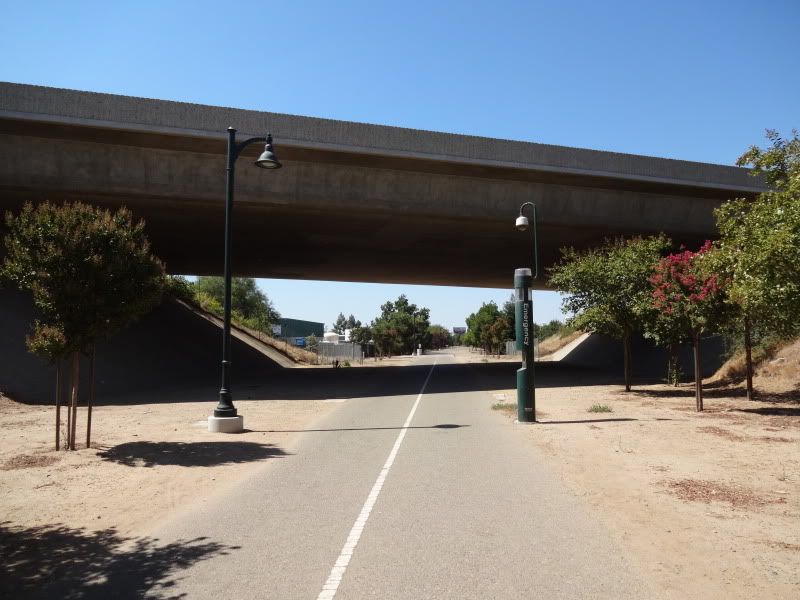 Directly after the crossing, another link into the neighborhood, this time into an undeveloped commercial or industrial area. This connection doesn't feel as safe though – very isolated.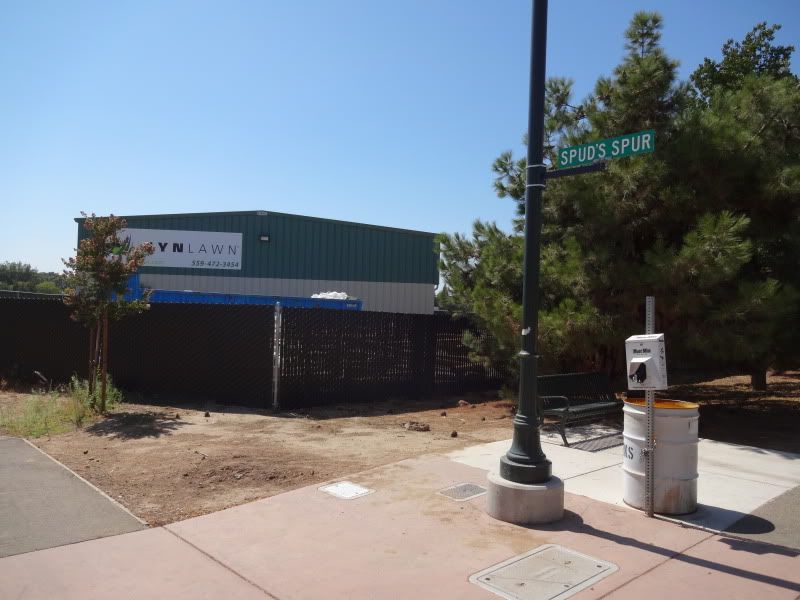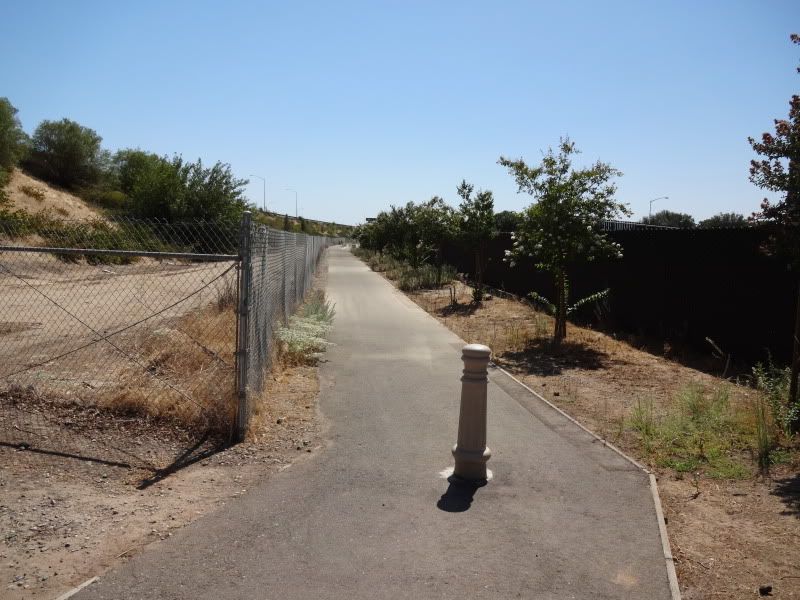 There's nothing built there now, but if they keep the covered fences, it won't ever feel safe.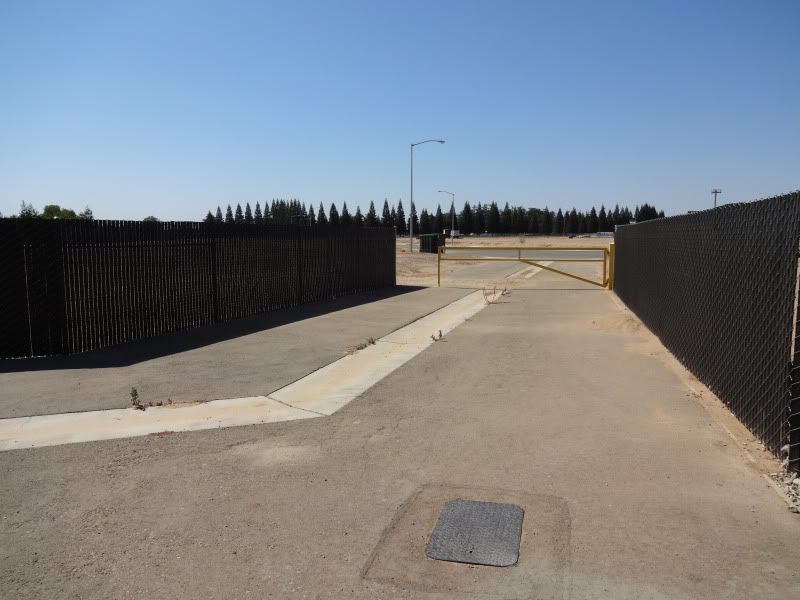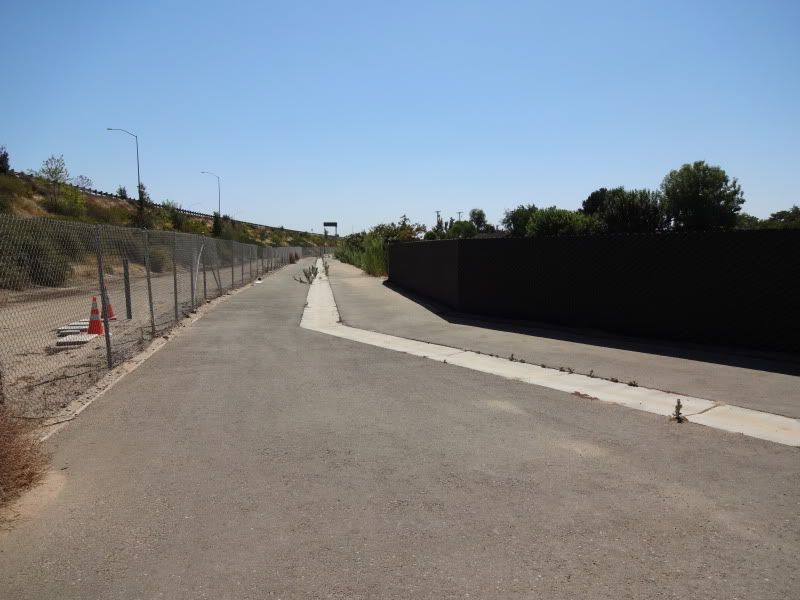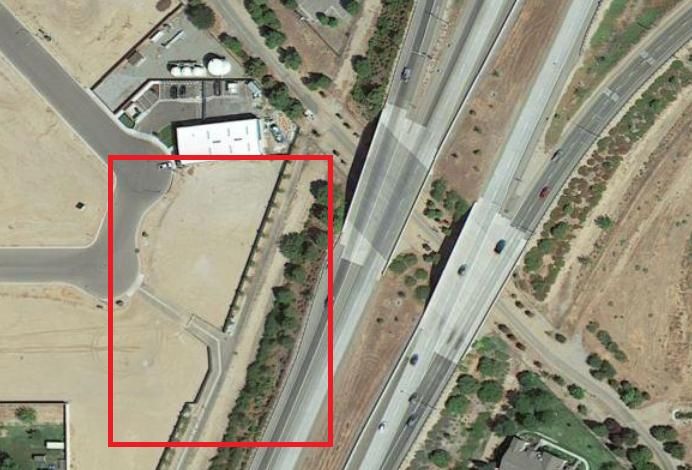 Moving on the trail again, we get to an amusing bit of painting fail.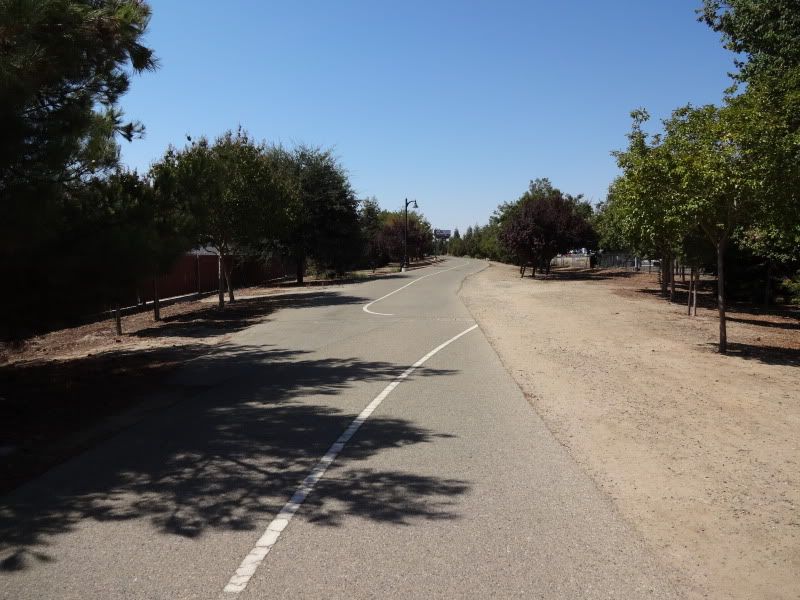 We then approach Herndon, which has an undercrossing tunnel. This is the longest tunnel so far, and it's angled, adding even more distance.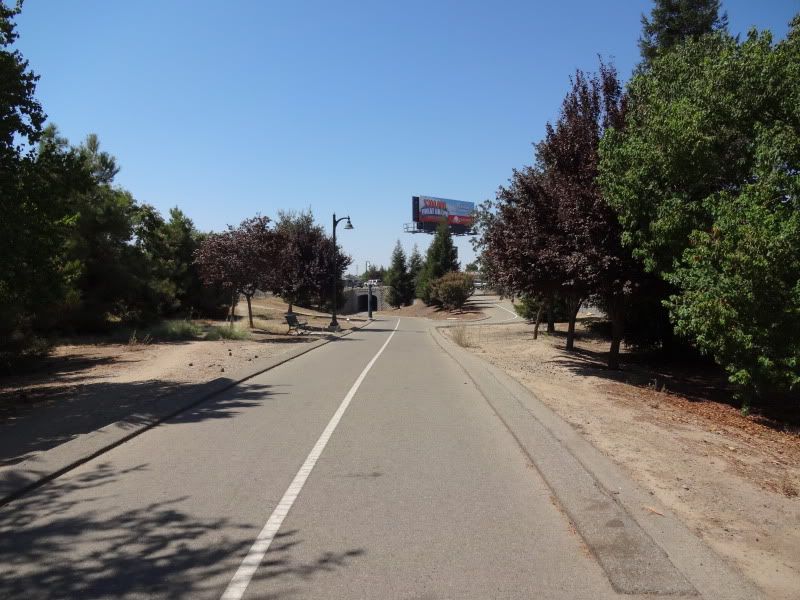 Another case of (thankfully!) missing bollards. The metal posts are also known as deadly obstacles.
Not perfectly removed though.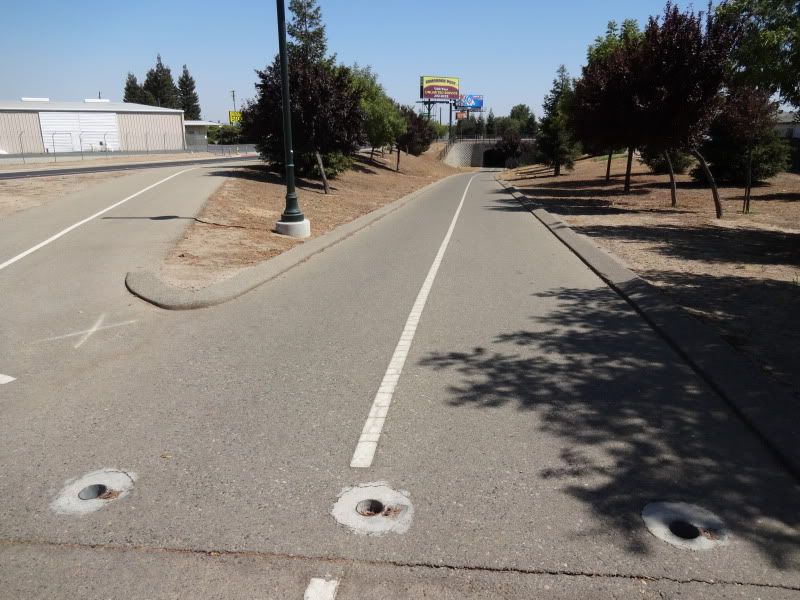 Past Herndon, a small bridge over a creek. Again the obstacles are thankfully gone.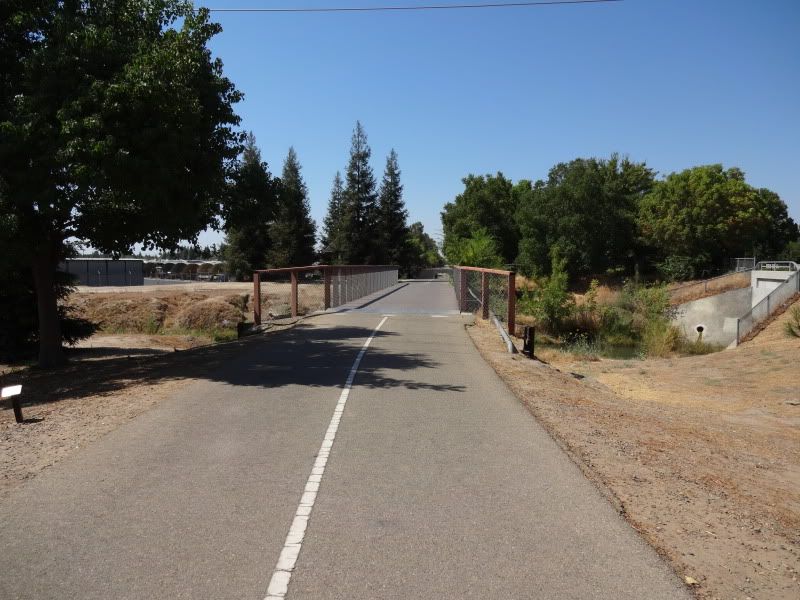 With another small tunnel in the distance. It's like an obstacle course, up and down and up and down…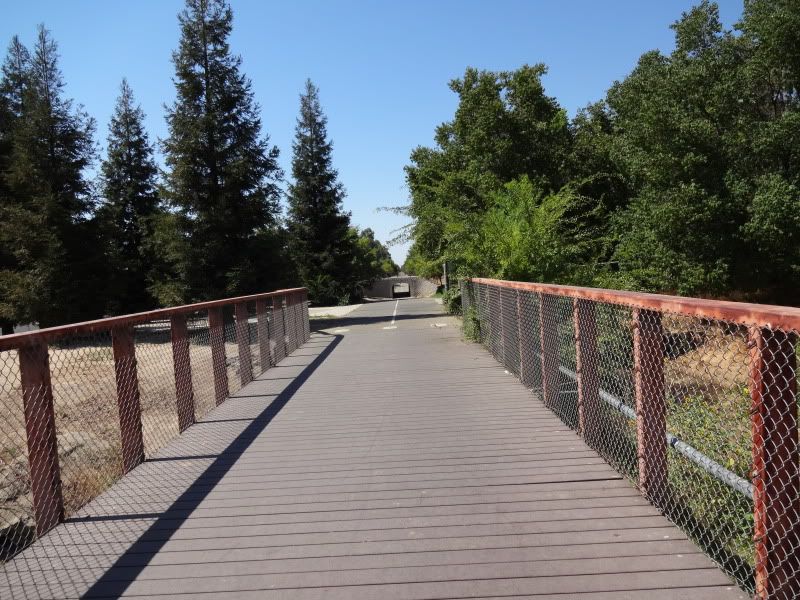 Then we find a cool intersection, where a trail branch breaks off.
I like the signage.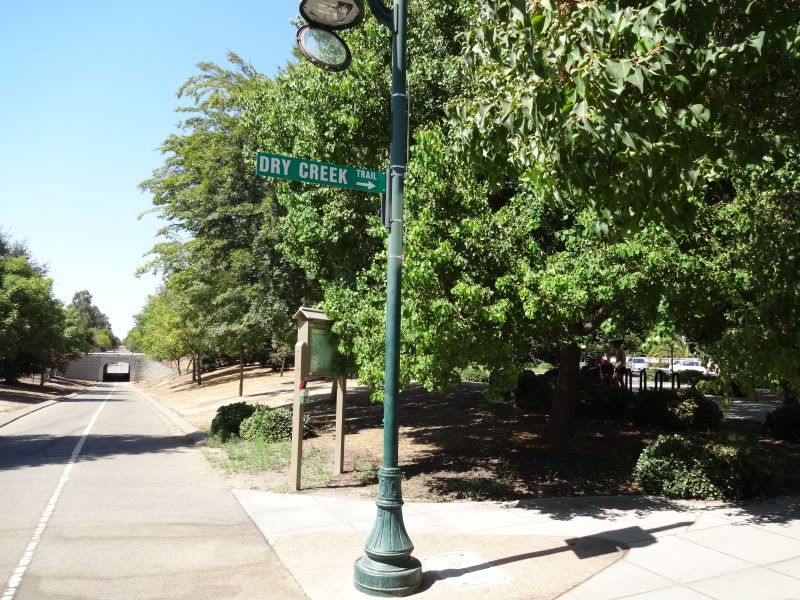 Dry Creek trail is just as wide and well paved, but lacks lighting. Dry Creek trail continues north and eventually terminated just below Shepherd, marked in yellow here.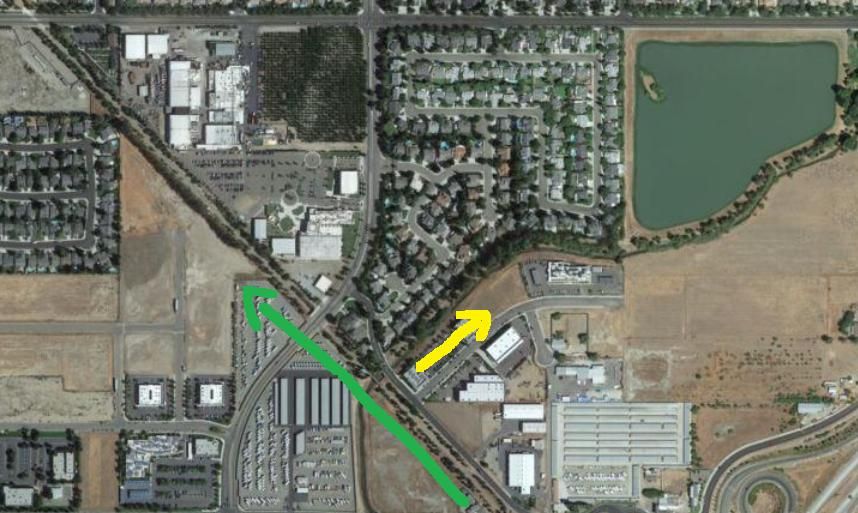 A map is available, but not positioned properly. Free paper maps are included, which is fantastic, but honestly the maps themselves are quite poor. Very hard to read, even though they're in full color.
The trail branch includes a rest area, water fountain, bike parking and also a small vehicular parking area.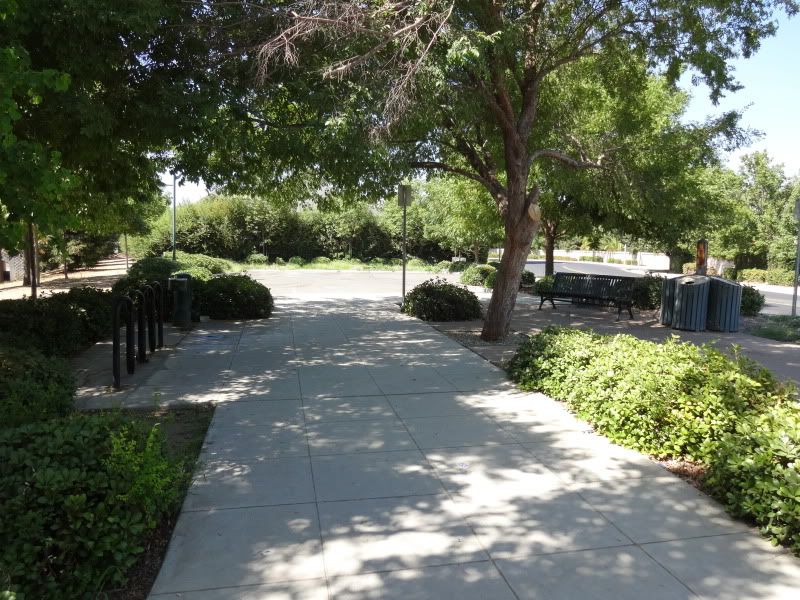 I'm not going to follow Dry Creek, but just show some fail at the beginning park.
There is a road crossing, and instead of noting to motorists "hey look, popular trail, slow down!" all the signs are directed at trail users.
Cross traffic does not stop? Uh, actually, the law says cross traffic MUST stop.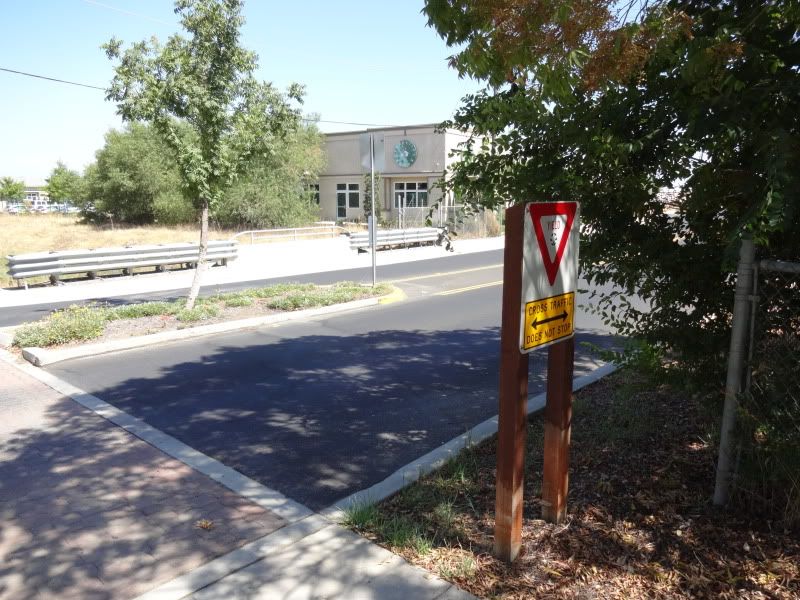 Not surprised that cars don't stop though. Zero signs indicating a trail exists, meaning drivers won't expect trail users. There's a refuge medium, but only a sign noting the median, no sign noting that there is a crossing.
There's a sign warning of a future stop sign, so a distraction exists. Why not highlight what's right there?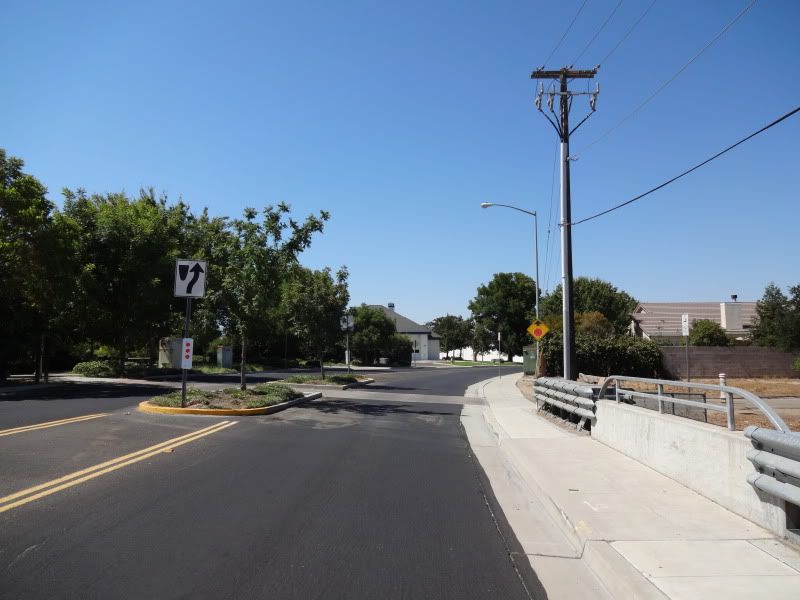 From the other direction, a trail sign does exist, but it's not very good.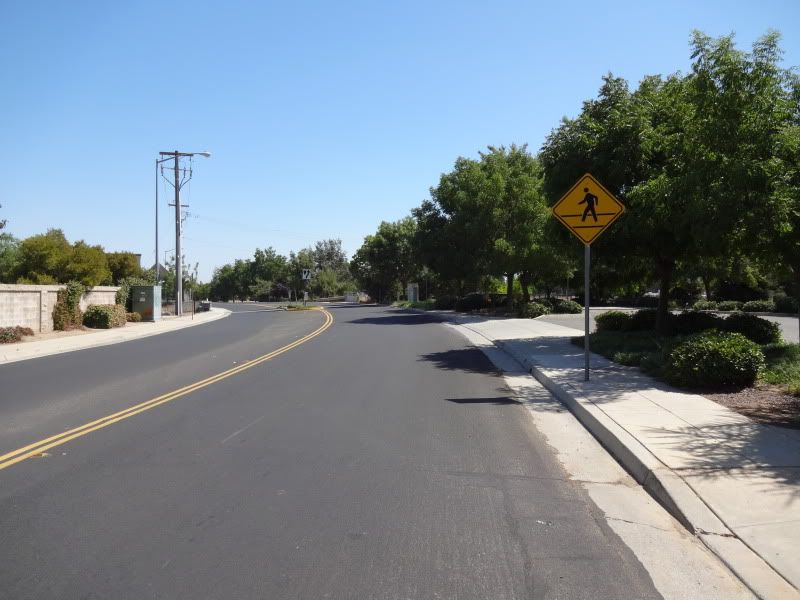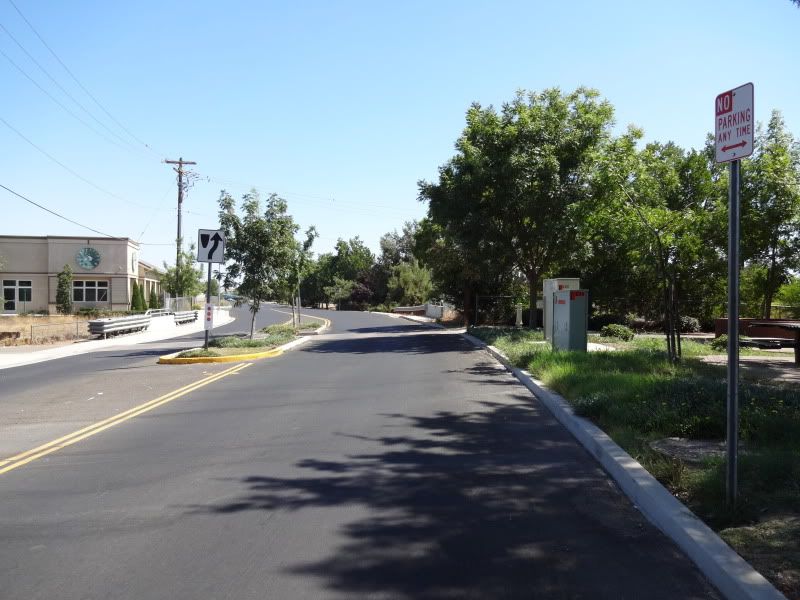 After the very badly designed crosswalk, the trail itself is very pleasant, with lot's of shade and the sound of the creek. Again, no lighting, and very few amenities, but aside from that, almsot equal to the main thing. Maybe a couple of inches narrower?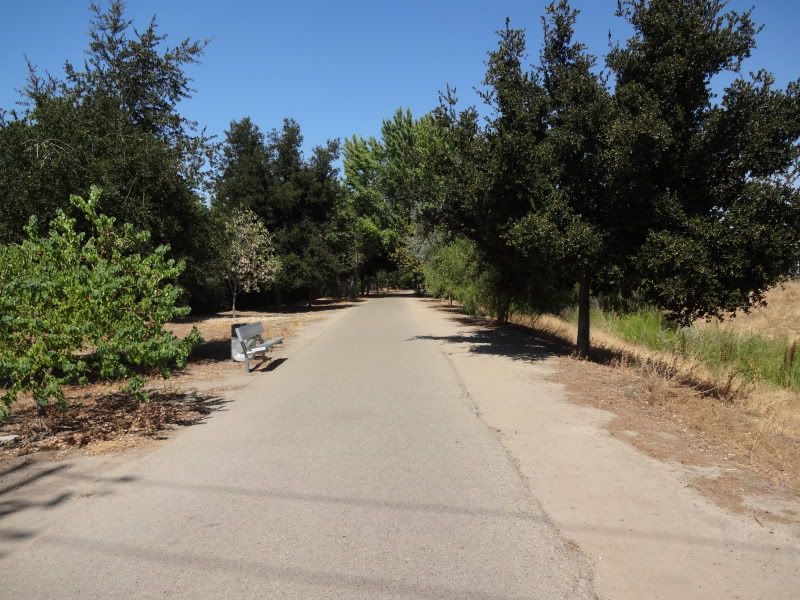 Turning back, the crossing from the other side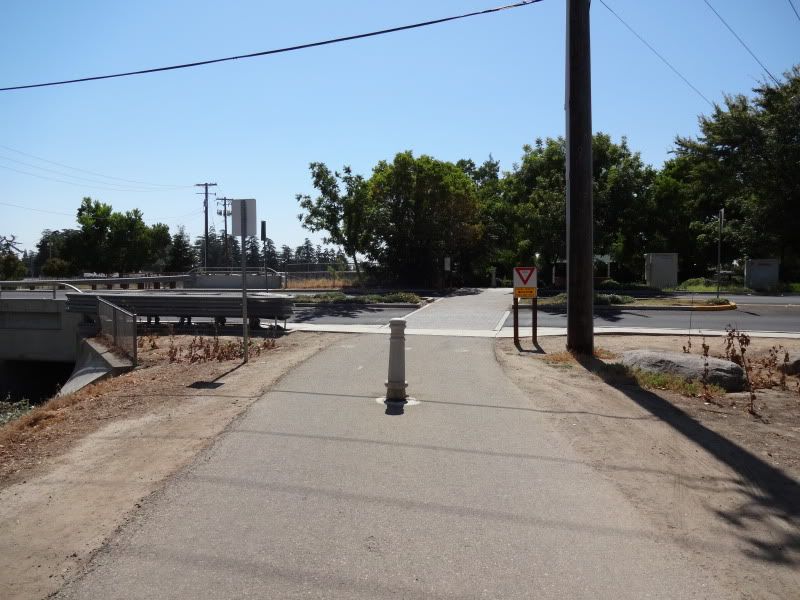 And we once again continue on our way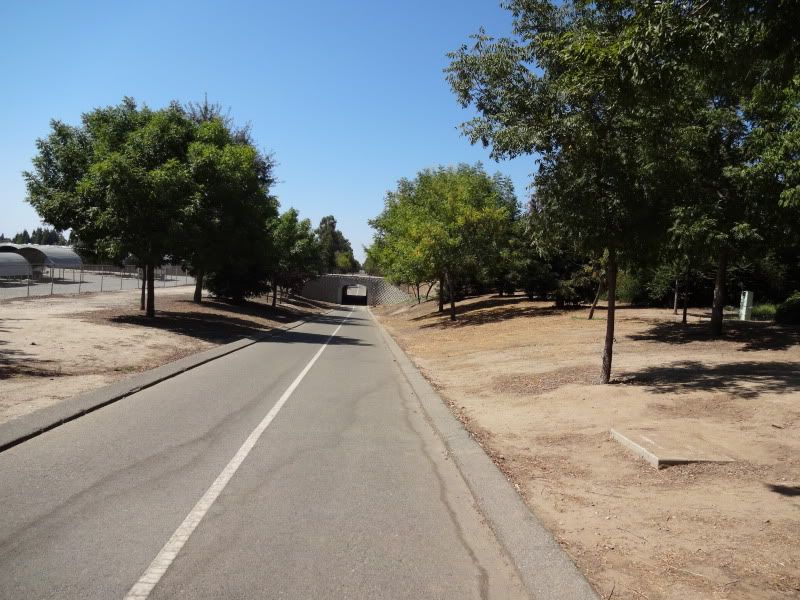 These tunnels have hills that can be a pain.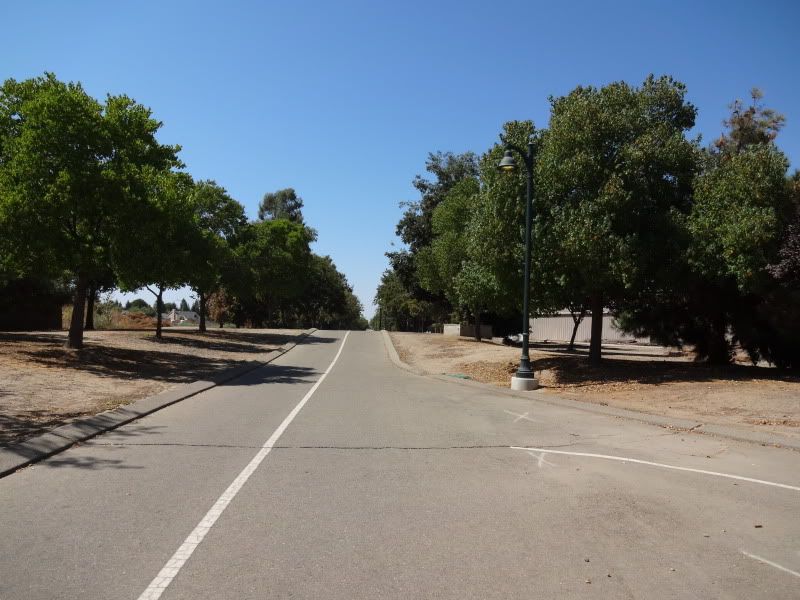 Some lovely industrial views… (this once was a railroad after all)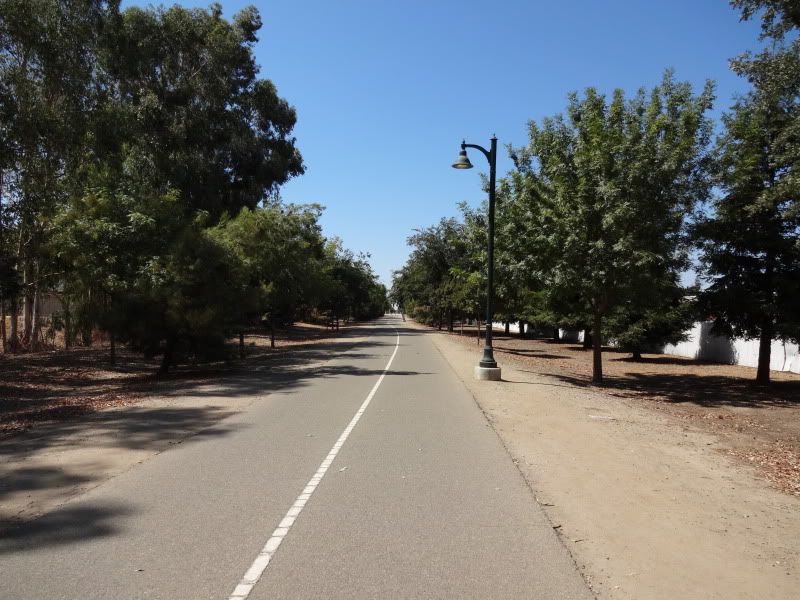 We approach Alluvial which has some pretty good trail treatments. I'll leave that for next time, as we cross Alluvial and then Peach, heading towards Nees and Willow.