Fresno likes knocking down buildings downtown. Perhaps love is a better word, as it seems to be some kind of never-ending fetish. Recently, two such adventures in demolition have gotten the city in trouble. In one lot, near Community Hospital, the city authorized GV Urban, an apartment developer, to knock down two century-old homes. The houses were torn down, and now a year later the lot sits empty, tangled in a historic preservation lawsuit. Elsewhere downtown, a property owner wants to eliminate the old YMCA. The replacement plan? A surface parking lot.
The result of this strange attraction is the current state of downtown: empty dirt lots and ugly asphalt surface parking as far as the eye can see.
Naturally, there's more to come.
This time around, the city wants to build a new park downtown. Fair enough, downtown doesn't have much green space, and one way to attract residents is to build amenities.
Here's a look at the target area. Can you find a suitable spot for a park?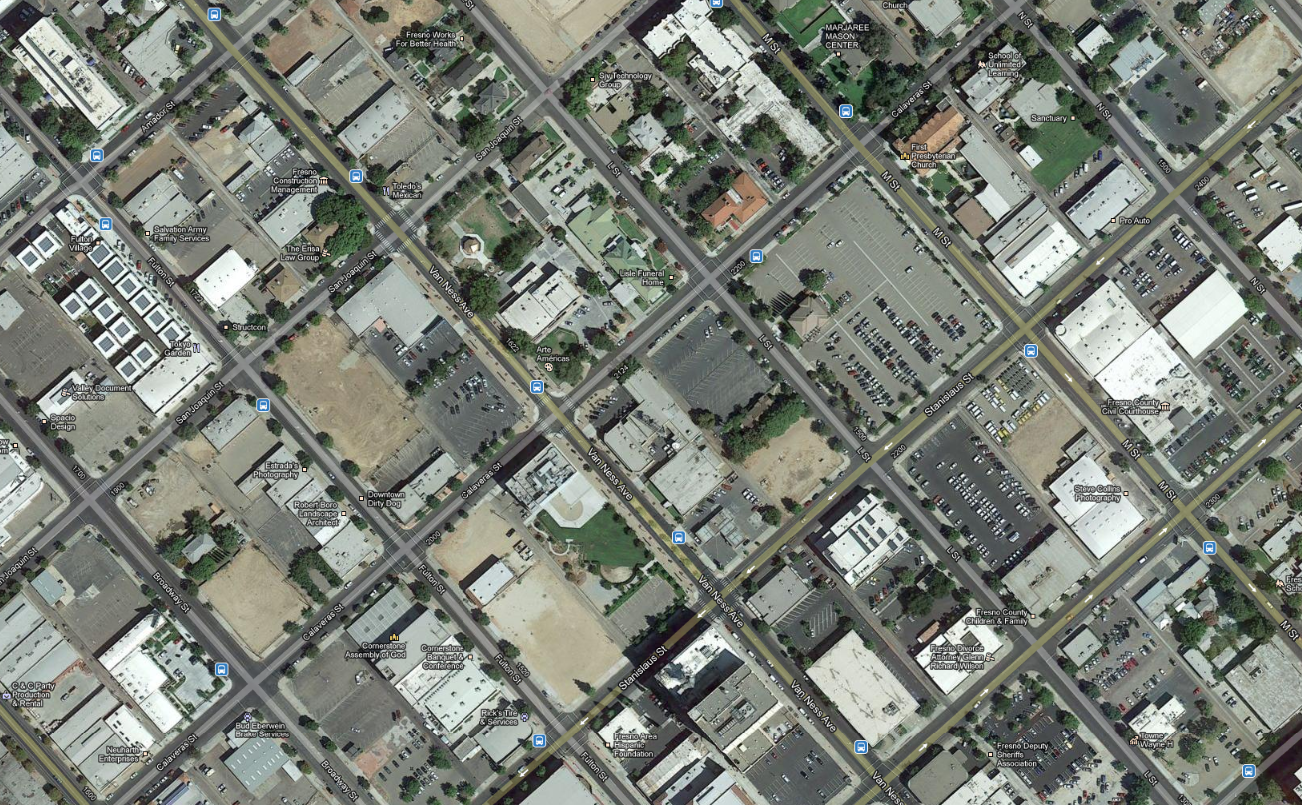 Let me make this easier. In bright red, all the empty lots and surface parking (in yellowish-grey, a lot which was empty when the image was taken but now has apartments and the previously mentioned lot held up in court. In dotted yellow, a proposed GV Urban project).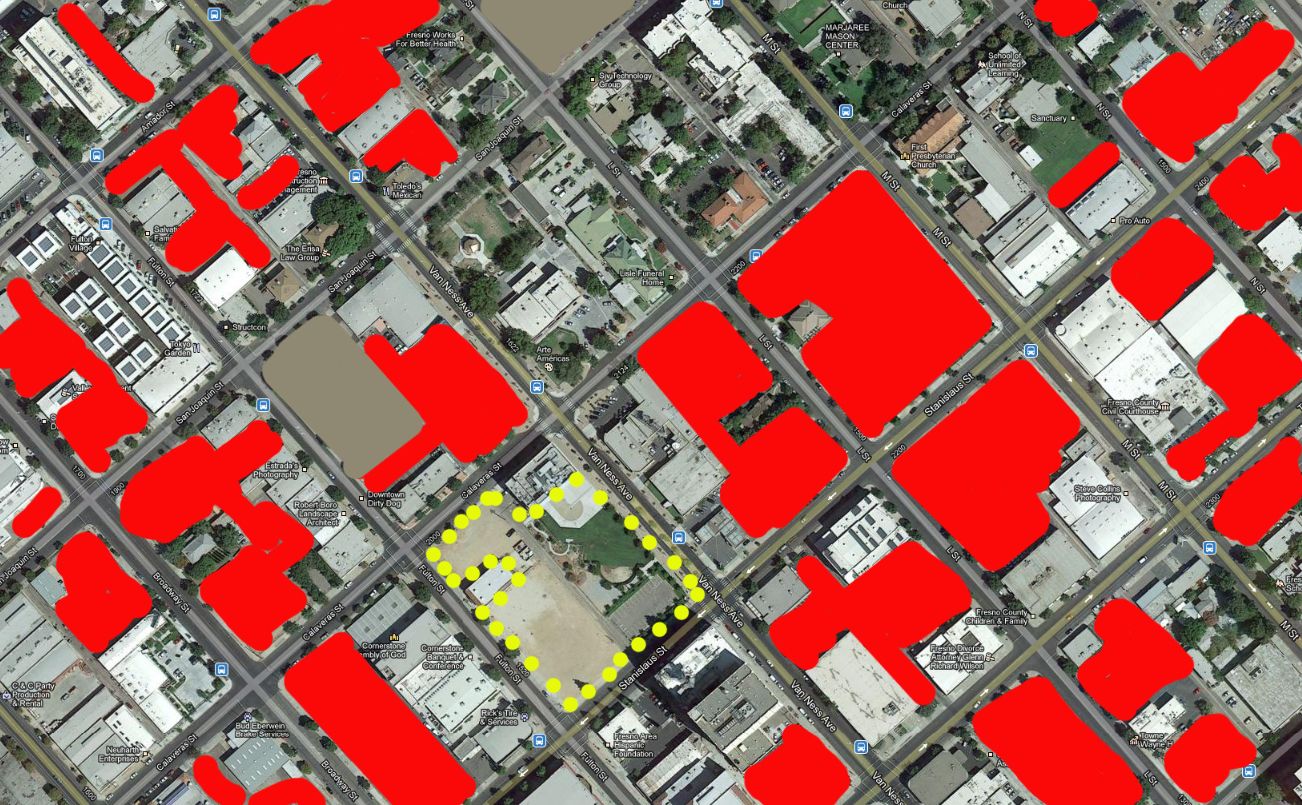 Shocking huh?
Clearly, there is ample space to locate a beautiful new downtown park!
Let's zoom in to the intersection where it's proposed….An intersection that will conveniently benefit the GV urban projects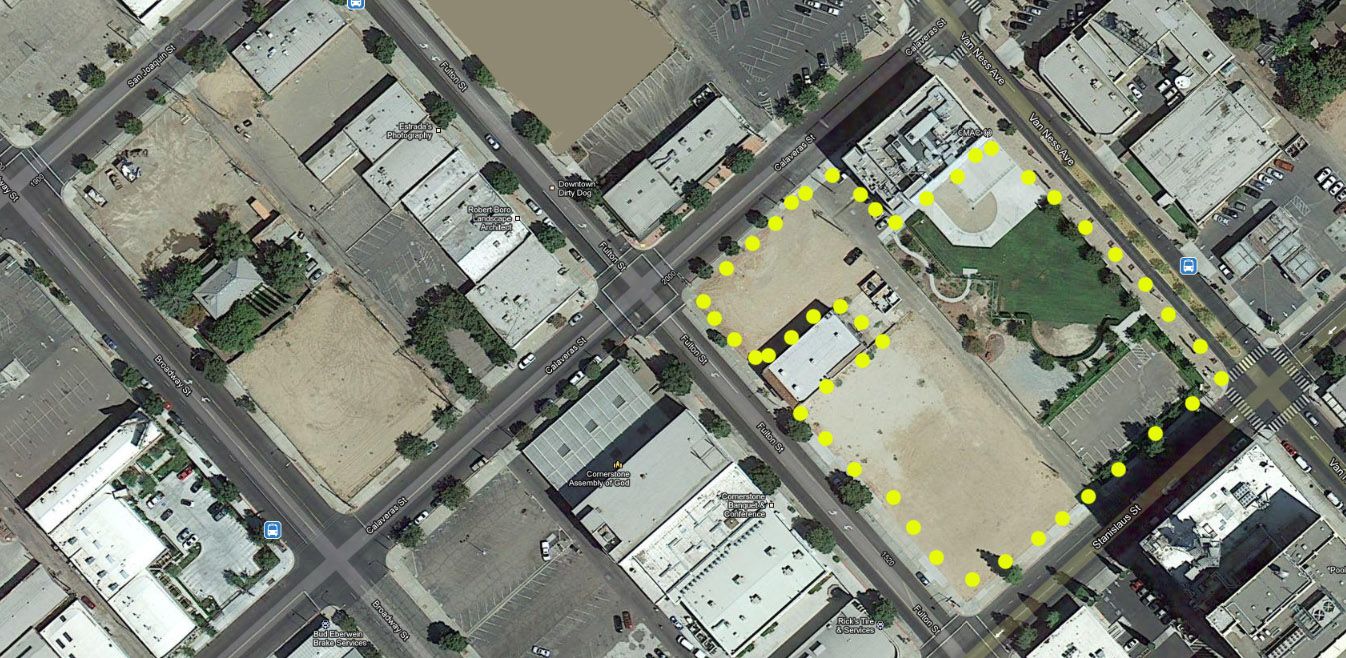 So where does Fresno pick for the park? It's so hard to pick among empty lots……
Obviously, some of the only occupied buildings!
There are five commercial buildings' on the property that will need to be demolished. As of January 15, 2013, only three of the addresses associated with this site were occupied.
Council Document (PDF)
Only three? Uh, an occupancy rate of 3/5 is pretty damn good for Fresno…
In blue, the latest target for demolition.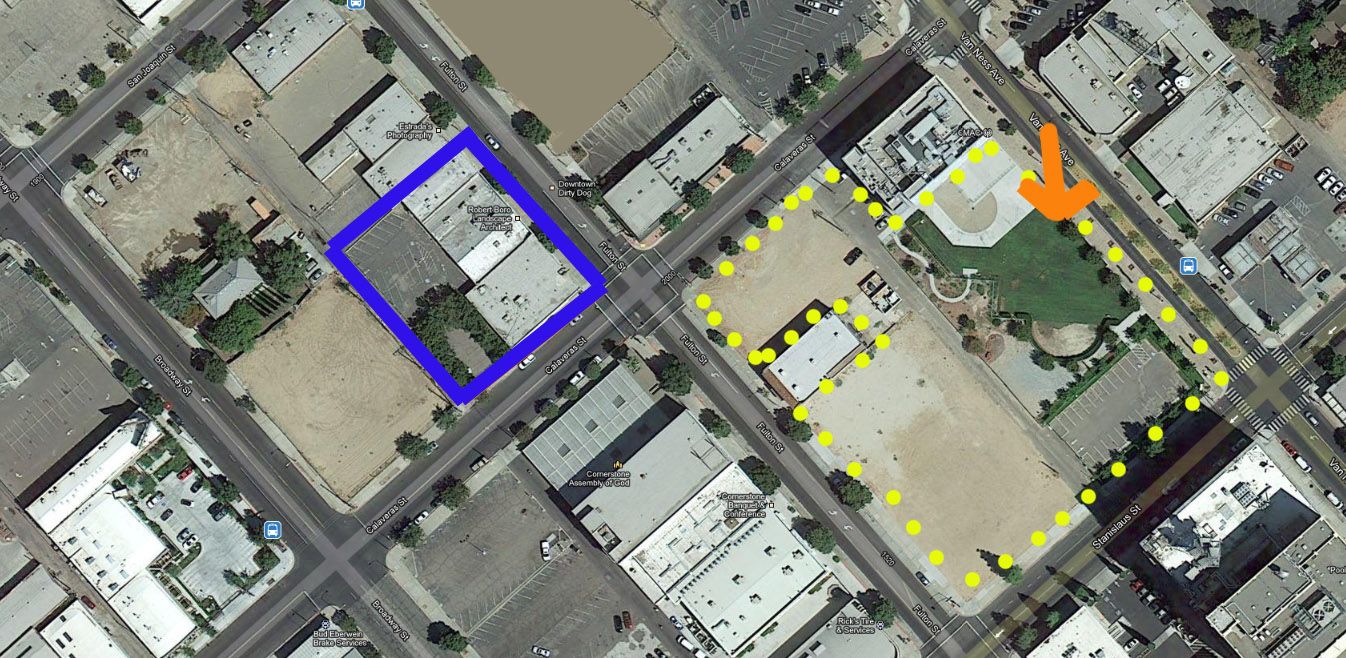 A complete street-wall in Fresno? We can't have that!
Now, do you want to know what the best part is?
In the above image, see the orange arrow pointing at the existing green park? It is nice enough, has basic landscaping (ie, what you would expect from the new park in this town).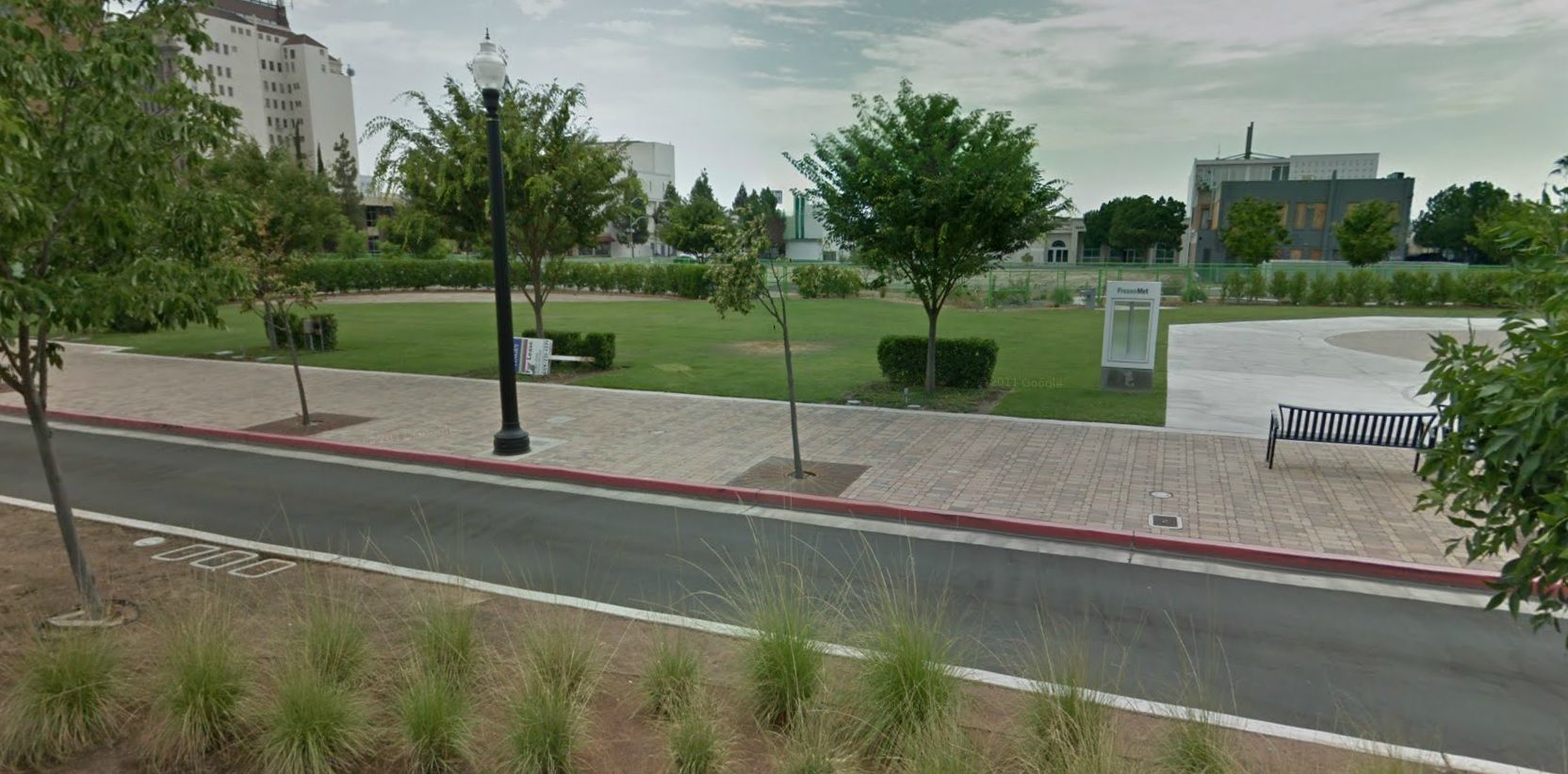 What's special about this plan, is that the city has given this park to GV Urban, so they can bulldoze it and build part of their new rental units on that land.
So on one hand they're saying there's this critical need for parks in the district….but part of that critical need is because the only existing park is scheduled for demolition!
But wait, there's more!
All this action is happening a quarter of a mile away from Fulton Mall, the pedestrian mall which is essentially a park – trees, fountains, and yes, even playgrounds with sand.
If you haven't been following along, you probably could have guessed it – the city wants to demolish that too.
If you thought this couldn't get any worse, you clearly didn't read the Sunday Bee. The big story?
Things are so bad at Fresno City Hall that it's swiping cash
from the ailing Parks Department to help the struggling Convention
Center pay its light bill.

The
$350,000 from Parks was supposed to fix up green space neglected in the
4-year-old economic downturn. It'll now go to a Convention Center
PG&E bill that, even with the extra dough, remains nearly $400,000
in arrears.

…

Rudd in his Feb. 28 report to the council said every penny in the Parks
maintenance fund not headed to the Convention Center almost certainly
will backfill unexpected expenses connected to outsourcing.
So the city is so broke they're raiding the parks department to pay PG&E bills. The same parks department that is essentially a skeleton crew because they were the first to be cut during the financial crisis. They're not going to be left with a penny.
But naturally, there's enough money to demolish five buildings, three with businesses, to build a brand new park a block away from an existing park that's slated to be demolished.
So where is that money coming from?
Council President Blong Xiong is still trying to get the Universally
Accessible Park built in his district on the west side of Highway 99.
Council Member Clint Olivier still sees hope for the Martin Ray Reilly
Park in his district in southeast Fresno. City Hall has millions in state grants for construction of both. The sticking point is maintenance. It's
not an insurmountable hurdle. The council last Thursday approved
construction of a tiny neighborhood park in the heart of downtown's
Cultural Arts District. State money will build it; Granville Homes will
keep it pretty for two years.
A state grant. And how do they solve the maintenance riddle? They get GV Urban, who was given the existing park for almost nothing, to mow the lawn for only two years. Not 50, not 30, not even ten, just two.
Sounds like a great deal, doesn't it?