Earlier this year, GV Urban proposed their newest residential project downtown, around the site of the former Met museum. This week they go before the planning commission with their next project, this time on Broadway.
The company has focused almost exclusively on Fulton, so it's nice to see them branch out a block over to Broadway, which has been neglected. For those not familiar with the area, Fulton is the main street, and has Broadway on one side and Van Ness on the other as other major streets in the area. Today, Broadway is mostly auto-focused businesses, and most of them are closed.
Here's a map of the project area.
Red square: New project
Green square: Buildings being knocked down for park
GV1: Fulton Village
GV2: 1612 Fulton (under construction)
GV3: Proposed Met plan
R: Rainbow Ballroom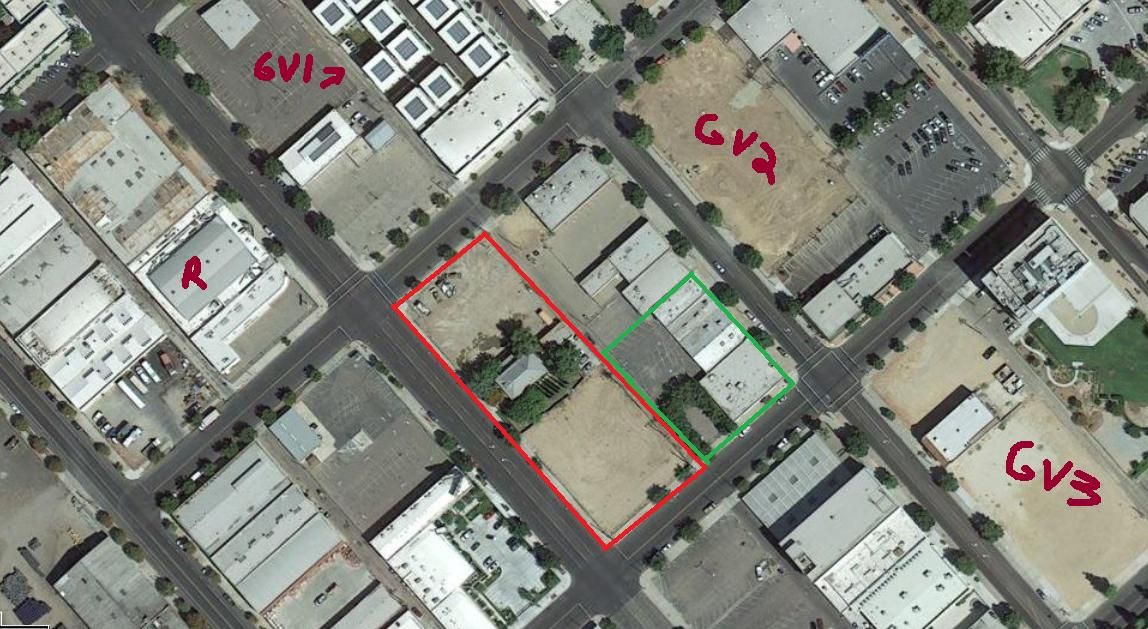 The entire area is quickly being dominated by GV. It's great to see that they keep adding new projects, which means there's been sufficient demand for their old projects. One downside is that they've been the recipient of plenty of corporate welfare. While other cities might require GV set aside some space for a park, in Fresno, the city is buying up existing properties and knocking them down to build one for the company. While other cities require developers to fund infrastructure, in Fresno the city is reaching into TOD funds to improve the alleys for GV.
Is the end result worth it? While it's certainly great to see all this construction, I sometimes feel the city is giving in a little too much. On the other hand, no other company has stepped up to build residential units downtown.
Anyway, let's take a look at the plan.
As you can see from the above map, the parcel has two empty halves, with a historic home in the middle. The right side of the property used to be an abandoned business – which the city knocked down on their dime.
The plan is to build apartments in the empty lots, and restore the existing home. The historic home will have something I've been saying GV has been lacking for years: Amenities for their residents!
You see, every north Fresno apartment offers pools, saunas, party rooms, lounges, etc etc. GV charges higher rents, tries to convince people to take a risk downtown, but offers no amenities. Looks like they're finally trying to fix it. The first floor of the home will offer a billiard table, a lounge area and a community kitchen. The second floor with be for the on-site manager. No pool, but it's a start.
As for the new construction….it's exactly the same as Fulton Village and 1612 Fulton. Multiple three story buildings, two units per building. Balconies, but flat surfaces and identical designs.
I wish they'd add some flair. Their first project, the Iron Bird Lofts had some great design features. Since then, it's been cookie cutter molds. How about some different roof designs? A decorative 6 foot addition? Anything?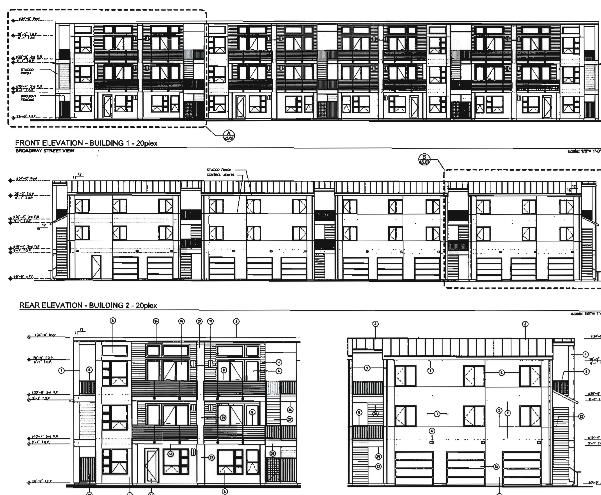 Notice how the existing home adds to the project by not making it so uniform. Why not add a sloped roof to one of the new buildings?

The site plan.
It looks like the rear units actually require use of the alley….a first for the company?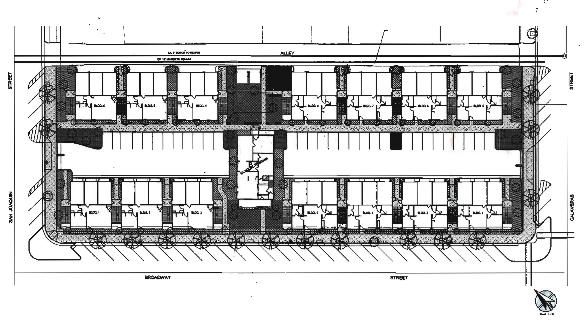 Note the diagonal parking configuration on Broadway. That's part of the new street-scape project I talked about way back in 2011. Supposedly, it's going to happen this summer or fall. Now I sort of understand why they decided to remove the promised bike lanes and build angled parking – it's what GV urban wants. Fulton Street also has angled parking and no bike lanes. I guess what GV urban wants, they get, even if it contradicts the bike master plan.
The street-scape project has not been modified since I posted about it over a year ago. I asked why they're not using back-in parking, and was told it was because that didn't exist in California…
Except that San Francisco is putting it in. Back-in parking is many times safer for cyclists because cars aren't backing into the street blindly.
Also disappointing, it appears that the left corner will get a fake, painted bulbout and not a real concrete one (compare red arrow with green arrow).

Considering streets like this are redone only once every 50 years at best, it's a shame to lock in a poor design for so long.
I'm excited to see this project go through, but like most GV Urban projects, it has its fair share of faults, mostly thanks to value engineering. Expect to see it pop up in 2014.
You can see the entire planning commission document here (warning, large PDF).