This past week, I was in Los Angeles and rode the Expo Light Rail Line for the first time, from end to end. I've written about the line before, and taken pictures of its construction, but had never been on board since it opened last April. The line runs from downtown LA to Culver City, with an under-construction extension to Santa Monica scheduled to open in 2016.
One thing I'd observed during the construction phase was the seeming lack of attention to how riders actually get to the line. A transit line cannot only focus on the immediate tracks and stations – people need to arrive safely and comfortably. And because we're talking about rail transit within a city, many passengers will arrive on foot or by bike. Ignoring them doesn't just depress ridership, but it can be dangerous too.
Sadly, the final version of the Expo line did not correct the mistakes apparent during construction.
One of the biggest failings of the line is that fact that even at-grade stations were built with only one entrance and exit.
The 23rd street station is particularly bad.
Here I've marked the station in aqua blue (the line color). Note that while it's located between two streets, the only way out is north. If you're heading south, you need to walk two minutes north so you can cross the street and turn-around. Again, because the station is at grade, the costs to build a second exit were minimal.

Even worse, a southern exit exists – but is emergency only. No legal way out.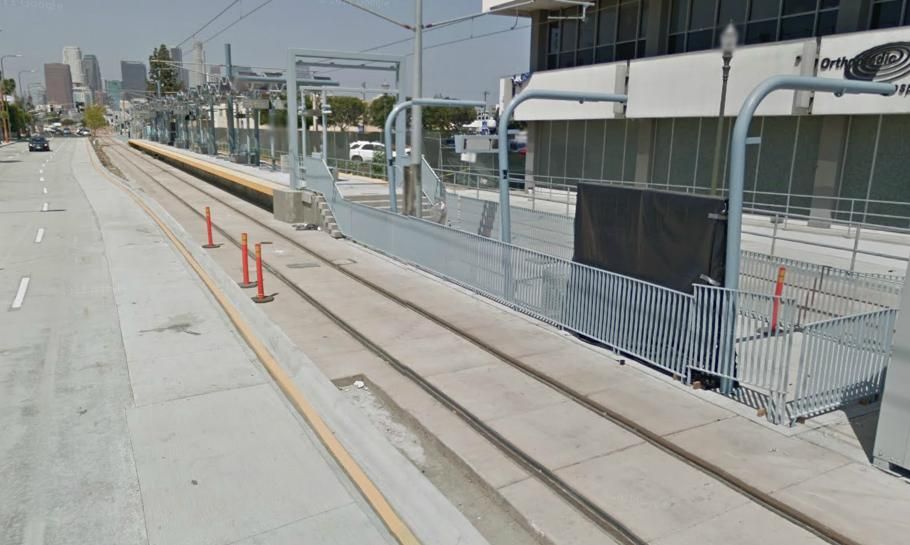 The above map images don't show it, but the line has already spurred development – a major apartment building was under construction next door.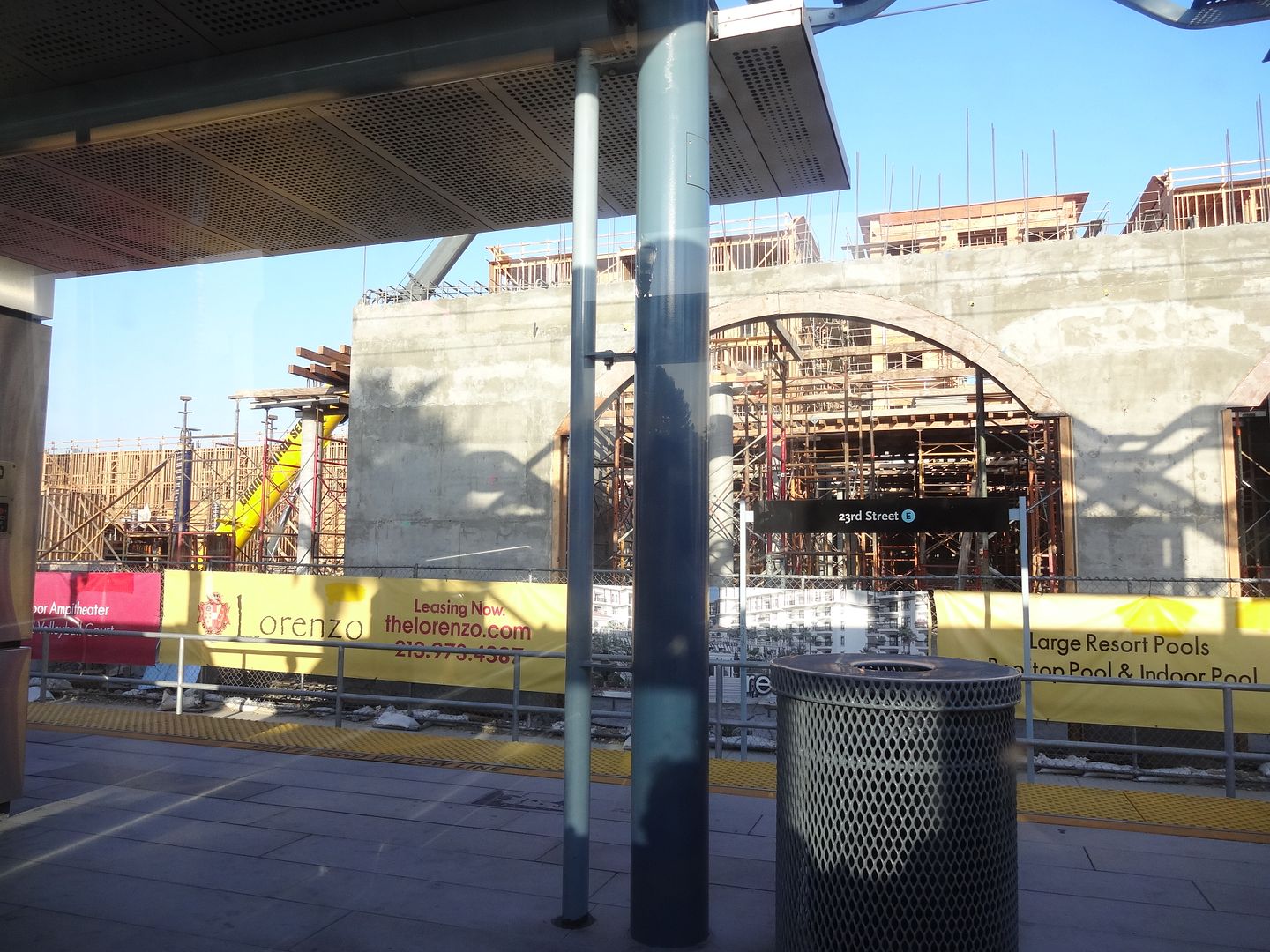 The next station is the exact opposite – the only real exit is south. If you live or work between the two, you'll always have to backtrack, for no real reason.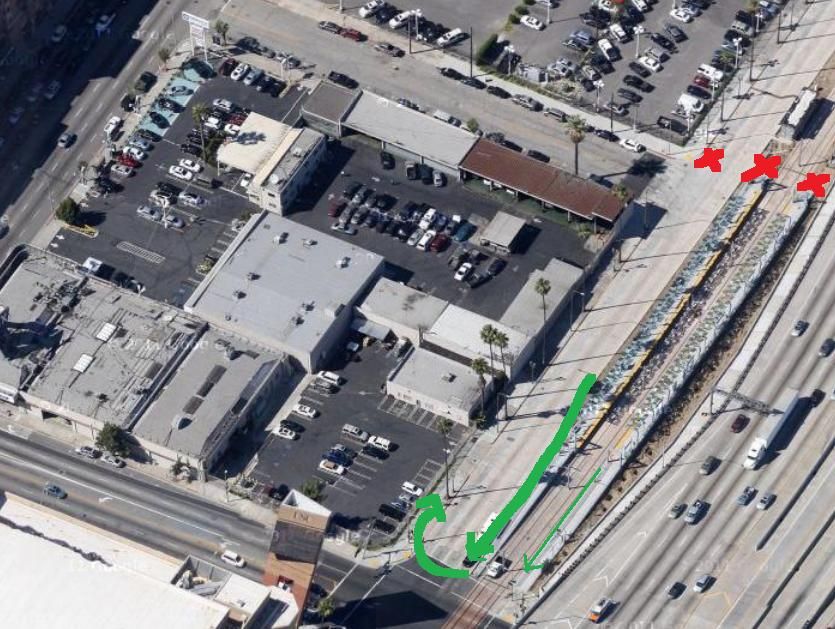 Once again, an exit actually exists – but it's emergency only. Instead of painting a crosswalk, Metro decided it would be no problem to send people on a 5 minute walk, just because.

Other stations are in the middle of a major avenue. Passengers are dumped into the middle of an intersection when they leave the train – not even a tiny pedestrian island with a life-saving bollard apparently could fit into the budget. Would you feel comfortable waiting in that crosswalk, which turning vehicles use to cut across?

When I rode, I did notice some bright orange flex posts had been added – but they provide no actual protection from an out-of-control SUV.
Essentially, the system seems to have been designed for trains, and not the actual riders. That is, the system itself was built to operate trains smoothly, but the actual customers were an after-thought.
The poor headways don't help that impression. 12 minutes during peak hours and an astonishingly poor frequency of twenty minutes as early as 7pm probably scares away many riders.
I did take a walk around the current last station while I was waiting for a friend. Unlike the previously discussed station, Culver City has an elevated station, and there are indeed two exit points, one at each end of the platform.
View from the top. Progress on phase 2 is obvious

The area under the station was very nice as well – ample seating, good lighting, and nice landscaping. Signage was plentiful, but not always useful. One very nice sign advises you of the last departure, but there were no train schedules to be found.
However, like the ground-level stations, there were plenty of signs that no actual transit rider was ever consulted.
For one, the station is quite high up, and no escalators were built. Elevators exist, but nobody likes riding transit elevators as they tend to smell.
Pardon the poor quality, but you can tell this is quite the climb. Now imagine your train is about to leave, and the next one isn't for twenty minutes…
At first I was impressed by the way-finding and bike facilities.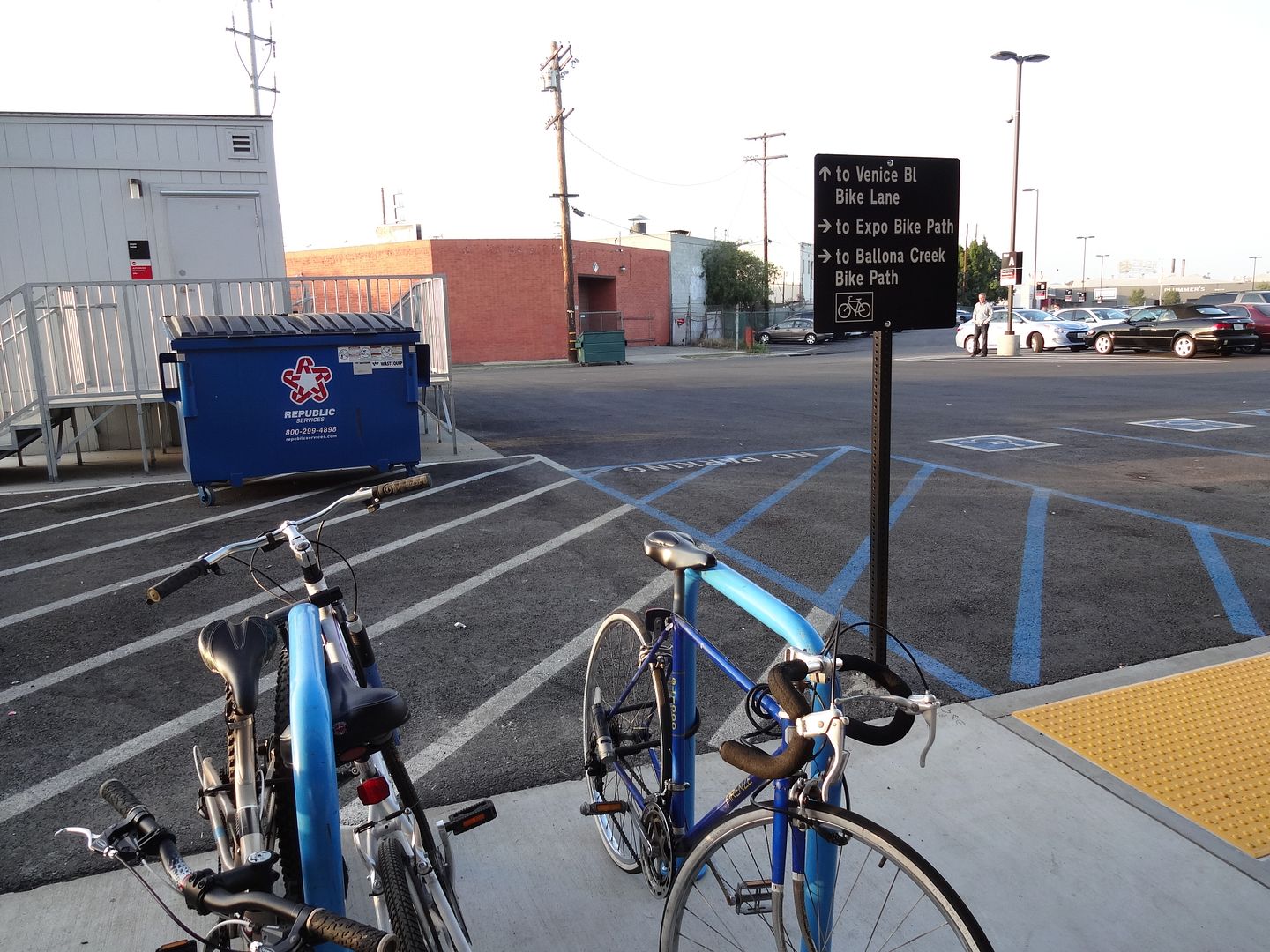 But as mentioned previously, all amenities transit riders need end as soon as you walk away. I followed the bike trail signs to this intersection, which offers absolutely no clue as to where the bike path actually is.
Walking back towards the station, you can see some of those way-finding signs. Where they exist, they're great…..but aren't they sort of important at the actual intersection?
Also note the narrow sidewalks and complete lack of trees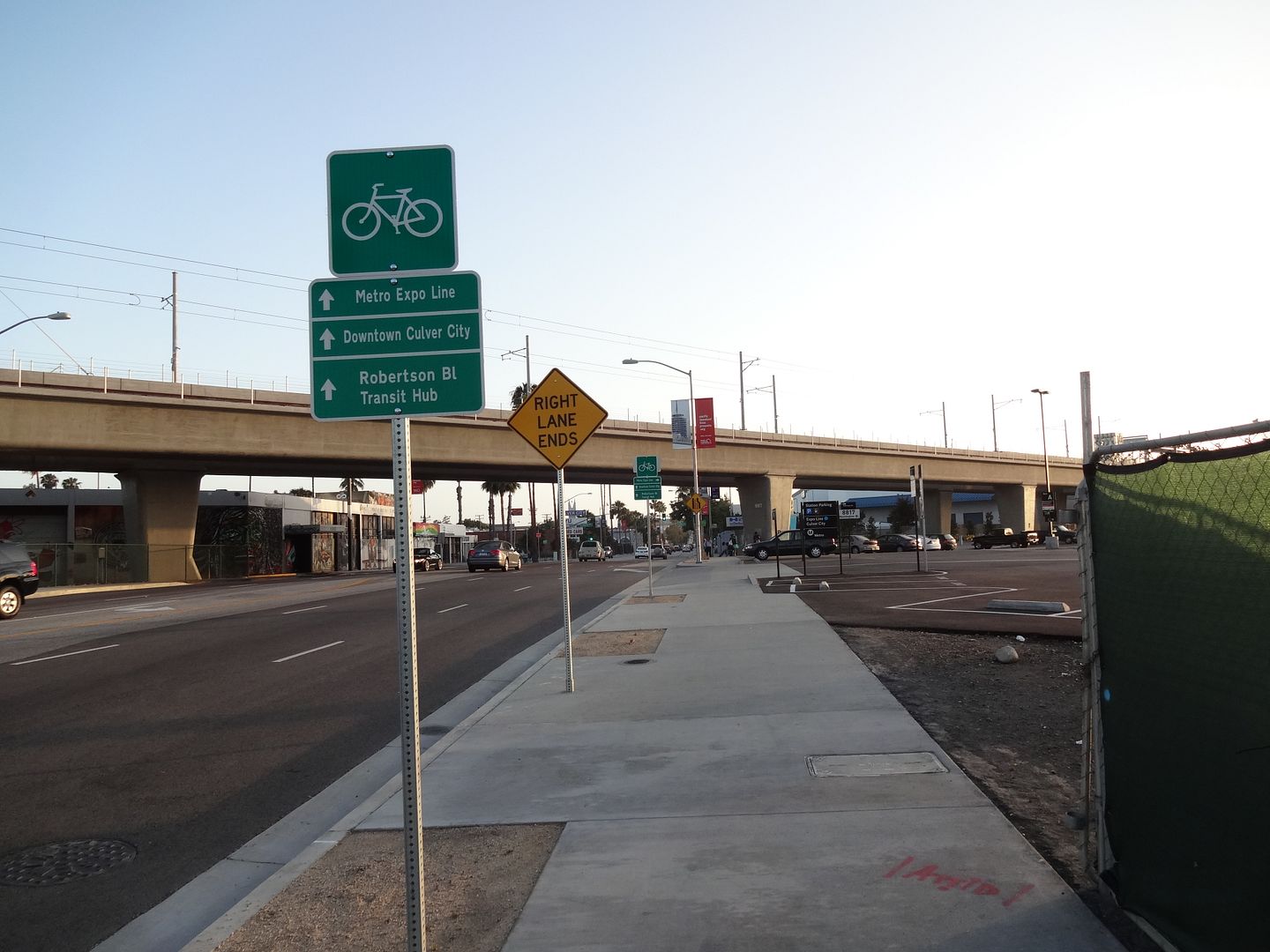 The designers of the Expo Line apparently decided that ample free parking was more important than a sidewalk. You can see the sidewalk narrow to provide for an extra parking space.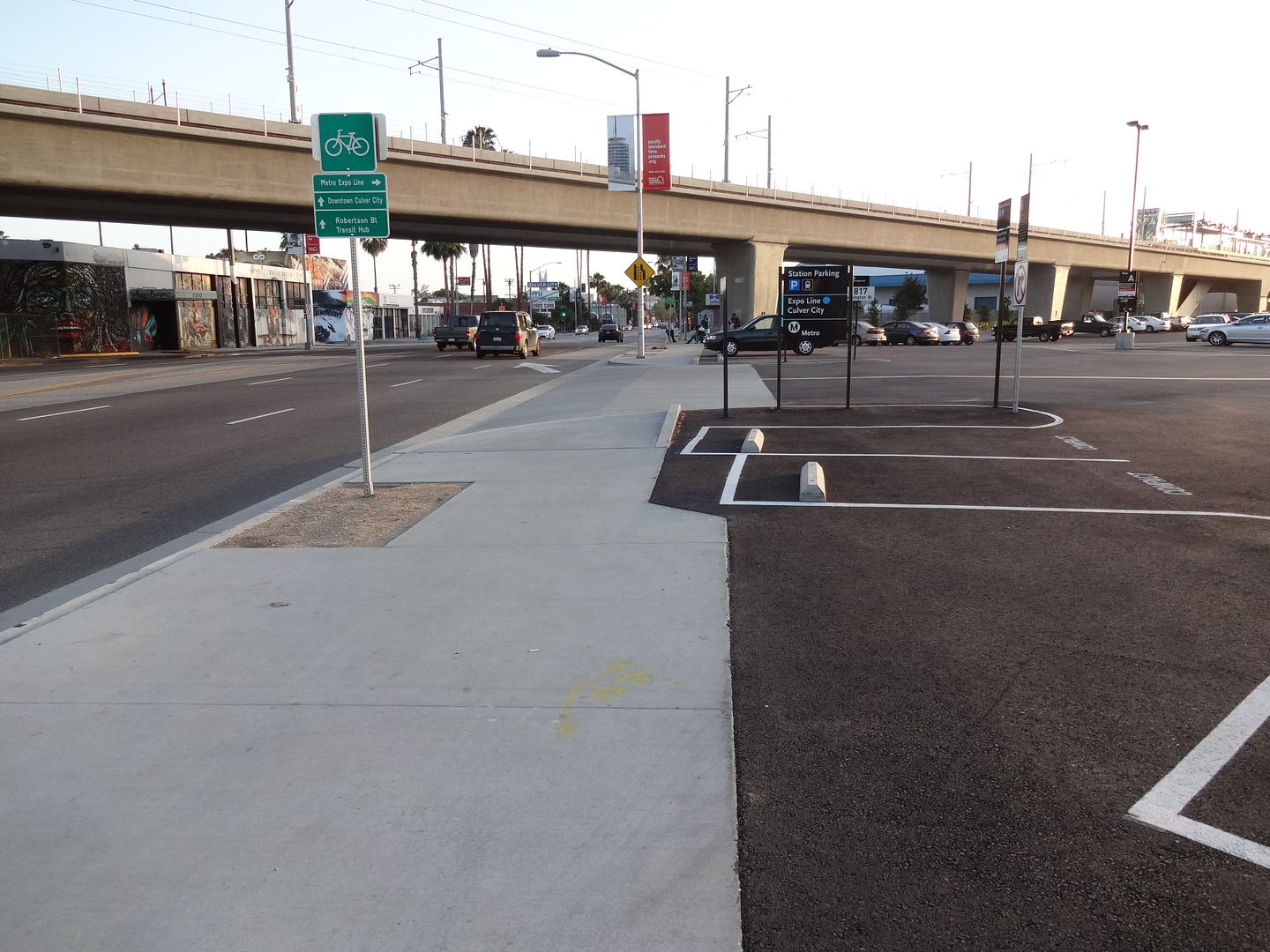 The sidewalk narrows yet again as you near the station. And remember, apparently this sidewalk is part of a bike trail, yet it appears to be the federal minimum of 4 feet wide.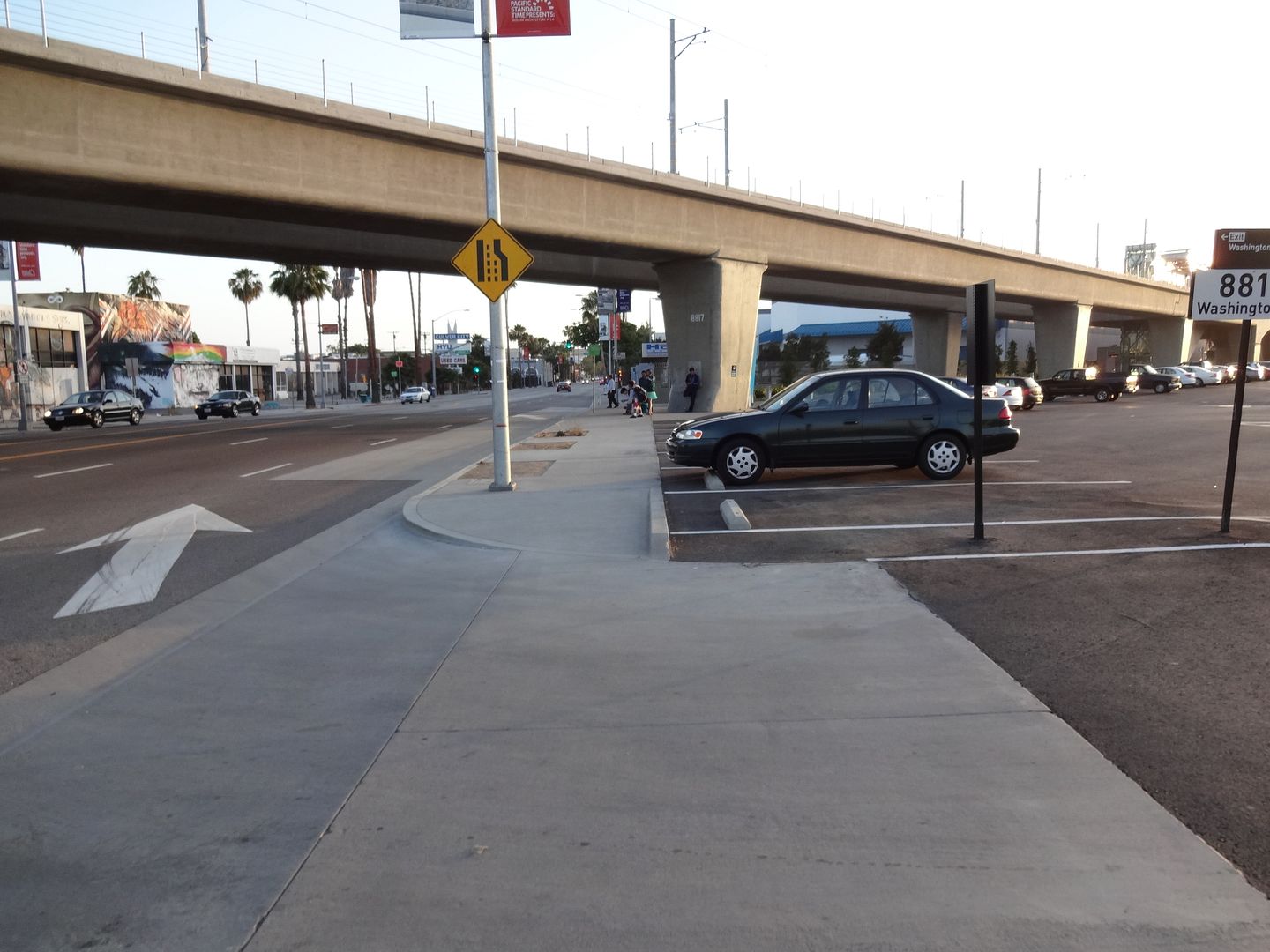 Up ahead you see a large crowd waiting for a bus, with no comfortable place to wait.
Another disturbing aspect was the timing of the traffic signals. With my friend, we crossed Venice Ave. A button was required to get the walk signal, and the the timer began almost immediately. We are both quick walkers, and the timer reached zero as we finished crossing – in clear violation of federal standards which require the timing be set to accommodate seniors and those with disabilities.That's not just bad policy, it's an easy lawsuit the city can find itself on the losing end of.
I enjoyed my ride on Expo, it was quick, and was within a block of both my origin and destination. I just wish the people designing the line, and those approving the designs actually bothered to ride their system for once. Maybe then they'd see the need to look at the larger picture. One can only hope that Phase 2 will be better, but considering light rail has existed in LA for over 20 years, and this is considered acceptable, I don't have much hope.