A bit over a year ago, the city of Los Angeles welcomed its newest (and long delayed) light rail line, called the Expo Line. Taking riders between downtown LA and Culver City (and eventually Santa Monica), the line had been greatly anticipated to fill a large gap in the metro system. For one, the line would have three stops serving USC, which includes a stop at the famous and frequently used LA Coliseum.
Not everyone was excited about the line. One conservative group, the Reason Foundation, which had spent years yelling about the horrors of rail transit in LA, sent out two reporters to the new line to count, and thus estimate, ridership. They used their loose estimates to declare the line a failure.
They also further used their ridership estimates from that one weekend to estimate ridership for the next 100 years. They estimated 13,000 riders per month for 2012….and every month after that, in perpetuity.
When called out on their ridiculous estimates, they claimed that their analysis was good because there was no reason for ridership to rise in the future. When told that first month ridership is of no importance, especially for an unfinished transit line, they said this:
The too-early-to-judge complaint is one you hear all the
time about rail, but curiously never about cars, movies, burgers,
condominiums, software, new fashion lines, tech gadgets, or pretty much
any other product that is brought to market. For all the palaver about
"soft launches," "slow rollouts" and the like, your opening sales figure
is almost always a good indicator of how you're going to do over the
Long Tail. That's why they call it the "Long Tail" and not the "Long
Trunk" or the "Long Opposable Thumb."
Their response
So how good of an indicator was the first month ridership?
As expected….those numbers were meaningless.
Only two months after launch, another 5,000 riders were boarding every day.
Last week, Metro released their ridership statistics for May 2013.
26,663


Thats twice as high as launch month….and just short of projections for the year 2020. In other words, as expected by everyone except for Reason, ridership on a new transit line DOES increase from the opening numbers. Based on other lines in LA, these increases happen for about 2 years before, the line reaches its expect ridership. For Expo, that means ridership will normalize just in time for the extension to open, and bring in two more years of steady increases.
User "rubbertoe" over at the Transit Coalition shows how the new line compares with the older light rail lines. (Note, because this only shows one year, full seasonal variation is not apparent)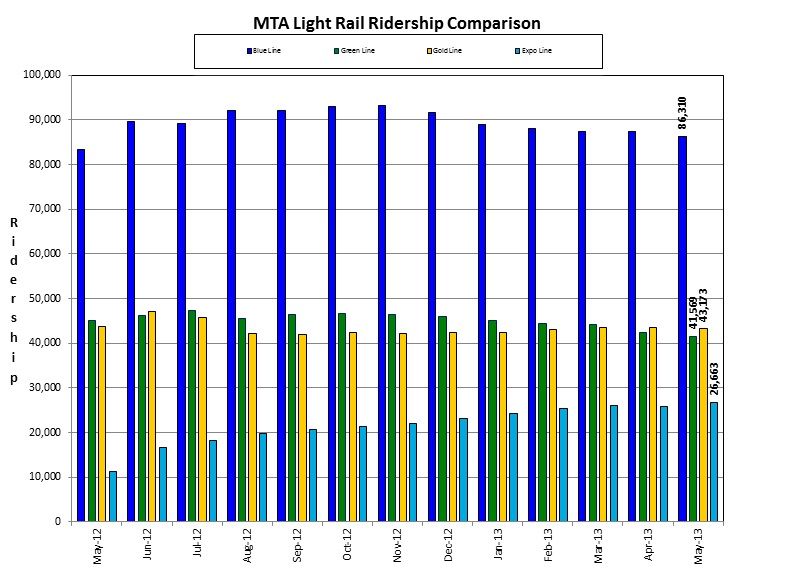 If you're wondering why Expo sees less riders than the other existing light rail lines, part of it is because the line is newer. As I mentioned, it takes time to build up ridership. That's because people need to be made aware that the line exists, and also as time goes on, people can make larger adjustments to their commute. For example, someone moving into an apartment along the line next year may do so because they plan on using the line to commute. Meanwhile, the old tenant had been used to driving, since they came to the area when there wasn't a line. That kind of turnover builds ridership.
Another reason is length, which skews things a bit – Expo is currently the shortest rail line in LA.
On a per mile basis, ridership is as follows:
Blue: 3,923
Gold: 2,192
Green: 2,078
Expo: 1,743
Expo will quickly catch up to the longer lines on a per-mile basis as the "ramping up" period continues.
To put those numbers in perspective, the Portland Light Rail system sees an average of 1,953 per mile. San Jose Light Rail? 796. Boston is king at 7,925 riders per mile.
Phase 2 is will under construction. Gokhan, has been chronicling construction, which you can follow daily at the Transit Coalition. His photo from the current terminus: