This weekend is going to be a big one for downtown Fresno, as a large music festival (with an arts component) is being held – and it's free. Trust me, you don't want to miss out.
They're doing it on the Fulton Mall on Saturday, and the inspiration came from a very successful concert held last year in the same location. Last July, to promote the release of a new CD for the band Fierce Creatures, the organizers put together the "Catacomb Party" on the northern end of the mall. The event featured one stage, a few bands, and some very creative decorations. I reviewed that event in this post (lots of pictures!)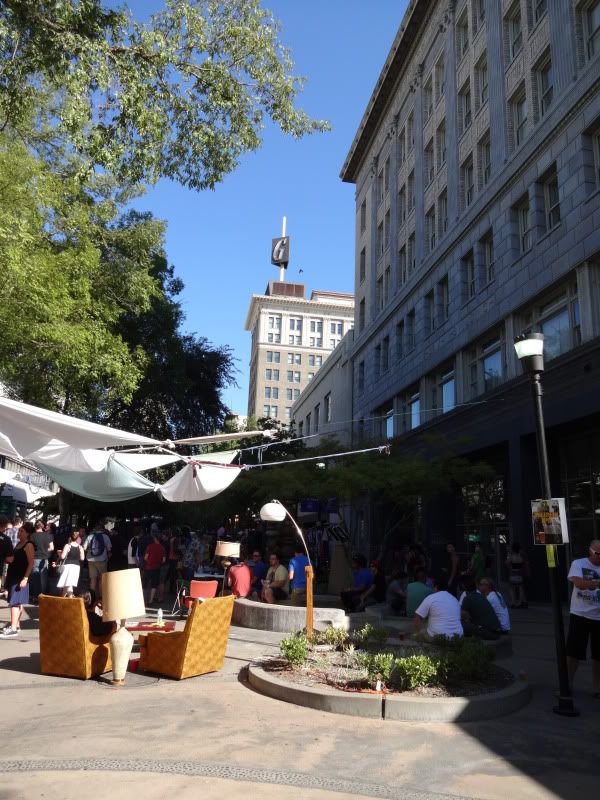 The setting, from last year
The organizers were surprised by how many people turned out to an event that was quickly put together, and had little promotion. Not only was the crowd large (and very diverse), but people quickly started asking "when is the next one?" And so here we are exactly one year later, and the promoters are hoping to turn the concert into an annual event.
This time, the party isn't linked to one band – or limited to one stage. Everything has gotten much bigger, but the show will be just as free.
The action begins this time at noon, and extends late into the evening – real late. Even more impressive is the diversity of sounds: over 40 bands will be hitting the stages, and they're coming from all over the state.
The event serves to fill a "festival" void for the area. Warped Tour and the Rockstar festivals both dropped Fresno from their rotations. The enormous Cinco de Mayo event on the mall does bring a large amount of bands and stages (and enormous crowds), but the music is aimed almost exclusively at the "Recuerdo FM" crowd. The annual FUSE FEST has picked up some of the local slack for those looking for music with less trumpets, but that's held indoors.
This event features a variety of music, from rock to reggae to electronic. Have a look at the setlist: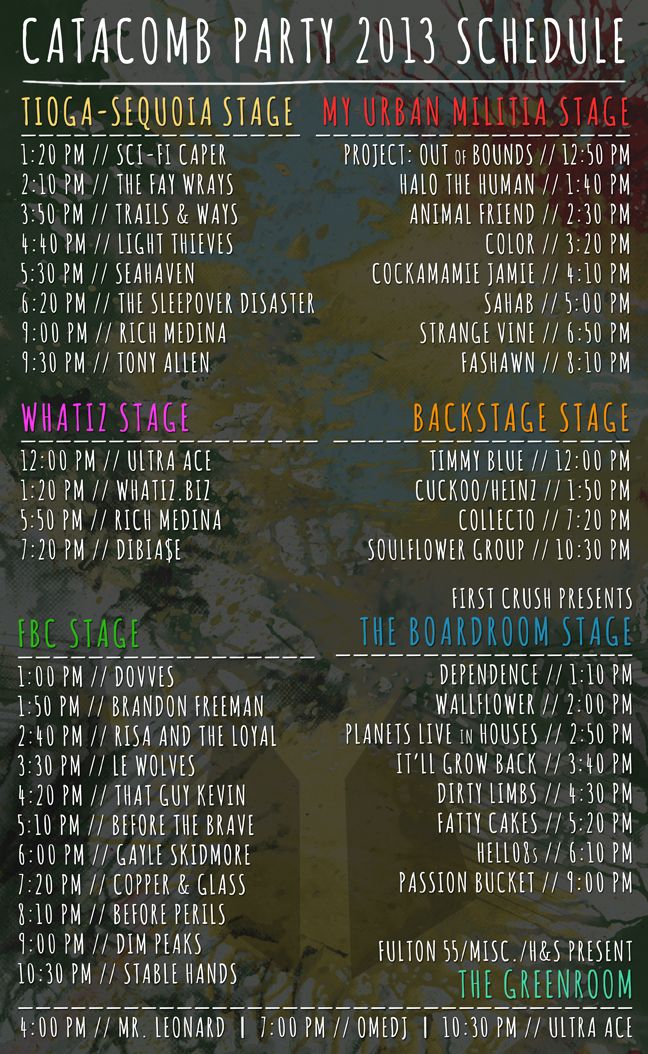 Wondering how they're fitting it all in? Once again, the event takes place on the Fulton Mall, between Tuolumne and Fresno St. which is the northern end of the mall (where CVS is). The stages are being spread out among the area, with one being inside the Fresno Brewing Company – which serves coffee and a large selection of beers.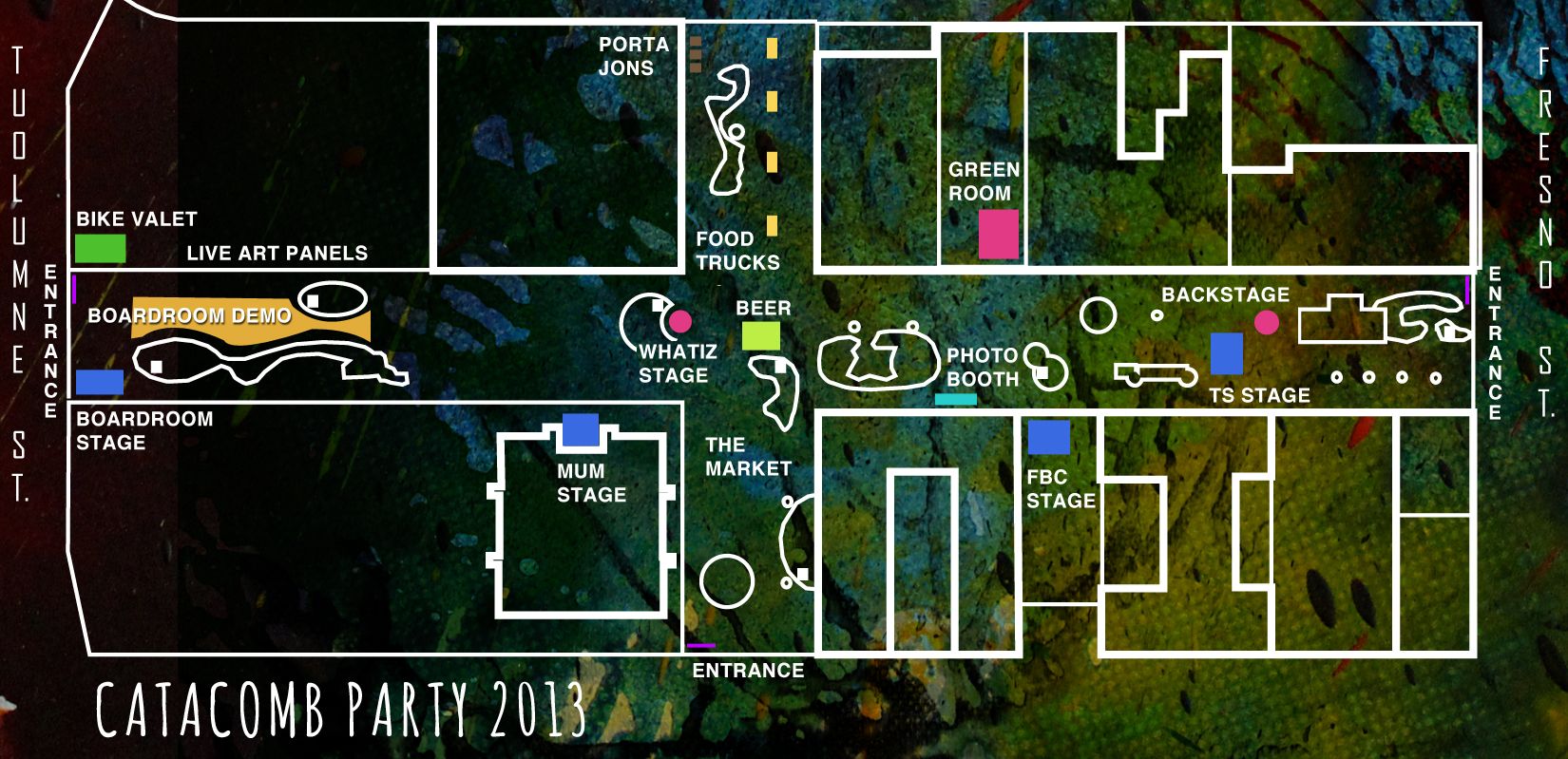 If that map isn't doing it for you, here's a more familiar version, entrances in yellow….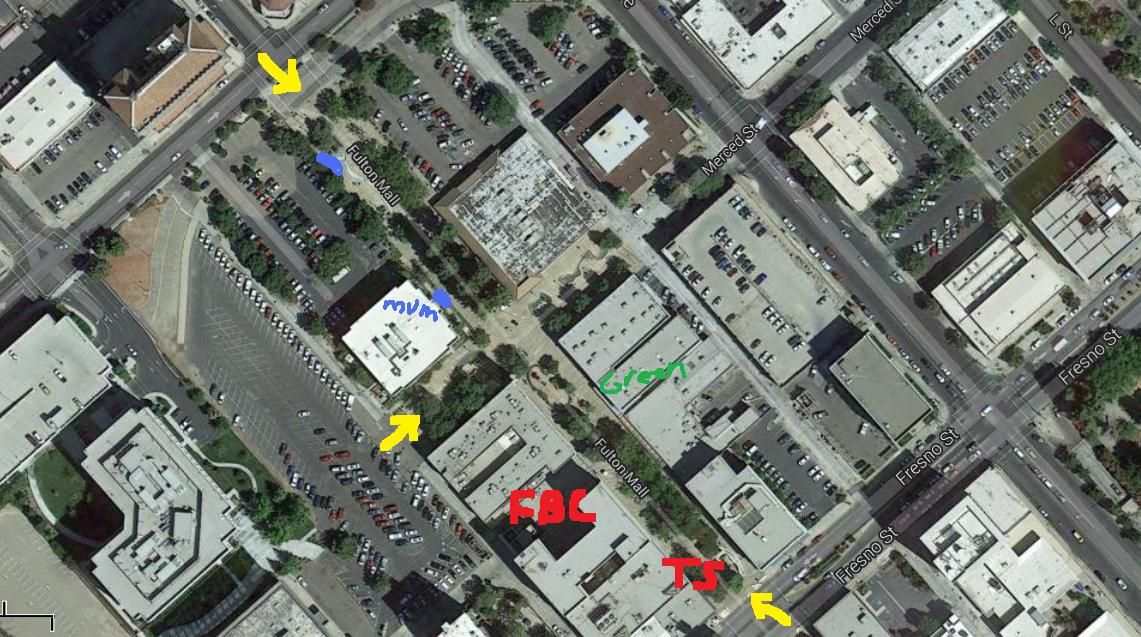 Worried about the heat? It may reach a toasty 108, but there's good news. I don't remember the temperature last year, but things never became uncomfortable. For one, the mall has very large mature trees. Combined with the buildings, there was always shade available. The orientation of the mall also allowed a constant and comfortable breeze to blow.
The organizers also took another step in comfort: they brought in large (industrial big!) fans to keep the air moving. They've also added misters and standard fans in a new cooling area for this years event.
Of course, if it's still too hot, you can always go inside. A variety of businesses will be open, and I know they're anxious for the business. The small Mexican restaurant there is very good, and the cafe next to FBC offers smoothies.
Speaking of food, you're not just limited to the three or four brick and mortar spots. The organizers are bringing in pretty much every food truck in town.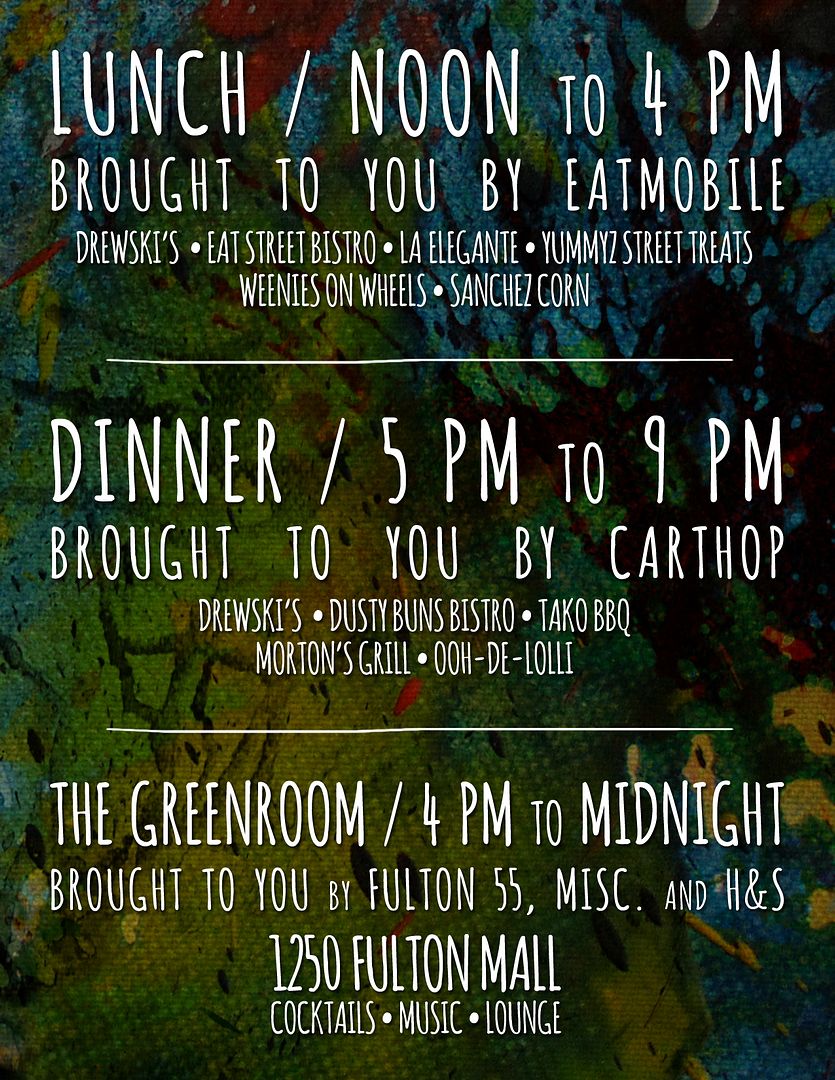 And beer? There will be beer. Happy hour is from 12-1pm, featuring a brew made just for this event by the Tioga-Sequoia company – and only $2 a pint. There's also the large selection at FBC, and an outdoor beer sales location.
The best part about the beer is the level of freedom allowed at this event. It's all ages, but the city has been flexible and people with beers aren't being corralled into a drinking area.
Here's the scoop:
DRINKS // Same as last year.
21+ can get wristbands and will be free to roam the festival, drink in
hand. $2 for water, $4 for beer, $6 for cocktails/wine. Patrons can
purchase their tickets from the Downtown Fresno Partnership booth
(again, directly adjacent to the beer trailer) and then trade them for
drinks at their leisure, either at the Tioga-Sequoia trailer, inside the
lounge or at one of several water stations. Our happy hour is from Noon
to 1 PM and will feature $2 drafts of our very own Catacomb Brew.
That's right. Free to roam.
Sadly one of the cool features from last year, the vintage furniture from YoshiNow used as decoration, won't be making a return. Instead, an indoor lounge (green room on the map) will be available with seating provided by Misc. Trading Co., and entertainment by a DJ.
The mall, of course, offers benches and such for seating. I'm unsure the status of the fountains, but if they're not on to provide foot-cooling stations, they provide comfortable seating. If you're bringing kids, the mall has a sandy playground right near the action.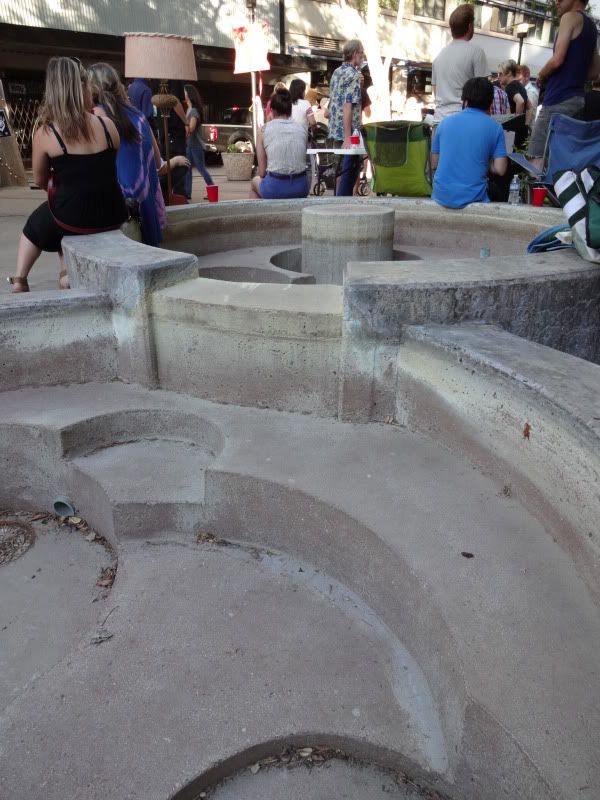 From last year. If the city still hasn't fixed this
fountain, it is very comfortable for sitting.
Another change to this years version is security. Because the organizers and the city expect a much larger crowd, there will be entrances this time, and bags will be checked. It sounds like you can't bring your own drinks. See the map for entrance locations.
Also, last years aerial acrobats will be replaced by a skateboarding demonstration area.
One new component this year is the addition of a large art exhibition. A dozen free-standing walls were built to give over 20 artists room to display their work.The artists will be working together between noon and six.
The artists are:


Adam Mena, Joshua Wigger, Robert Amador, Erik Beltran
Mauro Carrera Marin, Bob Pero, Sam Rene, Christian Vargas
Jackie Aldern, April Alkema, Abby Janzen, Nuka, Timber
Choco Fresh, Erik Rodriguez, Zero Lopez, Samantha Lazcano
Enzo, Steve Nunez, Tanya Horta, Steven Kinross, Chris Geigle
If you're not familiar with the area, it's easy to get there. Those looking for green transport will be greatly catered too. ibikefresno will be providing their popular free valet parking service. Their service means your bike is safe, you don't need a lock, and you can be comfortable that your accessories are being watched.
A second group, Fresno Bike Party will be providing escorted rides from the Tower District. That's rides, plural,
so you can arrive later if you want.
Here are the bike ride times:
Getting There:
A: Tower Theater – B: iBikeFresno Bike Valet Tent
http://www.yelp.com/biz/tower-theatre-for-the-performing-arts-fresno

Rollout times:
– 11am
– 3pm
– 7pm
=============================
Getting Back:
B: iBikeFresno Bike Valet Tent – A: Tower Theater
East entrance on Tuolunme St.
(Across the street from Warnos Theater)
http://www.yelp.com/biz/warnors-center-for-the-performing-arts-fresno

Rollout times:
– 2:30pm
– 6:30pm
– 12:30am
=============================
***ROUTE***
http://www.mapmyride.com/routes/view/242393953
Their Facebook page for this event: https://www.facebook.com/events/515312408540714/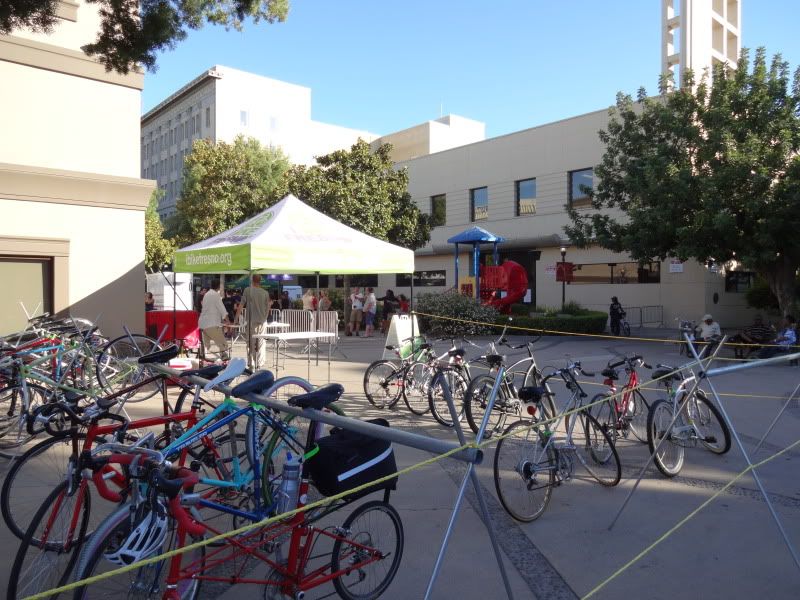 From last year, expect significantly more bikes
this time around.
Not much of a cyclist? No problem. If there's one thing downtown Fresno has in excess, it's parking. Since this is a weekend, almost all the parking will be free. The closest lot is just steps away from the event, and can be accessed near Hotel Fresno. See the map below, it can be tricky to find if you haven't been.
Here's the map. Orange area is where the shows are.
If you want the closest lot, it's marked with the P. The ONLY way in is from the south. So if you're driving south on Broadway or Fresno, you have to turn left at Tuolumne, then go all the way around the block. Note, if you continue straight on Broadway, you're at an IRS garage which is closed to the public – it's a dead end (and a really badly planned one). If you're coming down H, you just turn left at a really stupid traffic light at Broadway (the road there no longer exists) and then left again into the lot at the corner.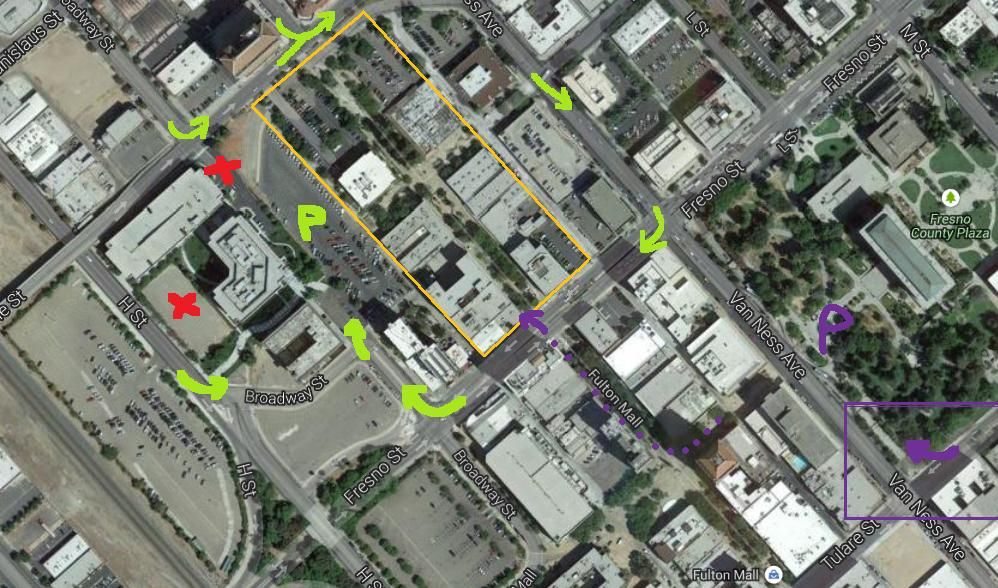 In the same map above, if you note the bottom right of the image, is the entrance to the massive underground garage (also free) off Tulare. If you park there, take the main exit which puts you directly on the mall. The purple dots lead you to the fun.
Here's another look at the surface lot. Don't try parking in the alley, it's reserved for official vehicles. Note there's only a small gate in the fence to reach the mall, which is only steps away (purple dots)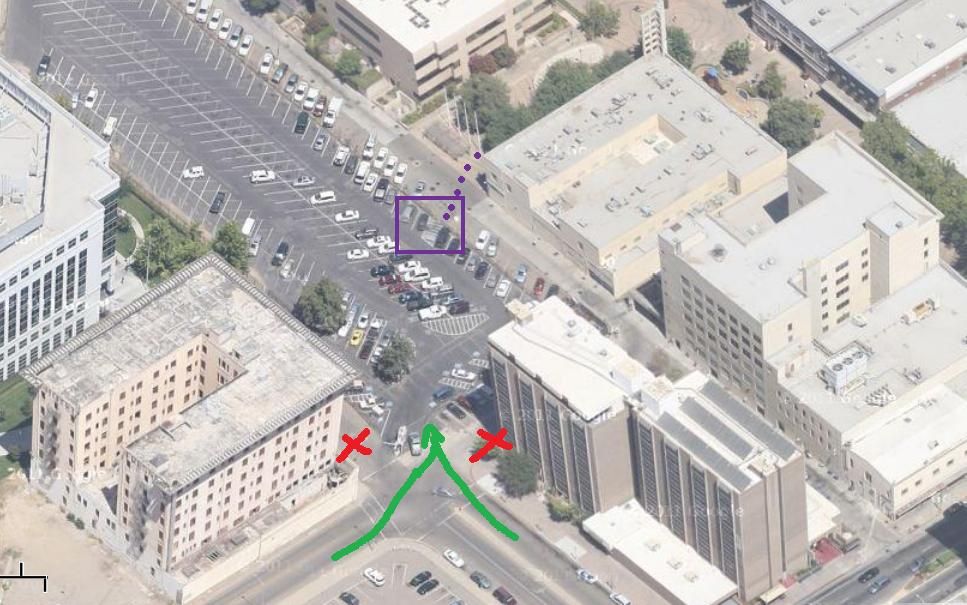 The CVS lot is also there, but I'm not sure how they handle event parking. Instead, I'd suggest parking on the street – meters aren't enforced on weekends. Also note some of the large surface lots are permit only, and I also don't know if that is enforced on weekends, so I wouldn't risk it. Make sure to read the signs. But there's a better choice if you're unsure…
Want your car to stay cool all day? Not a problem, the enormous underground garage is safe and free, and never warms up. It's marked on the map above as well and there are ALWAYS open spots. It's never desolate either – the large hotel and casino use it, so there's always activity, and the lights are bright.
Of course downtown Fresno is also where almost every bus line goes. Make sure to check the schedule so you can get home though. Most buses stop by the courthouse plaza, which is where the underground garage is.
You can find more details on the official Facebook page, or their website. The Bee is also scheduled to run a large article on this, so make sure to check it out.
Oh and remember, because this is free to attend, try to help out so that this becomes an annual thing. Buy some food, buy some beer, and check out the merch.
"T-shirts will be available for $12 (SM-XL) and $14 (2XL-3XL) and specially
screen-printed posters for $10. The posters were designed by Eric
Rodriguez (http://theneck-less.com) and printed by RoyalTee Designs (http://rtdapparel.com)."