I've mentioned before how in a lot of ways, Fresno tries to be the LA of 20 years ago. Unfortunately, that means mimicking failed policies that LA has thrown out the window. One mistake LA made was to ignore the pedestrian, but things have finally started to change.
LA recently hired a "pedestrian coordinator," a person whose only job is to improve transportation for pedestrians. What's interesting is that this person was not a traffic engineer, but someone with a much more varied background
Ocañas holds master's degrees in both business and international
affairs from Columbia University, studied Mandarin in Singapore as a
Fulbright scholar and worked for Austin-based Dell Computers when it was
a scrappy startup. She has a nose for business, and it comes from an
inspired place. "I'm a Quaker — that's how I was raised — and there's
always been this element of social responsibility," she says. "There's
always been a slant in my professional career toward how to use finance
and economics and direct them toward a public good."

Her economic sensibility allows Ocañas to convince hulking,
budget-challenged city agencies that L.A. should spend money humanizing
its streetscape. "Coming from the private sector, there's a real demand
for analytically based 'deliverables,' " she says, "so being very
comfortable in that data world really helps."
LA Weekly
If you've been to LA recently, you'll probably notice one of her very first acts
Ocañas persuaded city managers that 53 intersections with high rates
of vehicle-versus-pedestrian accidents needed to be upgraded to
high-visibility crossings. Now, all 53 are complete, and she's proposing
more. She's angling for safer routes to schools and transit stops
because that's where people walk the most. She's also trying to carve
out pedestrian spaces, such as four "parklets" that sprang up this past
winter.
What are high-visibility crossings? They're what most of the world considers standard; also known as continental or ladder crosswalks. In Fresno, you'll only find them at a few intersections downtown, installed in 2010 when the city had a transit planner who actually cared about pedestrian and cycling issues.
Here's a picture I took last month in LA, where you can see one of their new crosswalks.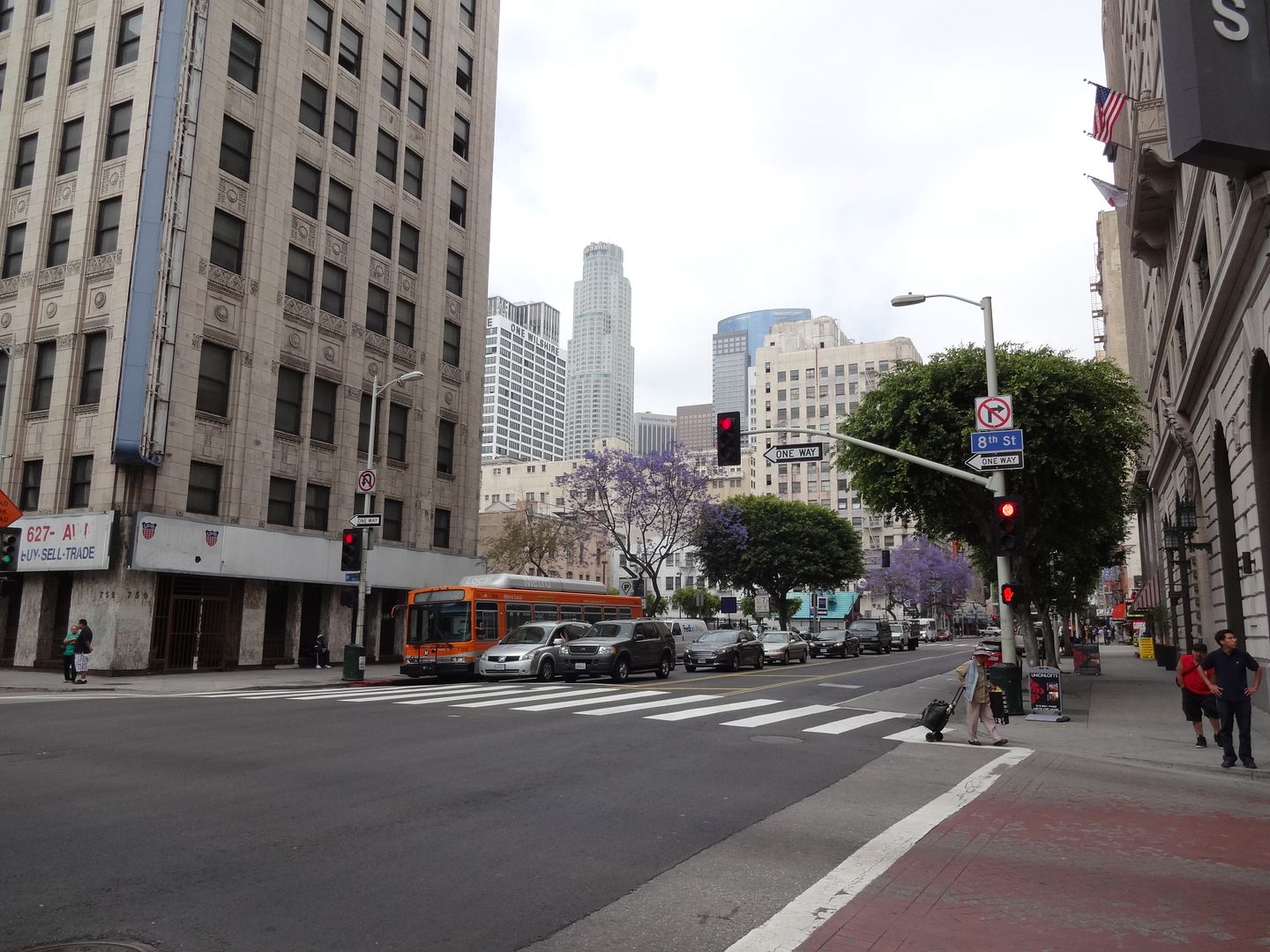 It may seem minor, but these crosswalks, new to LA, have three features:
1) Big bold lines which everyone recognizes
2) An advance stop bar
3) No double yellow line over the crosswalk
Together it says PEDESTRIANS ARE HERE. From my experience walking around downtown LA, they work. Cars were not blocking them, as they were more prone to do at the standard two-line style crosswalks.
So why doesn't Fresno have more of these? Because the current people in charge say there's no proof they make things safer. That's complete bull of course, as anyone can pick one of hundreds of cities to study. If you want to form your own opinion, go downtown and drive up Van Ness, you'll pass both simple and continental crosswalks, and it's very obvious as a motorists which one better catches your eye, day or night.
This picture shows the three types of crosswalks you'll find downtown: unmarked, simple line, and continental.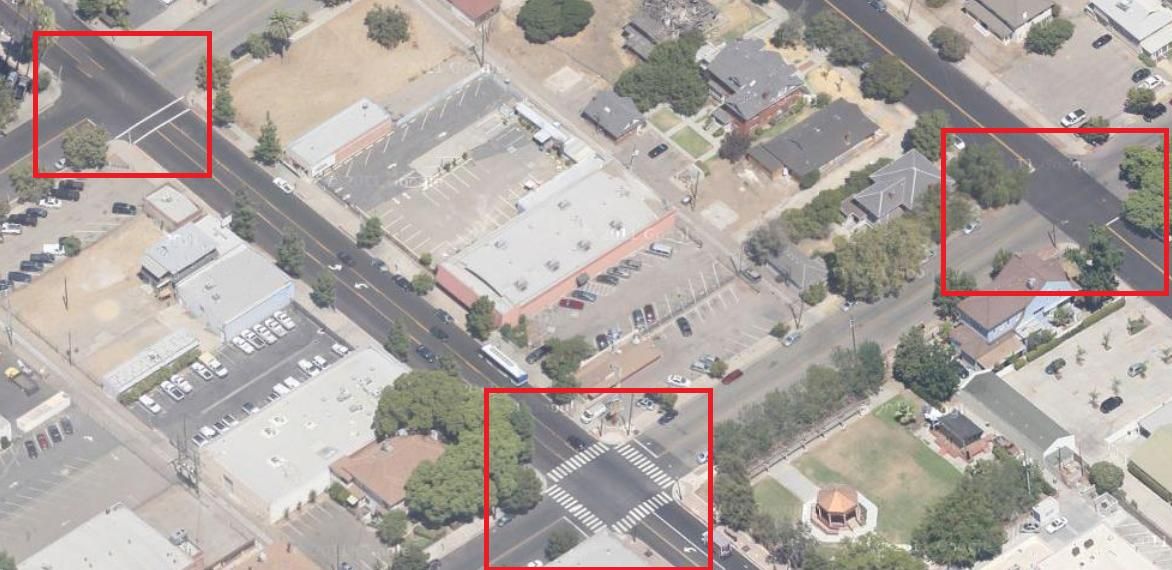 However, without a pedestrian coordinator (or czar), there's no one in Fresno that will step forward to make common-sense (and cheap!) changes like this. No other ladder crosswalks have been installed in the previous two years, and none were installed outside of downtown.
Ocañas is making other changes as well.
Standing at a downtown parklet on Spring Street — the brainchild of
her assistant coordinator, Valerie Watson — Ocañas says, "One parklet
may not do it." But on Spring, "You've got your bike lane, parklets, new
crosswalks — and suddenly you have this corridor that very visibly is
for more than cars."
The way Fresno government is currently structured, there's no one in a position to bring forward these kind of changes. The traffic engineers forget that traffic includes more than just motor-vehicles, and focus exclusively on them. The parks department – what remains of it – look only within the borders of their green spaces. The schools care not if the sidewalk ends at their property line.
Fresno needs to start emulating the best modern practices of cities like LA and SF. And those best practices include many cheap, but important changes to how the roads look and function.