Less than a month ago, I noted that LA hired a pedestrian czar, and one of her first duties was to begin installing continental (ladder-style, or zebra) crosswalks at dangerous intersections. I called on Fresno to follow suit, both in hiring a bike/ped expert, and in beginning an inexpensive, but highly effective process of converting crosswalks to the more visible style.
A continental crosswalk in downtown LA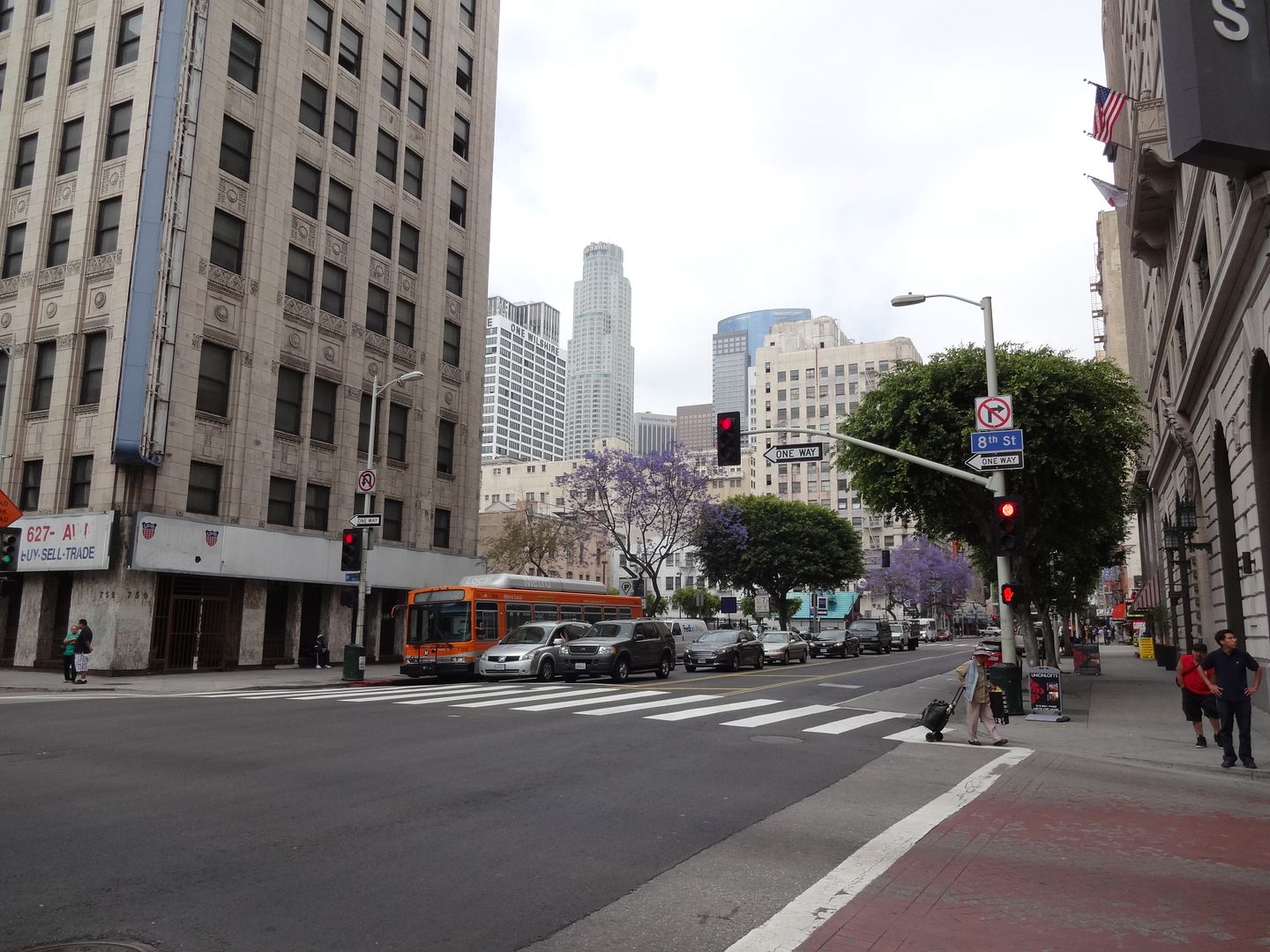 Well, according to a local TV station, LA has upped their game.
Last year, Murphy, along with former mayor Antonio Villaraigosa
announced a project to test the system by upgraded 50 of the most
dangerous intersections, including 7th Street and Alvarado Street,
Hollywood Blvd and Highland Avenue, Slauson Avenue and Western Avenue,
as well as others.

The city plans to upgrade 19,770 crosswalks across Los Angeles. The
cost is of the project is said to be $50 million, the average equivalent
to $10,000 per intersection.

The cost goes toward the cleaning, repaving, and application of the thermal plastic stripes of the crosswalks.

The funding for the project comes from the Measure-R fund's half-cent sales tax.
"Relatively, the cost is low relative to the impact of really
affecting drivers' visibility to pedestrians," LADOT Pedestrian
Coordinator Magot Ocanas told CBS2′s Art Barron.

CBS Los Angeles
The article notes that the simple act of painting the more visible lines resulted in a 25% decrease in pedestrian collisions. Part of that may be the advance stop bar, which improves visibility for drivers making right turns on red.
A 2010 study by the FHA noted significant advantages of the continental style vs the bar style. The recommendation was making them the default.
Consider making bar pairs or continental the "default" for all
crosswalks across uncontrolled approaches (i.e., not controlled by
signals or stop signs), with exceptions allowing transverse lines where
engineering judgment determines that such markings would be adequate,
such as a location with low-speed residential streets.
FHA
That same link shows significant visibility gains for the continental type over the simple one used in most of Fresno.
Seems obvious right? Longer lines = more visible. Sadly, a few years ago an engineer with the city told me they won't install them because there was "no proof" that they make things safer.
Now that the proof is piling on (in addition to common sense), maybe it's time to expand continental crosswalks beyond the ten or so downtown?