Over the past decade, California has passed various laws and initiatives aimed at decreasing driving, carbon emissions, and sprawl.
No one has told the Central Valley, which is celebrating the groundbreaking of yet another highway expansion project.
"This will connect us all in a more meaningful way," said Henry
Perea, chairman of the Fresno County Board of Supervisors and one of
many speakers at a ground-breaking ceremony Friday. "When I see this
freeway, I see a gateway to economic prosperity."
This week the Fresno Bee announced that yet another round of highway expansions would kick off in the rural parts of the county. The expansion plan will take a two-lane road, and make it four lanes, with a median wide enough to support two more.
Everything you see marked as 180 was built over the past decade, and there's more to come.


Image: Fresno Bee
That "gateway to economic prosperity" has the mayor of Sanger seeing dollar signs. For him, the highway means people can choose to live further and further away from Fresno, where most of the regional jobs are. With a four-lane expressway, one can comfortably commute at 80mph, rather than having to suffer the indignation of being stuck behind a truck doing 55.
Since the first phase of the expressway was built, Sanger's Mayor
Joshua Mitchell said that "more families bought homes in Sanger month
after month than any other city in the Fresno area."
The last round of expansion finished up about a year ago. The speakers at the groundbreaking to this new phase were thrilled to talk about the many changes that have come to the area.
Speakers applauded the Kings Canyon Expressway project for helping with
the movement of goods and services, improving traffic congestion and
driver safety, and connecting communities.
Improving traffic congestion! Ah yes, those massive backups in unincorporated Fresno County are infamous. Google's satellite service captured the hustle and bustle of 180 in this image taken almost exactly a year ago.

But wait! We musn't look at the section that's been "improved," what of the area that will see expansion? Surely it must be drowning under the stress of congestion? Why else would those orchards be asked to make way for highway lanes?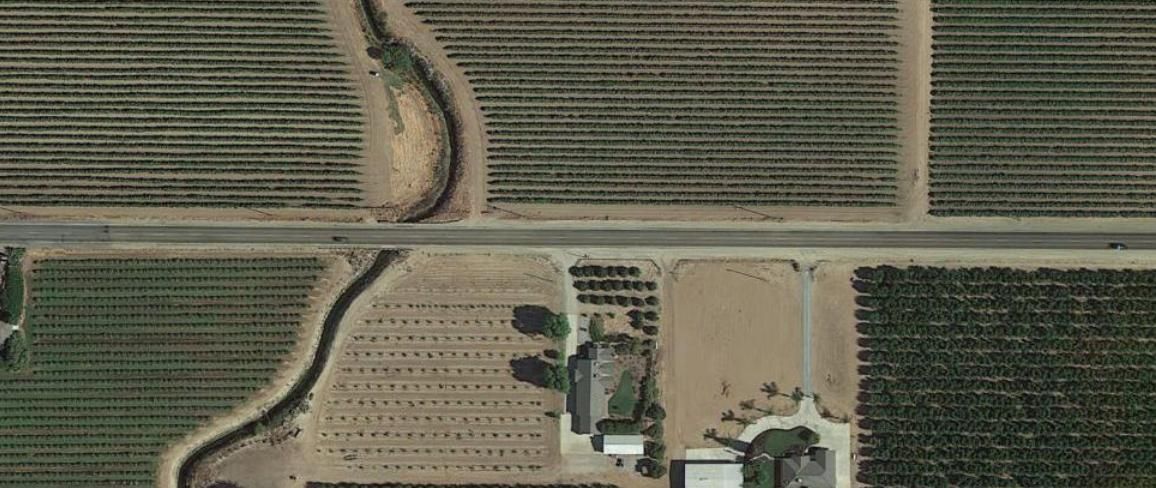 The extensions and widening of 180 have been ongoing for over a decade. Like all highway expansions, it doesn't come cheap.
About $24 million of the current $41.6 million project is funded by
Measure C, first passed by voters more than 25 years ago as a half-cent
sales tax to improve transportation for Fresno County's 15 cities.
$41.6 million to widen a road in the middle of nowhere?
The last round of widening clocked in at a little under $40 million. That last widening project is marked in red.


To put that in context, Fresno's bus system has seen four routes completely eliminated, headways increased to no better than 20 minutes, and fares hiked over the past five years. There hasn't been an improvement in service in over a decade, and none are planned until 2015 – maybe.
This isn't the only bit of construction on 180. The "braided ramps project" costing a cool $67 million, has been under construction for over a year.
The folks at Caltrans are downright giddy.
Freeway construction included the 41/180 interchange with three
levels of four bridges — the highest and longest bridges at that time
between Los Angeles and San Francisco.

"It's exciting to see,"
said Joe Kosko with Caltrans construction. His work on 180 dates back to
the completion of the 180 connection between Highways 41 and 99 in the
early '90s, which improved circulation downtown. "There are hundreds and
hundreds of people working on these jobs to make them work."
Well if you put it that way, it all makes sense! With an unemployment rate of 12.6% (PDF), it would be FOOLISH not to spend $41 million to hire "hundreds and hundreds"! If the project employs 500, that's only $82,000 a job! The median household income for Fresno, by the way, is $32,236.
Thinking of all the 180 improvements, Hall said, "It's one of those
things that you look back in hindsight about and say, 'Thank you.'"
I wonder if the property owners feel the same way?
We always hear of how rail construction might "devastate" acres upon acres of farms…. but we've never heard a peep about how the ongoing 180 project has turned farmland to concrete.
Some of my first posts on this blog were about the last round of expansions.
From 2009 to 2010


I can't see that these farmers were impressed. Their isolated homes now front an expressway.


Does this project look any different? Nope, it's more farmland and some pretty, rural groves.


If you're not familiar with the area, you might suspect I'm cutting out some major trip generator just to the east. Some major attraction that warrants a wide expressway. Another large city? A military base? Some kind of industrial facility? Surely there's something all these extensions are reaching out to, right?
Nope. 180 takes you into a National Park. That's it. If you keep driving, you enter the beautiful park, and then come upon a dead-end.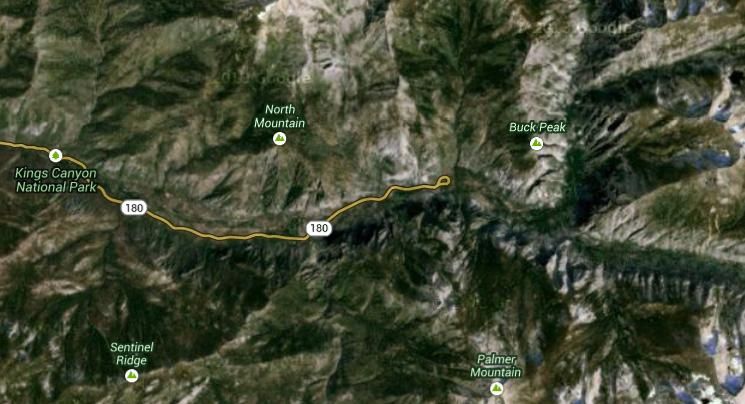 The project connects Fresno to nothing. For now anyway – if the mayor of Sanger's dreams come true, one day the highway will be lined with tract homes and strip commerce, where orchards and farms used to be. Only then will there be demand for the highway – because building the highway created it.
This latest round of expansion isn't the last. The poor town of Centerville seems to have gotten itself in the way. The next round – scheduled for 2016 – will probably involve demolishing this entire village. I'm sure that groundbreaking ceremony will be just as joyous.