Update: Kiel Shmidt has put together an excellent map of the project, how it compared to another Granville development (Running Horse) and the city boundaries.
That map can be seen here.
The Fresno Bee has published their article on the subject, including some good pictures of the site. That article can be read here.
————————–
In 2005, Granville proposed a giant exurban residential development west of Fresno.
Now they're making moves to actually build it.
They're calling it Westlake, and they want to use 430 acres to build 2,600 new homes….and a giant lake. In typical Granville fashion, they want to do this in the middle of nowhere, far from jobs, businesses, and entertainment. Well, not nowhere – the area has plenty of productive farms.
The project will be in the center, west of Grantland, where the canal meanders through.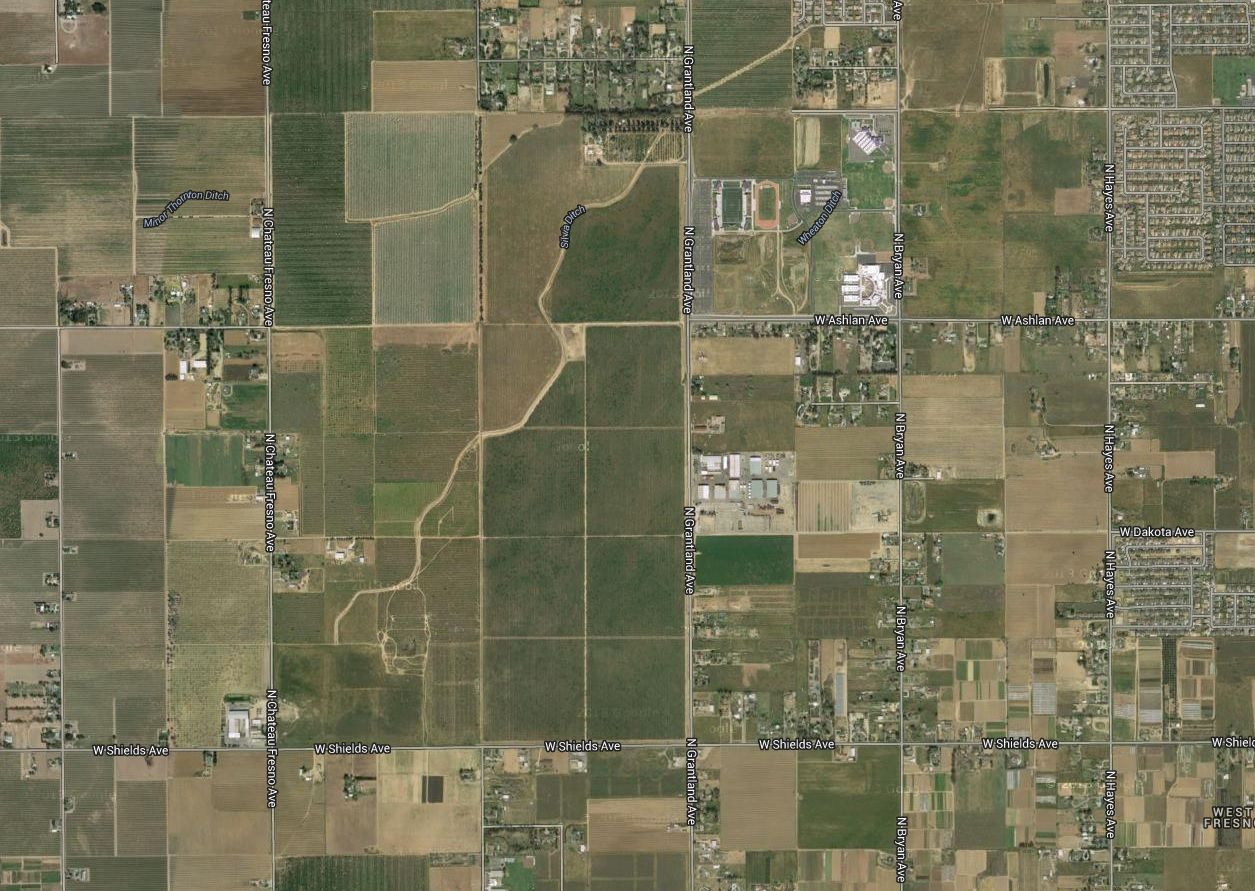 Sound familiar? Yes, these are the same people who want to build a medical college 20 miles out of town, because according to them, there's no suitable land anywhere closer. This project is marginally closer – 10 miles away from downtown, and 3 miles from the 99, but it's clearly still leapfrog development at its worst. Why not build the college here? Because the college is just a way to get more housing approved further away.
Incidentally, the same developer owns an enormous parcel just 3 miles from downtown….which they want to use for commercial almond farming. They're also the same developer who strongly supports the eradication of a pedestrian mall downtown, claiming that making it a road will "revitalize" the area. Of course these projects do everything possible to destroy downtown, by sending people as far away as possible, so you shouldn't be surprised when I tell you I don't exactly trust them on that note.Would you?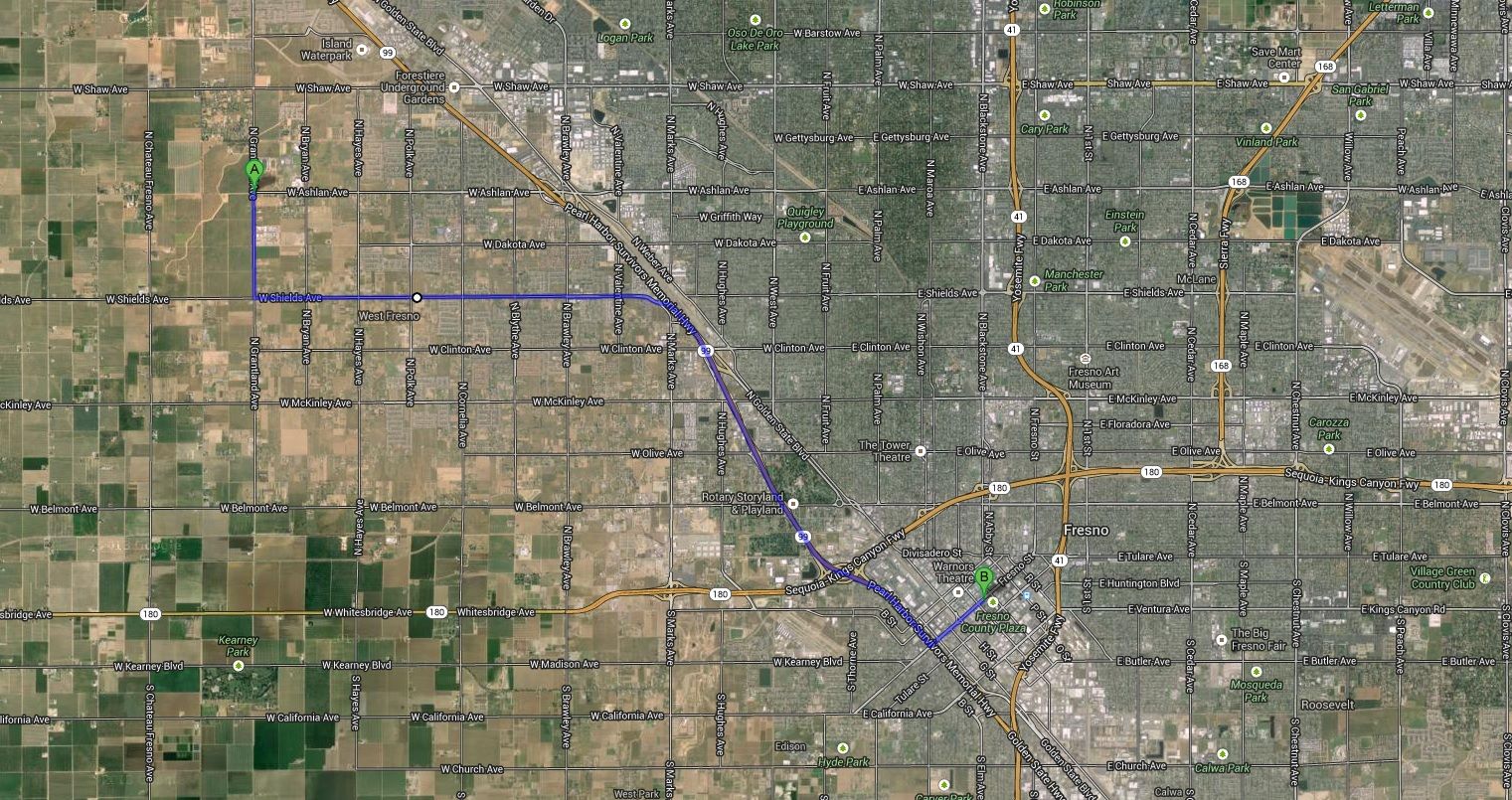 So what can make building 2,600 homes in the middle of nowhere even worse?
Building a giant artificial lake, in an area experiencing a drought, surrounded by farmers desperate for water. As the Bee reported just this week:
Pine Flat Reservoir is a ghost of a lake in the Fresno County foothills — a puddle in a 326 billion-gallon gorge.

Holding only 16% of its capacity, Pine Flat is the best example of why there is high anxiety over the approaching wet season.

Dwindling reservoirs should be a wake-up call to Californians, said Mark Cowin, director of the state Department of Water Resources. The state has not declared a drought, but now is the time to prepare additional water-conservation ideas for next year.

"January through May 2013 were California's driest in about 90 years of recordkeeping," Lucero said.
Fresno Bee
The Granville solution? Building what essentially amounts to a giant evaporation pool, an artificial lake that will constantly need fresh water pumped in.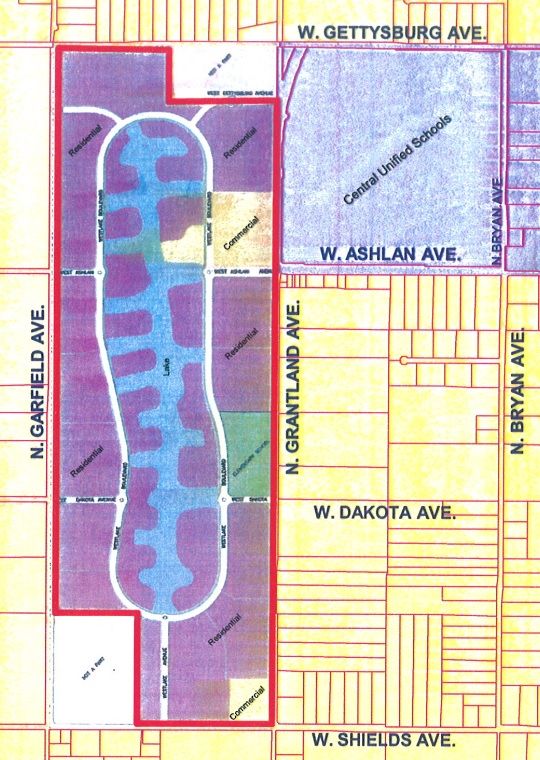 Can it get any worse? Naturally.
Notice in the map above, that the lake is one continuous body, with no crossing points. In other words, the street grid, which is currently made up of major roads every .5 miles, will have no east-west route for a mile and a half. Dakota and Ashlan will lead to a dead end. Gettysburg will be forced to transform from a quiet street to a major arterial.
In other words: A lot more driving, as people are forced to detour.
Naturally, they claim this project will be pedestrian friendly, environmentally friendly, support mixed use and "reduce dependency upon the automobile."
Come again?
Ignoring, for a second, the location of the project…. the site plan makes it impossible for most residents to NOT drive anywhere and everywhere.
Say a resident wants to go to the "community commercial" which will "meet the local needs."
Can they get their, walking? Nope. There's a lake in the way. Residents are going to get in the car, and drive a couple of miles just to get somewhere that should be a five minute walk.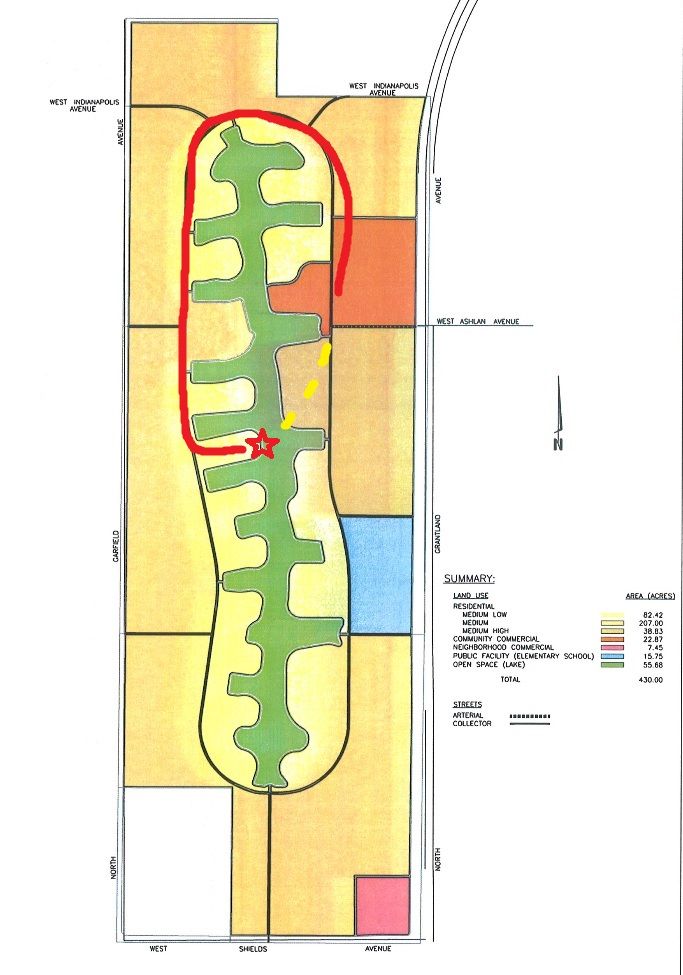 How about the neighborhood school? Same problem. So close, but so, so far.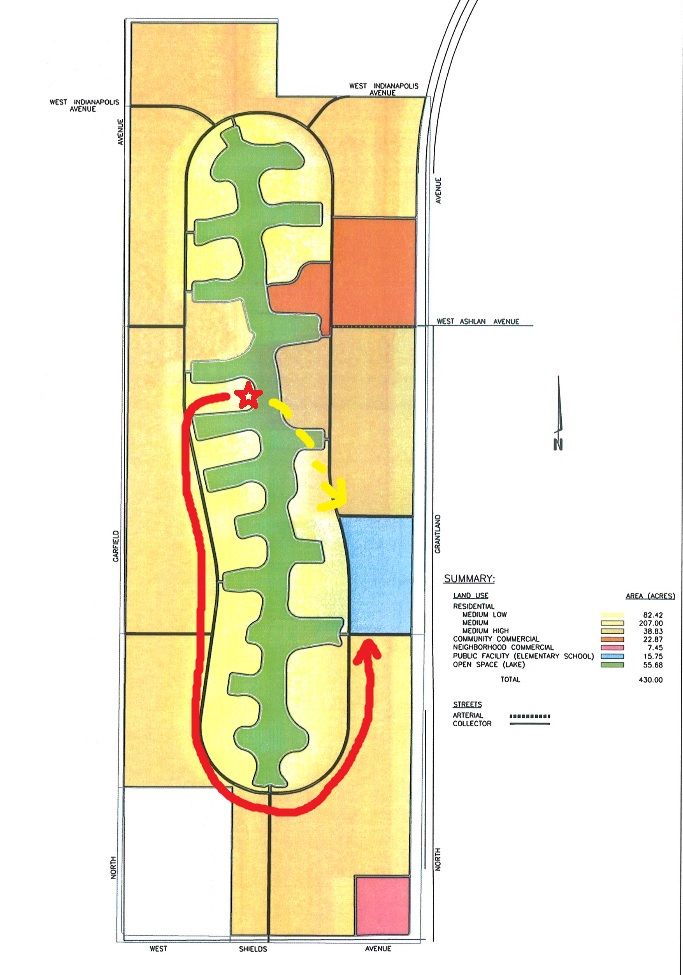 Now look 30 years in the future, when Granville, and their developer friends, have populated every nearby parcel with homes. Anyone trying to go east, you know, towards the rest of the city, has a lake in their way. 2 mile instant detour.
What was that about reducing dependency on the automobile?
Naturally, such a situation calls for mitigation. More money for transit? A new bike trail? No, of course not.
The solution, like all solutions in Fresno, mean widening every area road, and adding traffic signals at every intersection. Like magic, all the extra traffic is "mitigated." Bikes? Pedestrians? Transit users? Internal circulation? I guess those concerns get paved away under new lanes.
I could have sworn the state passed a greenhouse gas reduction law, but apparently it doesn't apply to Granville, or Fresno.
Anything else wrong with this project? Come on too easy…
Every development in Fresno is required to add community green space – parks. Granville is going to build a whopping 55 acres!
And by park, they mean lake. You know, the private lake surrounded by the new homes. In other words…no community green space. And apparently that's ok.
In fact apparently everything about this is ok. Mind you, I'm not the first to raise these concerns. Back in 2008, the "Council District 1 Implementation Committee" drafting a letter noting their concerns with the project. They also noted that there are serious water concerns, including that of a depleting water table. They mention that a project of this size that's auto dependent will clearly have a significant carbon footprint. They also noted that the employees of the commercial retail will likely not be able to afford a lakeside home, meaning residents will commute (drive) to town, and retail employees will commute (drive) into the development.
That last concern is the same as with the Millerton College Plan. They intend to build thousands of homes, and claim there will be little traffic, ignoring that the people who study and work at the college will likely not live in that community, due to the price.
The committee listed many other concerns, including the enormous cost of annexing a giant development so far divided from the rest of the city.
You can see that letter at the very end of the enormous project report. (Warning, massive PDF).
Shovels aren't scheduled to hit the ground this year, as Granville is amending the plan somewhat (swapping homes around), meaning the city has to approve this again. Of course, they will. When a developer says they want something, Fresno gives it to them, consequences be damned.