In all of 2009, four pedestrians were killed in Fresno.
Over the past 3 weeks, three were killed by motorists, and one by a train. This is actually the second time this very year in which three pedestrians were killed in such a short span of time. I don't know the total, but I would wager it's trending higher than the 14 last year.
The latest incident happened at an intersection adjacent to Fresno State. The person killed was a high-school special ed teacher, who apparently was also studying at Fresno State. It happened on Shaw, between the college campus and the student neighborhood, filled with apartments, frats, and some restaurants. You know, the kind of place one finds heavy pedestrian traffic.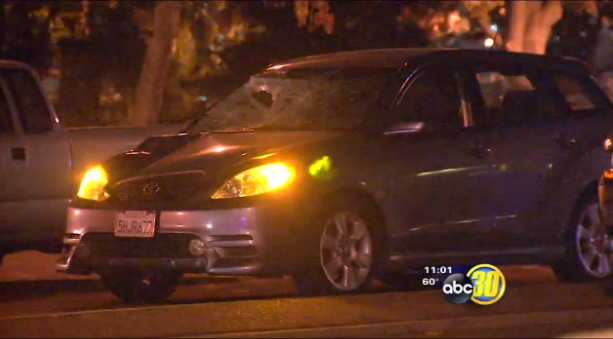 ABC 30
Naturally, because the motorist 'did not see the man," he was free to go. No word on the height of the driver.
Here's how the Bee reported it:
A jaywalking pedestrian was killed Tuesday evening after a
driver struck him in front of Fresno State in northeast Fresno, police
said.
That's right, The Bee begins by accusing the victim of breaking the law in the very first line. I say accusing, because the rest of the story contracts this claim of "jaywalking".
The man, described in his 40s, was walking across Shaw
Avenue from Jackson Avenue about 6:20 p.m. when a driver of a Toyota
Matrix hit him, police Lt. Phil Cooley said.
Shaw and Jackson? That sounds like the intersection of two streets…. yup, sure looks like an intersection to me.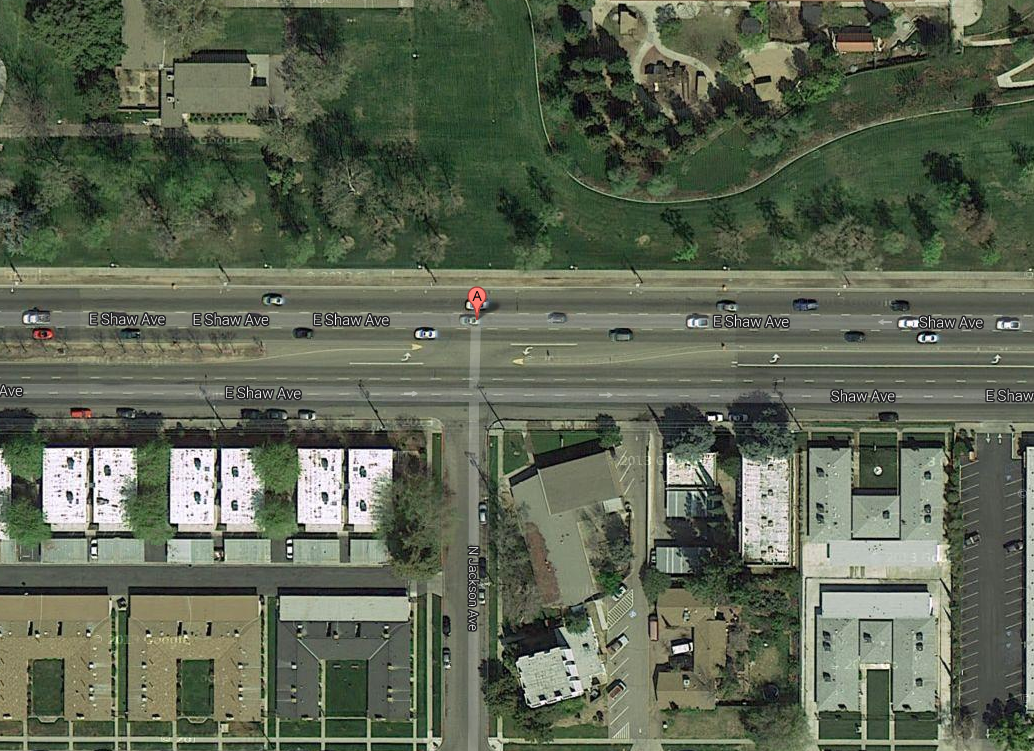 The campus of course is visible on the north side. The area filled with student apartments is on the south side.
Does the law confirm that this is an intersection? Absolutely.



365. An "intersection" is the area embraced within the
prolongations of the lateral curb lines, or, if none, then the lateral
boundary lines of the roadways, of two highways which join one another
at approximately right angles or the area within which vehicles
traveling upon different highways joining at any other angle may come in
conflict.

DMV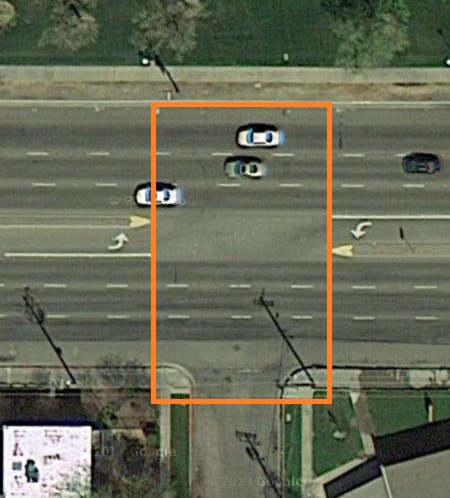 Pretty obvious right? It's important because there are crosswalks at every intersection. So now that we know that this is indeed an intersection…

275. "Crosswalk" is either:



(a) That portion of a roadway included within the
prolongation or connection of the boundary lines of sidewalks at
intersection where the intersecting roadways meet at approximately right
angles, except the prolongation of such lines from an alley across a
street.

DMV

Then we have now confirmed that this intersection has crosswalks. As do all intersections, except alleys. Jackson is most certainly not an alley.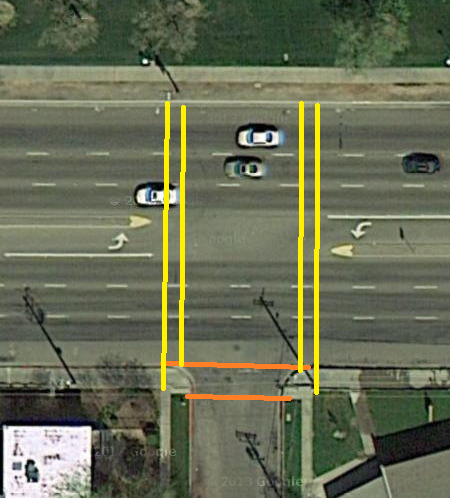 In this case, we have three unmarked crosswalks, even though it's a very busy place for pedestrians to be. Doesn't matter, a crosswalk doesn't have to be marked to be a crosswalk.



21950. (a) The driver of a vehicle shall yield the
right-of-way to a pedestrian crossing the roadway within any marked
crosswalk or within any unmarked crosswalk at an intersection, except as
otherwise provided in this chapter.

DMV
It's simple. Intersection means crosswalk, means pedestrian right of way. Driving 101.
So if the Bee article is correct on the location, then it looks like they've libeled the victim by starting the story off by naming him as a lawbreaker, when that doesn't appear to be the case.
Isn't it odd that they were so quick off the mark to do this? What was the last time you saw a story start like this:
"A murderous motorist racing along Shaw avenue slammed into a pedestrian…."
You don't. Unless you're reading the article in a tabloid, and the victim was a celebrity. The Fresno Bee is not a tabloid. They shouldn't litter their article with accusations against the victim, and they should probably consult basic traffic law. You know, the stuff every driver is supposed to know, and one would expect the reporter would confirm before publishing.
The article was updated this morning, it now starts as follows:
An Edison High School special education teacher was
identified as the man struck and killed by a car Tuesday night while
walking across Shaw Avenue near Fresno State.

Alex Lark, 43, began
his career at Fresno Unified in 2005 as a special education aide. He
became a teacher in 2012 and taught at Phoenix Elementary Academy and
Edison High School.
Fresno Bee
No accusation. No "accident". Much better. Not perfect though.
The wording has been changed to show that the real problem is the police officer on the scene.
Fresno police said Lark was jaywalking across Shaw Avenue near
Jackson Avenue, in front of Fresno State, about 6:20 p.m. when he was
struck by a Toyota Matrix sedan. Lark was taken to Saint Agnes Medical
Center, where he died.
An article by the college paper goes into further depth.
The driver told police he didn't see the victim, (Fresno police Lt. Phil) Cooley said, and it appeared to have been a tragic accident.

He said no charges were expected against the driver.

Cooley added: "There are a lot of pedestrians near campus. Please use the crosswalks."
The Collegian
Assuming both articles have reported the location correctly, it appears that Lt. Phil Cooley has made a mistake. A serious one. Does Fresno PD not know what an unmarked crosswalk is?
Sadly, as we've observed before, that seems to be business as usual.
Earlier this year, Sgt. Richard Tucker blamed pedestrians for not wearing the right type of clothing when walking. That was in response for a child killed in a school zone that lacked sidewalks.
In that same article, "Capt. Andy Hall said the simple solution would be to hold pedestrians accountable." Yup, the solution to an explosion in pedestrian fatalities is citing pedestrians following the law, or existing in a city which doesn't always build sidewalks by schools.
Incidentally, here's a map of collisions involving pedestrians and bikes for the year 2011 (only recent data I could find).
Looks like Fresno State has a serious problem they're not addressing. Presumably, they're busy focusing on innovative ways to expand parking lots.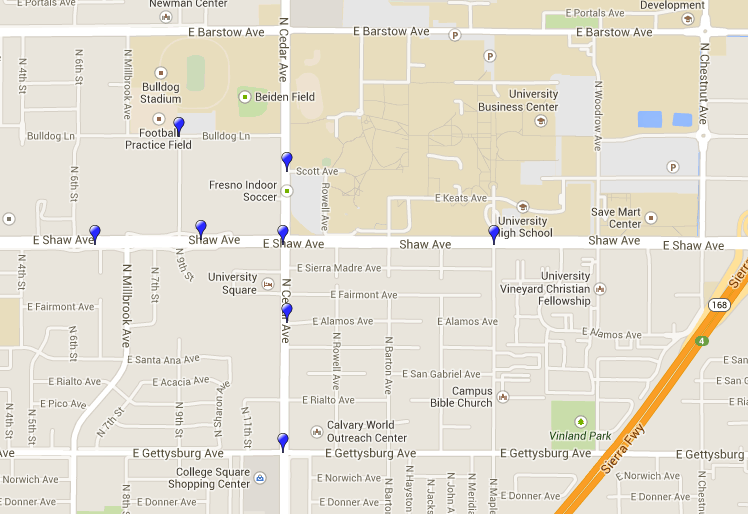 The other two incidents in these past two weeks were the "short driver" excuse, in which a Fed-ex driver ran over a pedestrian, fled the scene, and was not charged, and the following:
Hit-and-run near Fresno Rescue Mission kills pedestrian

A male pedestrian was killed Thursday night in a hit-and-run
crash near the Fresno Rescue Mission, and police are looking for an
older-model Ford pickup that fled after the crash.

Police were
dispatched to G Street and San Benito Avenue about a report of a truck
that hit a man about 8:15 p.m. and dragged him south on G Street.

Police
found the man's body in the middle of the road at G Street and
Belgravia Avenue about seven blocks south of the mission. Evidence at
the scene indicated the truck fled east on Belgravia Avenue.
The man was later identified by the Fresno County coroner as Jimmy Hill, 66.
Fresno Bee
After the jump, the original copy of the Bee article that inspired this post, which is no longer online.
Pedestrian killed crossing Shaw Avenue by Fresno State
The Fresno Bee
November 19, 2013
A jaywalking pedestrian was killed Tuesday evening after a
driver struck him in front of Fresno State in northeast Fresno, police
said.
The man, described in his 40s, was walking across Shaw
Avenue from Jackson Avenue about 6:20 p.m. when a driver of a Toyota
Matrix hit him, police Lt. Phil Cooley said.
Officers found the injured man lying on the road. He was taken to Saint Agnes Medical Center, where he later died.
The
driver told police he did not see the man crossing the street. The
driver did not appear to be under the influence of drugs or alcohol,
Cooley said.
Shaw Avenue between Maple and Barton avenues were closed for a few hours.
It is unknown if the pedestrian had any affiliation with the university, Cooley said.