There was a surprising announcement in the Bee today: A new Walmart store in Fresno.
Walmart will open a supercenter in the former Mervyn's that has sat empty for five years at Blackstone and Ashlan avenues in central Fresno.

The retail giant plans to open the store — which will include clothing, electronics, a full grocery department, but no auto center — this summer. At 107,000 square feet, the store is slightly smaller than a typical Walmart Supercenter, but larger than the average Walmart store.
It wasn't so much a surprise that we're getting yet another Wamart (Fresno sure does love them), but the location was very unexpected; it's the last place I would have thought a Walmart would open, because it goes counter to what the company is so well known for.
Does this represent a shift in the way the company does business?
I'm no fan of Walmart, and one of the major reasons is their real-estate policy. The company is known for doing the following things when expanding:
Build a brand new store from scratch
Build on the cheapest land – in a rural area a few miles out of town or a developing suburb
Always have the biggest possible parking lot in front
If applicable, abandon a nearby, smaller store.
These policies lead to more sprawl, more driving, and giant empty abandoned stores that no one will ever use when Walmart changes location.
Most Valley stores follow the format.
The new Kerman store, for example, hits every point in the list but the last one. It's so new it's not on the Google imagery yet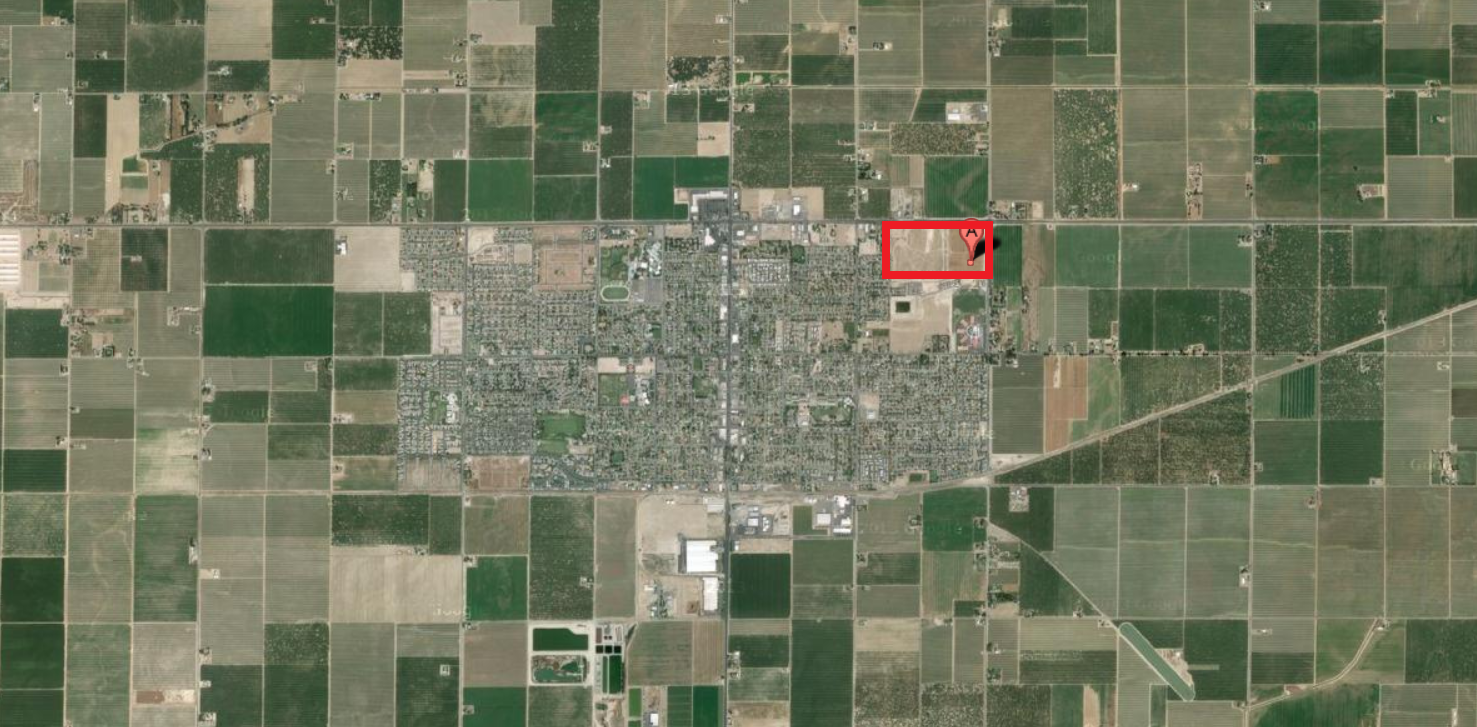 The newest Visalia supercenter is a similar deal, at the very edge of town, a couple blocks from farmland.
No need to go on; everyone knows the Walmart model.
However in the case of their new store announcement, they're doing something different. In fact, they're not hitting a single bullet point.
Build a brand new store from scratch
Nope. They're moving into an abandoned Mervyn's, a store I assumed would sit empty for the next decade.
I took this picture last month, noting work being done in the abandoned store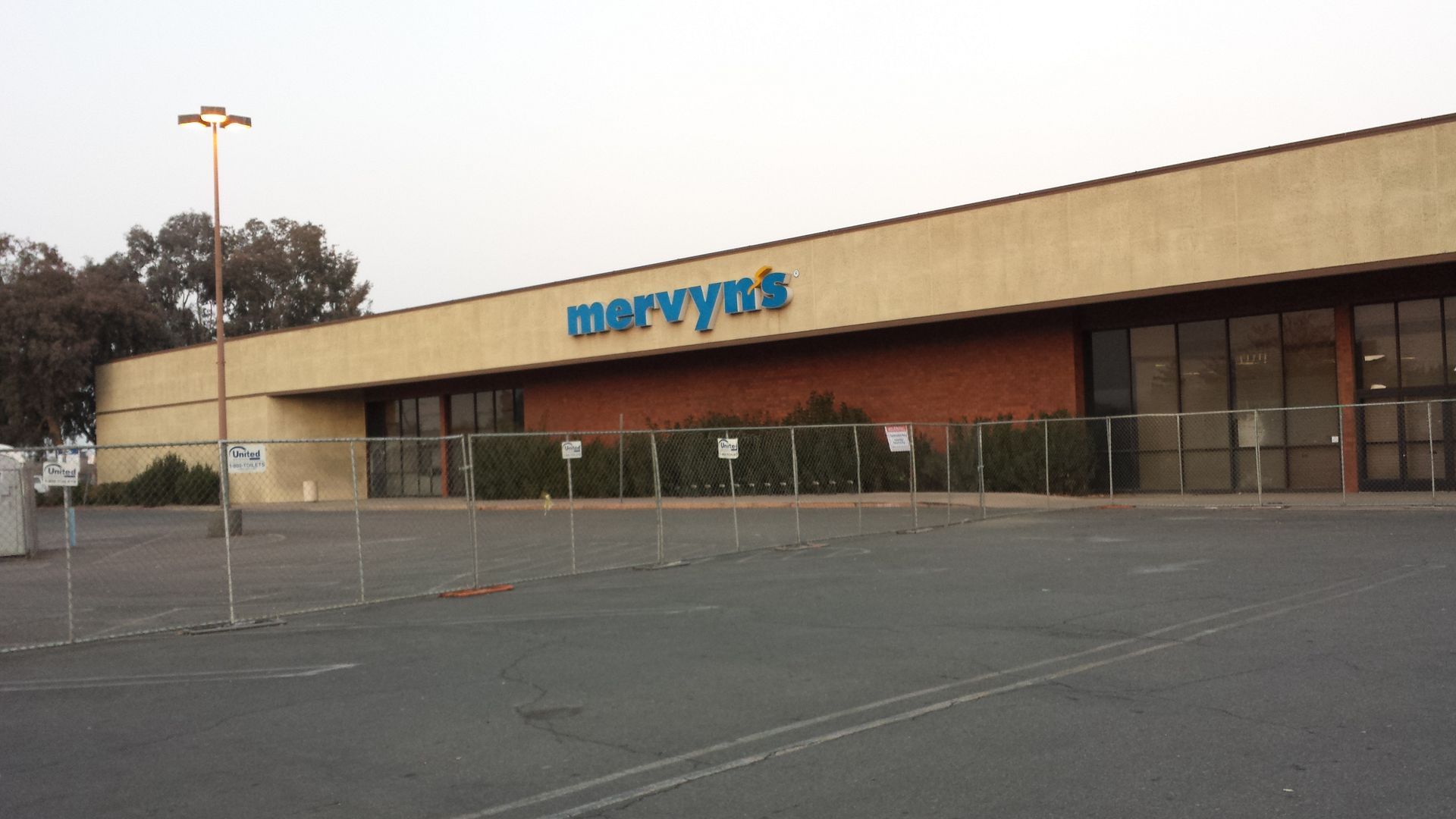 Moving into an existing store, especially one that was not designed as a supercenter, is very out of character for the chain. Yes, last year they announced that their West Shaw store would be moving across the street to an abandoned Super Kmart, but that move was to a larger box originally built to mimic the Walmart experience.
Mervyn's? Not so much your standard Walmart Supercenter.
Build on the cheapest land – in a rural area a few miles out of town or a developing suburb
Quite the opposite. The new store is going onto Blackstone, what has been the retail backbone of Fresno for decades. Sure, it's not exactly the River Park neighborhood (with River Park rents), but every lot was built on many years ago. Manchester Mall is seen at the bottom.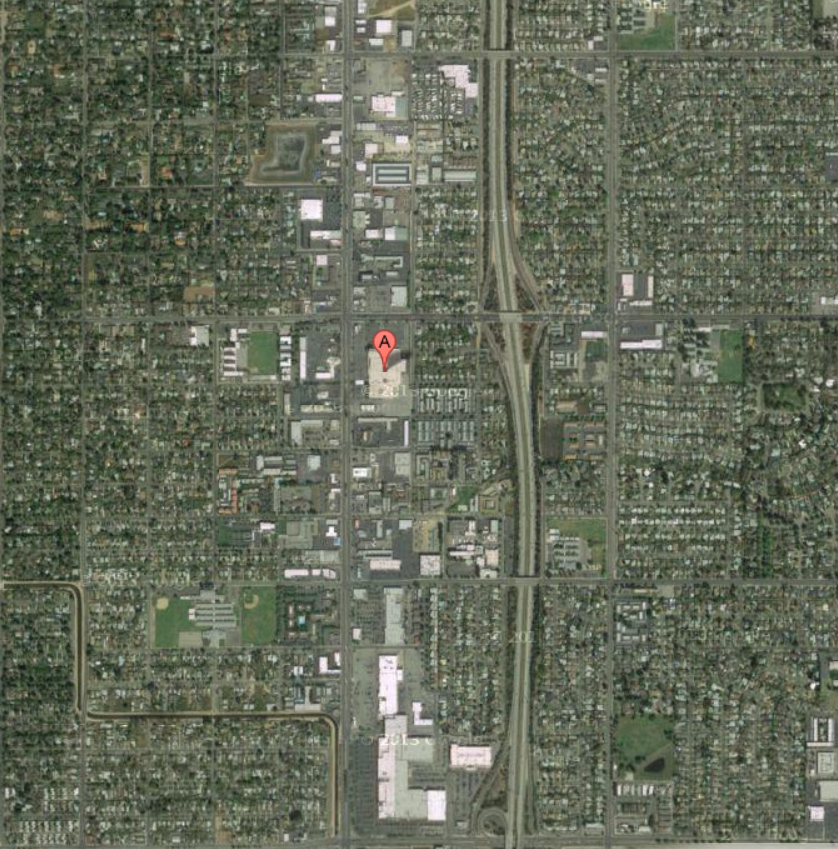 Always have the biggest possible parking lot in front
Part of the deal with reusing an existing box in a part of town developed a few decades ago is that the parking lot doesn't quite meet modern Walmart standards. Yes, there's parking out front: but not much. Most is on the side.
There are about 80 spots in front, the bulk are on the side, and oddly enough, some in a far off corner no one would ever go to.
In this image, Blackstone is at the bottom, so you're looking at the front. The majority of parking is on the top left, with the most random parking on the top right. Aside from RV's, who would ever go back there?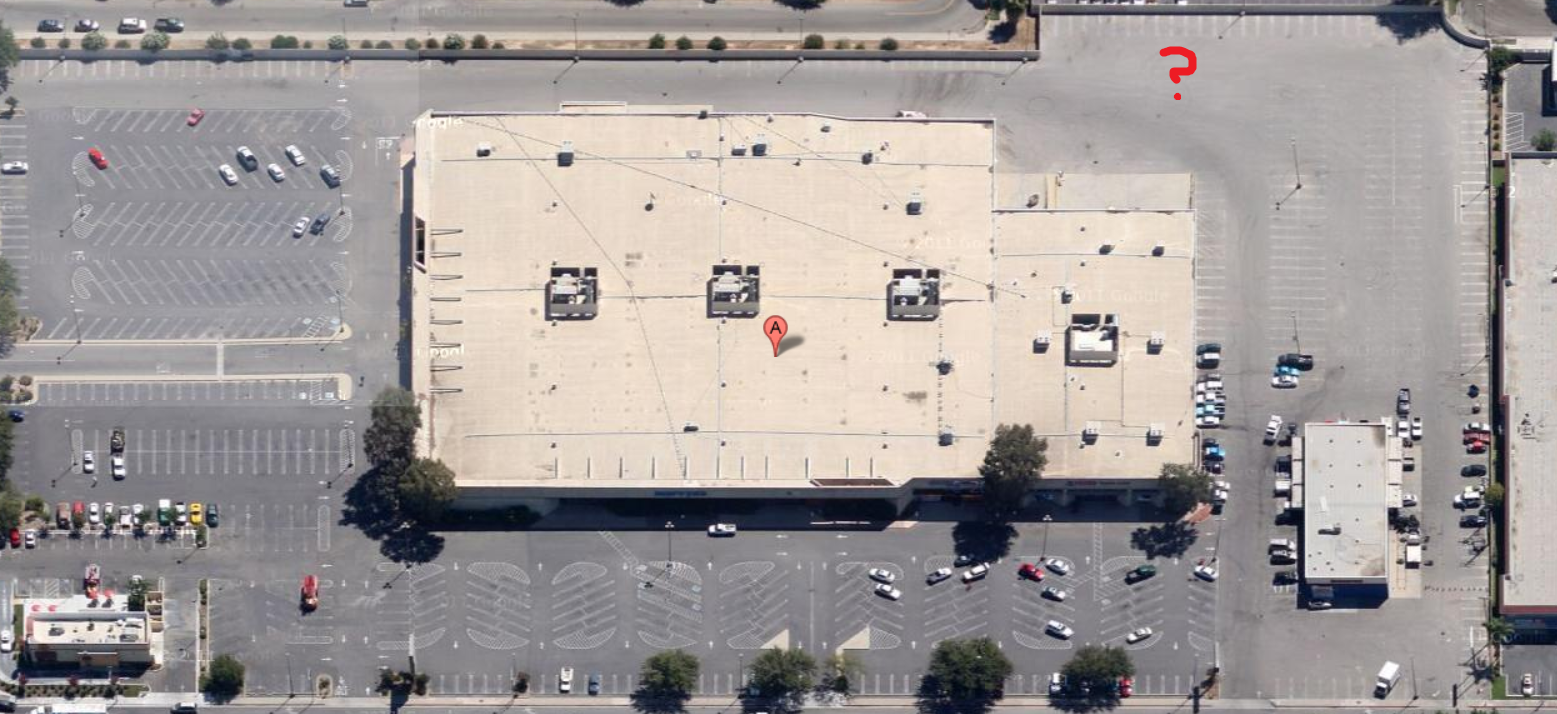 That means most of the parking will be on the side of the store. It will be interesting to see how Walmart lays out their entrances. They almost always have just two entrances up front, while Mervyn's was built with 5. Which ones will they keep?
I'd even assume these ten spots are being removed, or else traffic would back up onto Blackstone.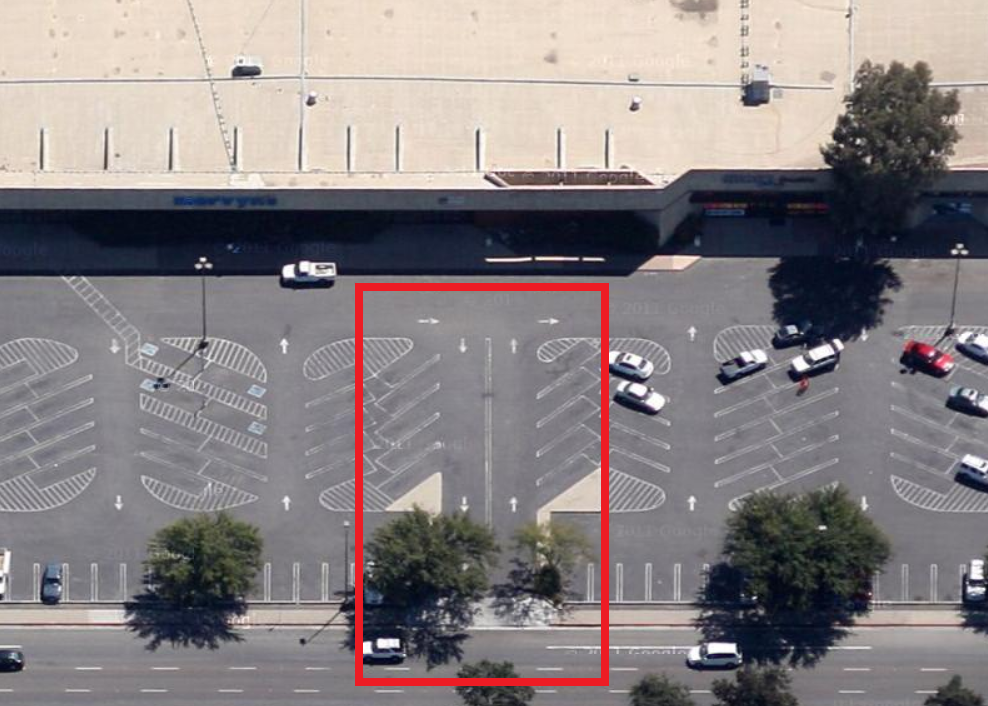 The design isn't unprecedented in Fresno: The Target on Shields and First is also a clear retrofit of an older store. The parking lot feels like the 1950's, and it's certainly unlike any other Target in the region.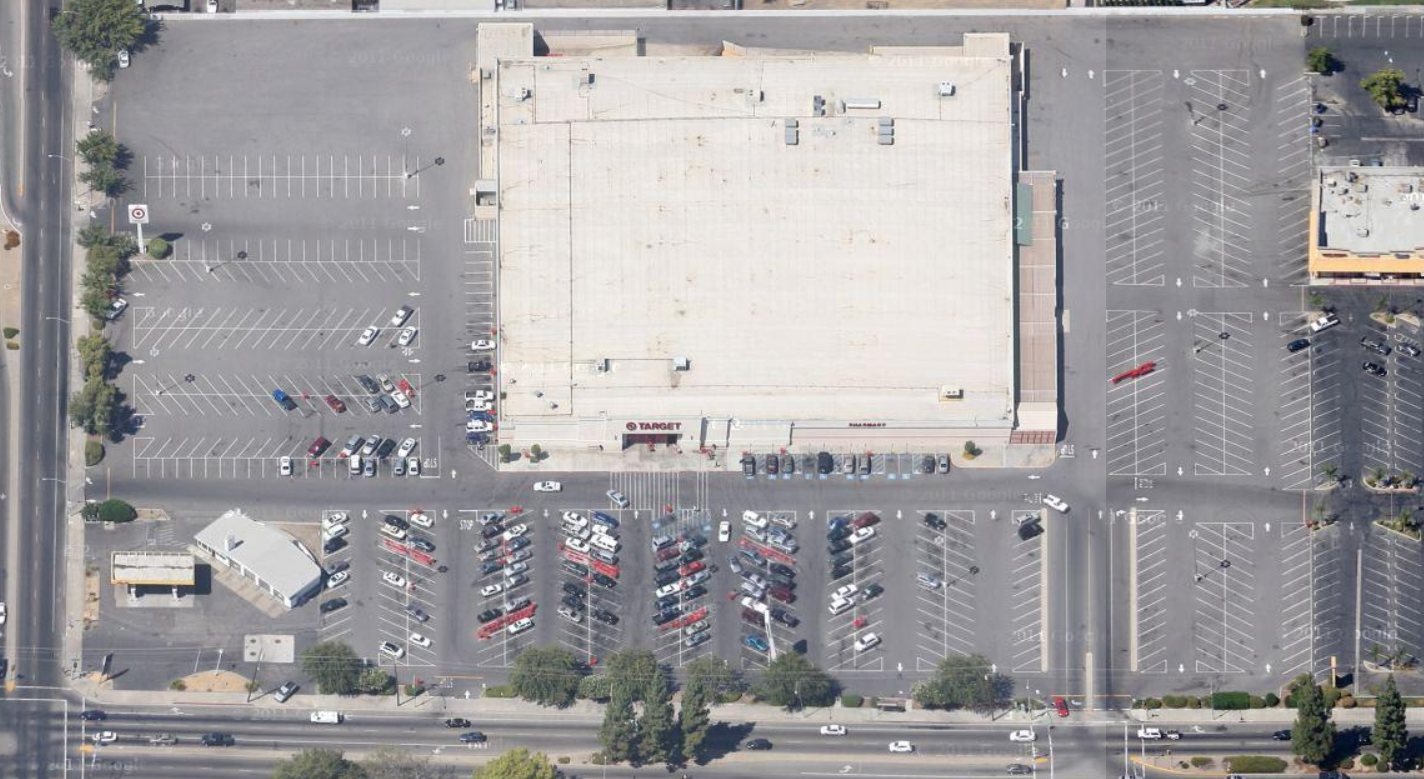 But again, Walmart isn't one to deal with odd layouts: they just build new.
One advantage to the shopper? The front is actually close to the sidewalk!
Here are the distances from the front door to the closest street sidewalk at the existing stores, in feet:
North Fresno (Herndon): 540 (Herndon), 510 (Ingram)
New Clovis Herndon: 575
Kings Canyon: 650
West Shaw current: 650 feet (Shaw) 740 (Brawley)
West Shaw Future (old Kmart) : 740 (Shaw) 350 (Brawley)
Clovis Shaw: 800
The new location:
Only 155 feet from Blackstone!
And finally:
If applicable, abandon a nearby, smaller store.
The closest store, the Clovis Shaw location will presumably stay open, as it was promised to the city as part of the approval process for the new Herndon location.
Here's the location map.
1-5 are existing, star is this one, a and b are "Walmart neighborhood markets," which only sell grocery items.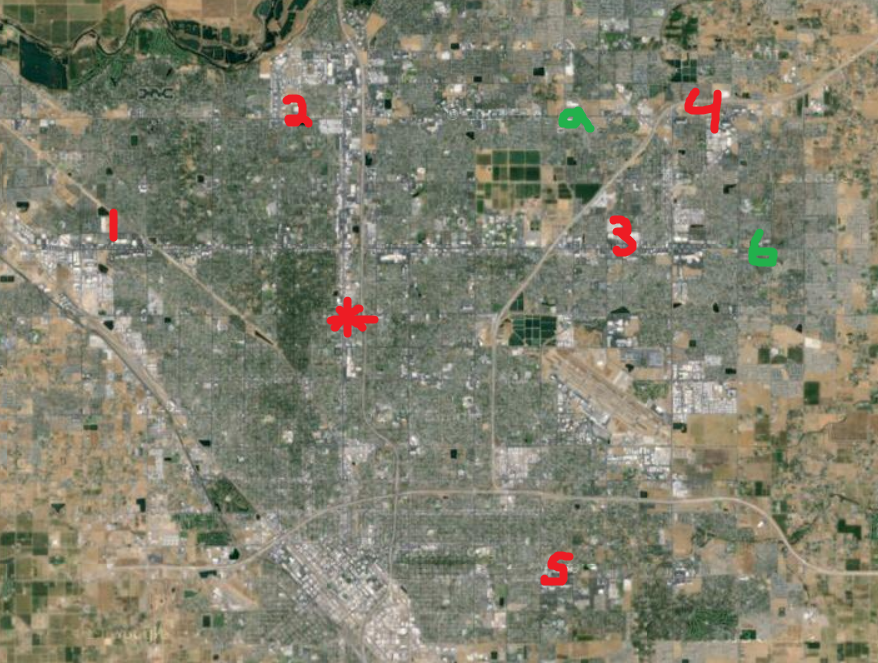 I wonder if this is the last Walmart we'll be seeing any time soon? Only the abandoned Kmart by Roeding Park seems appropriate for a final location, in terms of distance from other stores.
Now, if you're thinking "this isn't completely unprecedented," you're right. Walmart has been moving into urban areas and trying different concepts. They're opening five stores in DC, with hidden parking, and even an entrance by the sidewalk, or a store on the second floor. However, as far as I know, all those are custom built locations, not retrofits.
And Fresno isn't exactly DC. There's obviously no shortage of land, more people drive, and there's less political problems to deal with. Indeed, the local politicians love Walmart.
"I think this is exactly what this part of the city needs," said Fresno Council Member Clint Olivier, whose district includes the location.

Mayor Ashley Swearengin said the city welcomes an investment on its major north/south street.
"Projects like these, coupled with the city's vision for improving Blackstone Avenue with public infrastructure, will help give new life to this critical commercial corridor," she said in a news release.
An article from 2011 suggests that Walmart has moved into existing locations before: but not by choice.
Confirmation came this week that Walmart would take over the former Gottschalks site at Bayshore Mall. The retailer has a contentious history in Humboldt County, dating back to a 1999 ballot measure, and news of its upcoming opening has renewed the debate — as evidenced by the strident feedback on news articles and other online forums.

In 1999, Eureka voters overwhelmingly rejected Measure J, which would have rezoned the Balloon Track property to allow Walmart to build on the waterfront site. Rumors about a new move by Walmart began surfacing in July when building plans were submitted for a "mystery store" at the Bayshore Mall.

The town stopped Walmart from building new, but the town had no say in Walmart occupying an existing location.
The Walmart Neighborhood Market that opened on Shaw and Fowler also went into an existing location (abandoned Albertson's), but that's 100% groceries, and is a very different retail concept than a supercenter.
Can anyone think of any other Walmart that breaks all their "rules", like this one is doing?
As an aside, anyone who shops at the Petco next door should be thrilled. As this image shows, the place is always a ghost town, and I'm surprised is still in business, especially with two new locations in the north part of town. The Walmart will surely help them attract customers, and stick around.