It's been almost three years since the project was announced, and now the Broadway streetscape project in downtown Fresno is almost done. The plan involved giving Broadway a small road diet, removing a center turn lane and one general lane to add angled parking on each side. The project included absolutely no bicycle accommodations (contrary to the master plan) but did add some amenities for pedestrians in the form of sidewalk extensions at intersections.
Sadly, the project has done many things wrong. The lack of attention to detail shows that Fresno does not have a planner that understands bicycle or pedestrian planning – or even basic ADA. Sort of shocking for a city of half a million. Let's take a look.
Note: Pics are 2-3 weeks old, sorry for the delay in uploading them!
We start at Broadway and San Joaquin, where the reason behind the angled parking is made clear. GV Urban has broken ground on their latest downtown residential project, and they're hungry for free parking.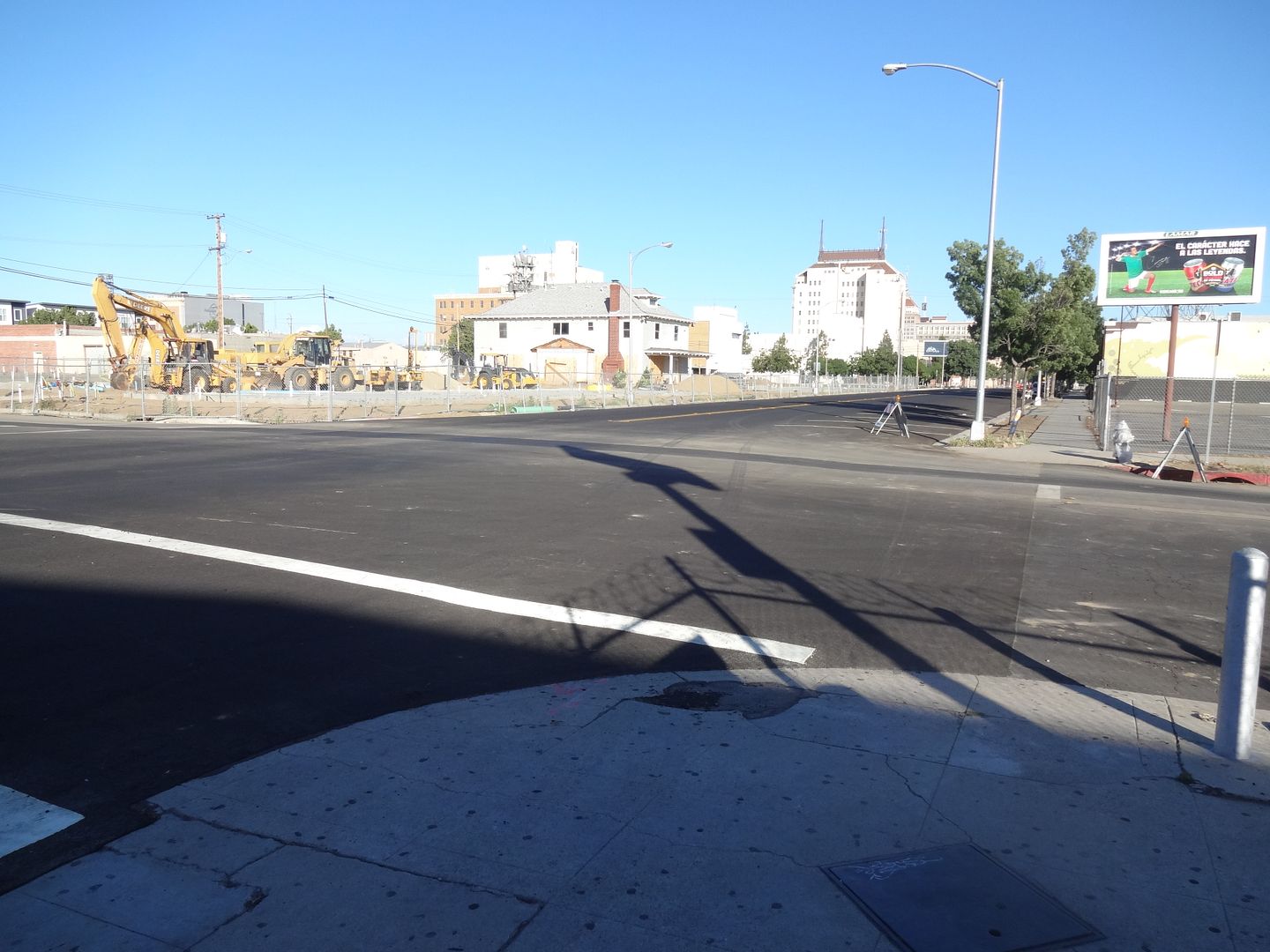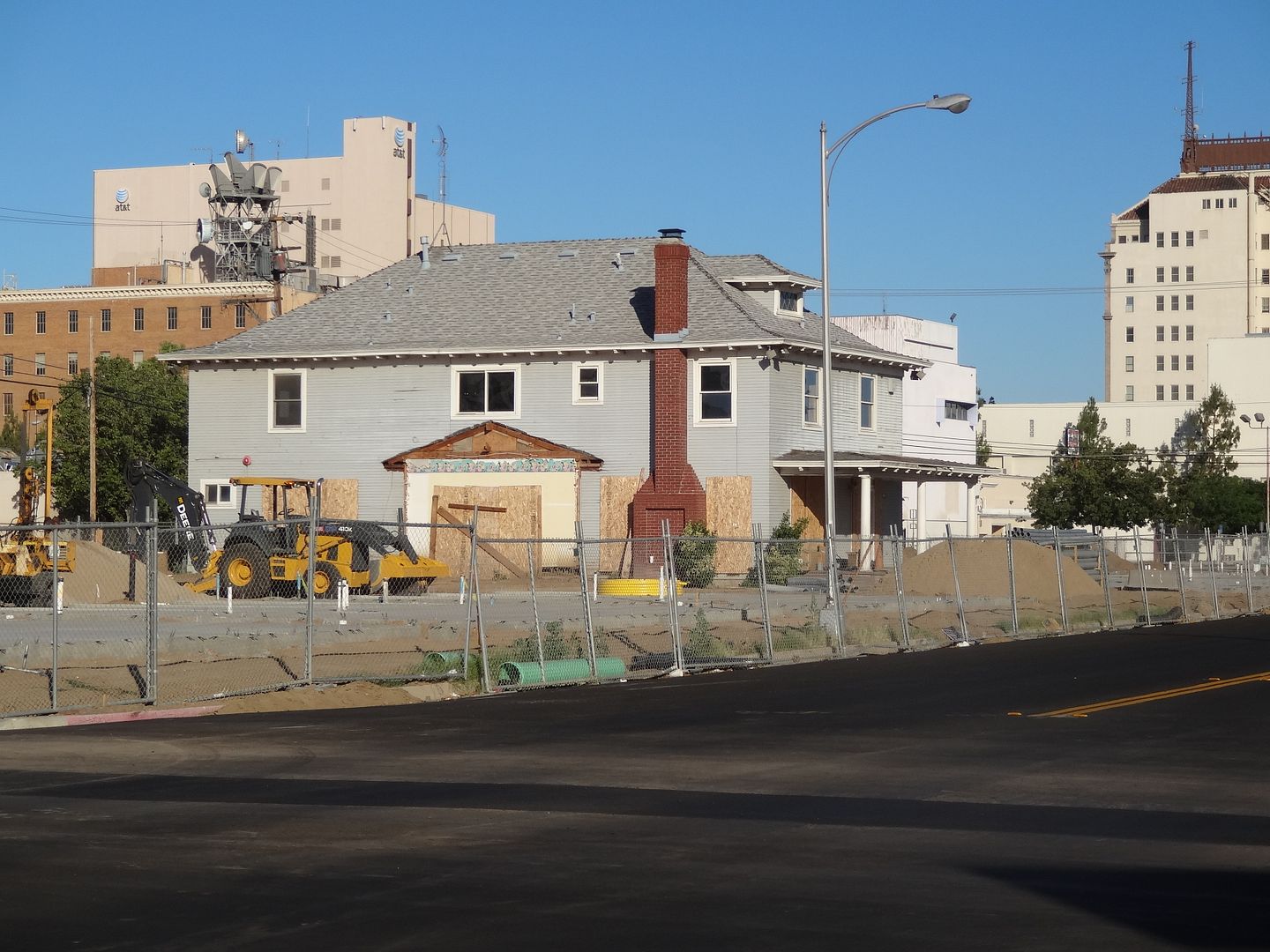 Their section of sidewalk is the only part that hasn't been worked on, presumably due to the ongoing construction.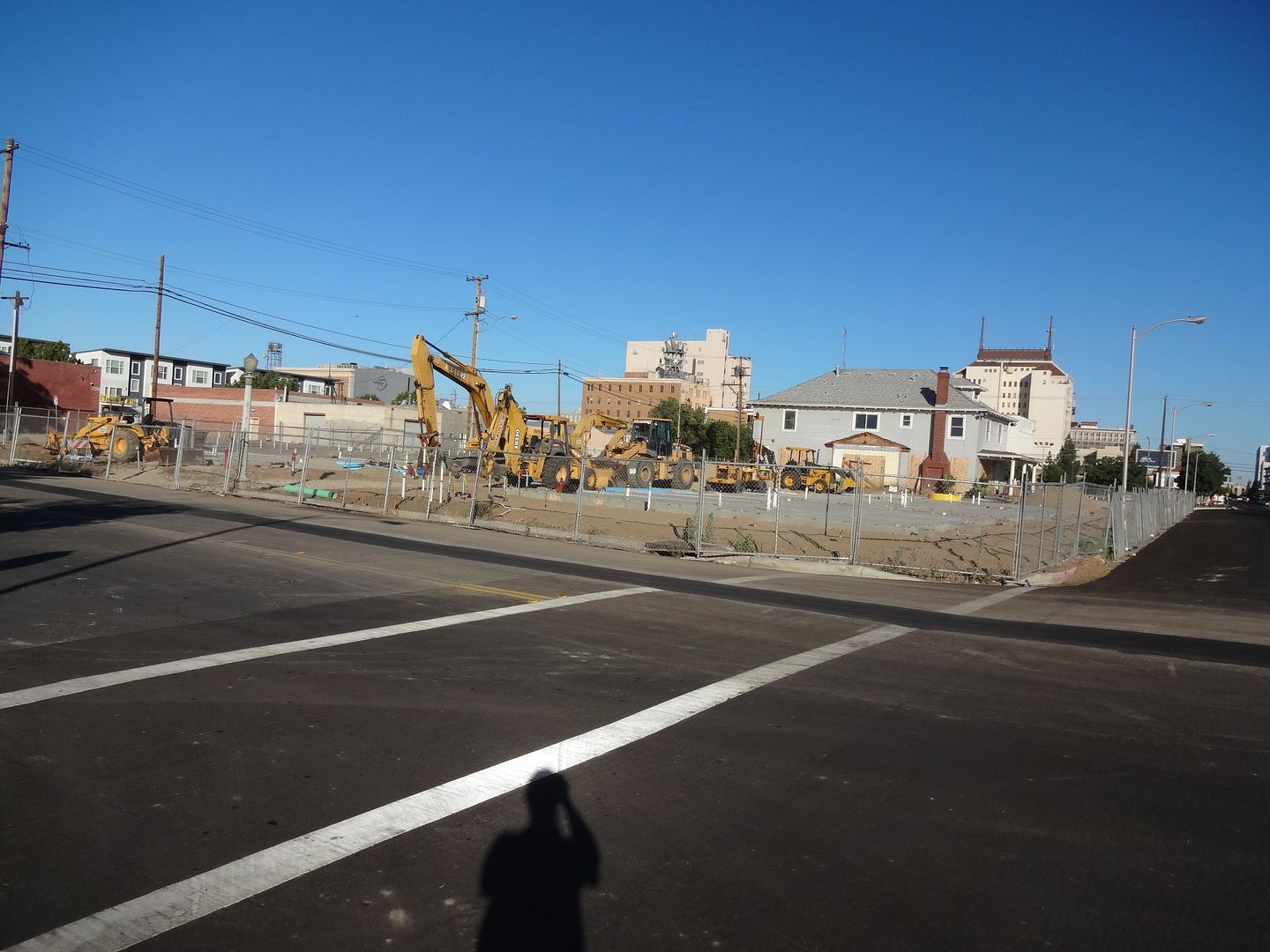 Here across from the Rainbow Ballroom we see the new angled parking, and removal of two traffic lanes. Sadly, Fresno refused to use back-in angled parking, which is much safer.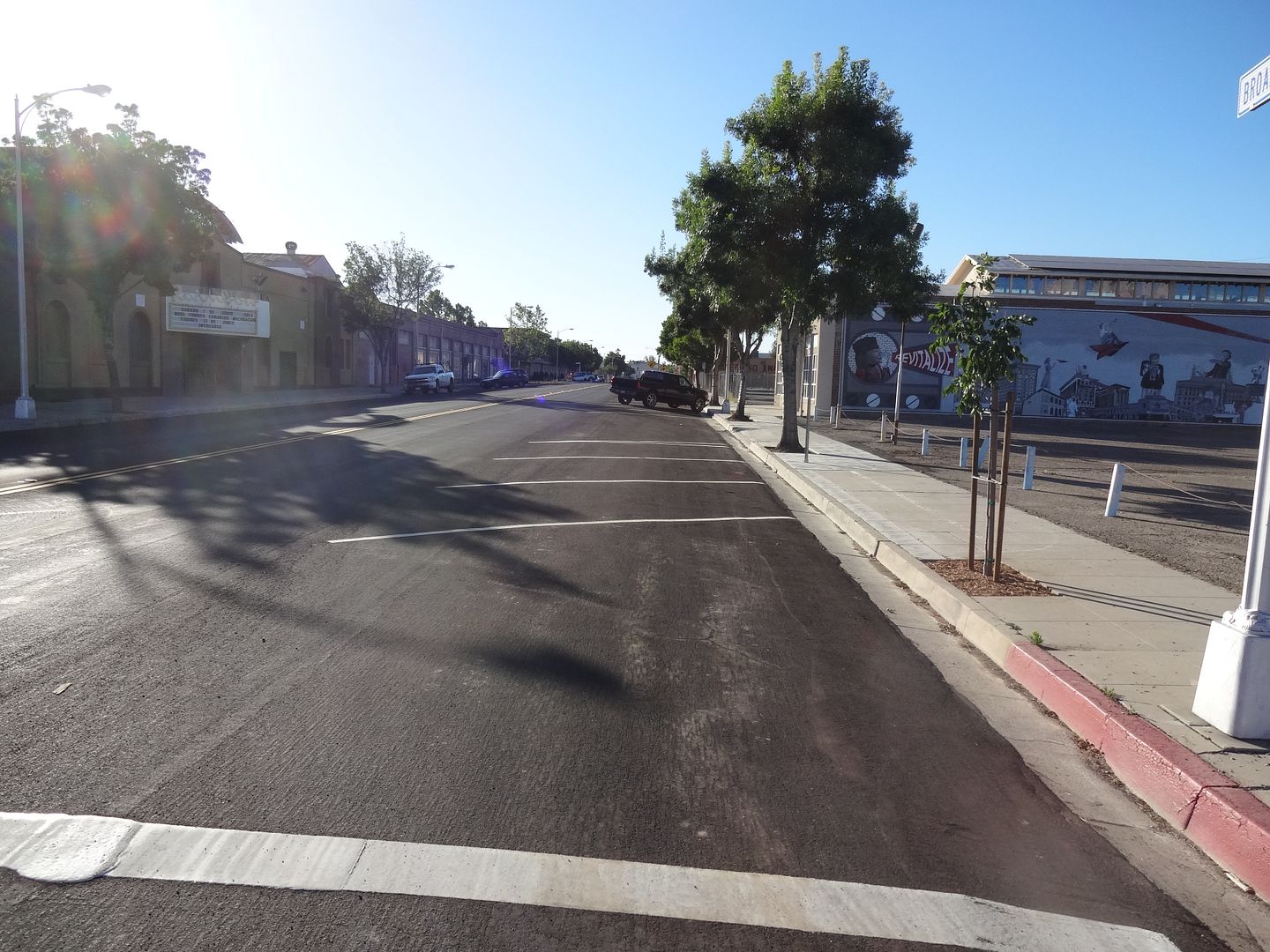 Looking south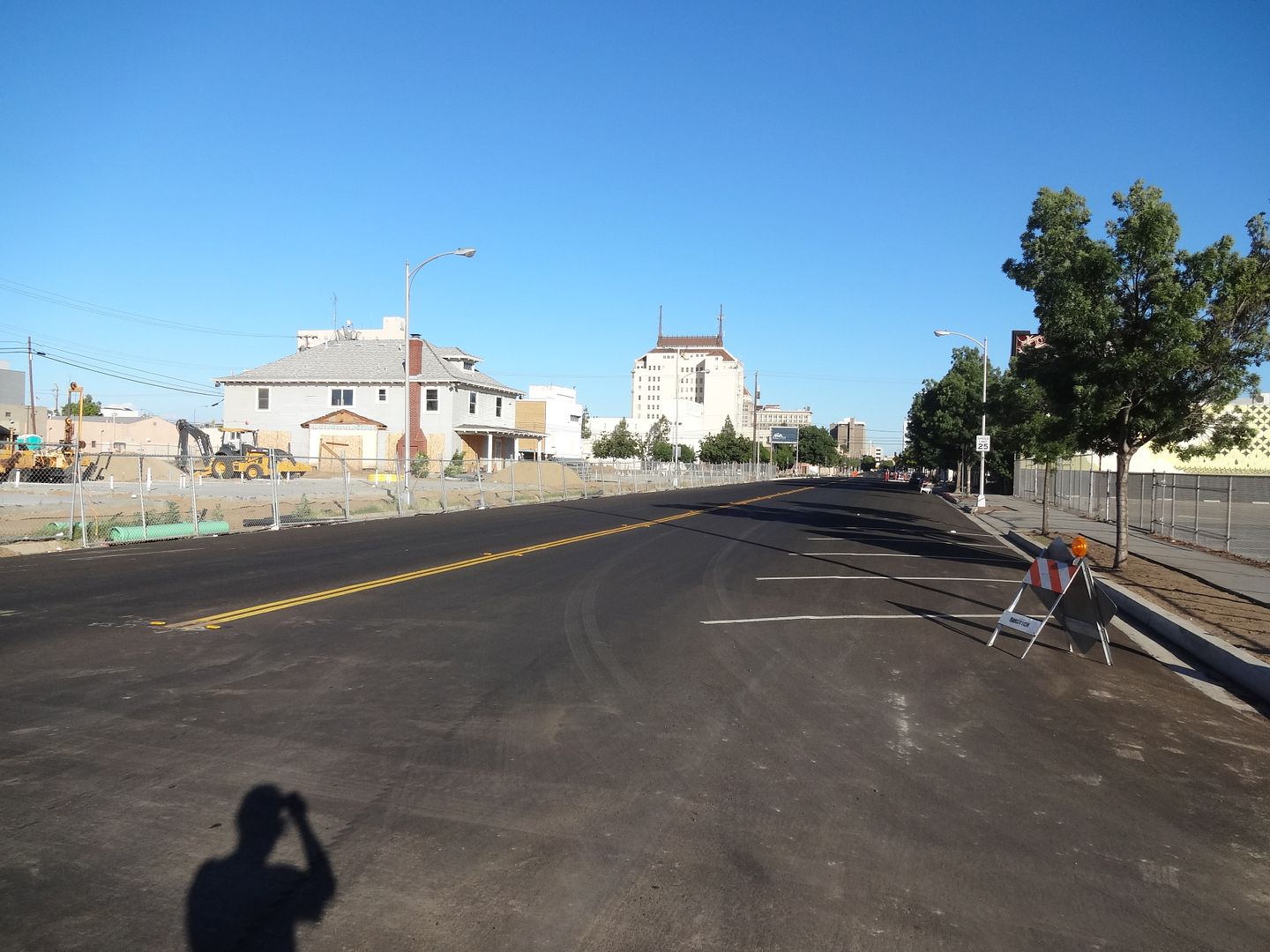 This intersection wasn't exactly the best place to start. Sadly, there's no curb extension here. I'm not sure why, but it was like the in the original plan, although a curb cut was removed. As it is now, no corner of this intersection will get a curb extension until GV Urban finishes their corner.
Moving along then, we find what a nicer bit of streetscaping looks like.
New sidewalks, landscaping, and a curb extensions. Also, notice the
drainage grates? This is a little odd, because even though they redid
the entire street, it looks like a retrofit job. I guess it was cheaper.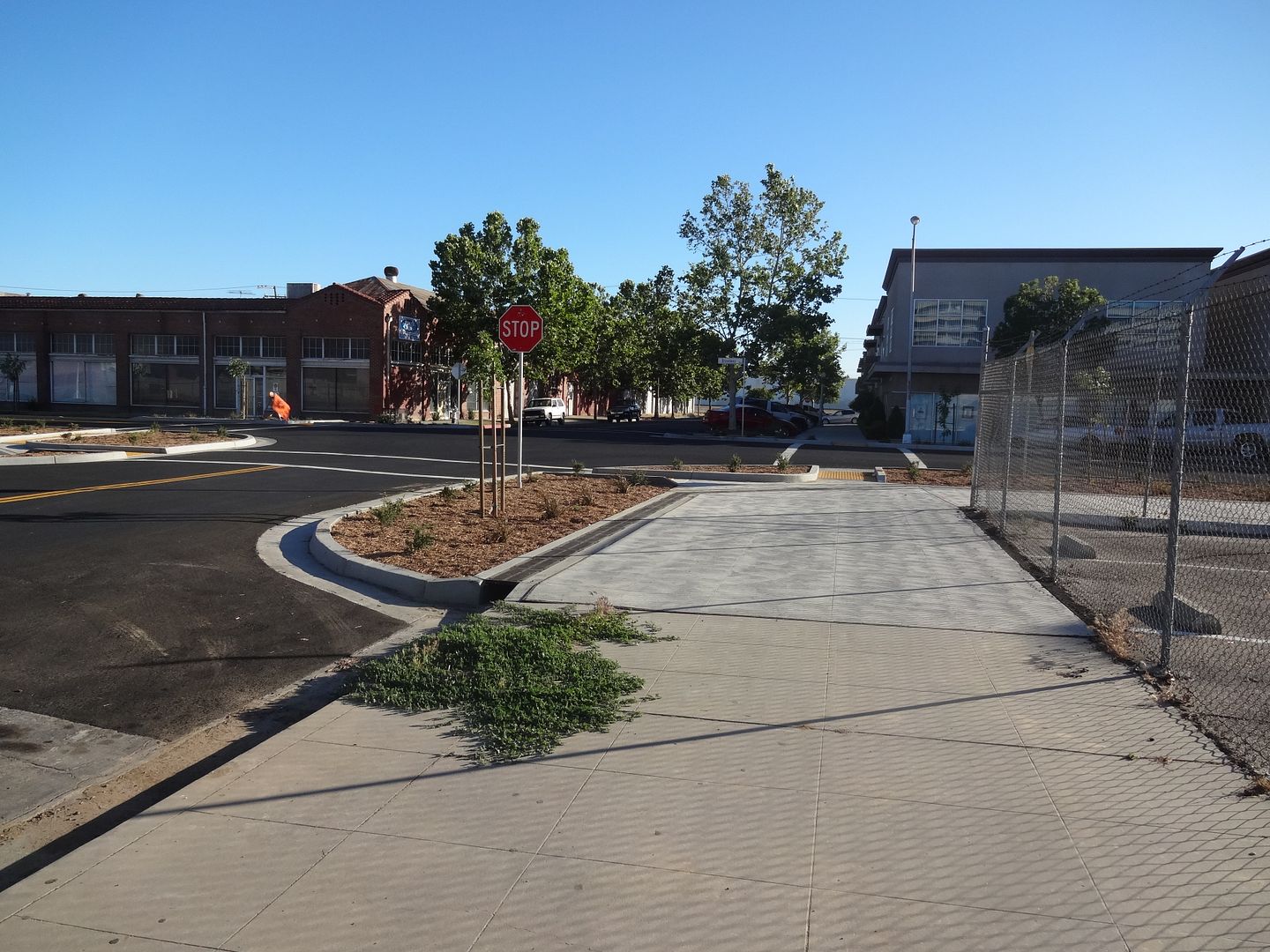 However, now we start noticing problems. I mentioned last time how narrow the ramps were. Bare minimum for ADA – why?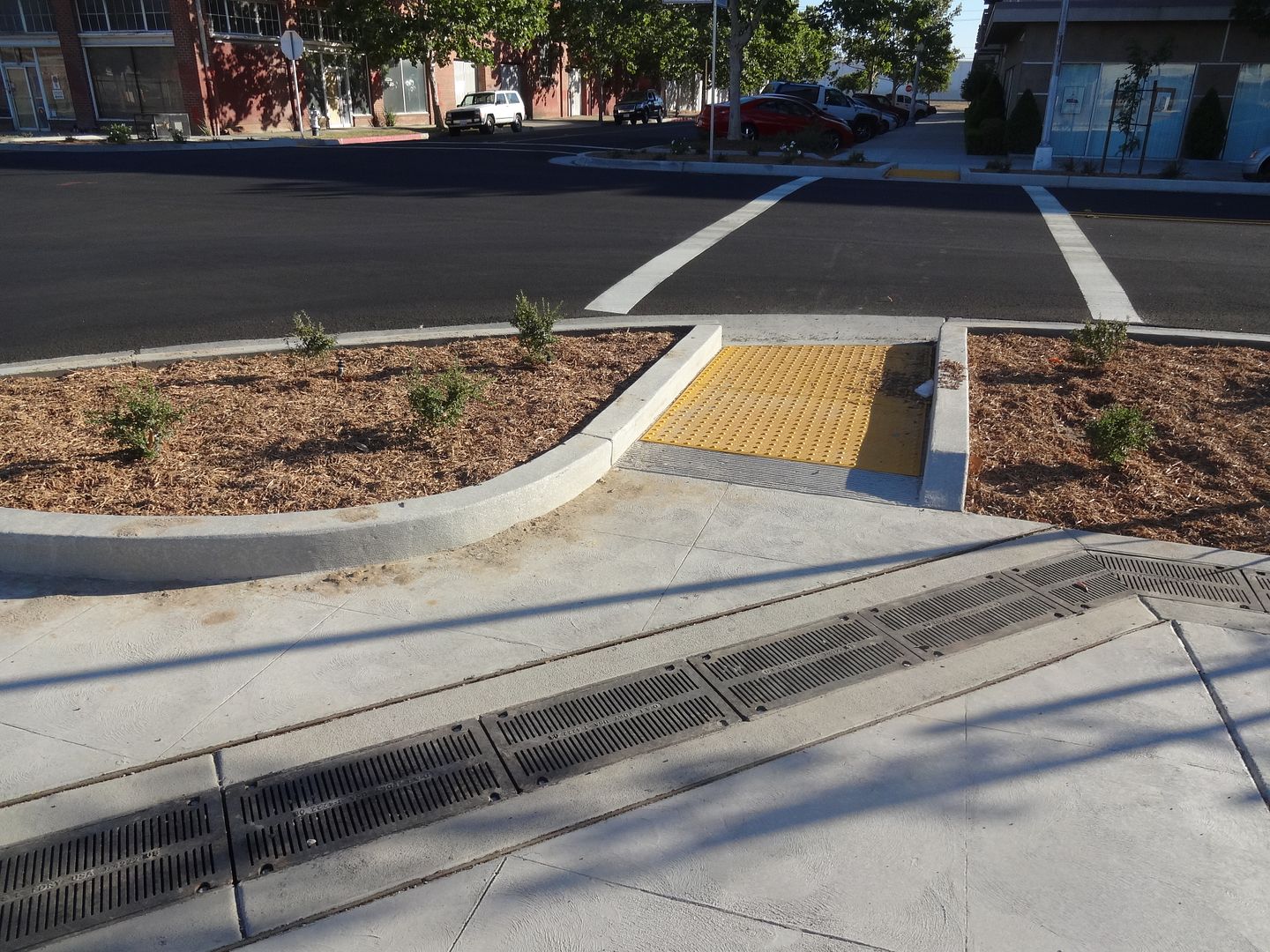 Compare to the width of the crosswalk. Why?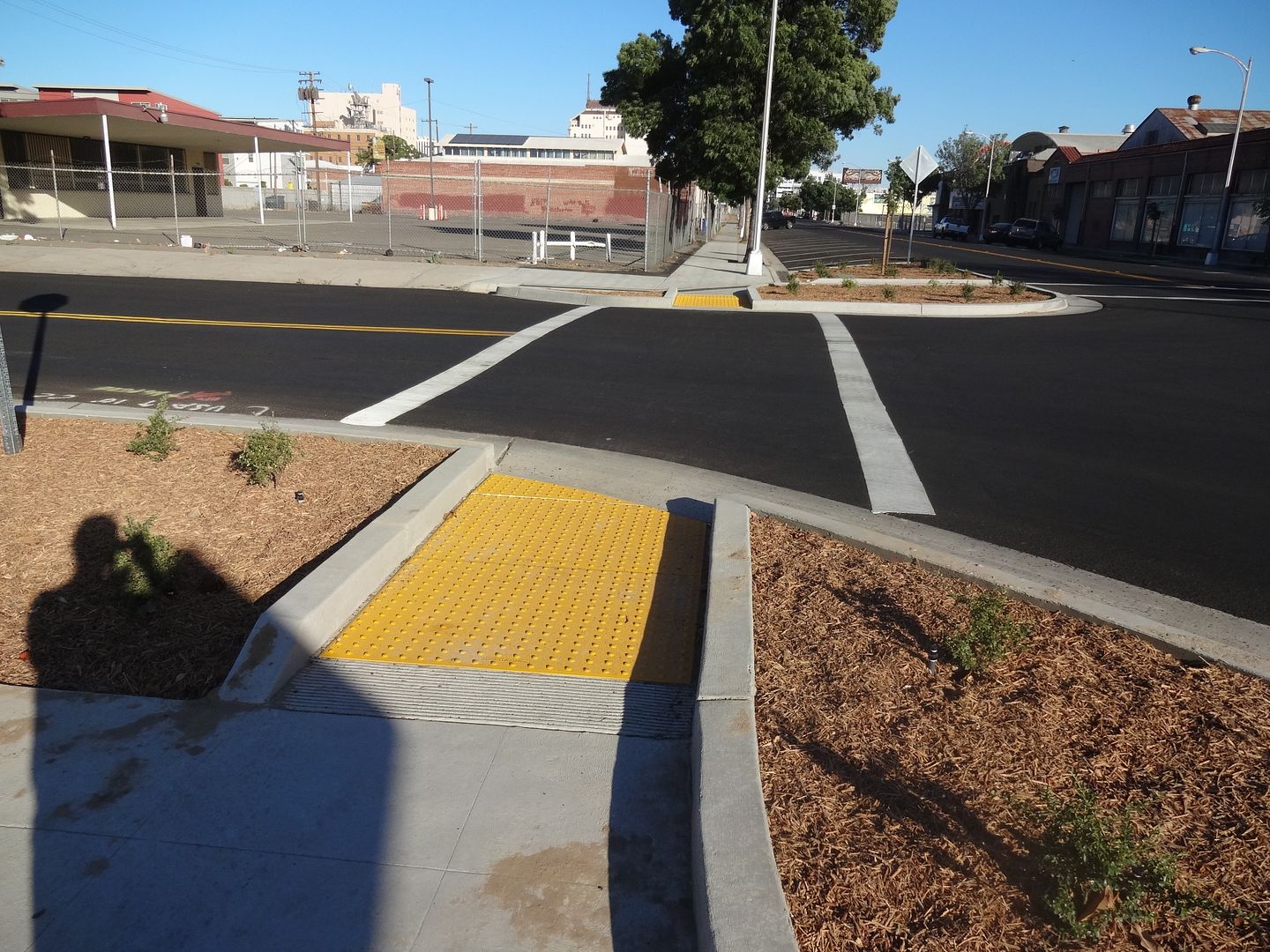 The added landscaping is nice, although I wish they had added more trees.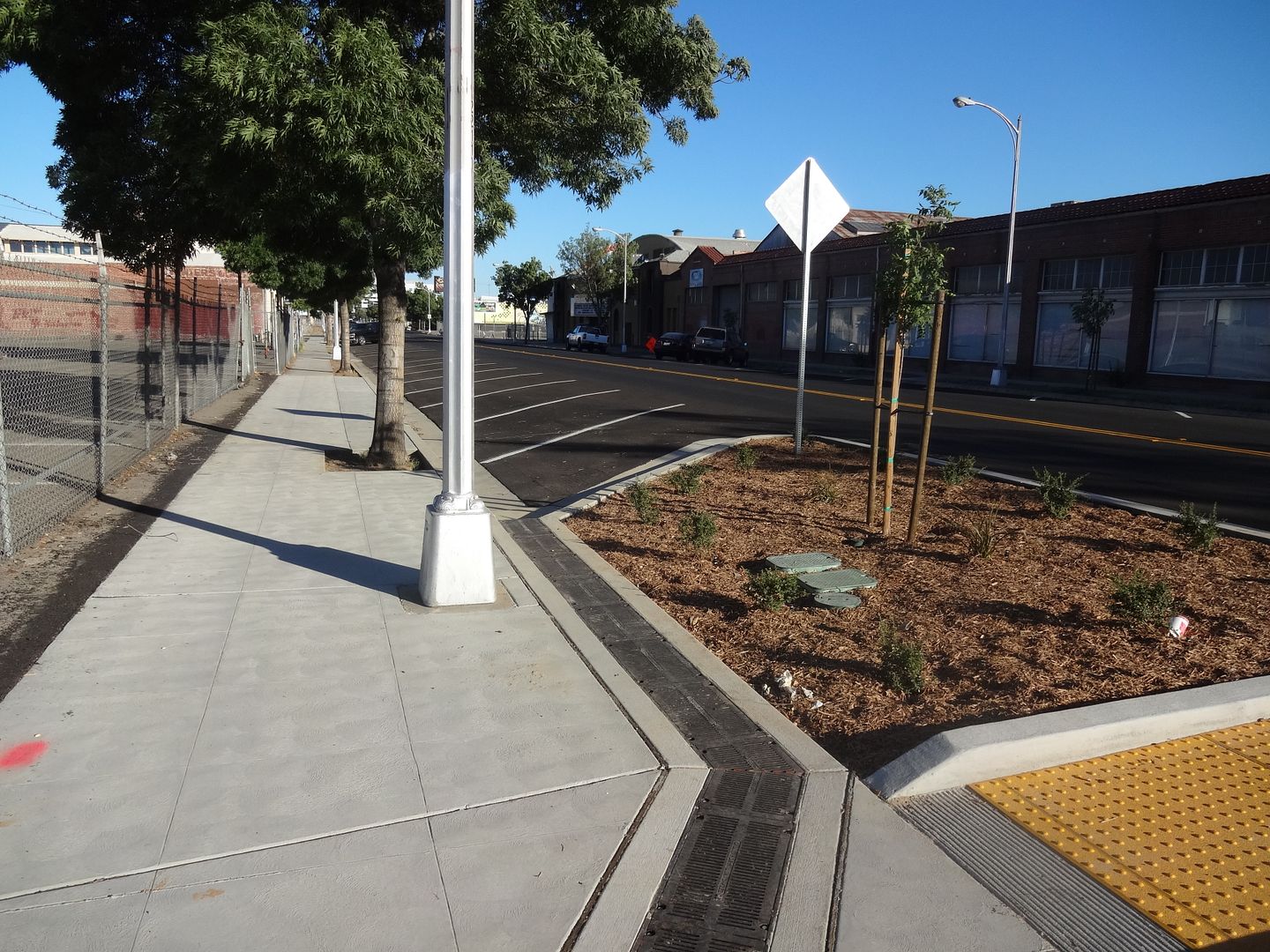 So narrow.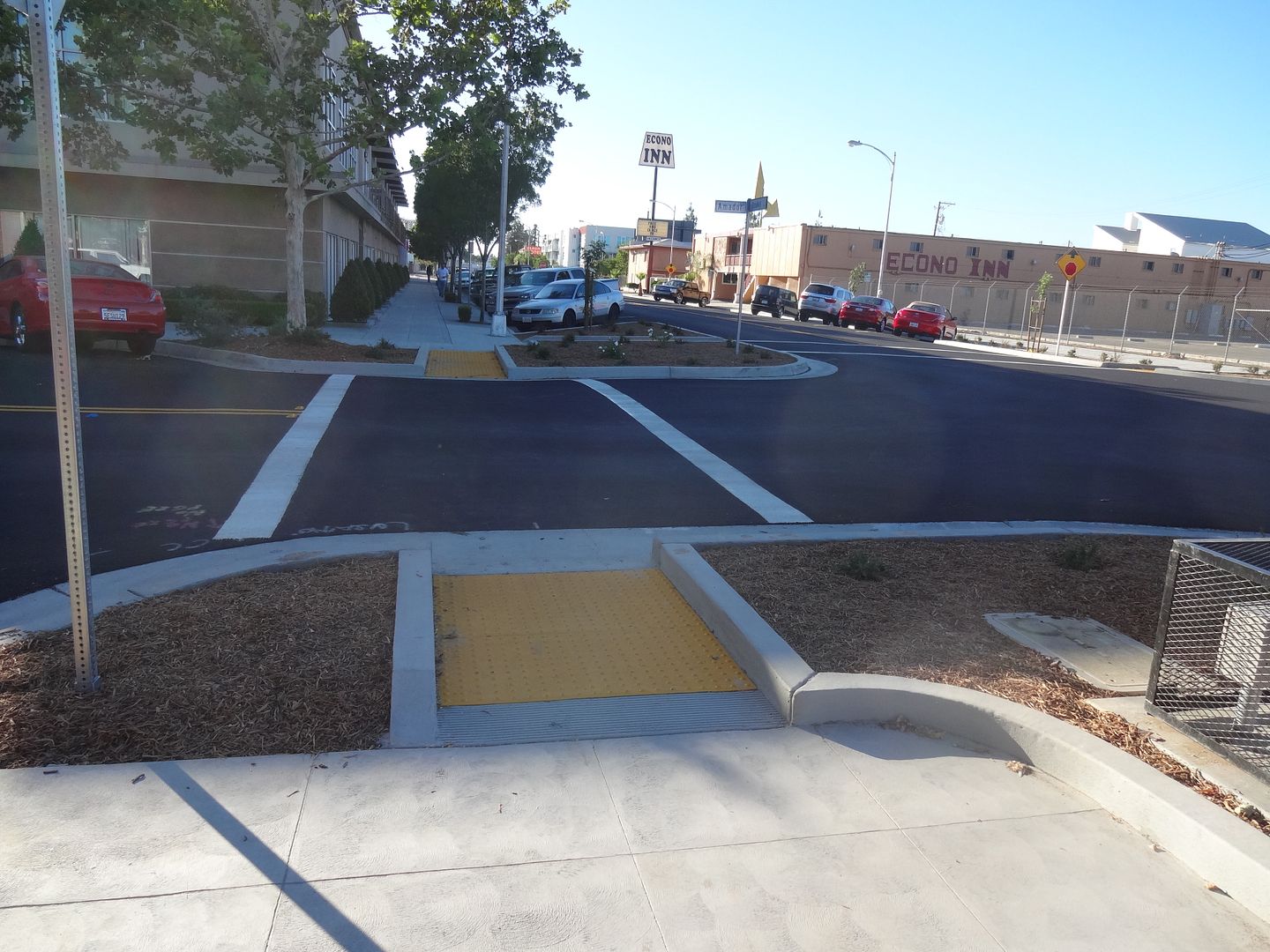 This other intersection shows that vegetation is lacking. Looks like a future garbage collection area.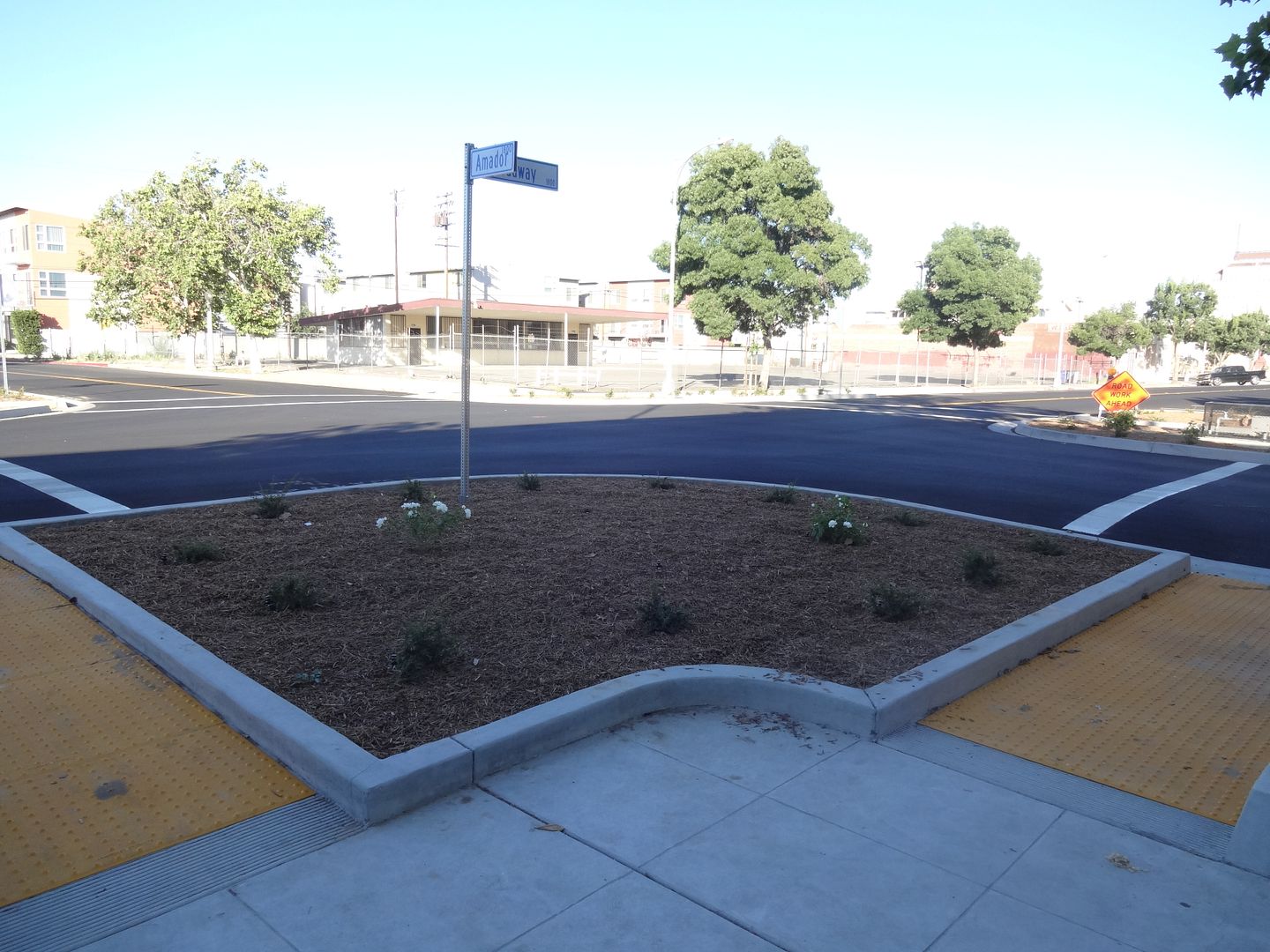 And this is how the curb extensions make the crossing distances for pedestrians much shorter.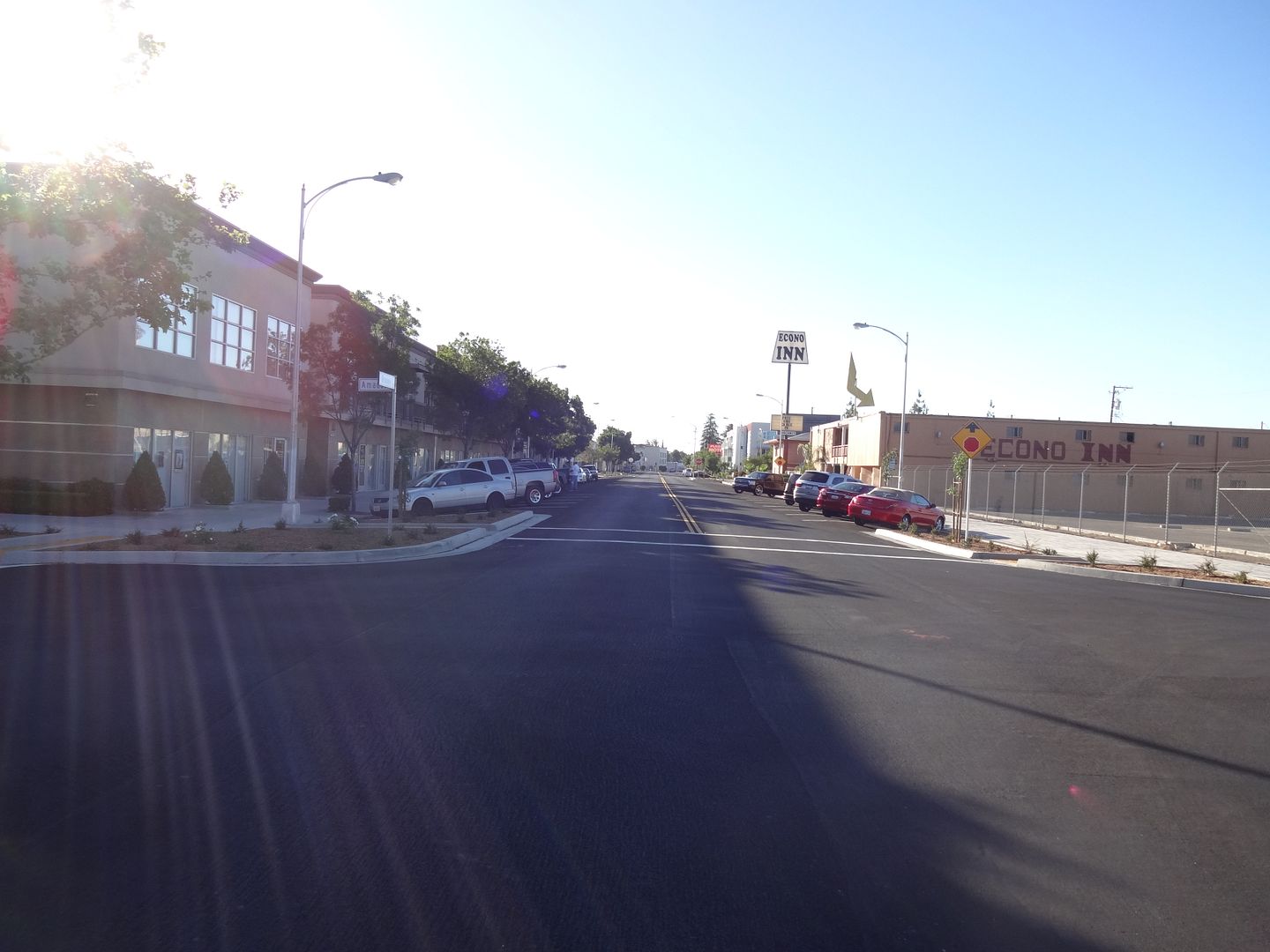 For reference, this is how wide the street looked before
Aside from the narrow ramps, we encounter a serious problem.
Major ADA fail here. So you know those yellow rumble strips
(truncated domes)? Their purpose is to inform the blind that they are
exiting the pedestrian area and will be crossing somewhere with
vehicles. A single strip is needed at the edge. Just one.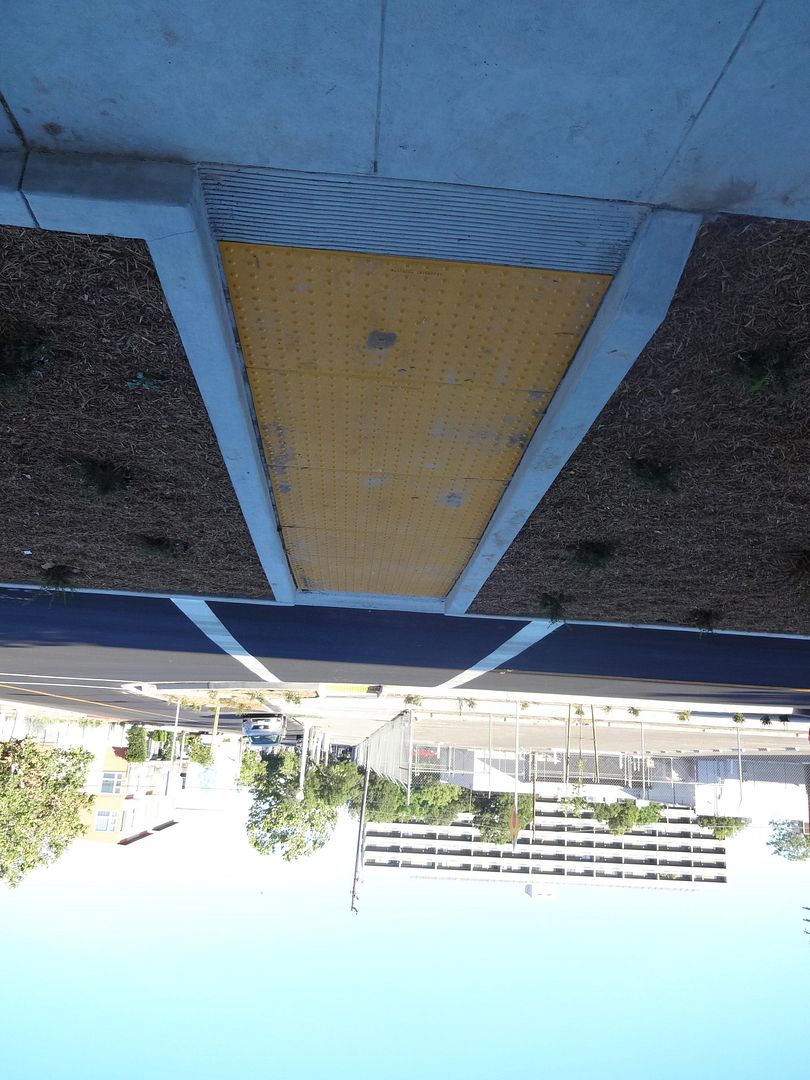 As
seen above, they've developed a rumble highway. This doesn't make
things any easier for the blind, but it DOES make life very difficult
for those in wheelchairs, who must now cross FIVE strips, rather than
one.
Not to mention, it's a huge waste of money, and again indicates that the Fresno planners have no idea what they're doing.
Seriously, wtf?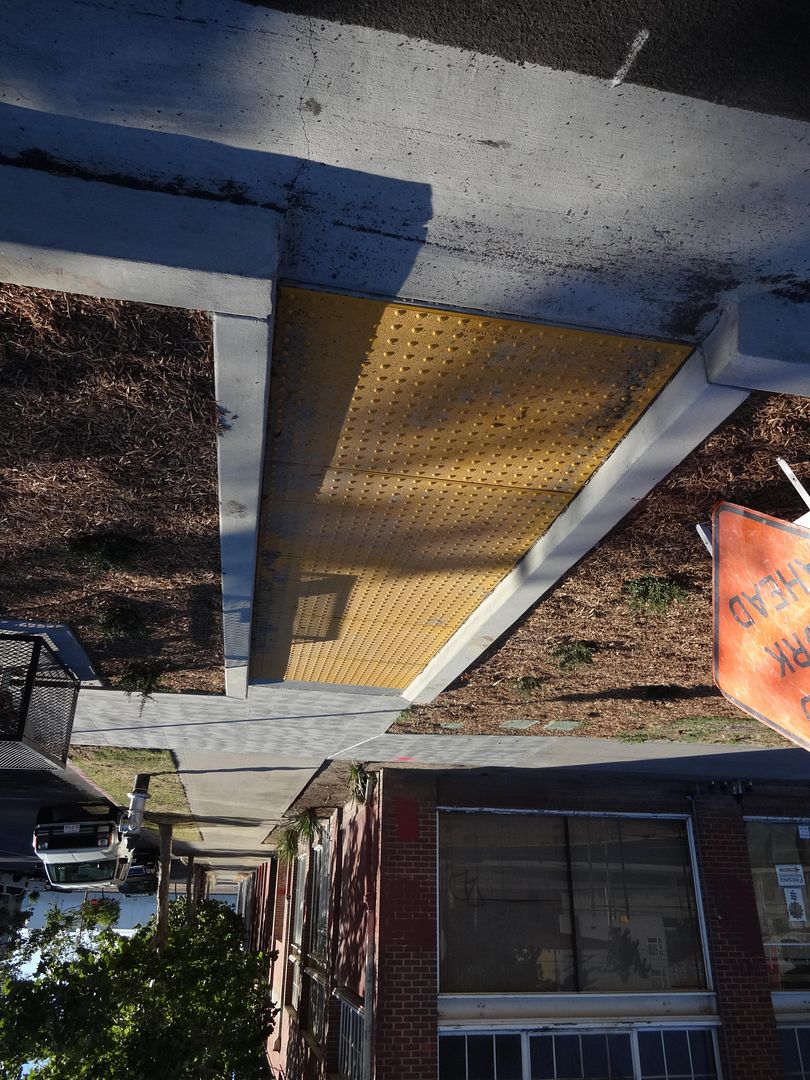 Anyway, the new parking is being used by the residents of these apartments. Parking is free and unrestricted. For now, it does provide a benefit as it makes it obvious that people live here.
As we arrive towards the northern end of the project, things get bad.
At Broadway and Yosemite, they haven't painted any crosswalks at all. Huh, wasn't this a pedestrian upgrade?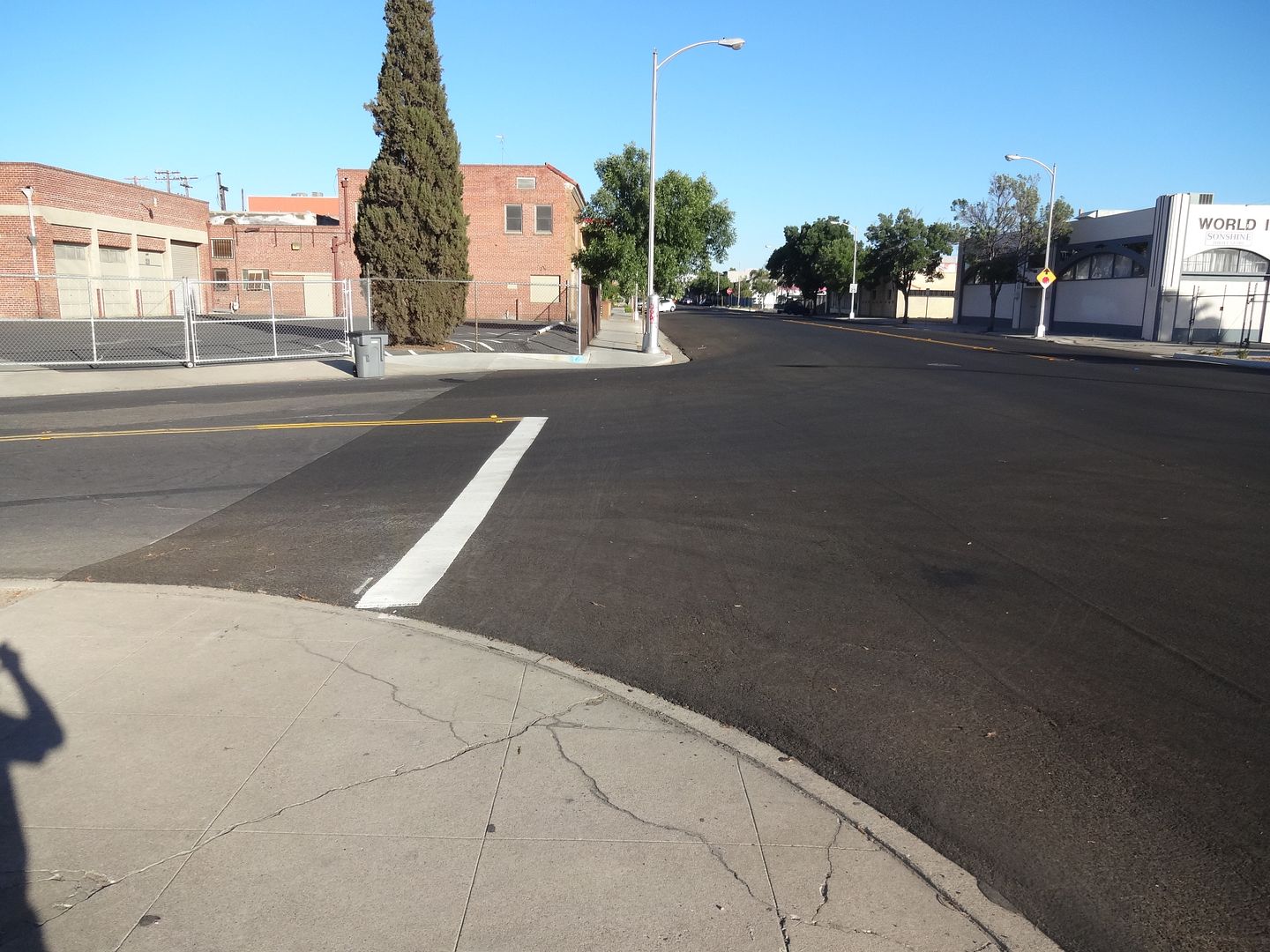 Not only does this intersection have zero crosswalks, the new curb extensions explicitly restrict crossing from wheelchair users. This is a problem.
Under California law, an intersection exists where two streets cross. Like here. Also under California law, at every intersection, there are crosswalks where pedestrians have the right of way, marked or not.
Fresno chose not the mark the crosswalks, but they also went out of their way and put landscaping in the way. What that means, is that people can legally cross – but the disabled cannot. It's an ADA violation.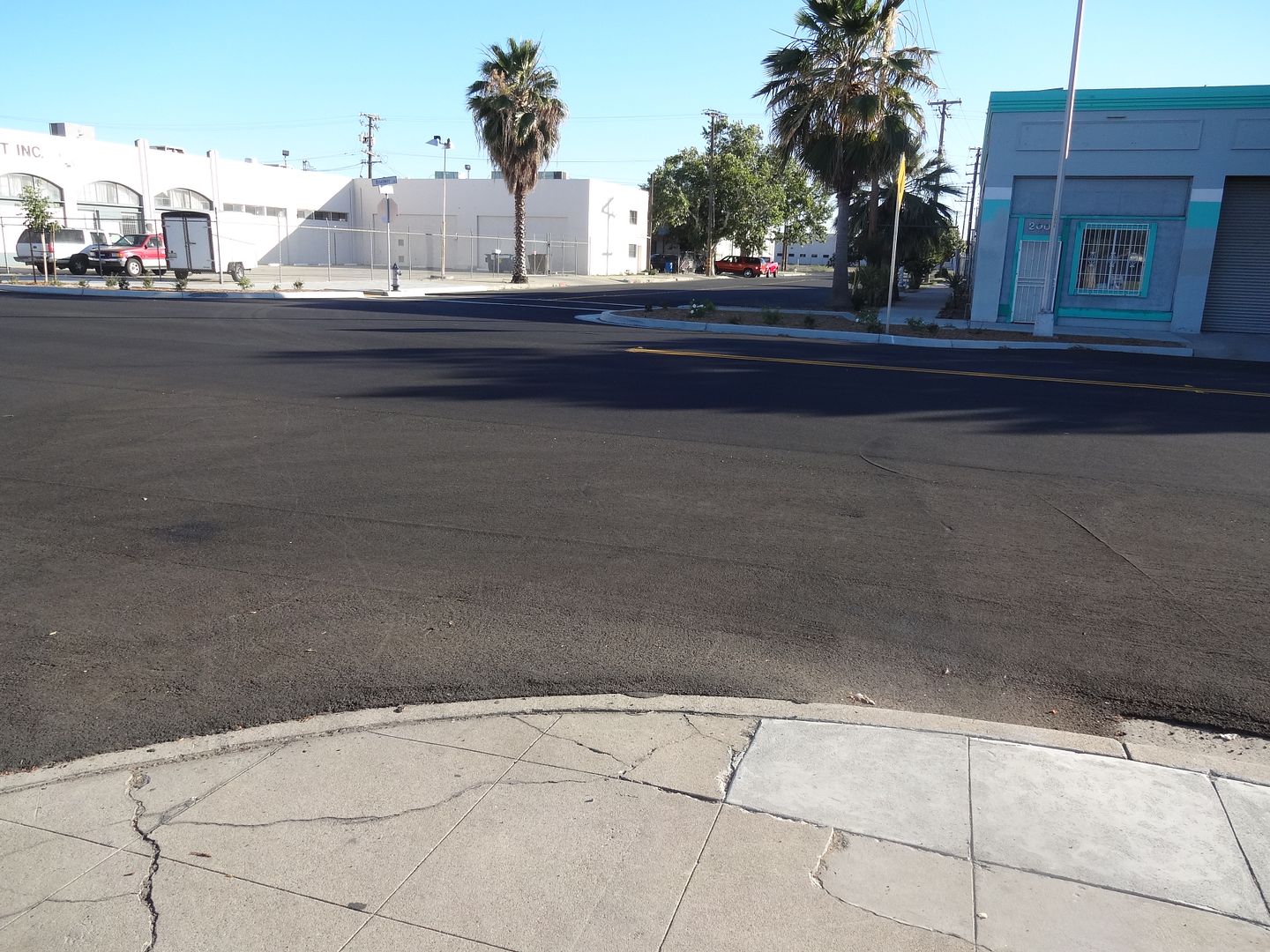 I will email the city, and I guarantee they will get right on it – by putting up signed stating that the crosswalk is closed.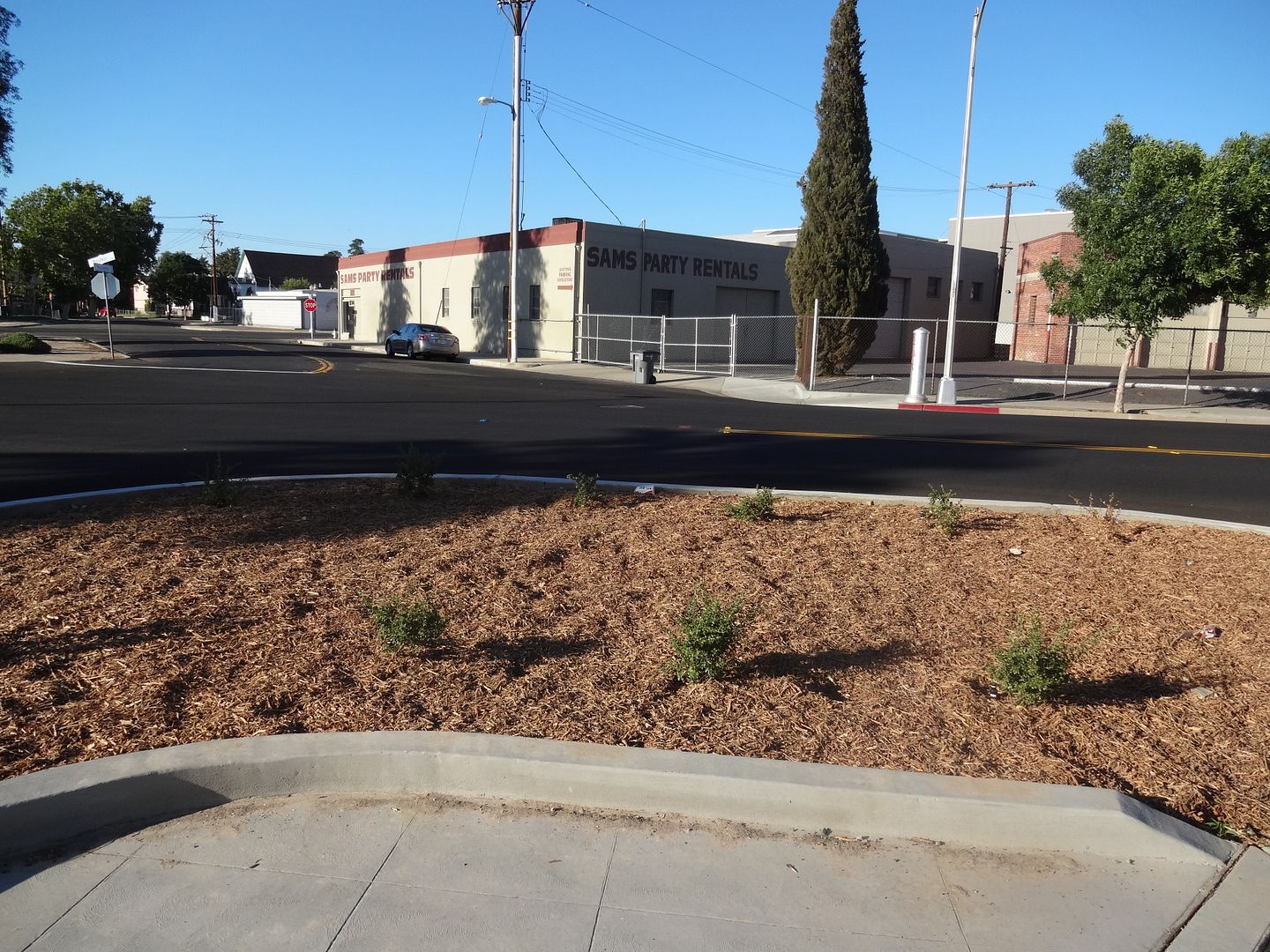 It's 2014, is this kind of work acceptable?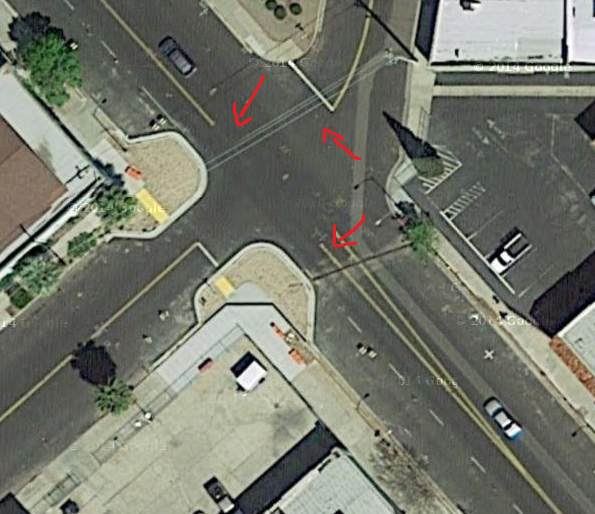 Walking back south again, we find more ADA issues
And note that none of the crosswalks have been painted in the continental style. Why? This is the point of view of a driver, look at the crosswalks in the distance, they're essentially invisible. Van Ness has continental crosswalks, why not Broadway?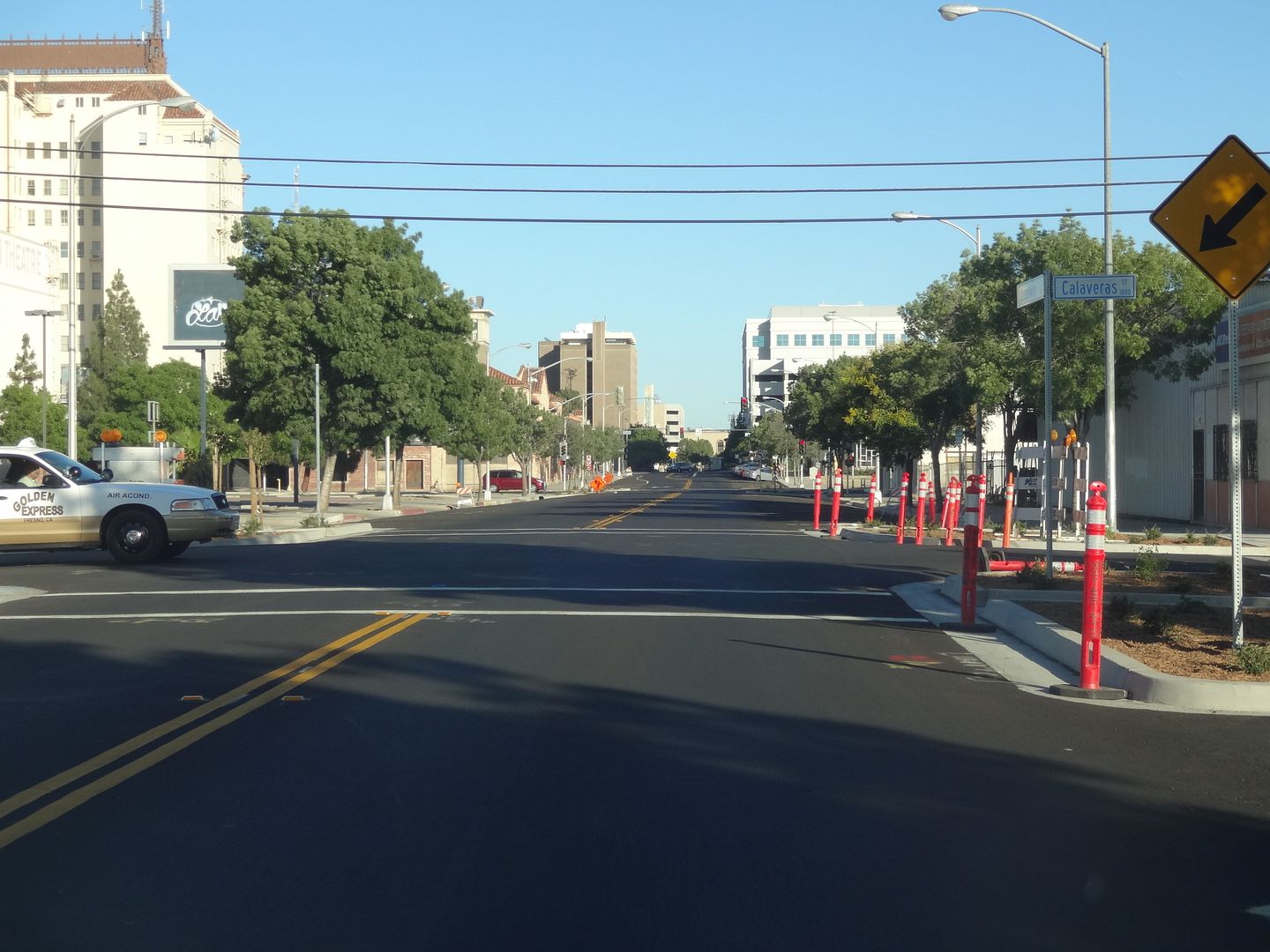 This is nice, glad they kept the existing tree and gave it more room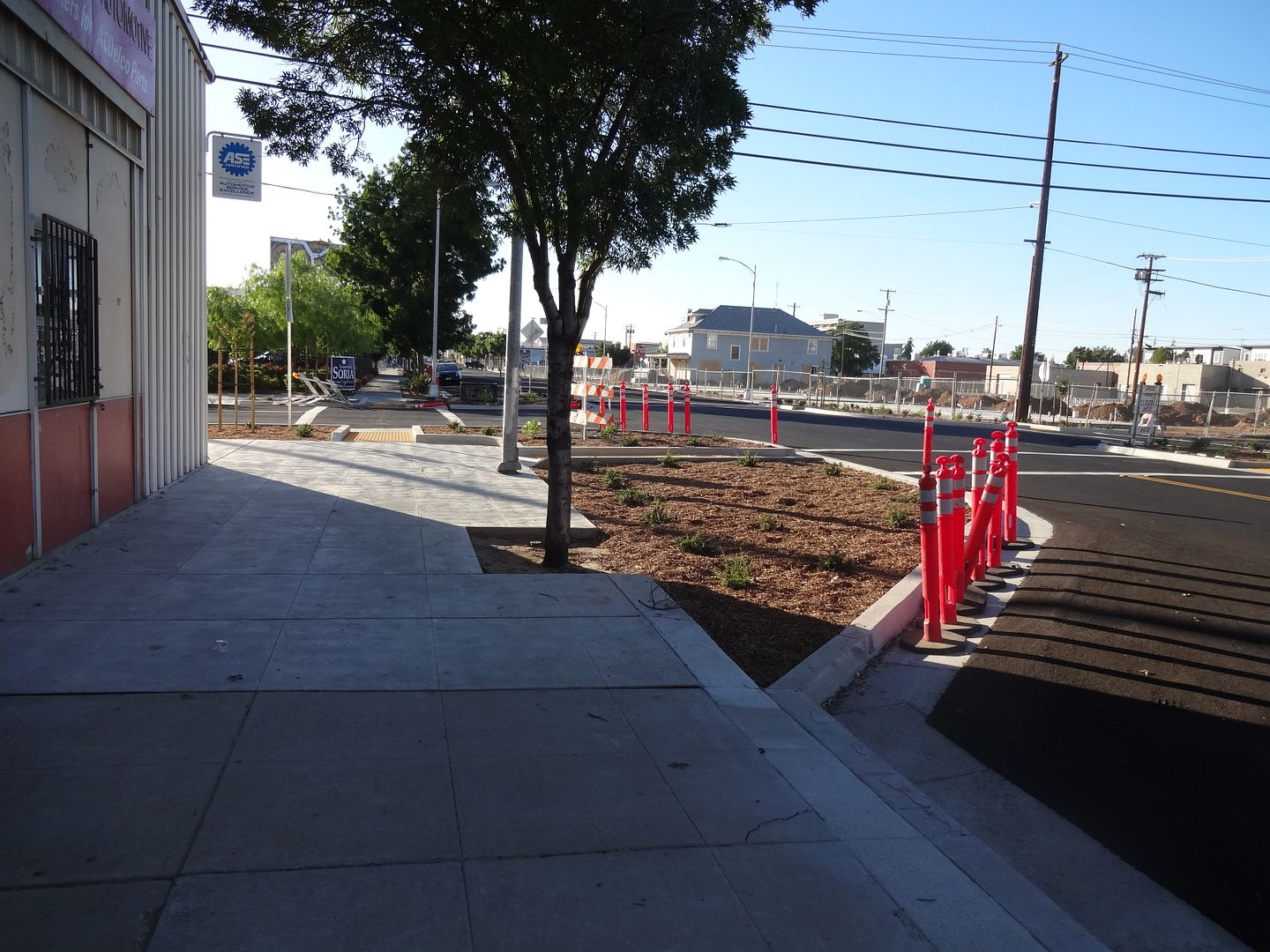 Some sections further south have timed parking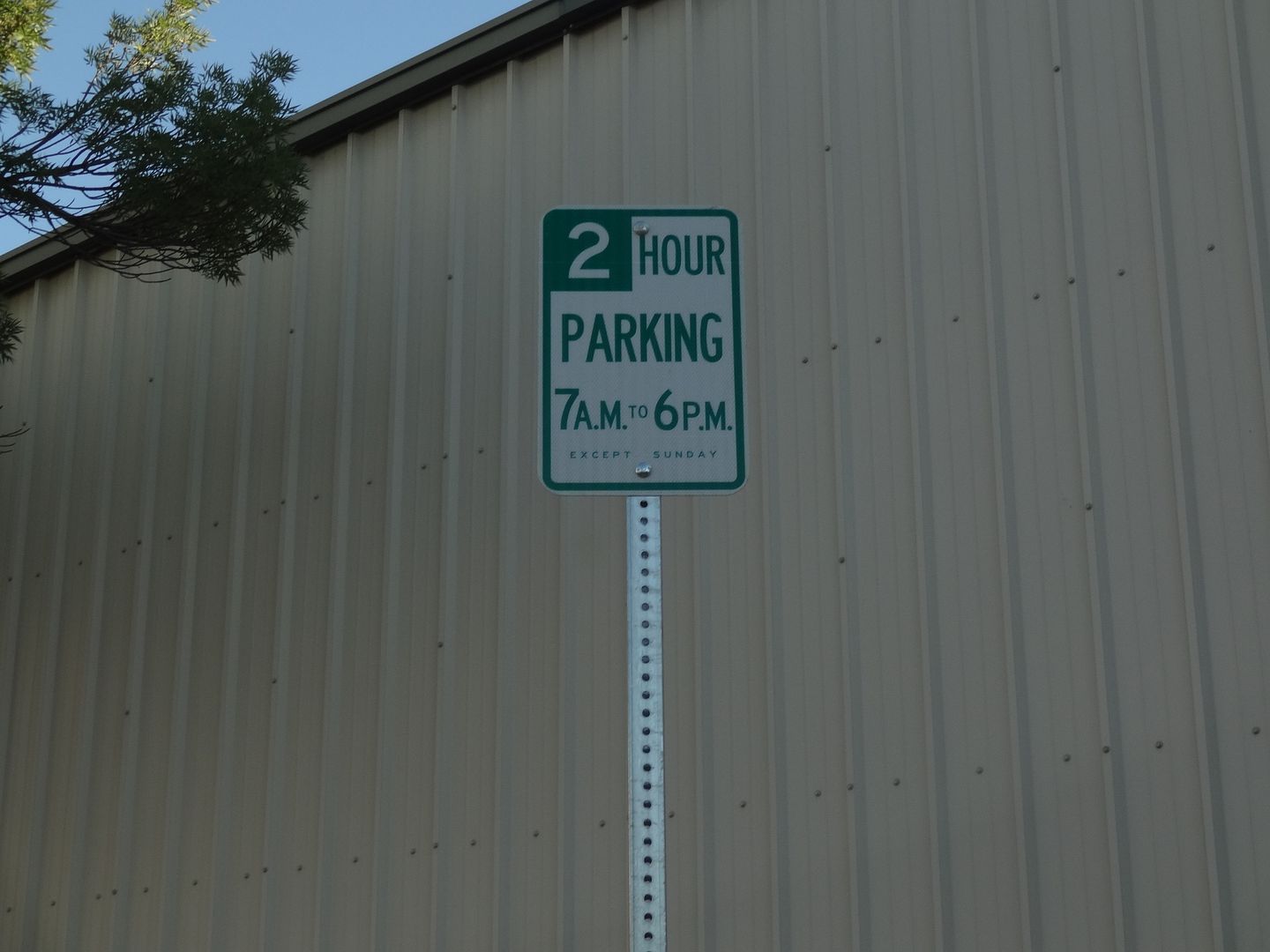 And another fail. No, not the badly striped crosswalks…the arrow.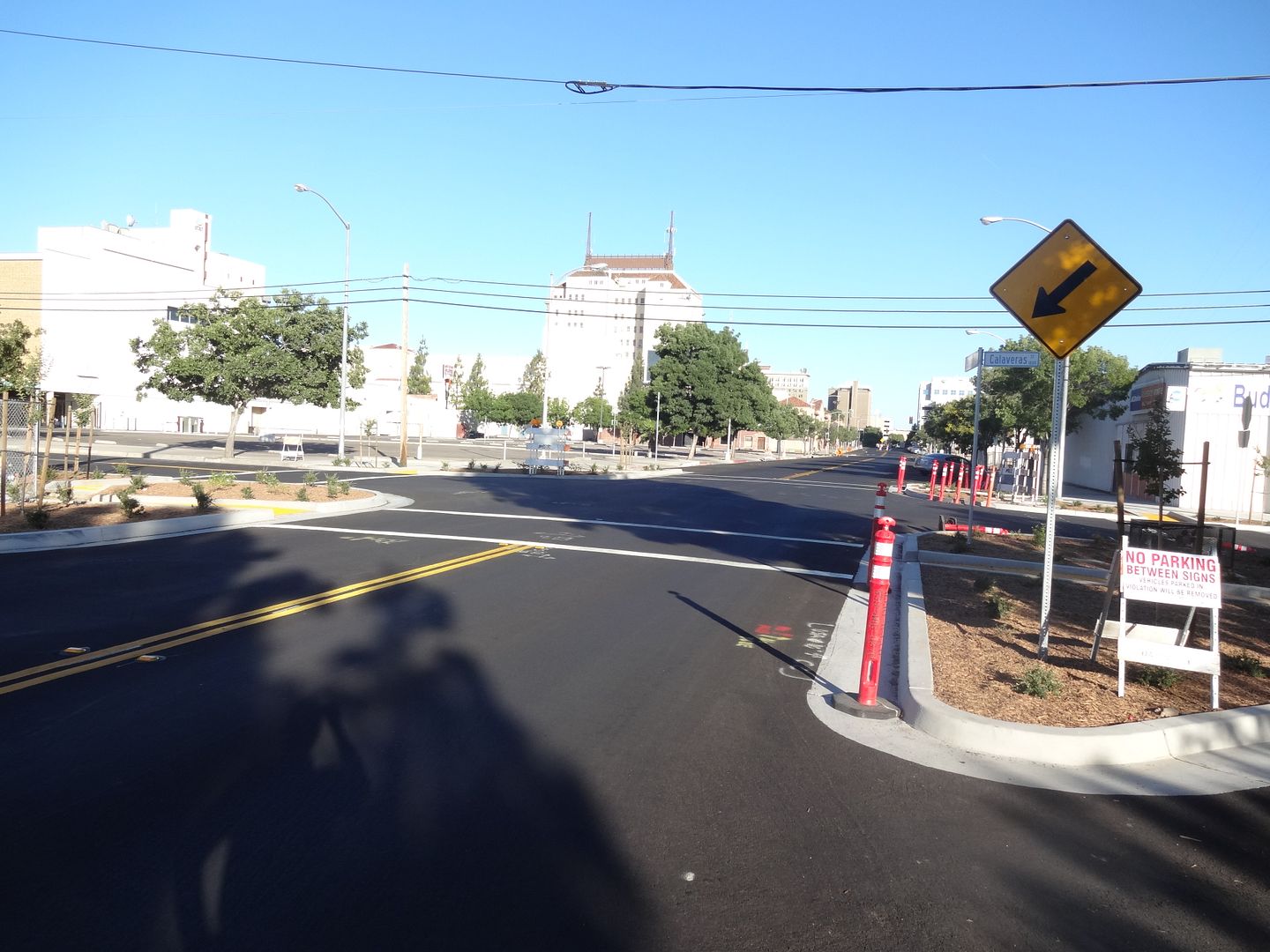 What the hell is that? I can't even find it in the traffic manual. The closest sign is the W16-7P, but that's a different shape. Is Fresno seriously installing non-compliant signage in a brand new project?
The standard sign for a pedestrian crossing is this, which is what should have been installed.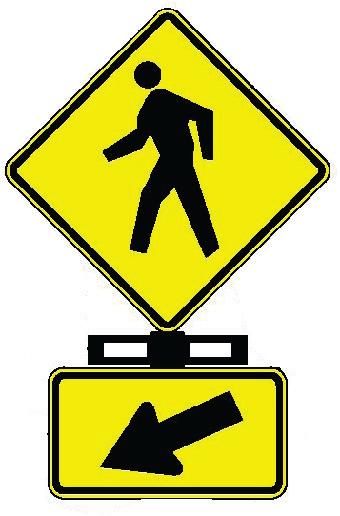 More rumble strips at the end of the GV parcel…
Showing the width of the ramp and the lack of bicycle accommodations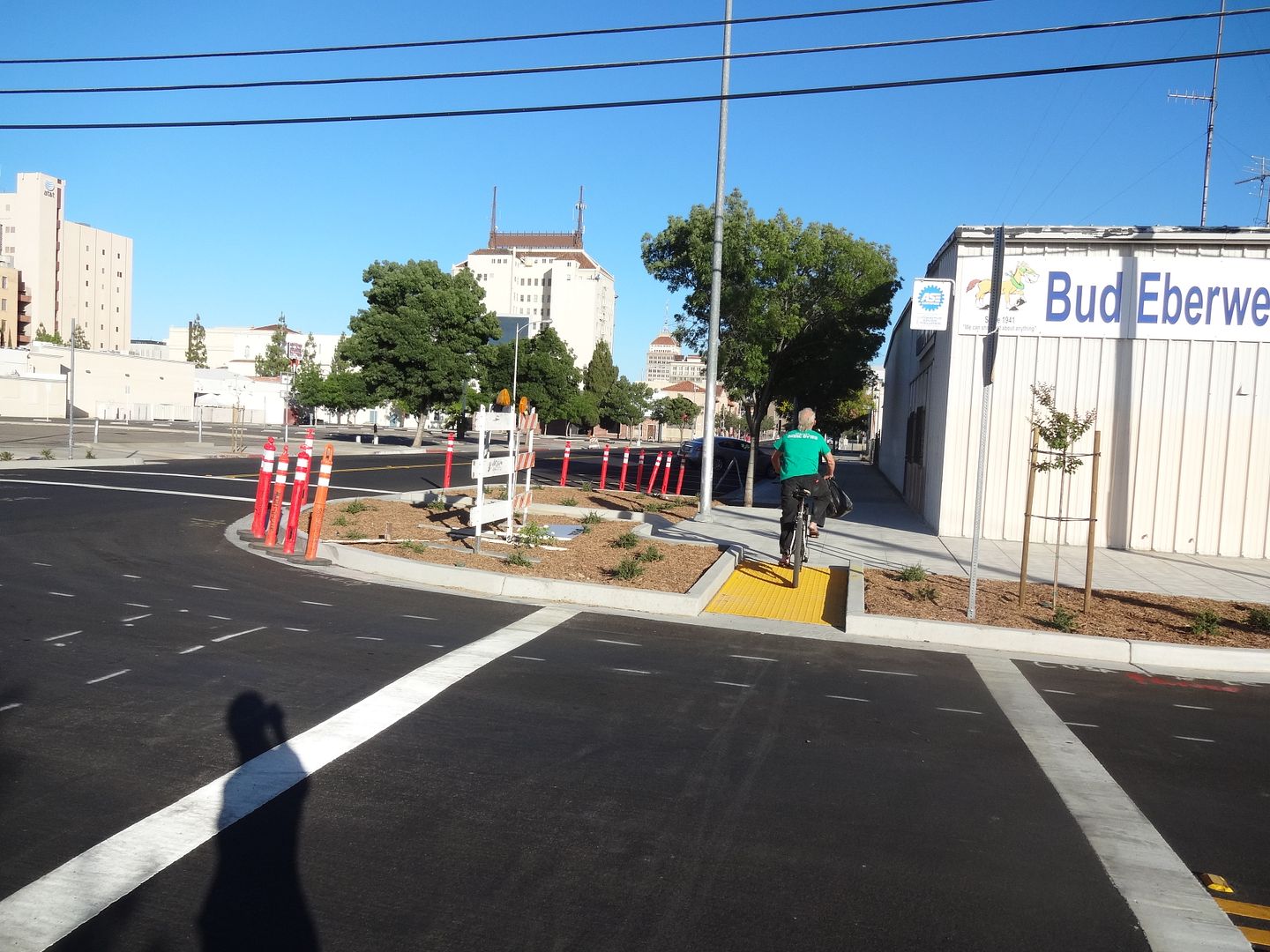 So in summary:
-Narrow crosswalk ramps
-Incorrectly installed domes
-Zero lighting improvements
-Zero biking infrastructure
-Missing crosswalks
-No continental crosswalk marking
-Poor signage
-ADA violations
-Pull-in parking
+Nice landscaping
+Curb extensions are valuable
Overall, a disappointment. Three years late and they couldn't even get it right. Maybe in 2060 they'll take another swing at it.
Bonus GV urban: