If you've been past Fresno State on Shaw any time this year, you've seen construction underway at Campus Pointe. It's yet another shopping center for Fresno, in a part of town that isn't exactly lacking in retail options. The project is a joint development between Fresno State, and the people who brought us River Park.
The "selling point" is that it is directly next to Fresno State, so it's being advertised as a place for students to visit, and somewhere they can do so walking or biking. Sadly, the fundamentals are missing which make it a real walking or biking destination, and parking is a huge center-piece, as expected. As is the case in every Fresno development, the main street (Chestnut in this case) is fronted by parking.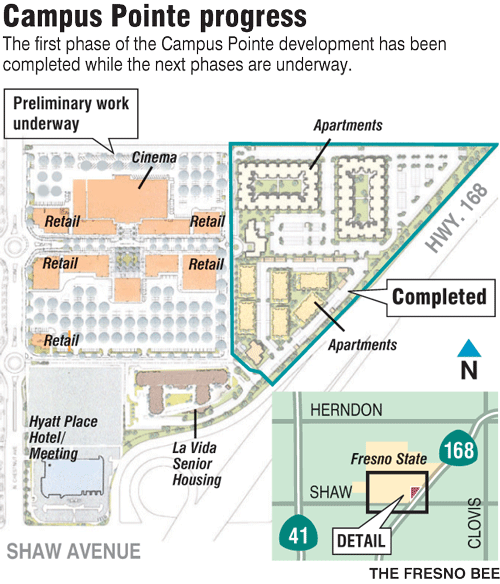 Source: Fresno Bee
The project has been in the planning stages for almost a decade at this point, and because it includes a movie theater, they were sued by Sierra Vista which opened their theater around 2007 or so. Sierra Vista is just 2 miles away, while the $3 theater (United Artists 8) is just over a mile away. Aside from the lawsuit delaying things, the recessions obviously put a stop to things for a good 5 years.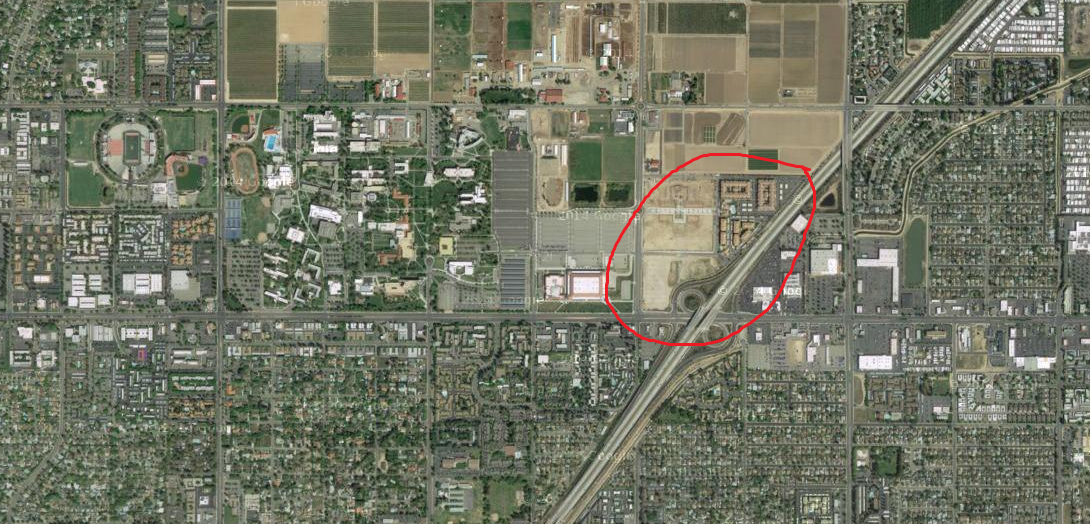 Car-wise, the location is a disaster. 168 boxes the site in on the right and bottom, severely limiting driving access. That means most visitors will come in through Shaw and Chesnut. Anyone who drives into Clovis knows that this intersection is a disaster, due to the highway off ramps and series of traffic lights which always catch you.
You cant drive (or walk, or bike) east because of the freeway.
You can't drive west, because of campus, although you can bike and walk.
You can't go south because of dead ends, so you're forced onto Shaw.
North is open.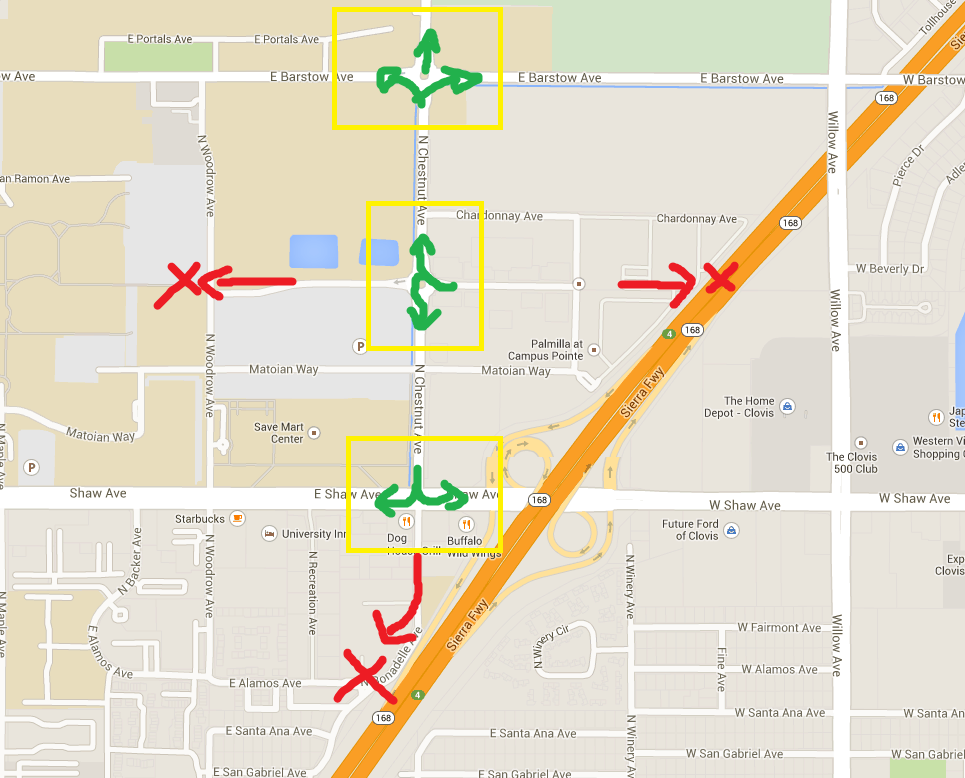 The map above shows the three intersections the new traffic must go through. The middle and top one are roundabouts.
The problem? This pedestrian/bicycle oriented (supposedly) developments ALSO forces walkers and bikes onto these roundabouts, where all the cars will be. There's no low-stress alternate route.
Doesn't that sound fun? These won't be low-traffic neighborhood circles, you're talking about a high traffic shopping center with a regional draw (movie theater).
Imagine you're on a bike, and your destination is the yellow star.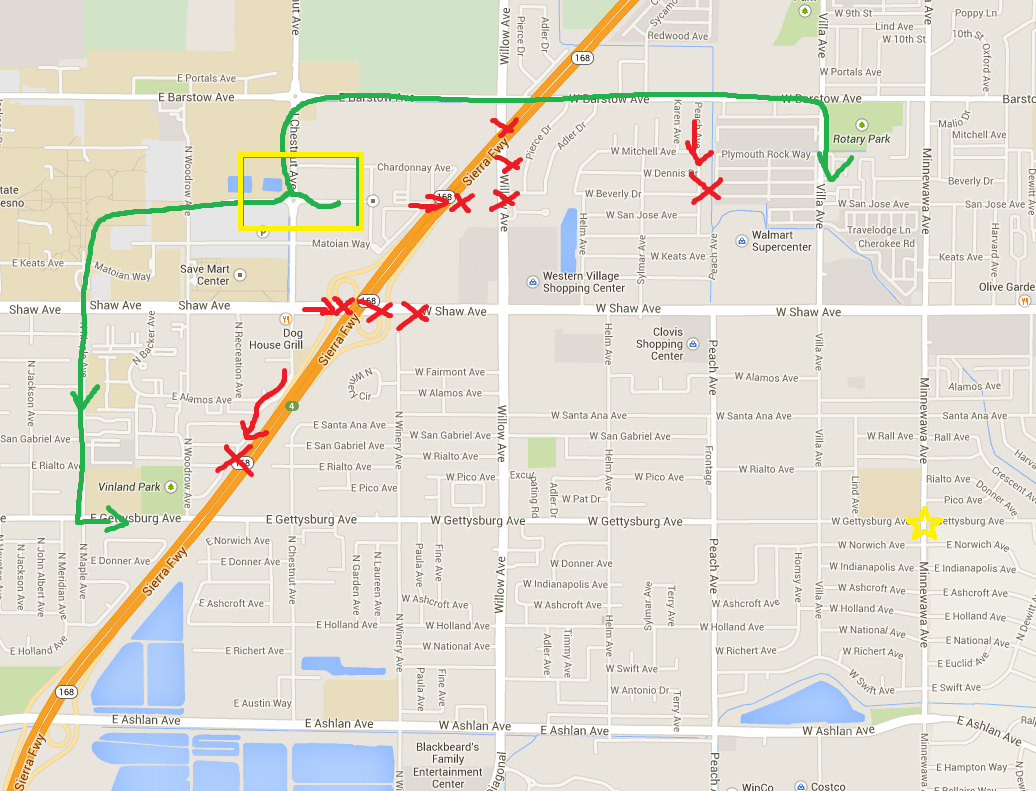 You can't go east, because freeway, so you MUST go through roundabout.
If you go south, you can't keep going to Gettysburg because the roads are blocked. Are you going through Shaw, with 6 lanes, no bike lanes, and high speed freeway on-ramps? Nope.
Shaw and Chestnut, with student housing on the bottom. Do you want to walk or bike here?

If you go north onto Barstow, you're also opting out of Willow, because again it's 6 lanes of 50mph traffic. Peach is blocked by Wal-mart. That gives you Villa, with no bike lanes a 2×2 traffic.
So your best option is through the roundabout, across campus, all the way to Maple (Woodrow is blocked off halfway) and down to Gettysburg. That's a hell of a detour!
Oh, did I mentioned that the route through campus is through the most scenic of parking lots?
The most western parking lot is brand new, by the way.
May I jog your memory with this picture.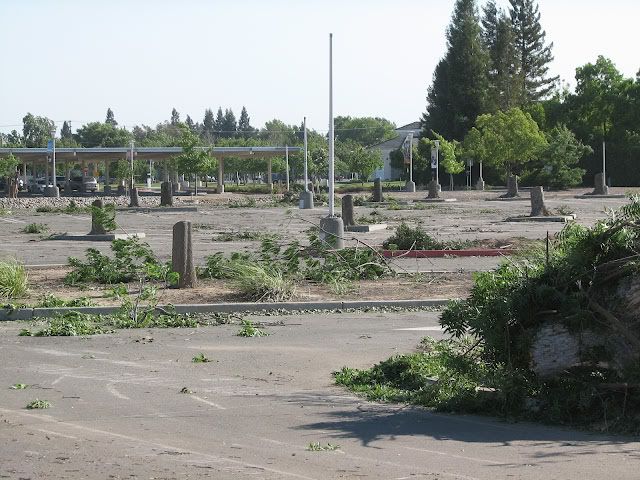 Ahem. Back to Campus Pointe…
The roundabout itself is also a problem. For one, it requires pedestrians to take a detour just to cross the street. It also requires pedestrians to assert their right of way across two lanes of traffic at a time – not so easy when traffic is moving at 45mph, and it's dark with low quality streetlights.
The bike infrastructure is even worse – the roundabout doesn't even meet state standards, and it's brand new!
State design guidelines call for bike lanes to end, and cyclists to be given an option. They can take the lane, or, if they're not comfortable, they should be provided a ramp where they can join the sidewalk through the roundabout.
Except that's not what was built. In the picture below, the green square was designed properly, but the other side was not!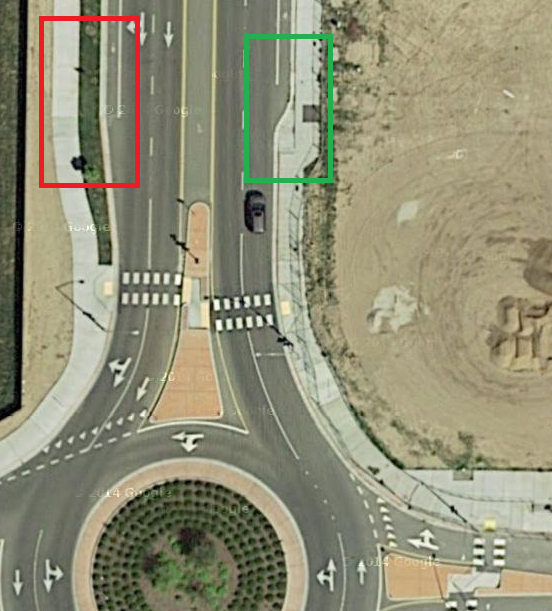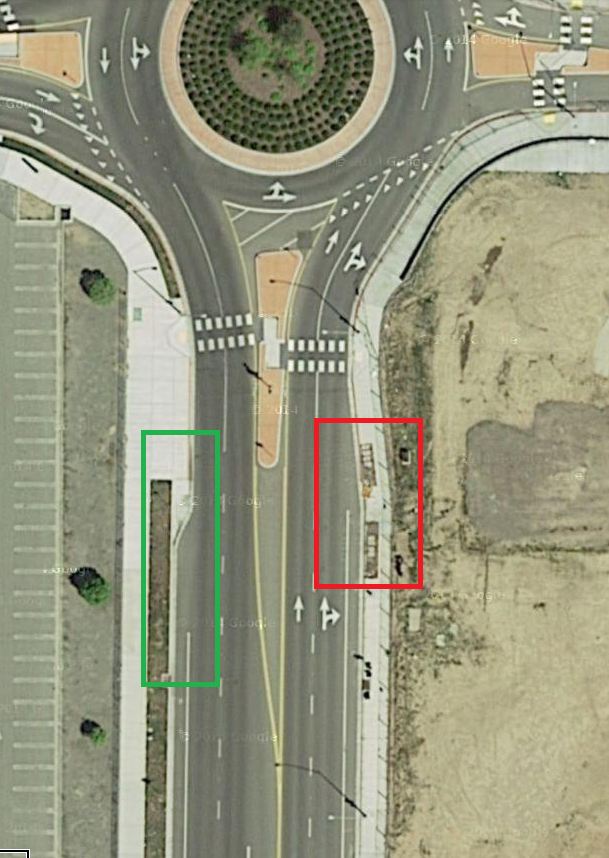 It shouldn't be this hard.
Anyway, lets take a look at what this thing was like a month ago (sorry, I'm really behind!)
The center street is supposed to be a main street, with retail on each side, and parking. Oddly, they went with 90 degree pull in parking. Obviously, that means people are really slow to park in and out. Odd choice for their major entranceway.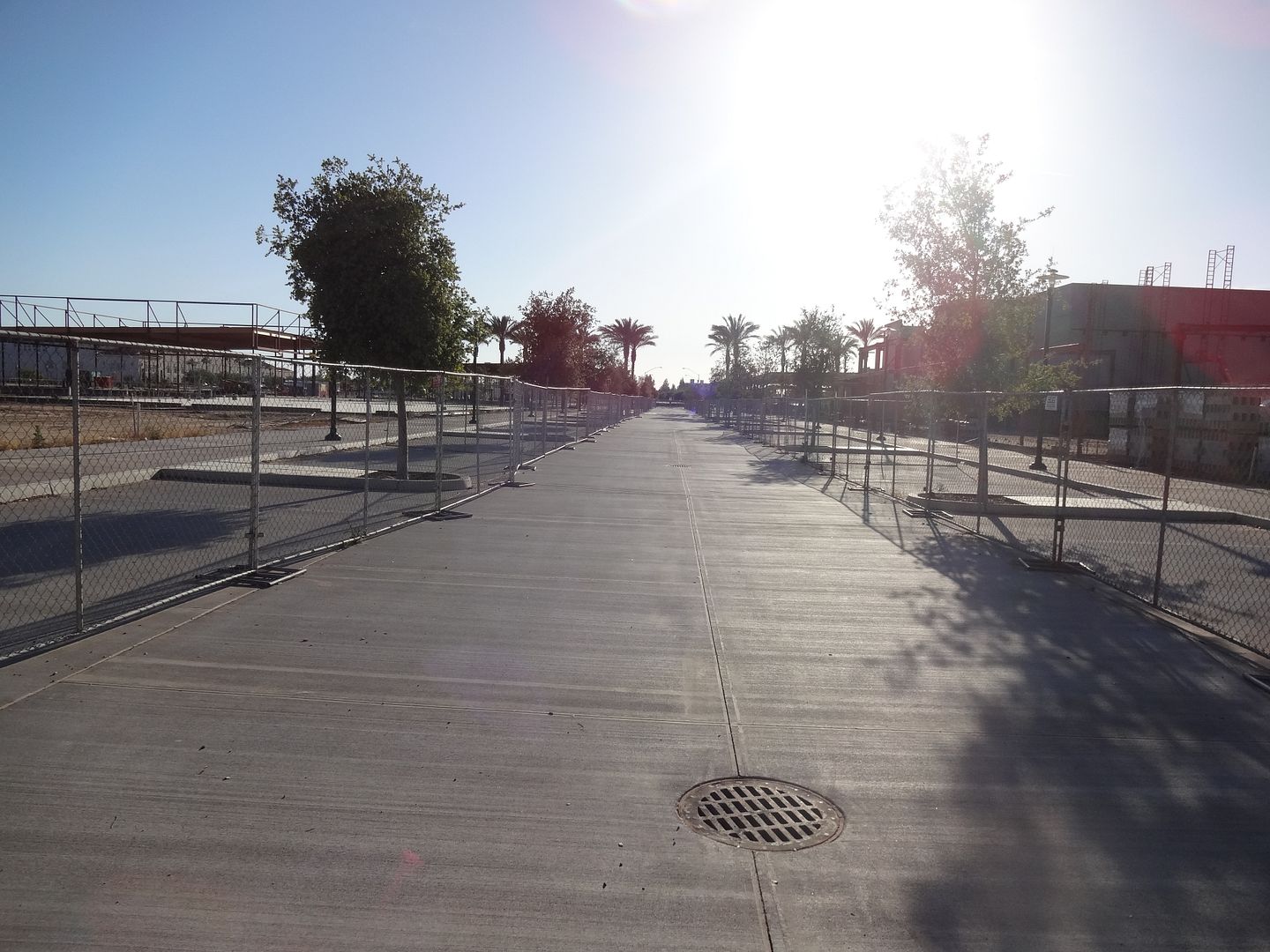 Bike racks have been installed, but some of them are far away from the future stores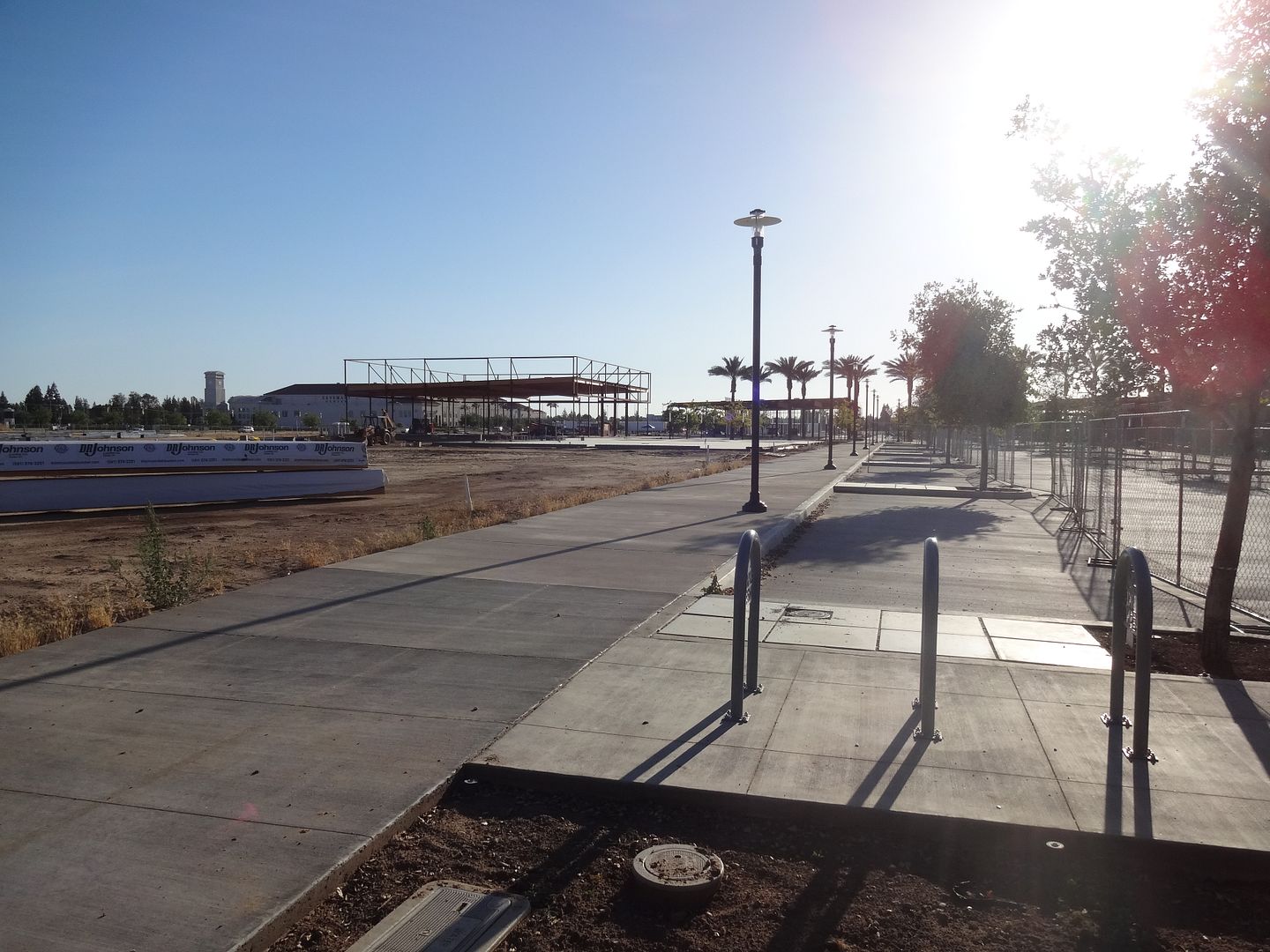 I'm a fan of the lights
The sidewalk is plenty wide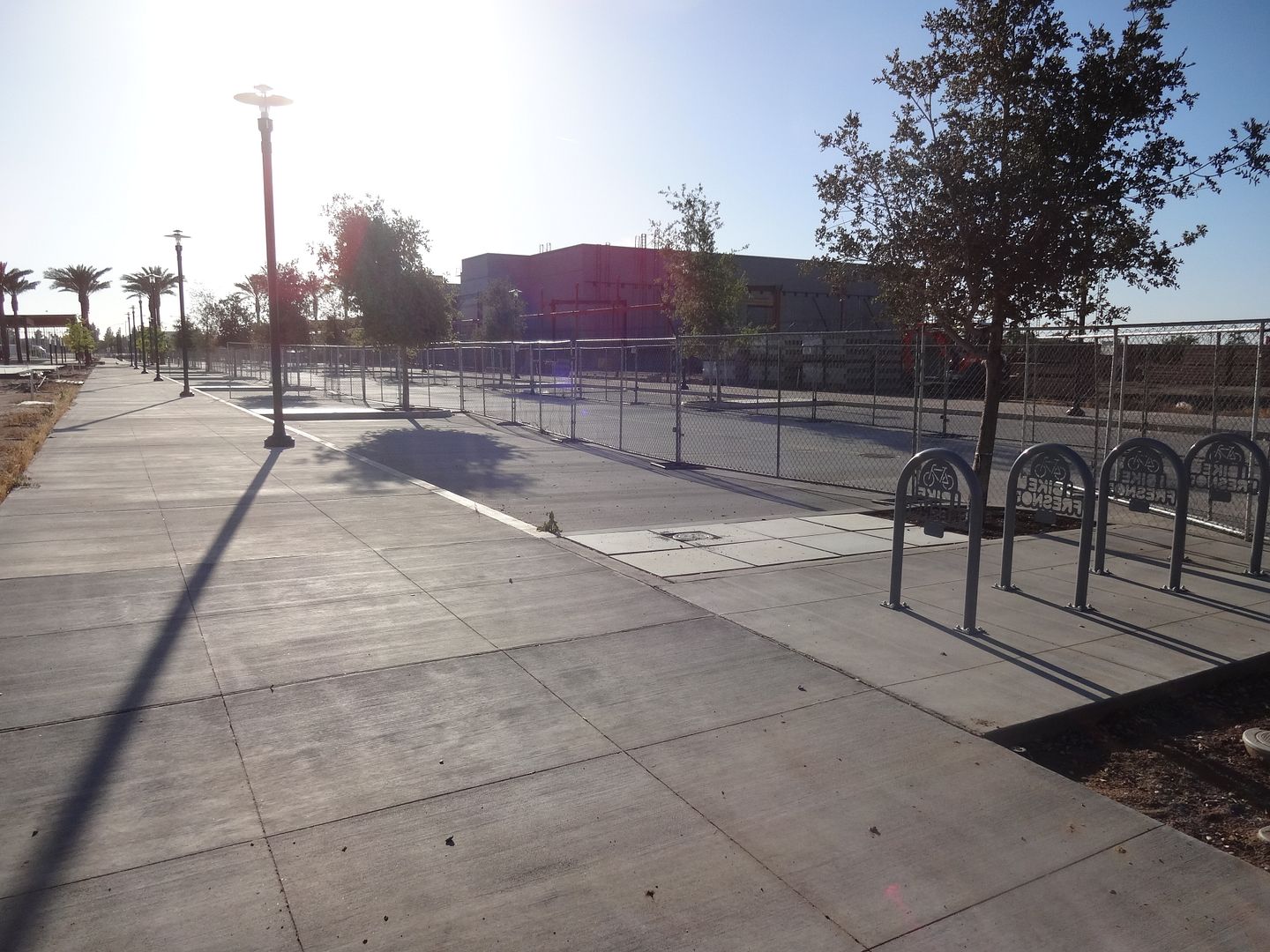 I like that the parking spaces were broken up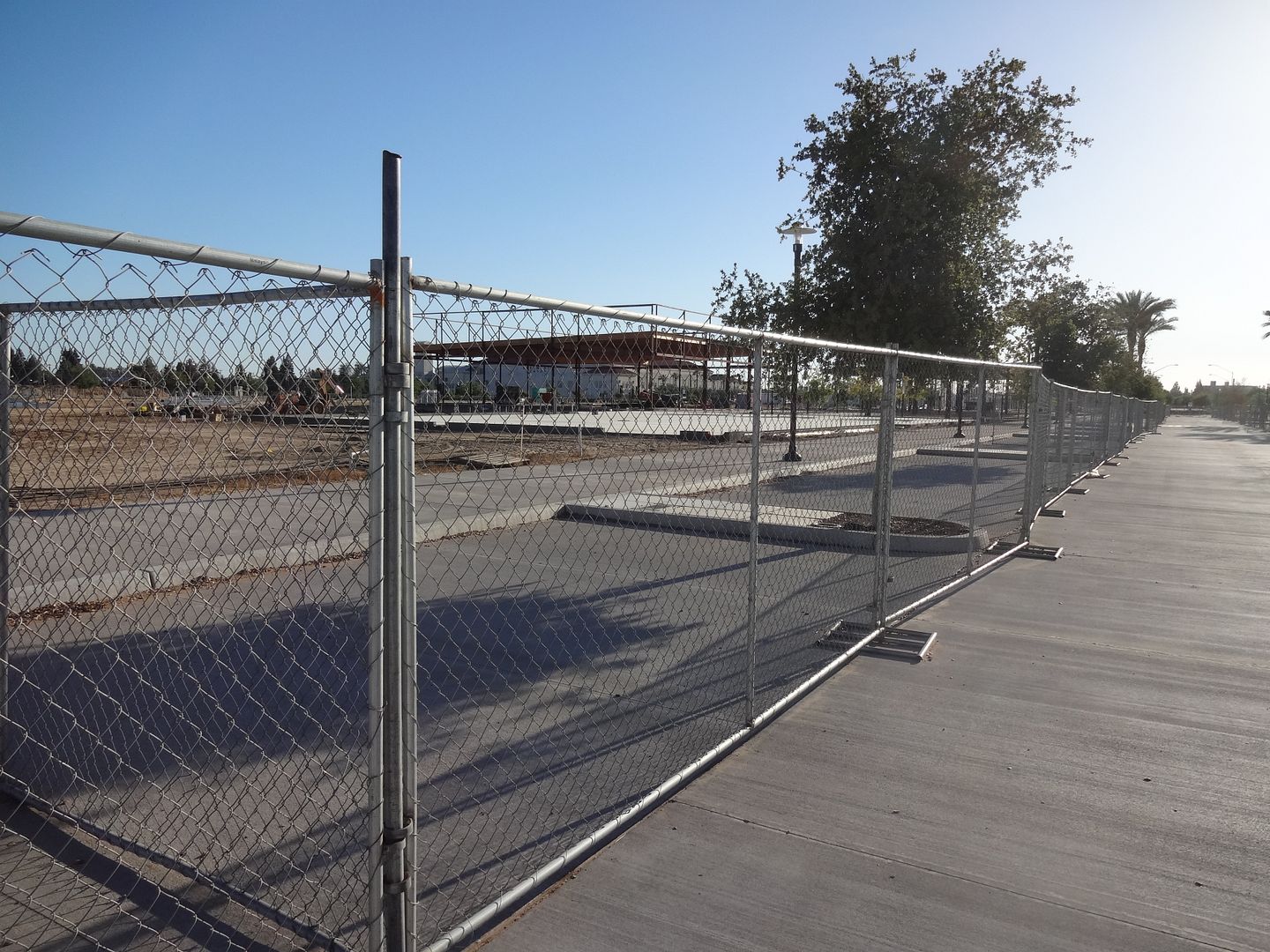 Looking back towards the apartments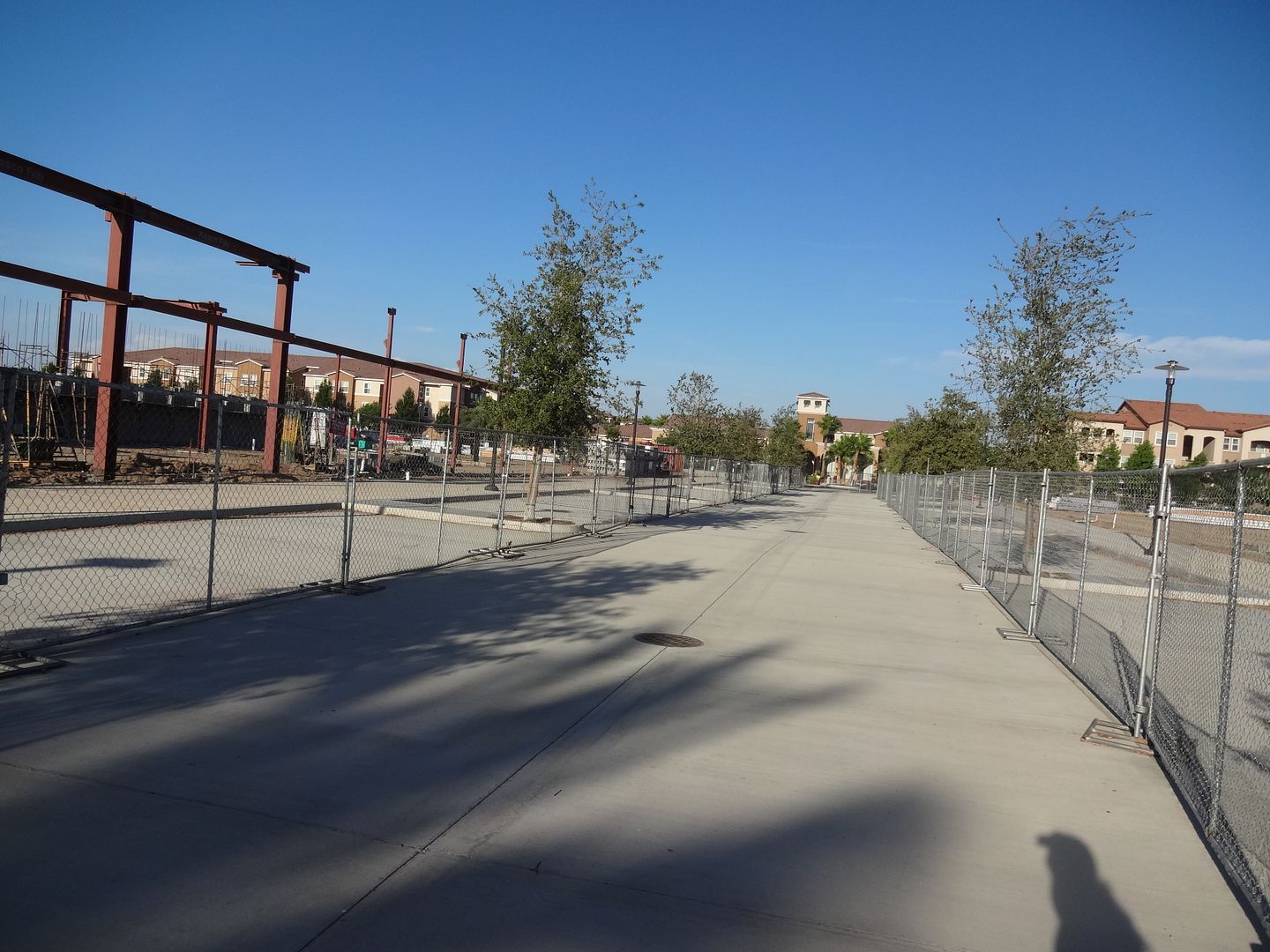 A very slightly raised intersection in the middle, with more "I Bike Fresno" racks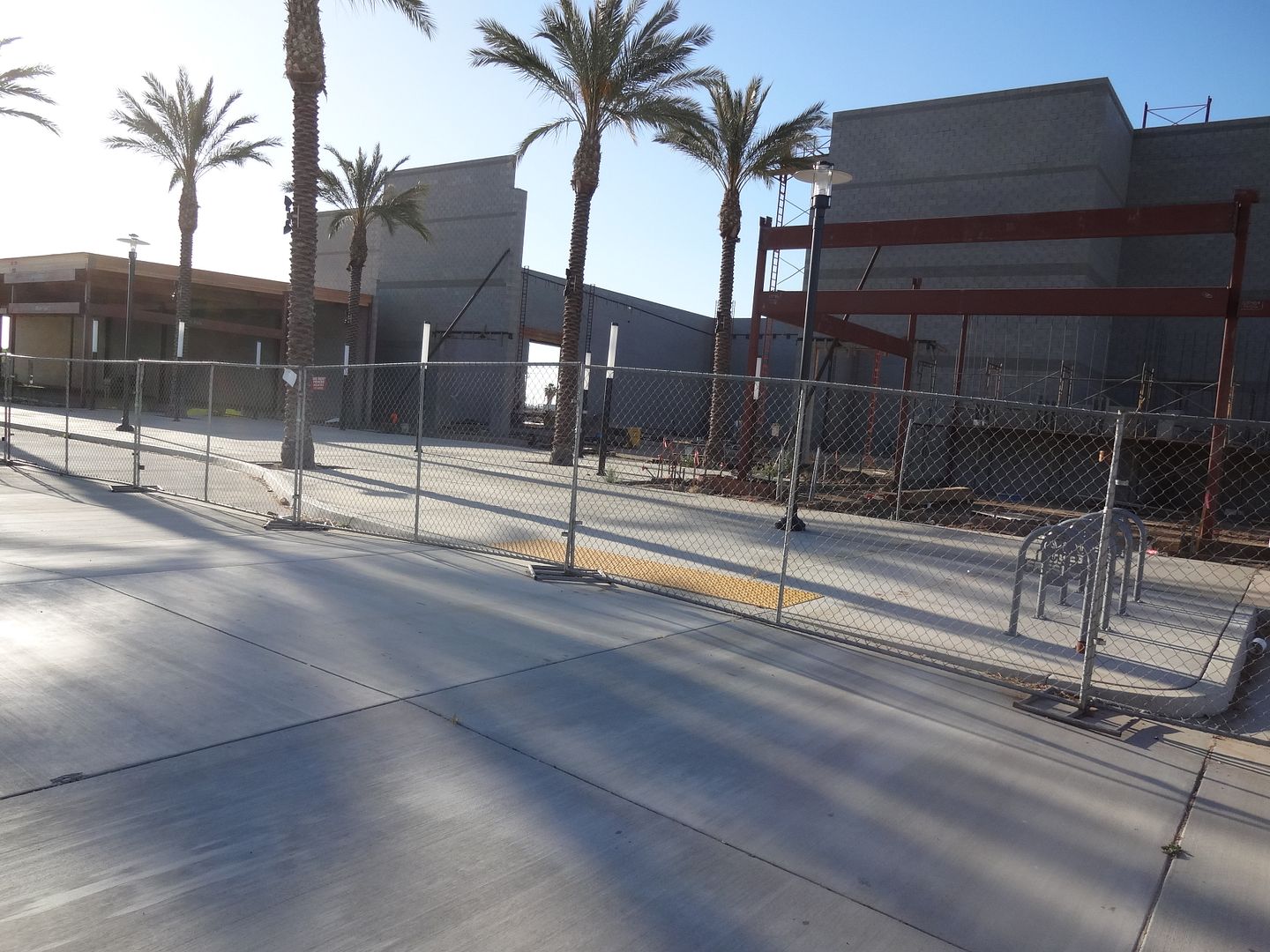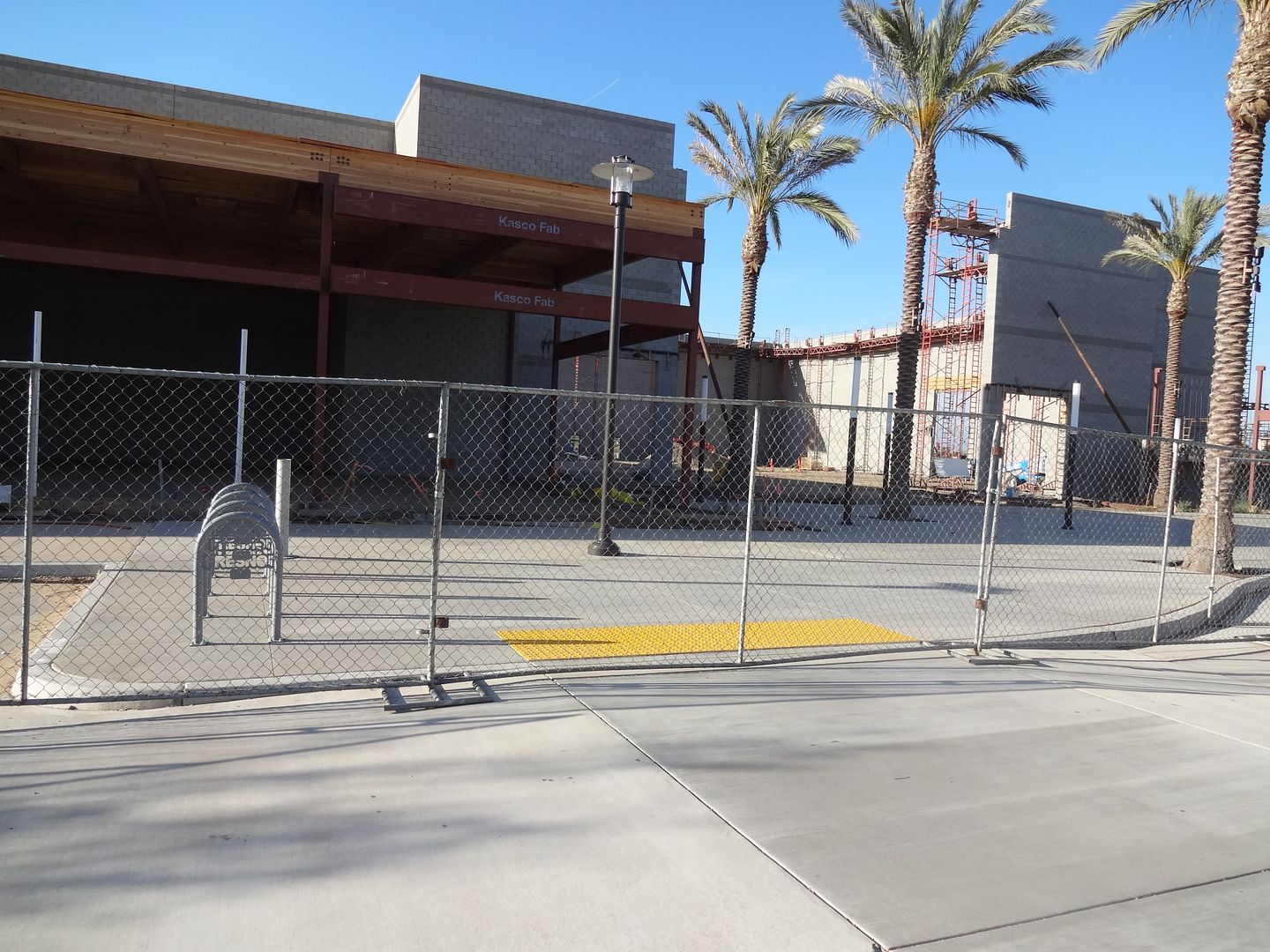 I find it odd that the trees came in so early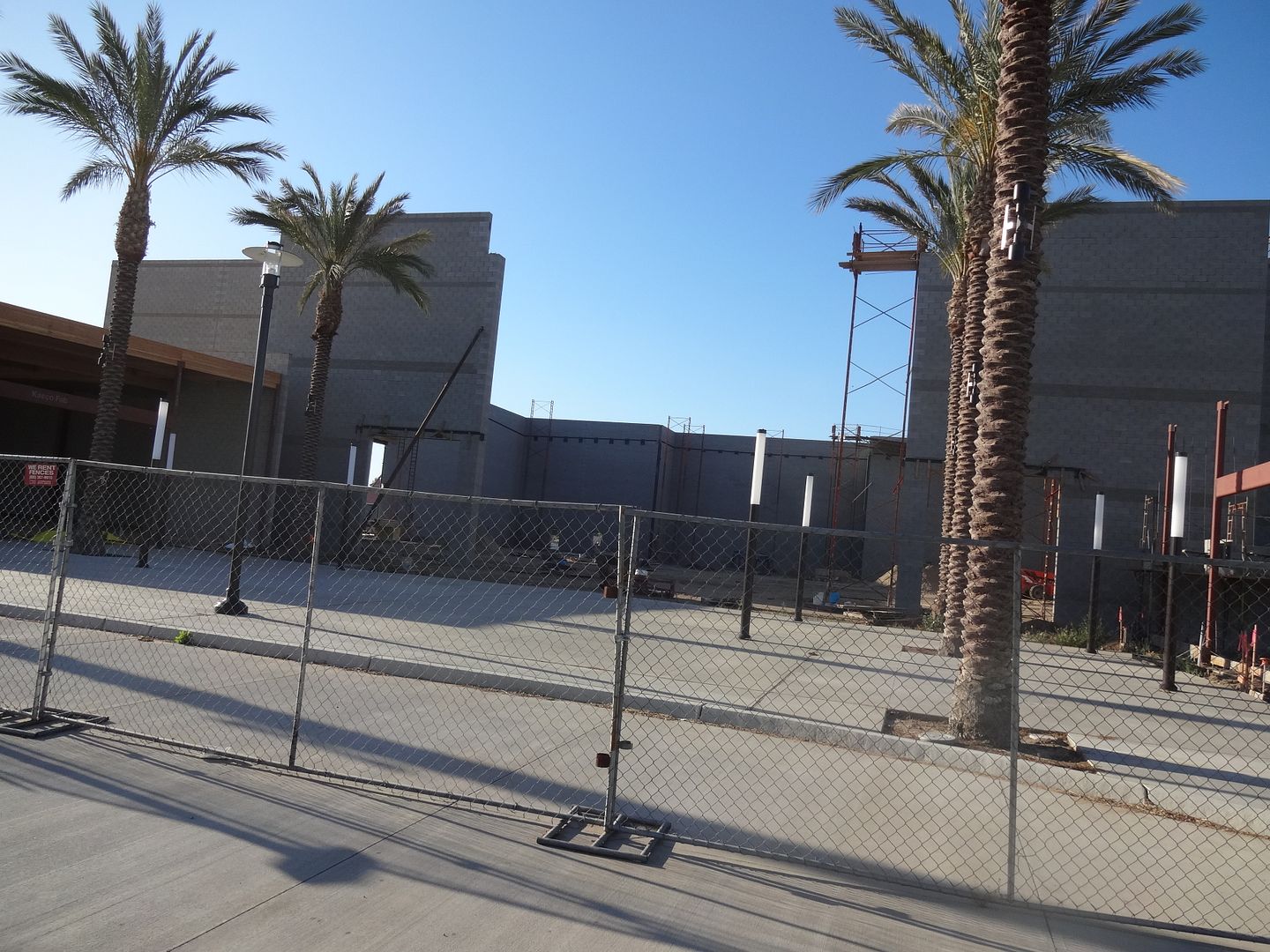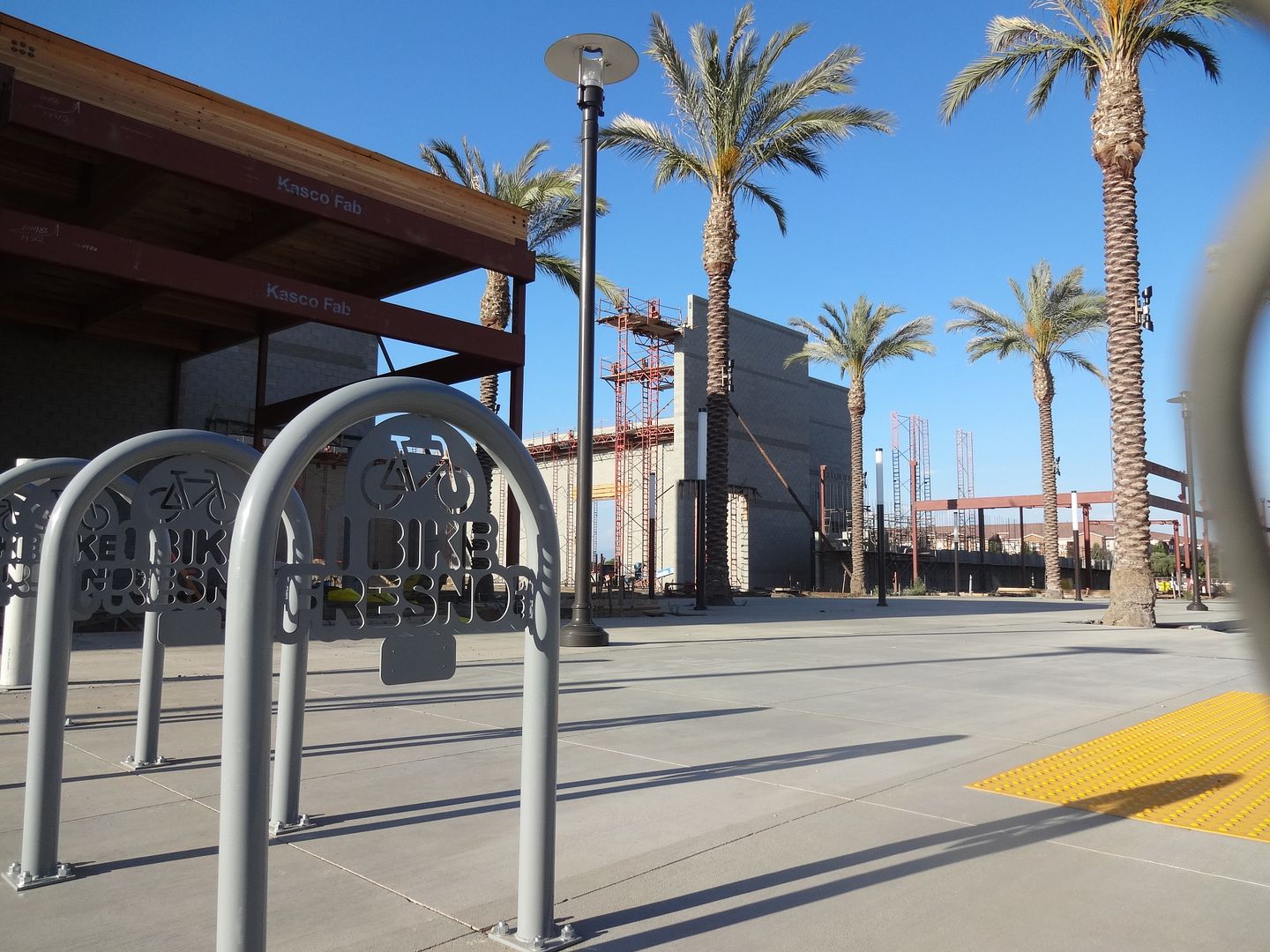 Walkway between buildings to the parking lots. Fire in the distance.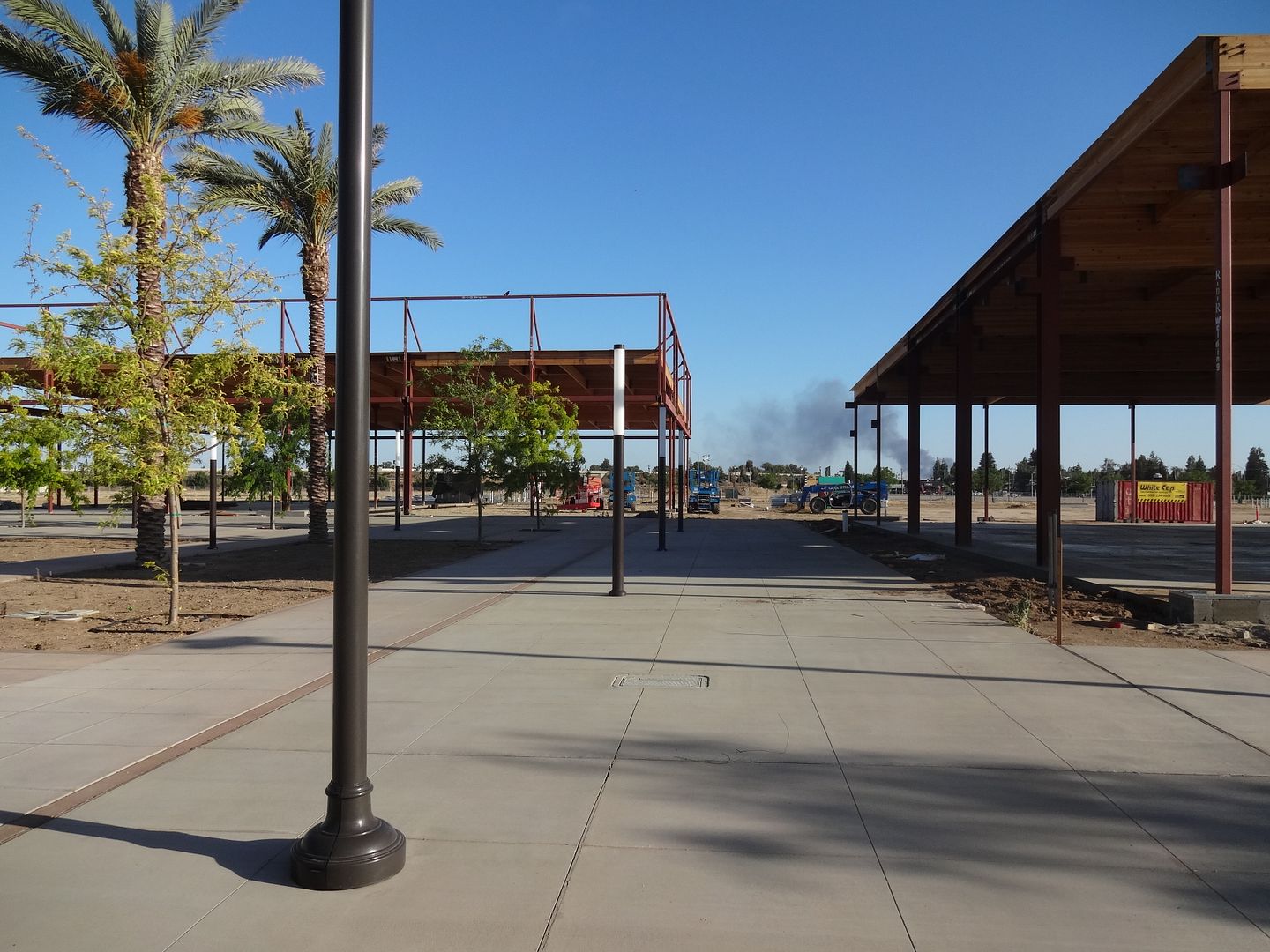 At the roundabout, the z pattern is killer for bikes. Oddly, this end was fenced off, so I couldn't walk around the roundabout.
Looking back from the roundabout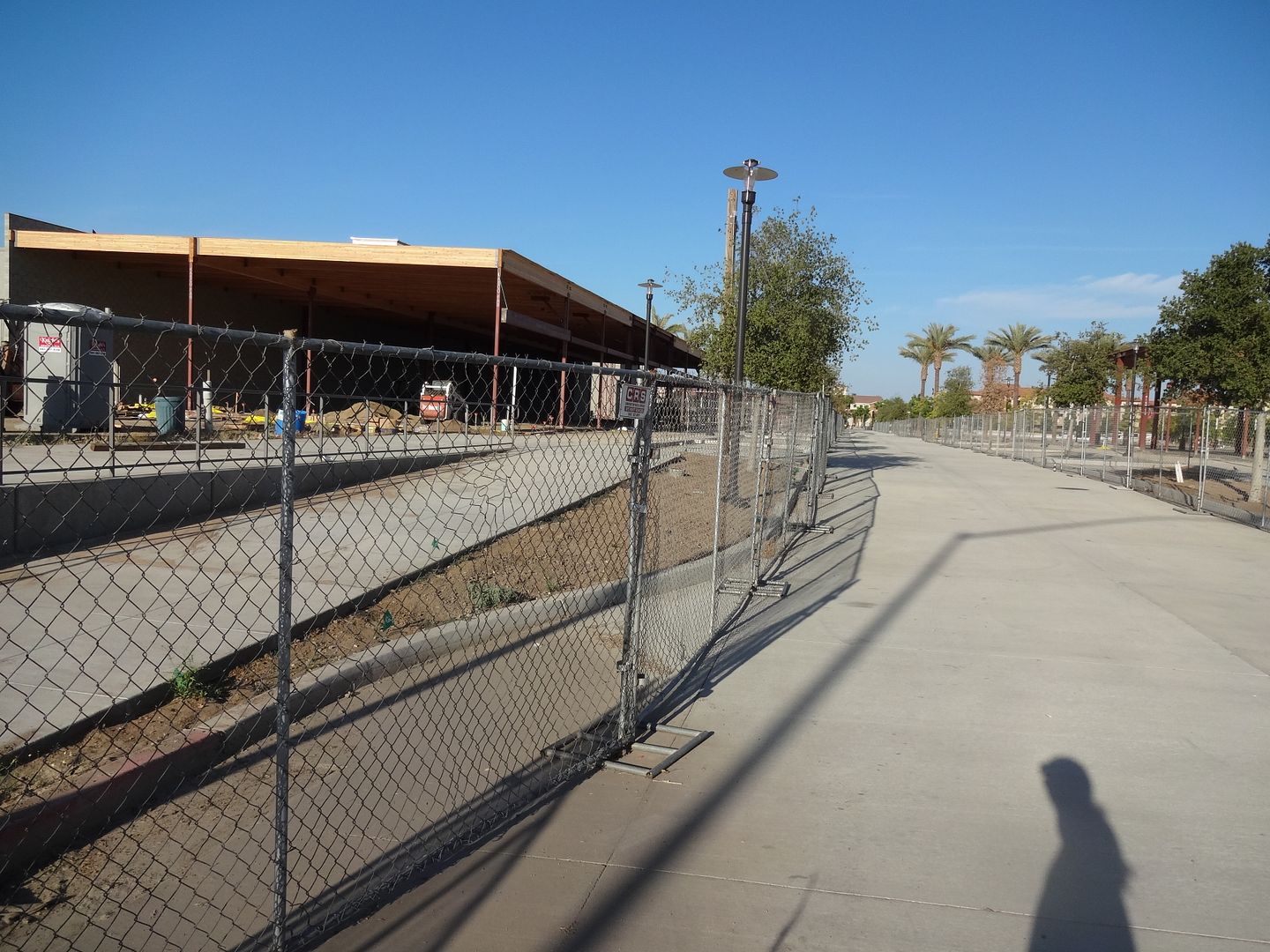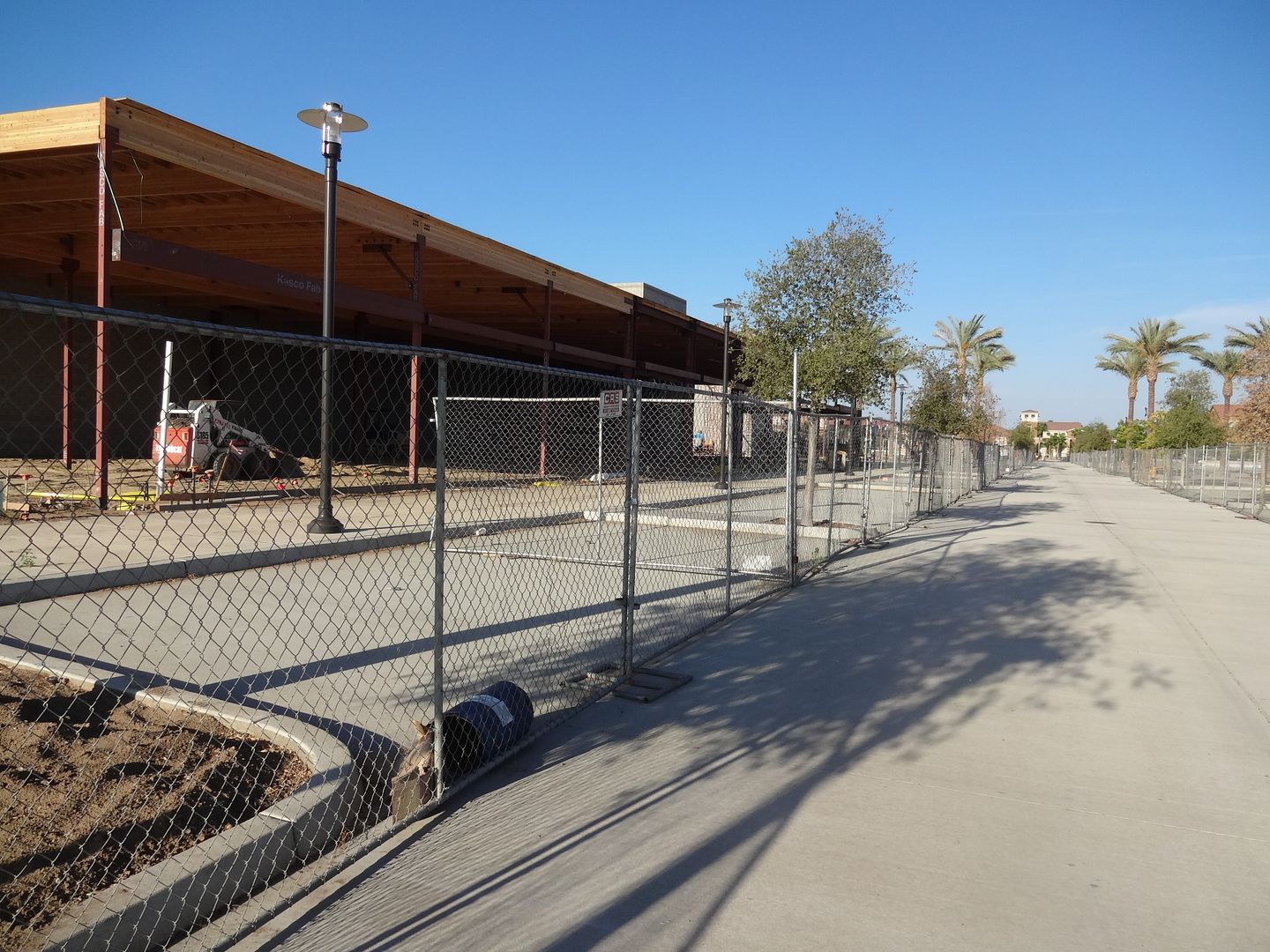 Roundabout, very badly lit at night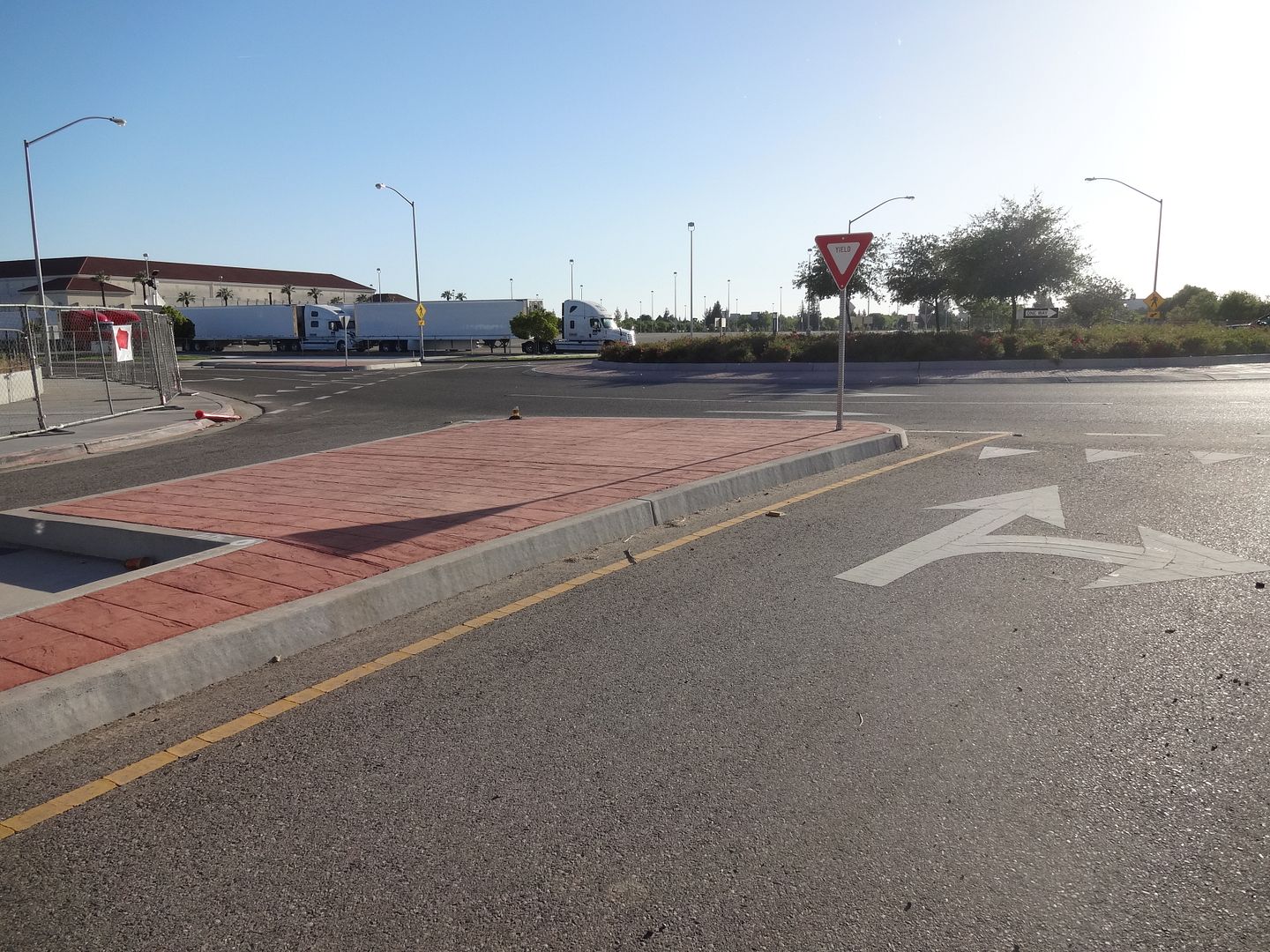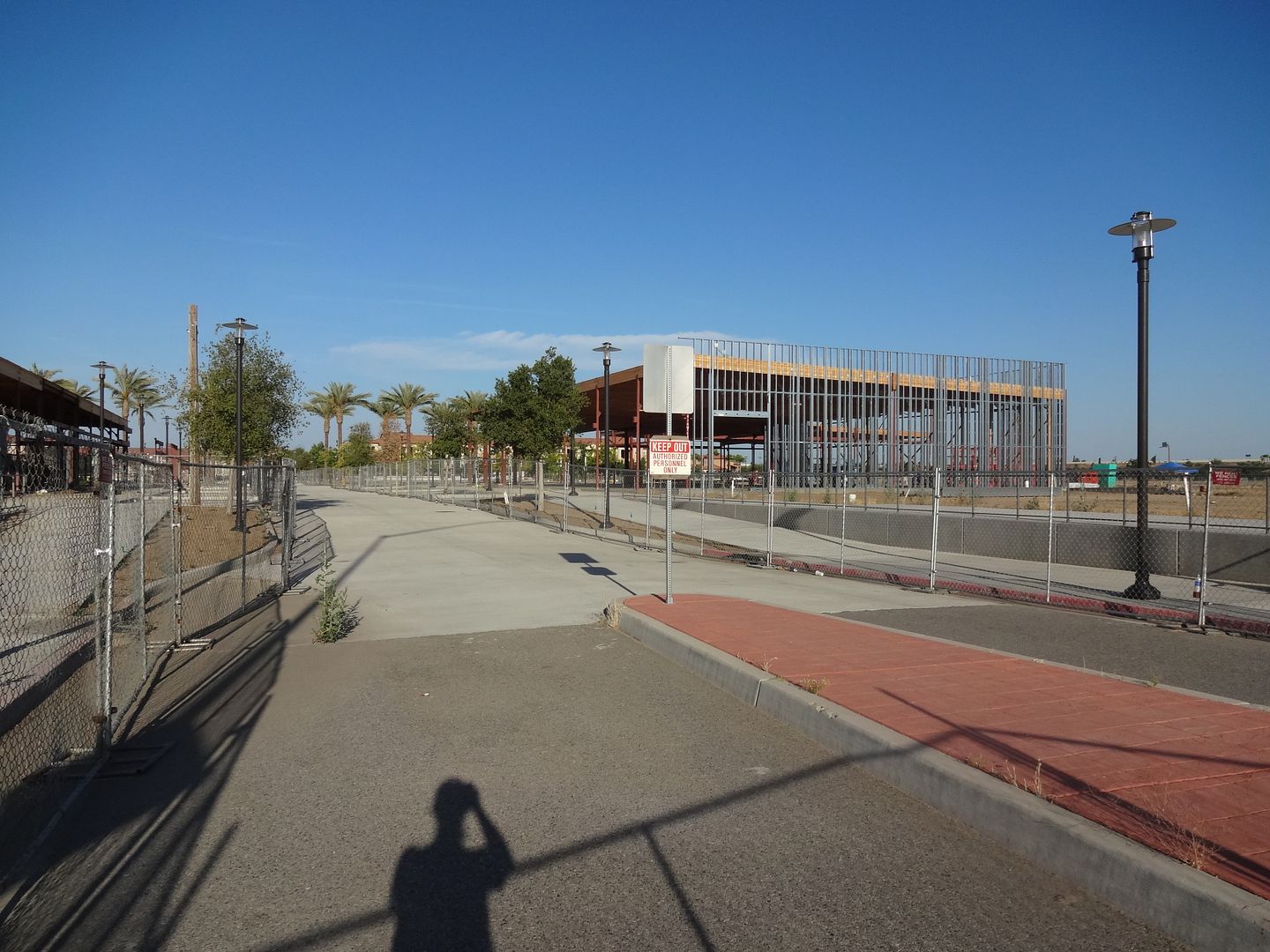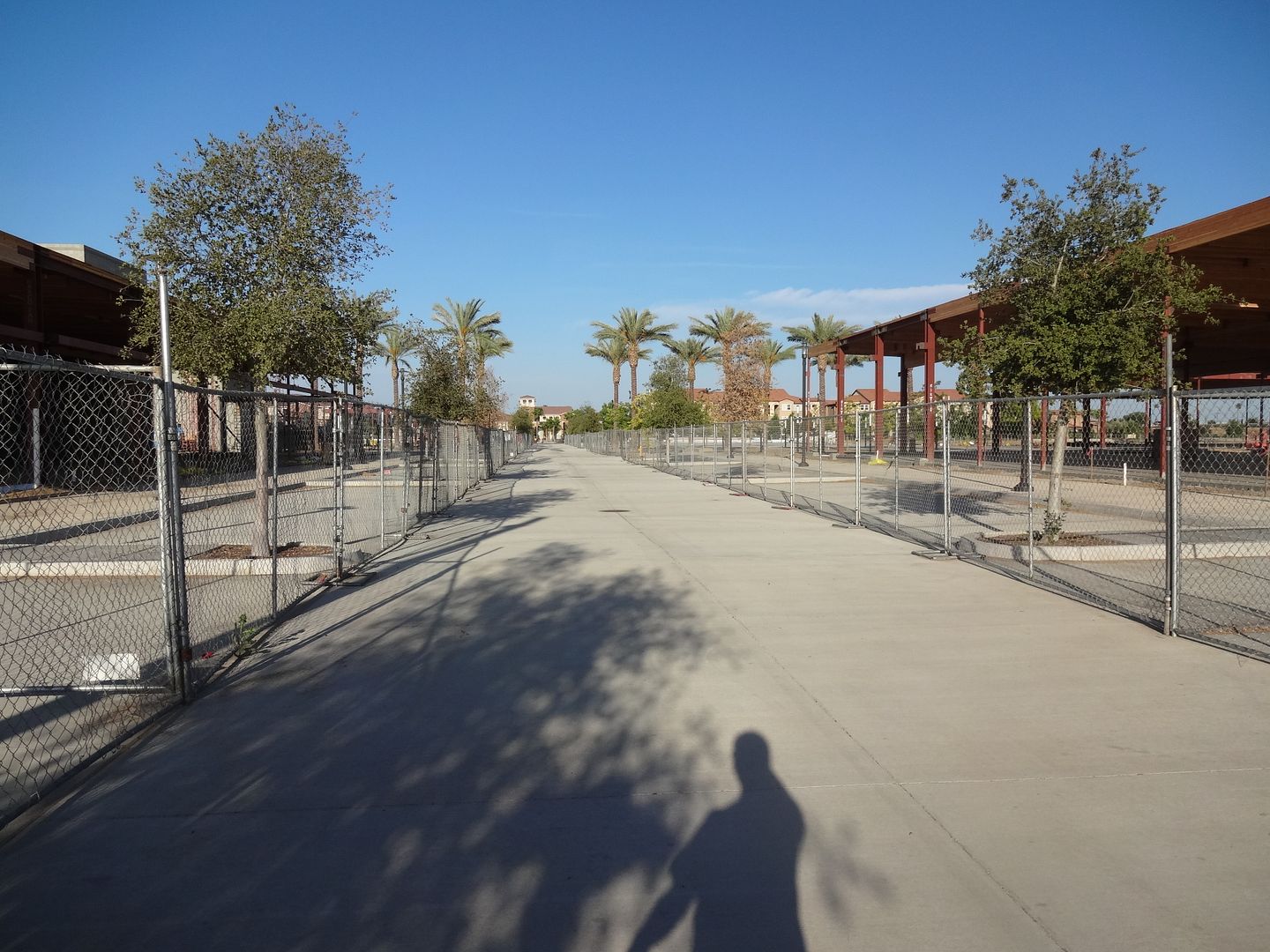 And back at the other end, the apartments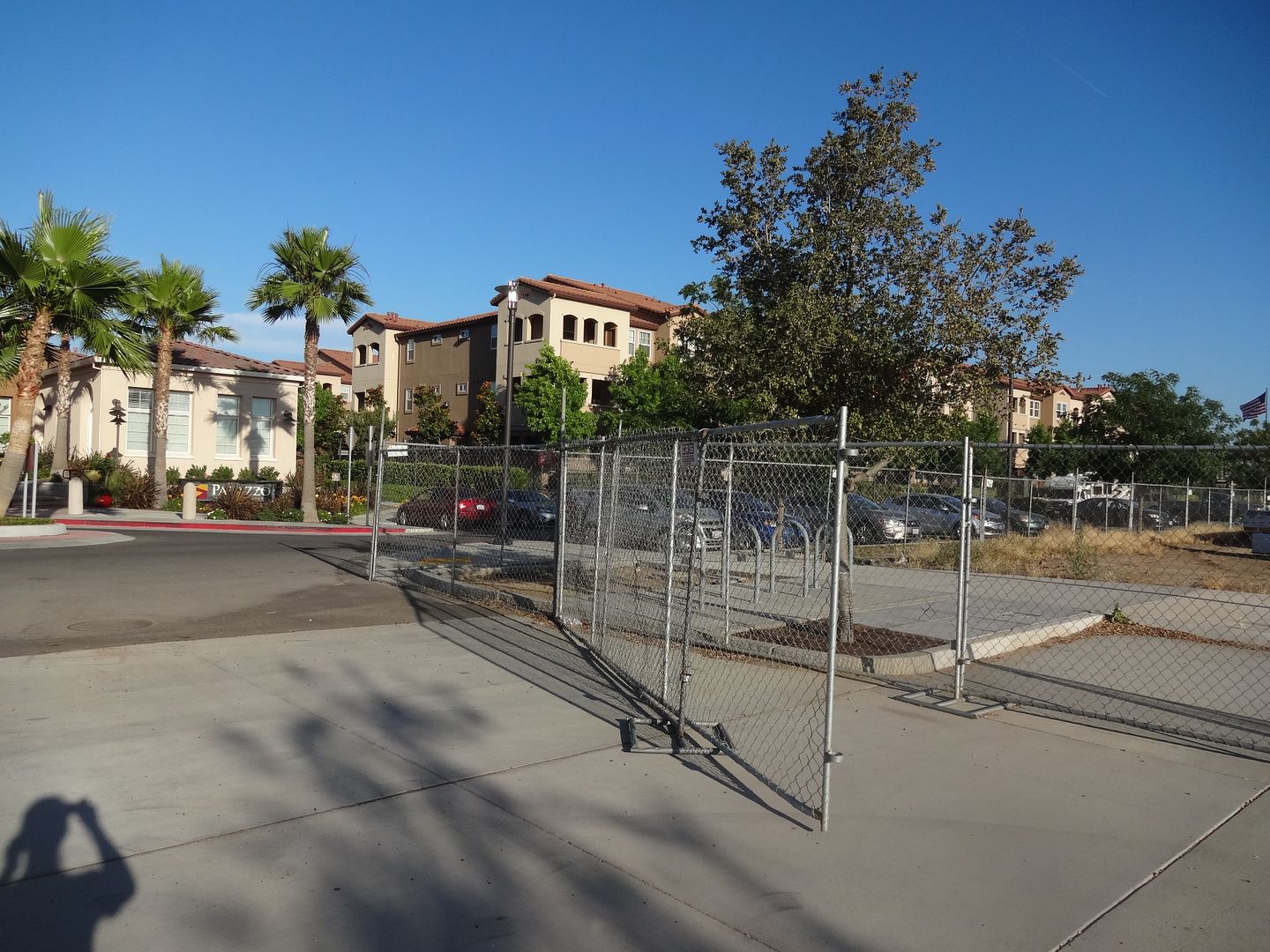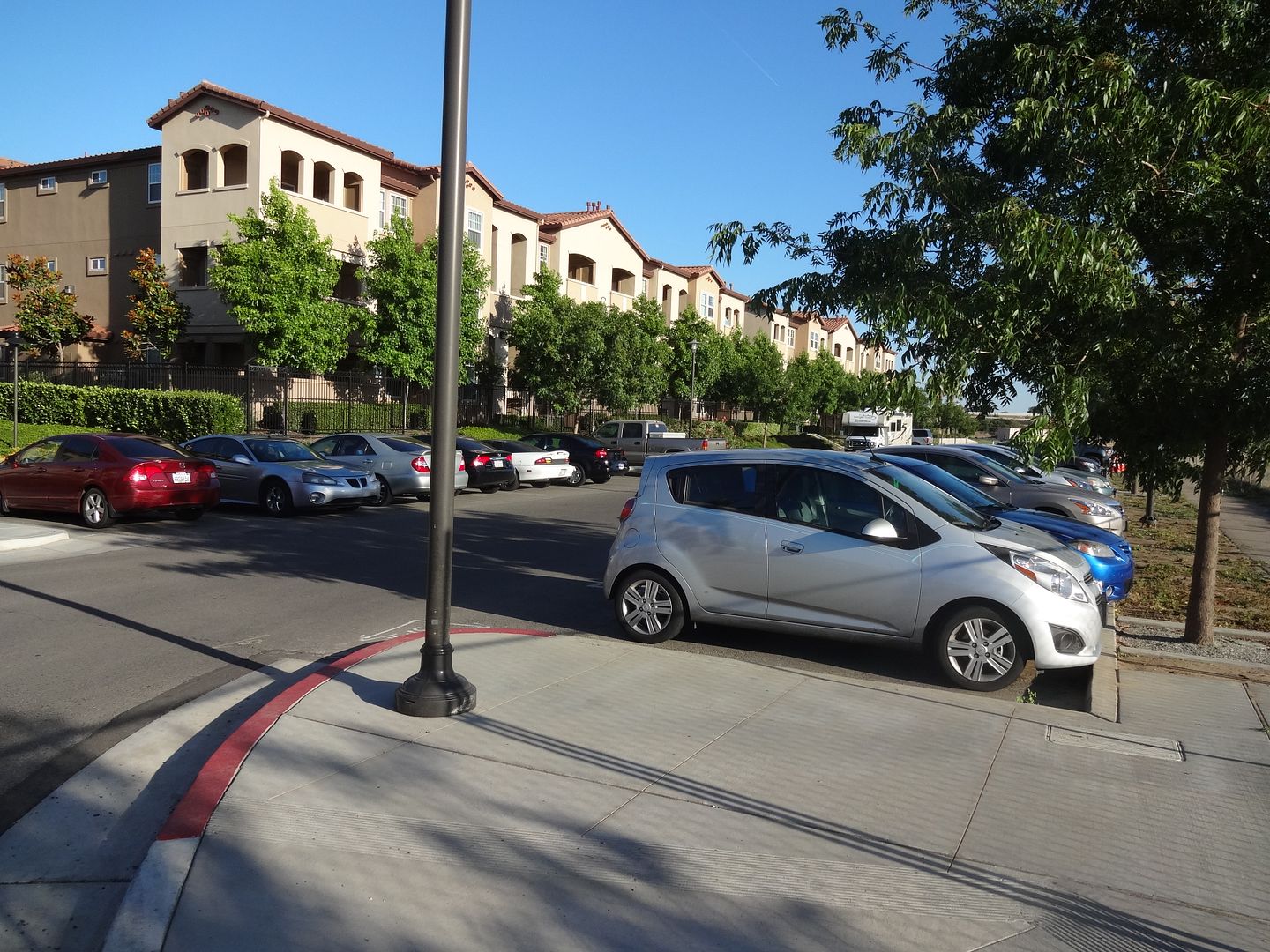 Overall the project itself appears to take out some design pointers from the bicycle and pedestrian book, but it all rings hollow because it's so hard to get there as a bicycle and pedestrian.
It's like the designers (and that means Fresno State) forget that to get from A (the dorm) to B (the theater), there's a line in the middle.They simply left a hole.
I'm sure incoming freshman will make the walk the first time….and then realize they've made a huge mistake. The center was designed for driving, and that's what people will do.
Enjoy the traffic Shaw.