On Friday, Transportation Secretary Anthony Foxx announced the 2014 winners of the TIGER grant program. That program is handing out $600 million to 72 transportation projects.
California won some awards, but nothing for the Central Valley.

-Off topic – The placement of Puerto Rico on that map is very poor…
Anyway, as reported by Streetsblog, the program is quite competitive, with 797 applications and only 72 winners. In that context losing isn't that much of a surprise…
Except that this is year 6. That's six chances to win grants. How has the Central Valley fared?
Transportation For America has put together a cool map showing the winners for all 6 years. The Central Valley gets one dot.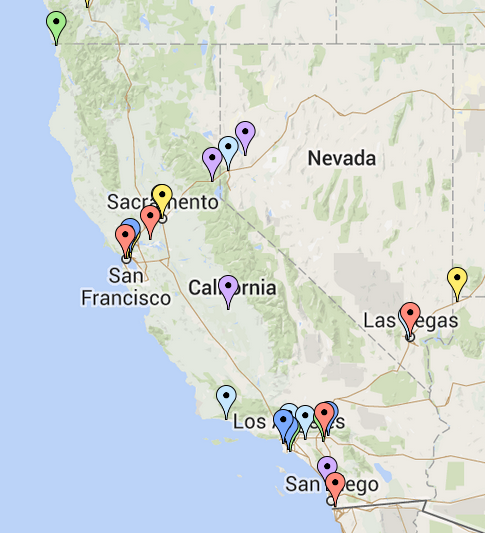 The marker, in Fresno, is funding to remove the Fulton Mall, money which the city won last year. That's right, six years of grants, and the only Central Valley proposal to win money is the project that actually destroys a transportation asset.
That's quite the track record.
I wasn't able to find the list of 2014 grants submitted by Central Valley cities, but the numbers from 2013 are quite telling as to what planners in the Central Valley strive for.
In 2013, Bakersfield submitted two applications…for highway construction. Yeah, that highway.
Reedley submitted an application for a "Central Valley Transportation Center". Sounds exciting right? It's a planned fueling station and car-wash for school buses.
Merced County applied for funding to build a bypass around Los Banos. You know, the city that has an economy based around drivers stopping to eat and get gas, the county wants to route driver away from that.
Tulare applied for a highway interchange.
You get the point, and the other (losing) Central Valley applications weren't much better.
What kind of projects DO win?
From LA:
The Eastside Access Improvements project will upgrade the streetscape,
including street furniture, lighting, planting, and storm parkways,
pedestrian facilities, including crosswalks and sidewalks, and bicycle
facilities, including walk-bike esplanade, Class I and II bicycle lanes,
cycle tracks, within a one-mile radius of the 1st/Central Station of
the Regional Connector rail line, set to open for service in 2020 in the
Little Tokyo neighborhood of downtown Los Angeles.
Phoenix:
The Central Phoenix Multi-Modal Transportation Improvements project will
conduct an environmental assessment and conceptual engineering for the
South Central Transit Corridor, a 5-mile light rail line operating on
Central Avenue between downtown Phoenix and Baseline Road that the
Phoenix City Council identified as the locally preferred alternative for
high-capacity transit service in fall 2013.
Reno:
The BRT Project will construct the 3.6 mile 4th Street/Prater Way RAPID
Transit BRT Project, running east-west between Reno and Sparks, NV. The
project may also include upgraded electric buses and additional electric
charging infrastructure, as well as construct accessible sidewalks and
bike lanes.
It's no surprise that the Central Valley keeps missing out on funds – you can't apply for grants on projects that don't exist. With no planning to improve transit, there can be no applications. Without applications, there can't be free money.
Now, you might be reminded of the Fresno BRT project. That one did get federal funds, under a different program (Small Starts). $38 million in free federal monies actually. And then the city council said "lol, no thanks."
The same city council that just last month turned down $1 million in free money to make plans for the High Speed Rail station.
With this attitude of governance, and a planning system that continues to focus on only highways, I wouldn't expect any wins next year, or the one after – except for maybe a freight rail project.
Meanwhile, more forward-thinking cities will continue to reap the rewards, and continue leaving the Central Valley in the dust.