Last week, the League of American Bicyclists released their updated list of "Bicycle Friendly Universities." The list ranks universities with a bronze, silver, gold, or platinum award for being bike friendly.
The Bicycle Friendly University (BFU℠)
program recognizes institutions of higher education for promoting and
providing a more bikeable campus for students, staff and visitors. The
BFU program provides the roadmap and technical assistance to create
great campuses for cycling.

The Bicycle Friendly University program evaluates applicants' efforts
to promote bicycling in five primary areas: engineering, encouragement,
education, enforcement and evaluation/planning, known as the Five E's.
Applications must be submitted online.
http://bikeleague.org/university
Here are the list of California colleges that made the cut:
Platinum
University of California, Davis
Stanford University
Gold
University of California, Santa Barbara
Silver
University of La Verne
University of California, Irvine
University of California, Berkeley
University of California, Santa Cruz
California State University, Long Beach
Bronze
University of San Diego
University of California, Los Angeles
California Institute of Technology
Pomona College
Santa Monica College
How about the local favorites?
Fresno State?
Fresno Pacific?
Fresno City?
Bakersfield?
UC Merced?
Nope. Not one Central Valley college made the list!
Maybe a map makes it more obvious (the green stars mean platinum)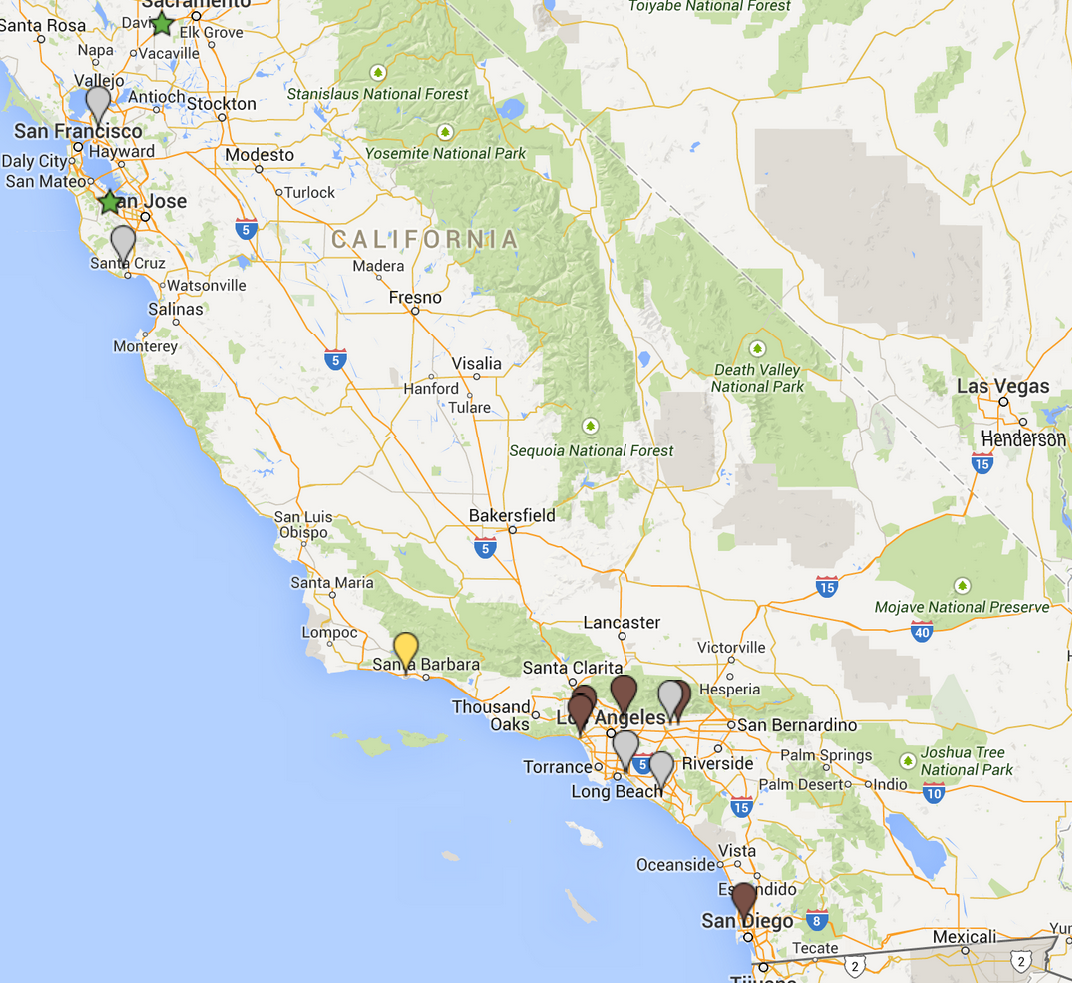 I understand that there are MANY (many!) flaws with this kind of ranking system, especially one that requires the college to submit a form.
However, it does show a serious cultural issue, when the colleges are clustered in the way they are. Being bicycle friendly isn't on the radar of Central Valley colleges, and it shows.
I've posted a lot about the problems at Fresno State in the past, including at their new developments.
Fresno City is also disappointing, because it is located in one the best parts of town for biking, and attracts many low income students. And yet their front door is an enormous surface parking lot for cars.
However, to me the saddest is UC Merced. The university was built from scratch in the middle of nowhere in 2005. Thanks to every building being brand new, they talked a lot about energy efficiency and LEED. Problem is, they ignored the whole transportation side of energy use.
The University of California, Merced, will get 75 percent of its power
from renewable sources by the end of 2016, and is on its way to being
100 percent renewably powered by then.
That's all very well, except I doubt any of the students drive electric cars.It's also noteable that almost every other UC is on the list, aside from Riverside.
How long will it take for the Central Valley Colleges to catch up with the rest of California and start being bike friendly?
You can see the full list here:
http://bikeleague.org/sites/default/files/BFU_Master_Award_List_2014_.pdf