One of the most frustrating parts about journalism in California, especially in regards to high speed rail (HSR), has been the inability of reporters to see beyond their personal bubble. Many times, it seems like these journalists take their own experience, and extrapolate it to be the "California experience". For example, if they drive everywhere, then "everybody drives". Or, when it comes to travel within the state, "everybody flies". For a rambling discussion at the bar, that's not an issue, but when these journalists write for major newspapers and get to set the tone, it loses all its amusement.
Recently, journalist Joe Matthews published a piece (which was then published in the SF Chronicle) complaining that air travel has become expensive and unreliable, and maybe high speed rail could be a solution to his recent troubles.
This thought ran through my head as I stood one morning last week at Gate A3 of Burbank airport, enraged and fully engaged in another of my now-frequent battles with Southwest Airlines.
My morning flight to Oakland, where I was giving an afternoon talk, had been canceled without explanation. But Southwest wouldn't let me on an earlier flight that had room and was still sitting at the gate. The Southwest agent said he couldn't get me to Oakland before 3 p.m.—which wasn't reassuring since my talk started at 4. He could get me to San Jose, but wouldn't offer me compensation for the extra travel time or car I'd have to rent.
Sadly, this revelation came about only because his day was almost ruined. Like most journalists, his experience with the state revolved around Los Angeles, the Bay Area, and Sacramento. The thing is, reporters for the Los Angeles Times, San Francisco Chronicle, or New York Times don't really venture into the valley, unless they need to slap together a cheap report about the drought. Maybe if they'd tried flying into Bakersfield or Fresno within the past decade, they would have changed their tune a little earlier.
I used to think that a $68 billion train project from L.A. to San Francisco didn't make much sense because the great state of California had Southwest Airlines. For most of my adult life, Southwest has been more reliable in California than any utility. It provided the essential north-south connections in our long, tall state with the downscale charm of a great bus service. It was cheap, on time, and offered constant flights staffed by people who did everything they could to get you to your destination. As for me, it's not too great a leap to say that Southwest made it possible for me to do my job. I routinely used it to commute from Southern California to Sacramento or the Bay Area for a day of work–up in the morning, back in the evening, often for less than $100 round-trip.
That's fantastic, if your origin and destination was served by Southwest. Problem is, the Valley has never had Southwest Airlines. Or Jetblue. Or Virgin. Or any low-cost carrier offering flights within the state. There's Allegiant Air (which was actually founded in Fresno!) but that airline does not provide service within the state (only to Vegas and Hawaii on certain days of the week).
The Valley never had cheap flights, and using air service within the state many times cost more than jumping on a flight to Dallas.
For example, say I need to book a short notice trip to Los Angeles from Fresno for next week (Wednesday 12/17), returning the next day. According to Expedia, it would cost me a cool $377.70. San Diego is a little cheaper ($267.20)…even though that itinerary includes a stop in Los Angeles (what?). A direct flight to San Francisco from FAT? $665! It would be cheaper to book a flight to Seattle, via SFO, and not get on the Seattle flight.
Booking in advance doesn't help. Searching for February 17th (Tuesday) direct to San Francisco comes up as $519.60. Not much of a saving. In fact, this is the recommended itinerary if you're willing to make some ludicrous connections:
It's almost hilarious.
What's not hilarious has been reading news article from people complaining that the proposed HSR fare (80% of air) wouldn't be cheap enough to make taking the train worthwhile. Of course, that proposed fare took into account the cheapest of flights (LA area to San Francisco area) and the most expensive of train trips (end point to end point).
That means if the standard airfare at the time was $150 between LA and the Bay, HSR would cost $120. However, the train fare for Fresno to one of the two would be only a portion of that, because the shorter portion of the trip would mean a lower fare. So lets say $80. For reference, an Amtrak ticket booked today for next Wednesday between Fresno and Los Angeles would run $35 each way. $33 to San Francisco.
Compared to airfare that never goes below $250, that's a damn steal. You can play around with Bakersfield and find the same pricing trends. Visalia and Modesto are good for a laugh. Monterey is nice if you need a heart attack.
The reporter also looked into some service issues:
Southwest's on-time performance is now among the worst in the airline business, and last month it canceled more flights than any other American carrier. Southwest's democracy has atrophied as rapidly as California voter turnout; the airline that once treated us all the same now has different classes of entry, tickets, and customers. And its once simple and generous frequent flier program has become less so.
Reliability has always been a serious issue in the Valley. Fog delays are common, if not expected, for 4-5 months of the year. And because most flights into Fresno and Bakersfield are on smaller, regional planes, baggage hassles are plentiful. Indeed, for many years I came to expect that my bag would not make it into Fresno the same day I did.
Edit: Look what the Bee published the day after I posted this

Fog creates central San Joaquin Valley air travel headaches
Low visibility forced air traffic controllers to declare a "ground stop" about 10:15 p.m. Monday, bringing all commercial airline movement to a standstill.

"No taxiing, no landings, no takeoffs," said airport spokeswoman Rhonda Jorn. Even with equipment to accommodate instrument landing for experienced pilots, "if visibility gets down to less than 600 feet, that's when they call a ground stop." Private pilots can still try their luck at taking off or landing, but do so at their own risk, Jorn said.

A Volaris flight from Guadalajara that was supposed to arrive in Fresno just after 11 p.m. Monday was instead diverted to San Jose International, Jorn said, and its scheduled 1 a.m. return flight to Guadalajara was delayed until Tuesday afternoon. An Aeromexico flight from Guadalajara with a scheduled arrival time shortly after 1 a.m. Tuesday was canceled because of weather and crew availability.

On Tuesday morning, United Airlines flights from San Francisco and Denver were diverted to Los Angeles, and a flight from Los Angeles to Fresno was canceled, Jorn said.
Also, while the high fare might indicate to the airlines that there is demand for more seats, they refuse to add any. If you have a connection, you may never make it to your destination.
Two years ago, a few days before Christmas, I flew into LAX to connect to Fresno. My flight was delayed, so we missed our connection by minutes. Problem: Every flight to Fresno for the next 3 days (leading up to Christmas day) was sold out, if not overbooked. We'd have to wait standby with no guarantee we'd ever arrive in Fresno, and with zero compensation.
We rented a car.
Earlier this year (in May, not exactly peak travel time), in a similar scenario, I arrived in Las Vegas and was told my connecting flight to Fresno was cancelled (due to weather in San Francisco!?). There were about ten of us making that connection, and we were told there was nothing they could do, as it was the last flight of the night, oh and by the way, the next three days were sold out with no guarantee we'd get a seat. And since they blamed weather, we received no compensation. Some of my flight-mates jumped onto the next plane to SFO so they could rent a car and drive to Fresno. Another couple risked a flight to LAX in an attempt to make a connection that was not guaranteed. Two more simply decided to drive from Vegas. I spent the night, and got myself booked into Visalia, via LAX.
I'm sure anyone who has frequently flown through Bakersfield and Fresno could tell a similar tale. Flights have never been cheap or reliable, and flying within the state is never really an option.
It's a shame these reporters had never bothered to ask.
BONUS
Incidentally, this is what the plane to Visalia looks like. I didn't realize commercial flights with open cockpits were still a thing. Good leg room though (picture taken from my seat!)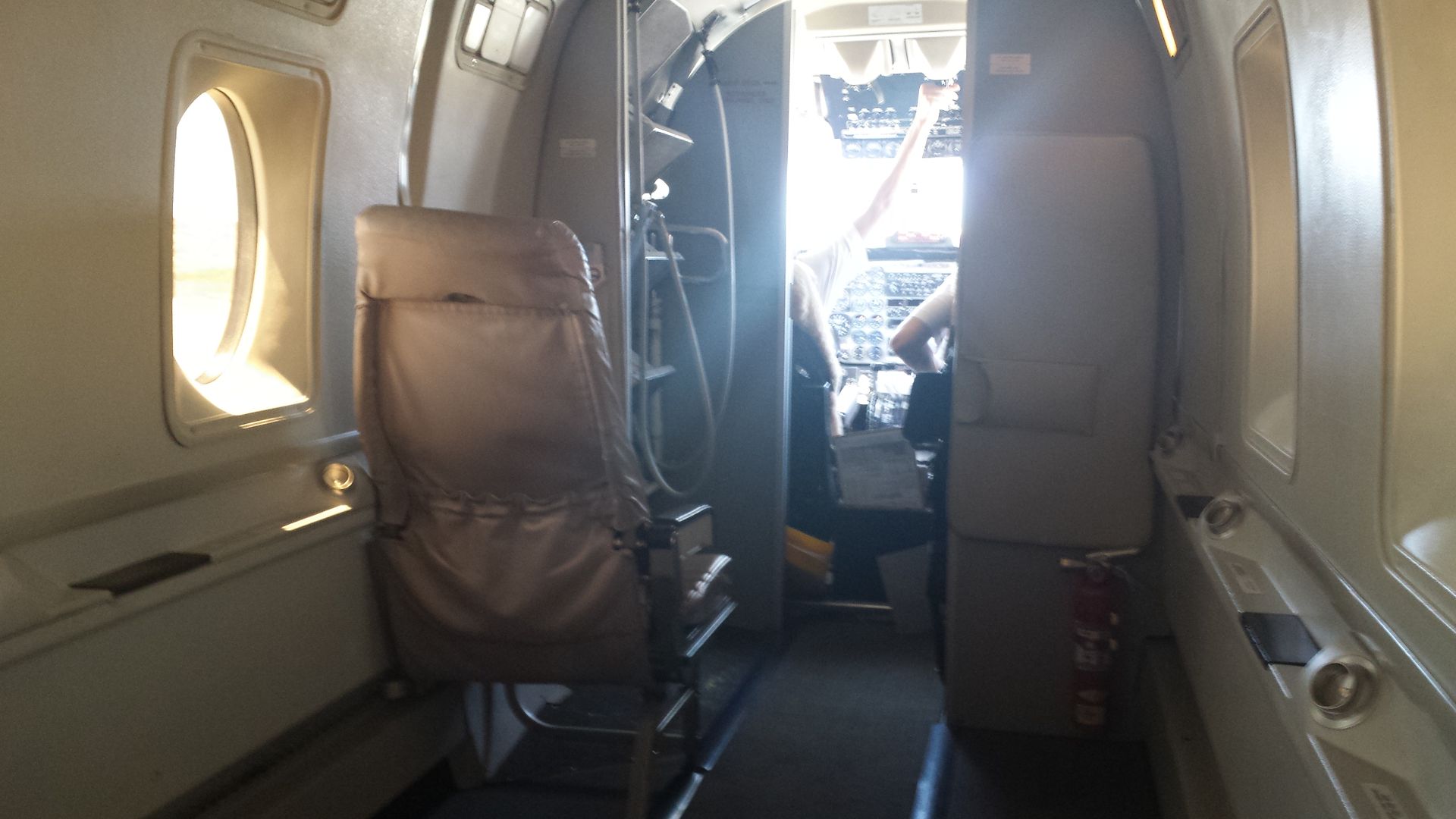 Fresno gets significantly larger planes.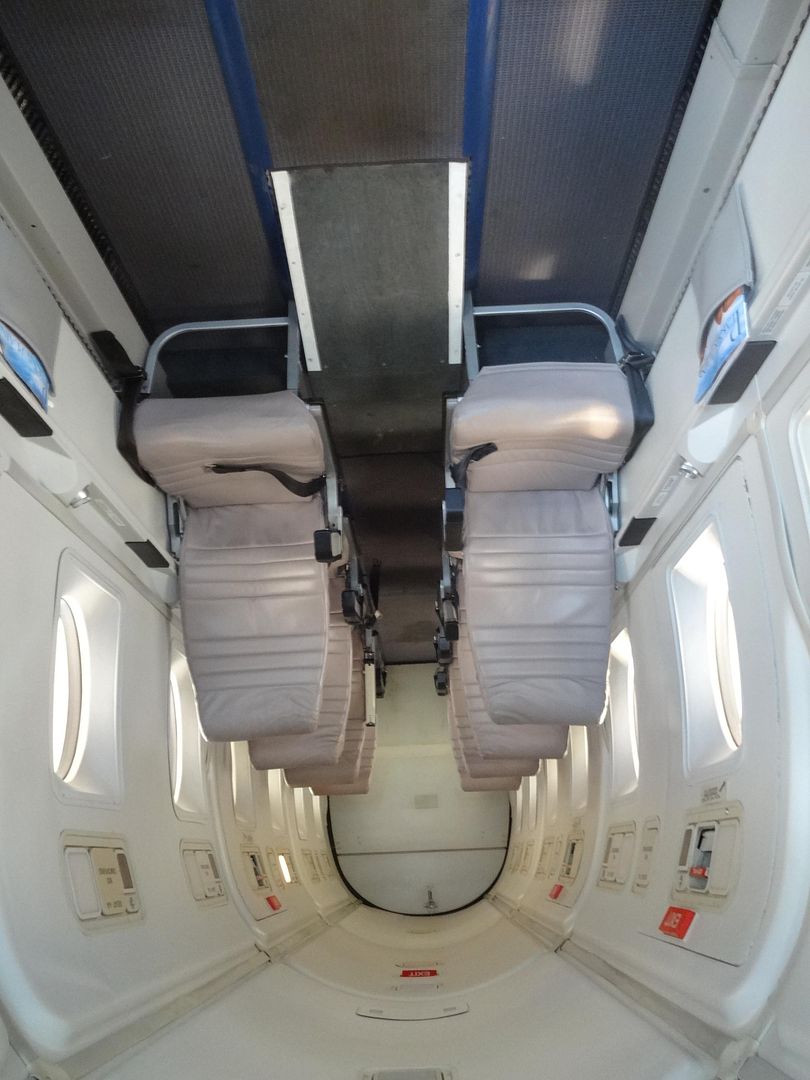 I think the Greyhound station is larger