Developers aching for more sprawl versus everybody else. Sound familiar?
Sometimes Fresno feels like a broken record, and this time it's no different. Tomorrow, the City Council may finally vote on the 2035 General Plan Update. The plan supports infill development as an attempt to curtail the ever-expanding city boundary. It won't BAN sprawl, it will just aim to decrease it. But for some, that's too much.
Naturally, the developers of tract homes aren't pleased, and they have the attention of Chief Tea Party Council President Steve Brandau who helped killed the fully funded BRT project, and has also eliminated every road diet proposal that comes his way. In his mind, everybody in Fresno is well-off, everybody drives, and everybody wants to live the suburban dream. After all, that's what he wants, and so naturally, that's all that matters. Throw in some free market voodoo, and you have yourself the developers best friend.
From his recent op-ed:
Our citizens have always preferred bigger homes on lots with a backyard for barbecuing. They like driving cars while listening to music.

This general plan would be more at home in Sacramento or San Francisco. It is now popular in California for public policy to be made on the whimsical notions of the "intellectual elite." They live off high six-figure salaries and have less common sense than the average Walmart clerk.
…
That said, this general plan is still focused on high-density infill development that is diametrically opposed to the free market. Until that fact changes, I cannot support this 2035 General Plan Update.
The comments section is strongly against this attitude.
The people of Fresno know what the free-market magic has brought. It created blight, abandoned neighborhoods, one of the strongest income divides in the country, sky-high unemployment and a city that ranks near the bottom of a new list every week. Parks? Air quality? Active lifestyles? Bookstores? You name it, Fresno tanks it.
An opposing op-ed ran in the Fresno Bee describing what we see every day. It included the classic picture of Blackstone, a monument to free-market planning.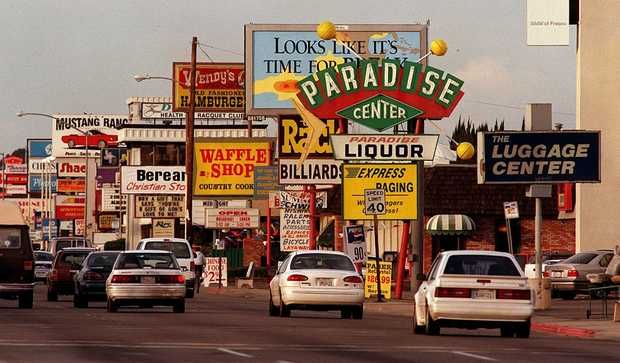 We make a game of counting the billboards and signs. You take the billboards, and I'll take the signs. We go a couple of blocks, fast-food bedlam, before our eyes give out. On the northeast corner of Blackstone and Shaw avenues, a white wattage flash startles the night. Billboard or sign, who can say?

One of my old high school buddies, who left years ago, argues that all you need to know about Fresno can be gleaned in a single Blackstone drive. No place with even a modicum of self-worth would allow such a disgrace, much less right down its spine
The rest of the article is well worth reading.
If any of this debate sounds familiar it's because the process has been going on forever.
This was from April 2012.
Now, after the formation of a citizens committee, 12 community workshops and a citywide telephone survey, we're about to see if the City Council has the backbone to stand up to developers seeking more Fresno sprawl.

The test comes 5 p.m. Thursday when the council selects one of five options for the 10-year update to the 2025 General Plan.
Way back then many concessions were made to developers. Of course now some are demanding the vote be delayed a few more months for more input/concessions. And yet, just this week

An estimated 350 people gathered at the Convention Center New Exhibit
Hall for the City Council's hearing on the proposed 2035 general plan
update.

All of them didn't speak. But a lot did. And by all
accounts just about everyone was keenly interested in Mayor Ashley
Swearengin's blueprint for growth.
We know how Brandau will vote. The question is, will the rest of the council ignore the will of the people who have gone to meeting after meeting and saddle up to developers and their promises of short-term pay-days, or will they vote for a better future?

The council this year has voted to rip up the Fulton Mall, neuter BRT and shut down road diets. I can't say I'm hopeful, but maybe this year can end on a good note.