Let's take a little break from Downtown Fresno and jump all the way up to the far reaches of Clovis, or more specifically, Shepherd and Sunnyside. Clovis has built a new park and trailhead for the "Dry Creek Trail" that runs south and eventually connects with the Old Town Trail. In the future, the trail will continue north, and presumably link to the partially built trail to the west (Enterprise).
The trailhead includes some nifty new features, such as a bike repair station, a water fountain with a water bottle feature, some interesting art, maps, and more.
For some history, way back in July 2013, this project was announced, and I last looked at this project in August, when work had barely begun.
Let's take a look.
The map below shows the plot of land used…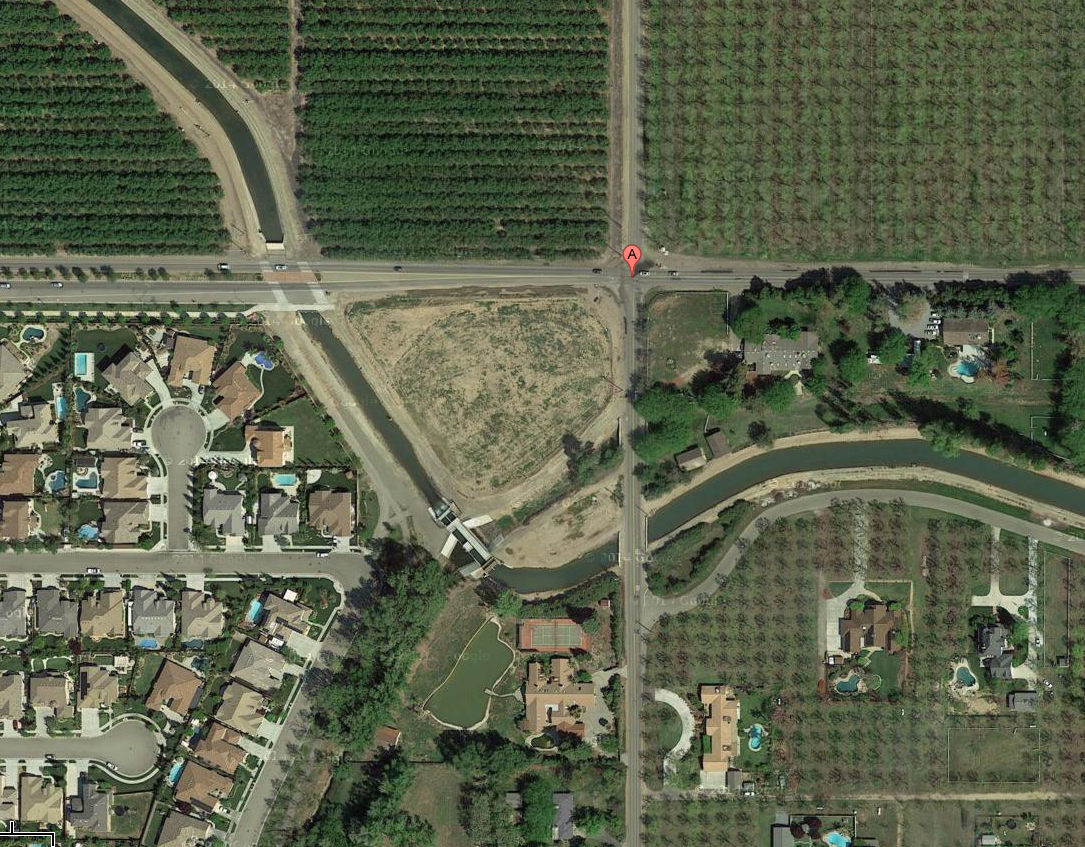 And this map shows the existing (as of now) Dry Creek Trail in red, and the Enterprise Trail in yellow. Dots mean future plans. How far in the future is anyone's guess.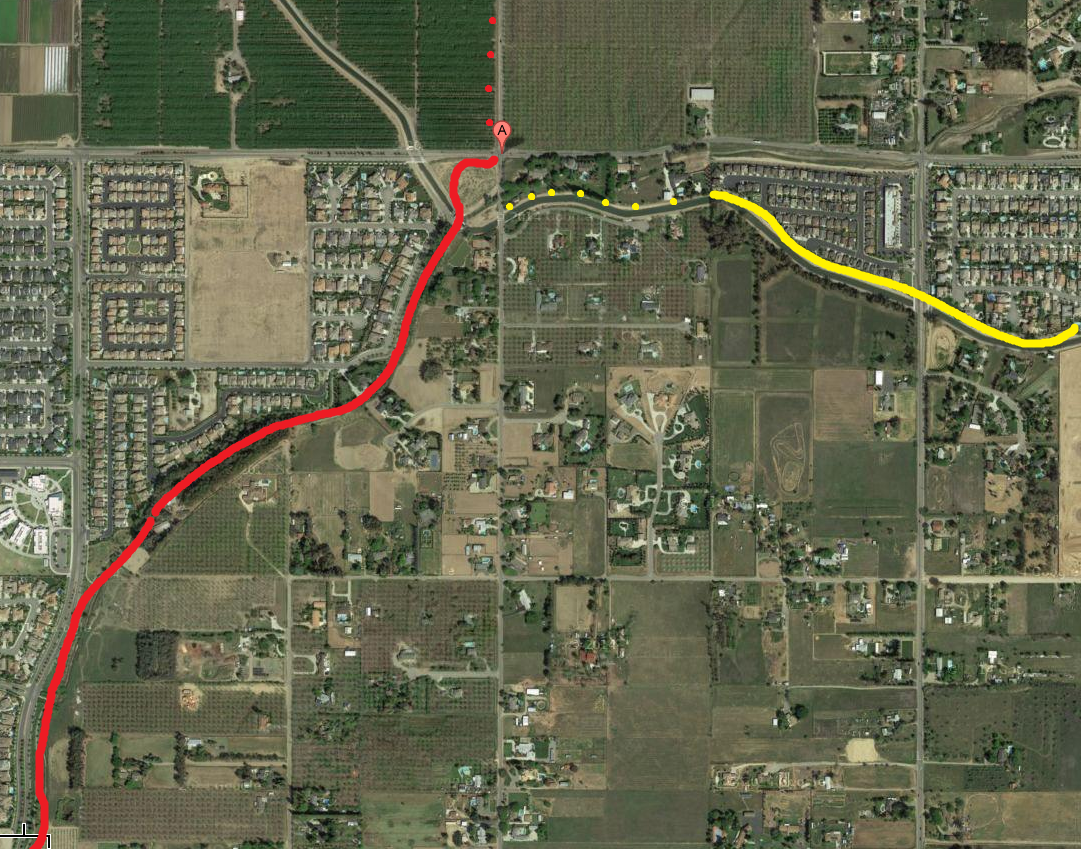 Clovis sees their trail network as a recreational, rather than commuter asset. As such, one of the goals of the trailhead was to provide ample parking so people can load up their bikes on their SUV, drive here, park, and use the trails. Presumably, those who prefer to bike on mountain roads can also park here. Why street parking isn't an option, I don't understand.
As such, we start our tour in the parking lot. Looking north towards the orchards (and Clovis development border) and the new welcoming sign.
The parking lot is not the most exciting part, so let's look at the park…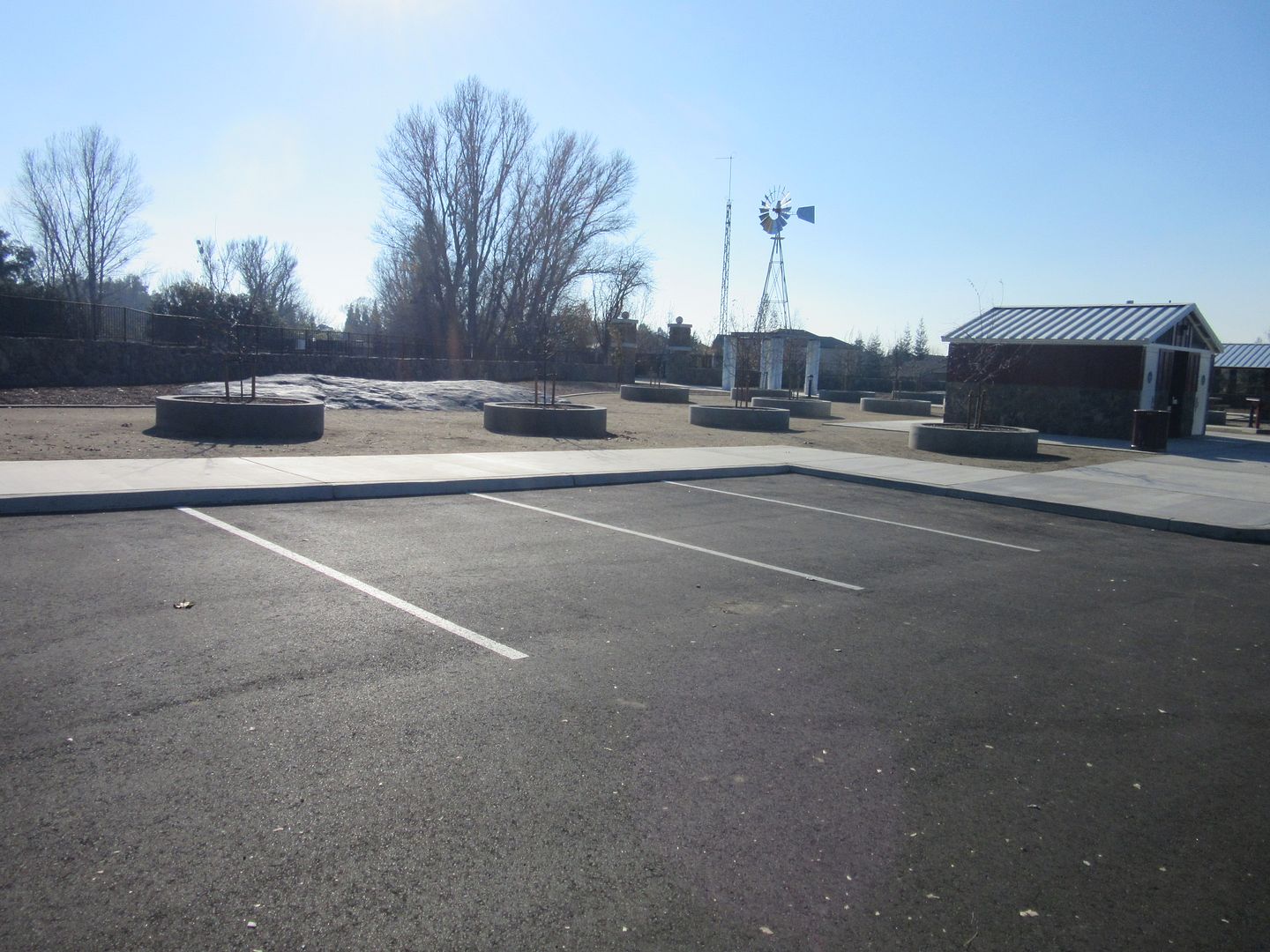 At first glance, it looks….really damn weird. Almost like a moon scape. I understand with the drought, grass was not an option, but it still looks odd.
In we go.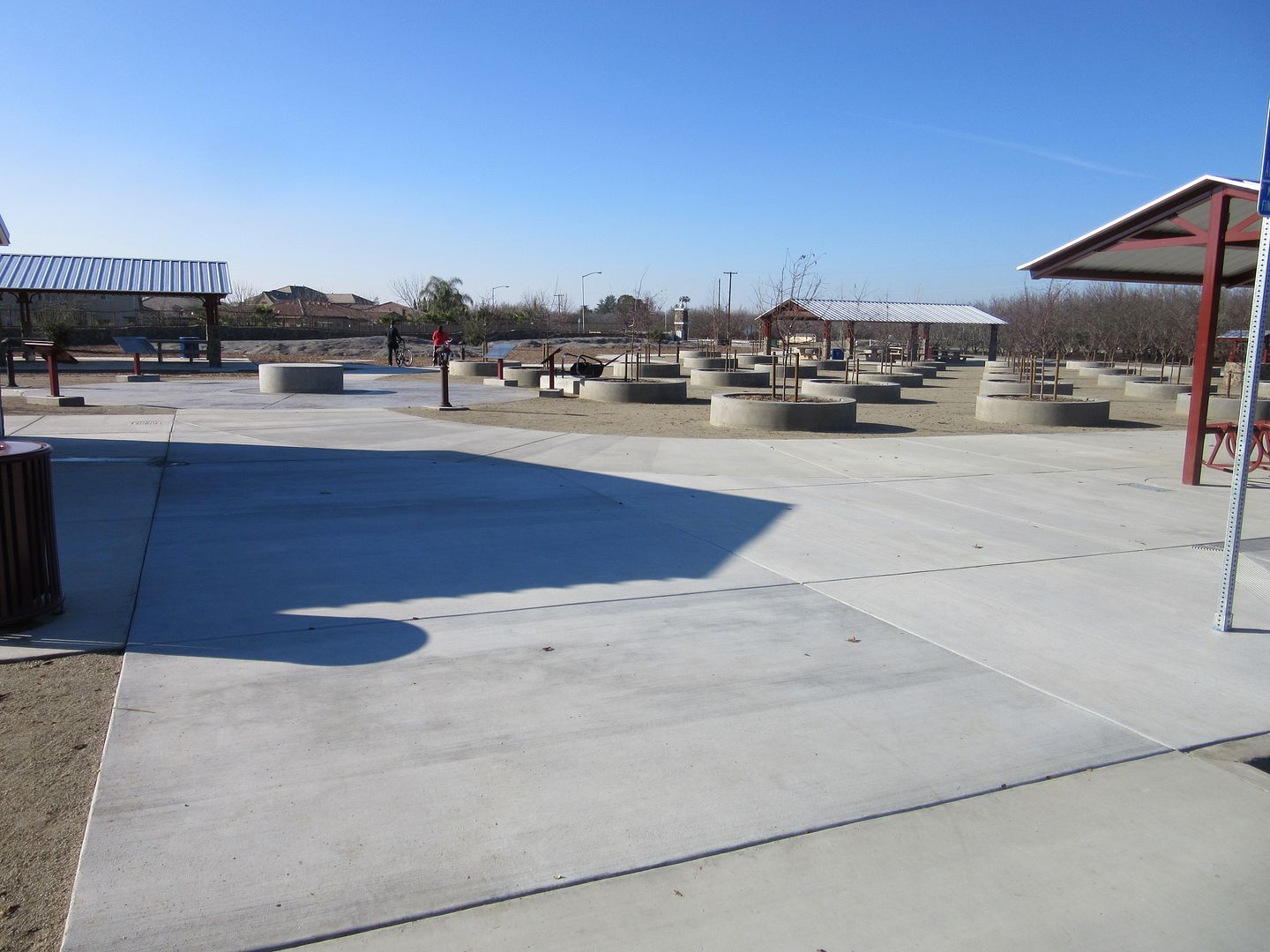 Restrooms are included, which is good. Clovis does a good job at providing public restrooms in every park.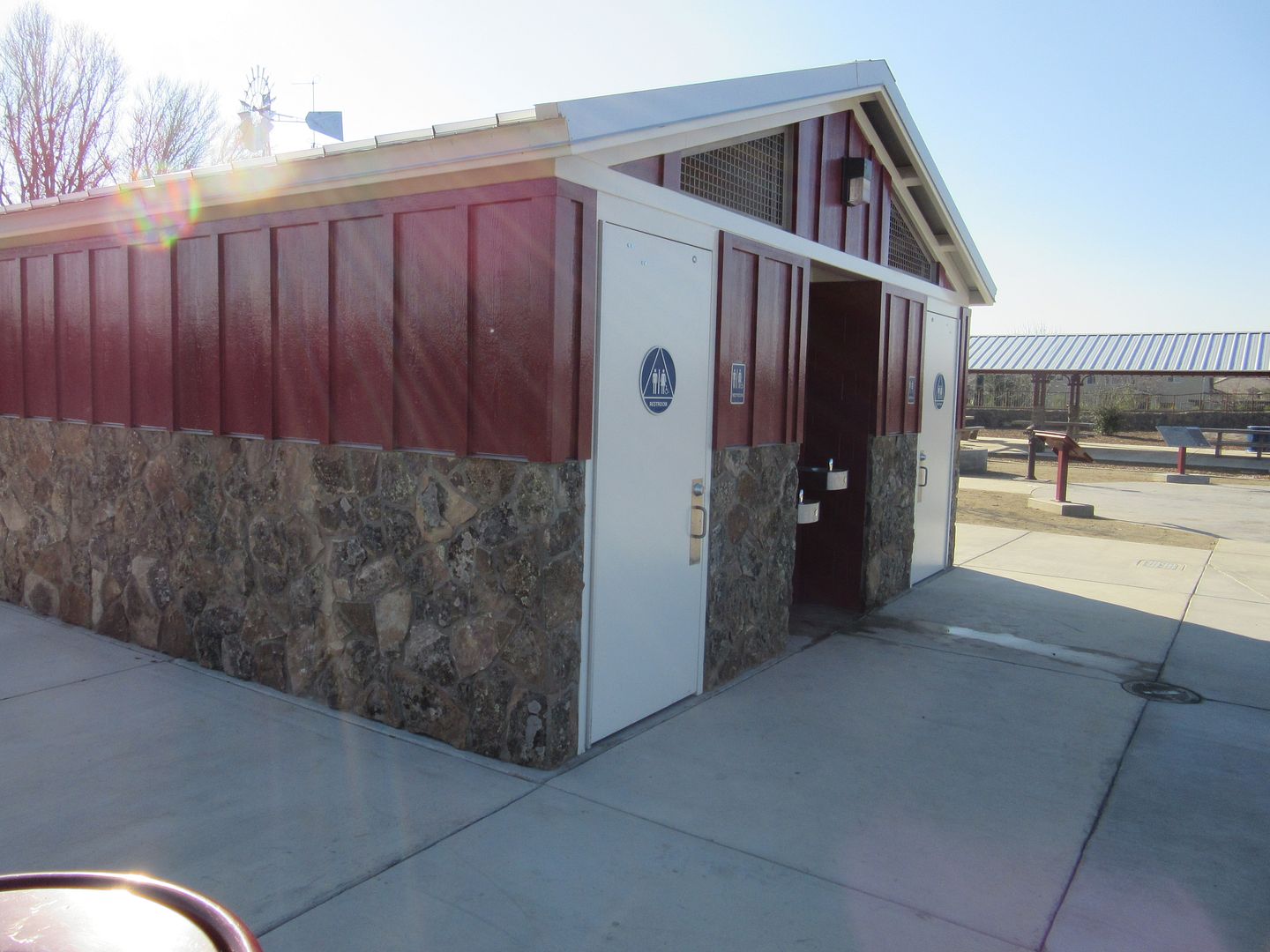 Standard park stuff here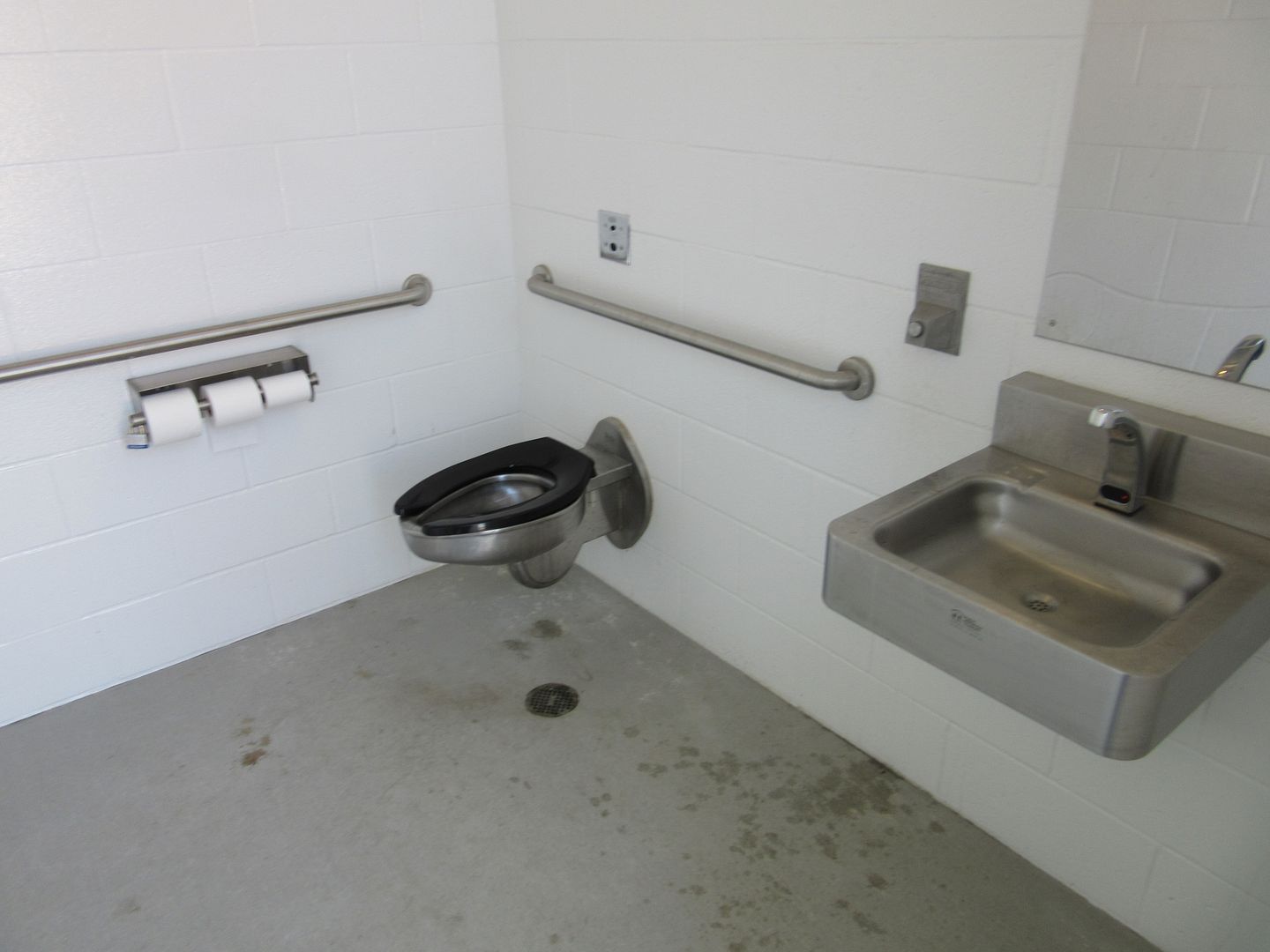 There's also some interesting signage, aimed strictly at the "weekend warrior" bike types. It has maps of recommended riding loops, including elevation gain. I didn't check the QR code, but I'd assume it links to an interactive map? These routes are on country roads.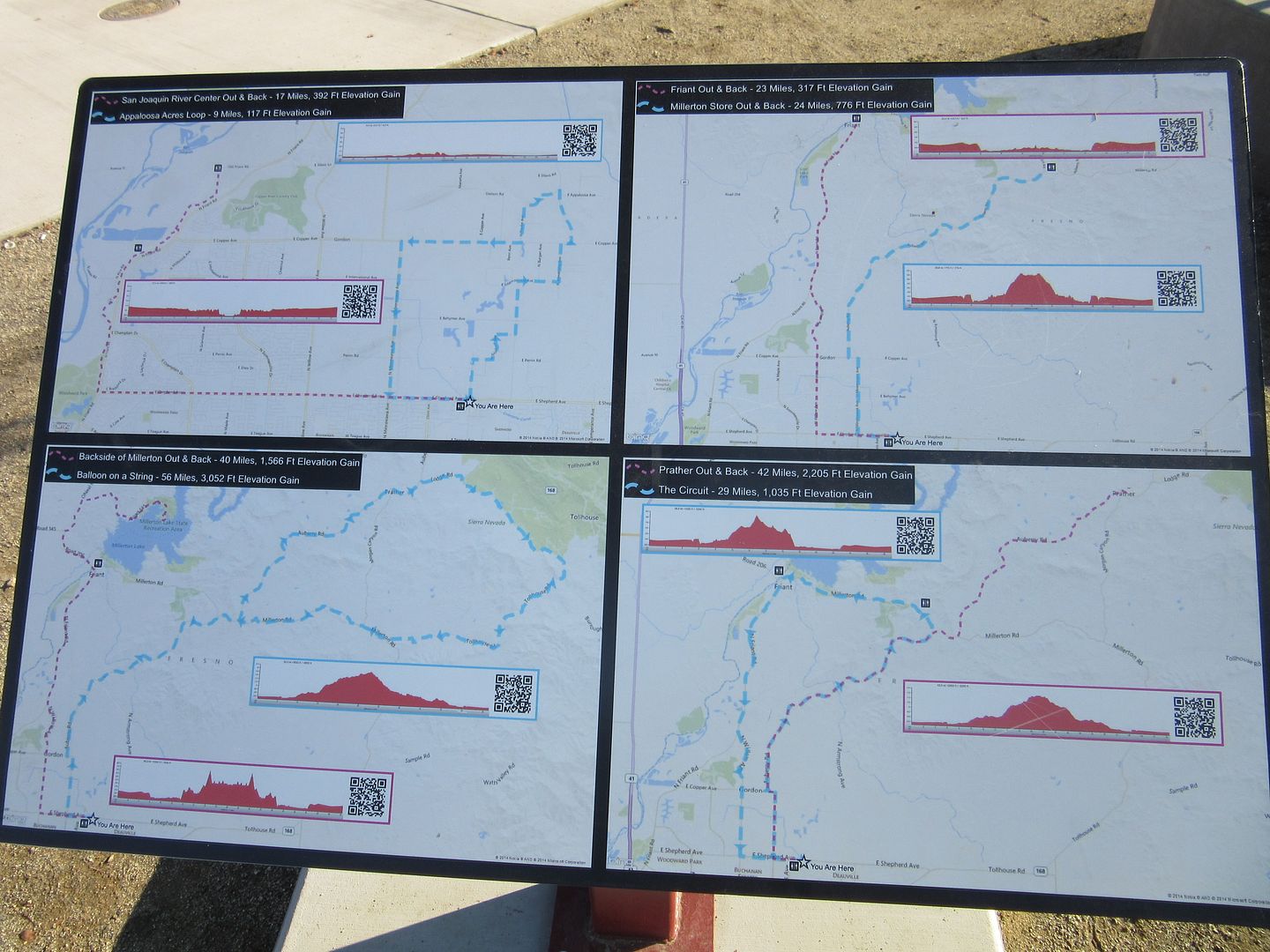 There's also a map of the Clovis trail system.
Map boards in context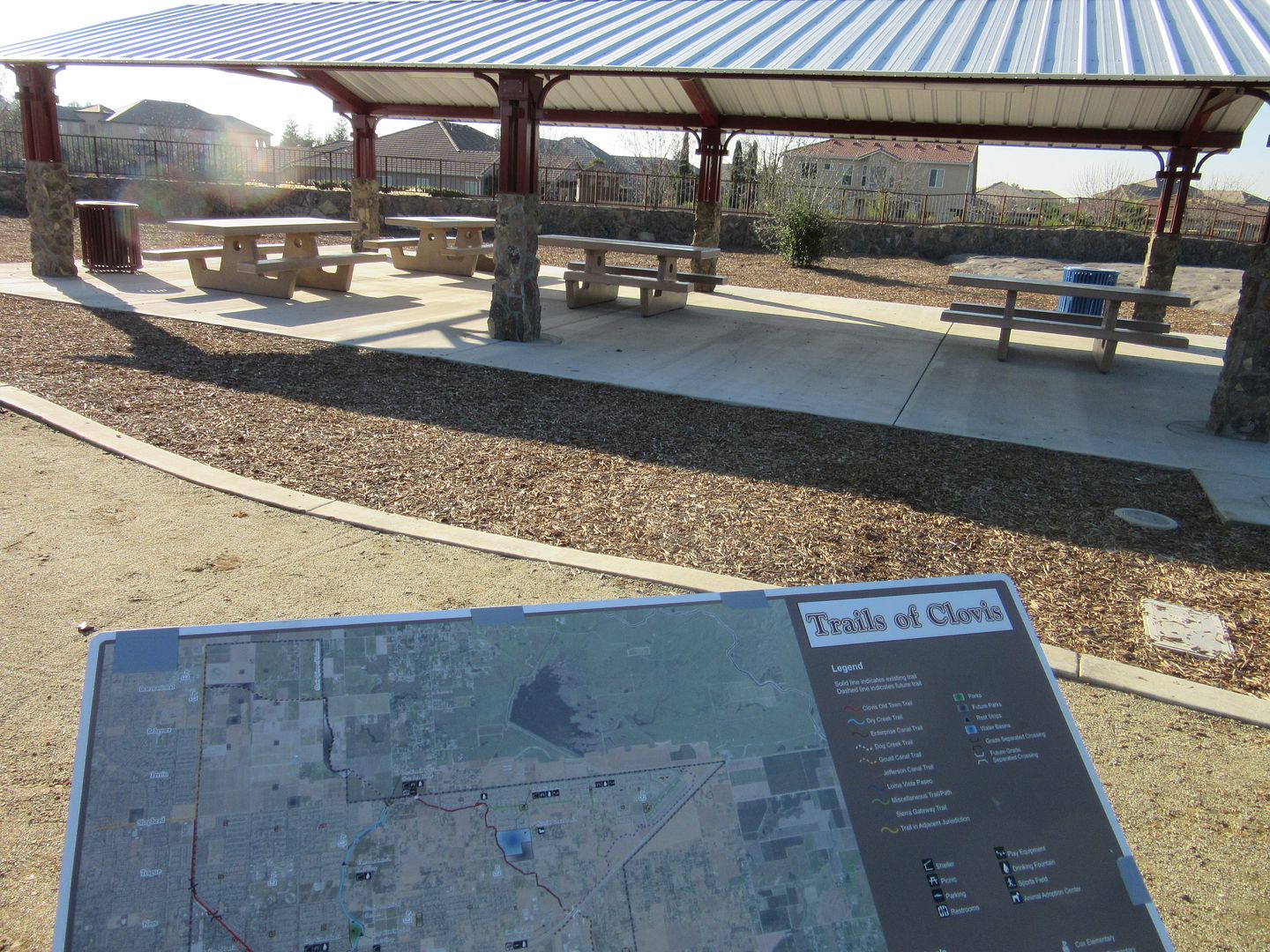 The park has some farm-related art, like a plow. A Fresno plow.
In context… I wish the trees were spaces closer together honestly, more like the orchard in the back.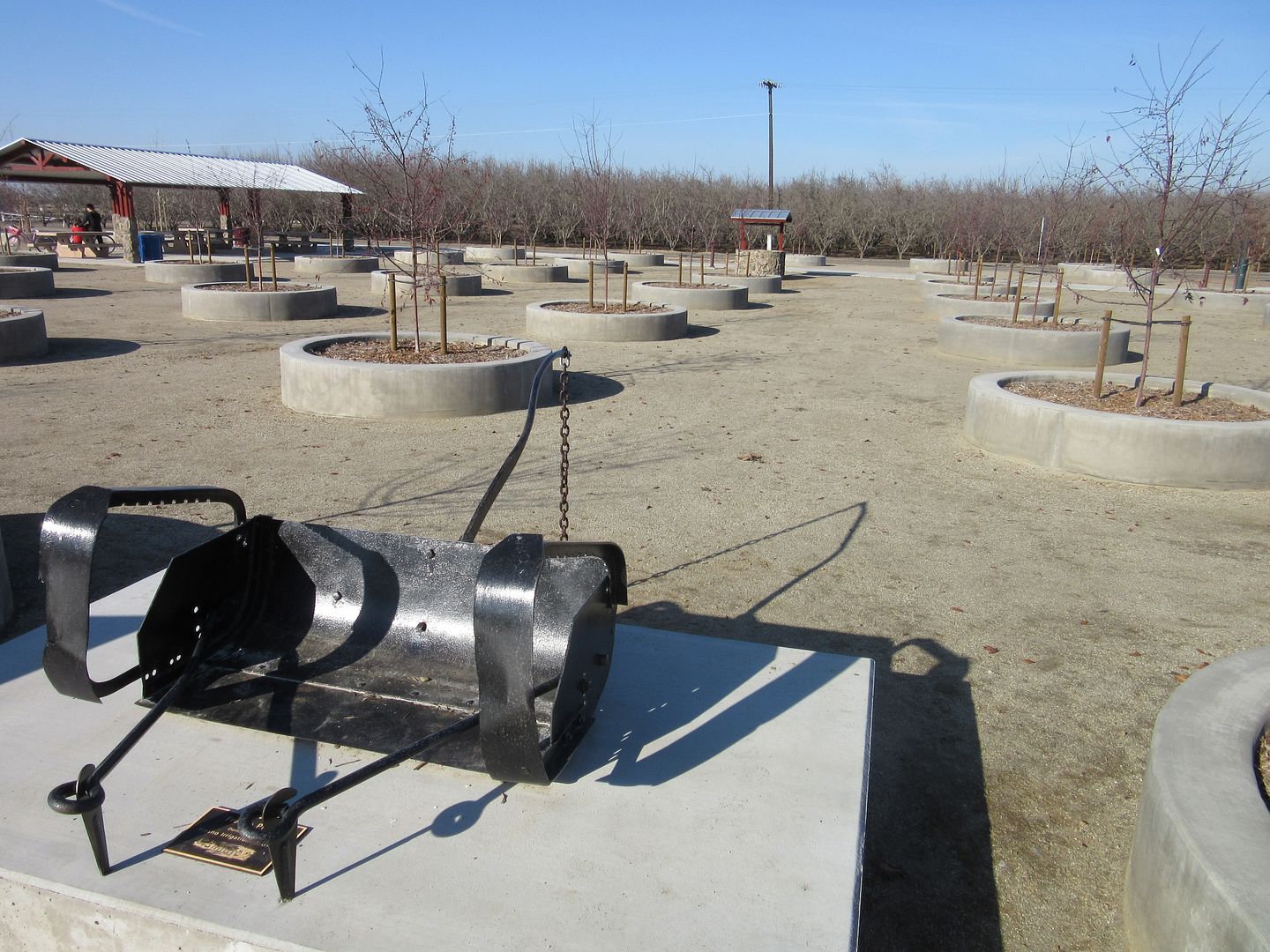 Ok, continuing with many more pictures after the jump here…
Some more farm art, and you can see the other map board. Through the windmill is the trail.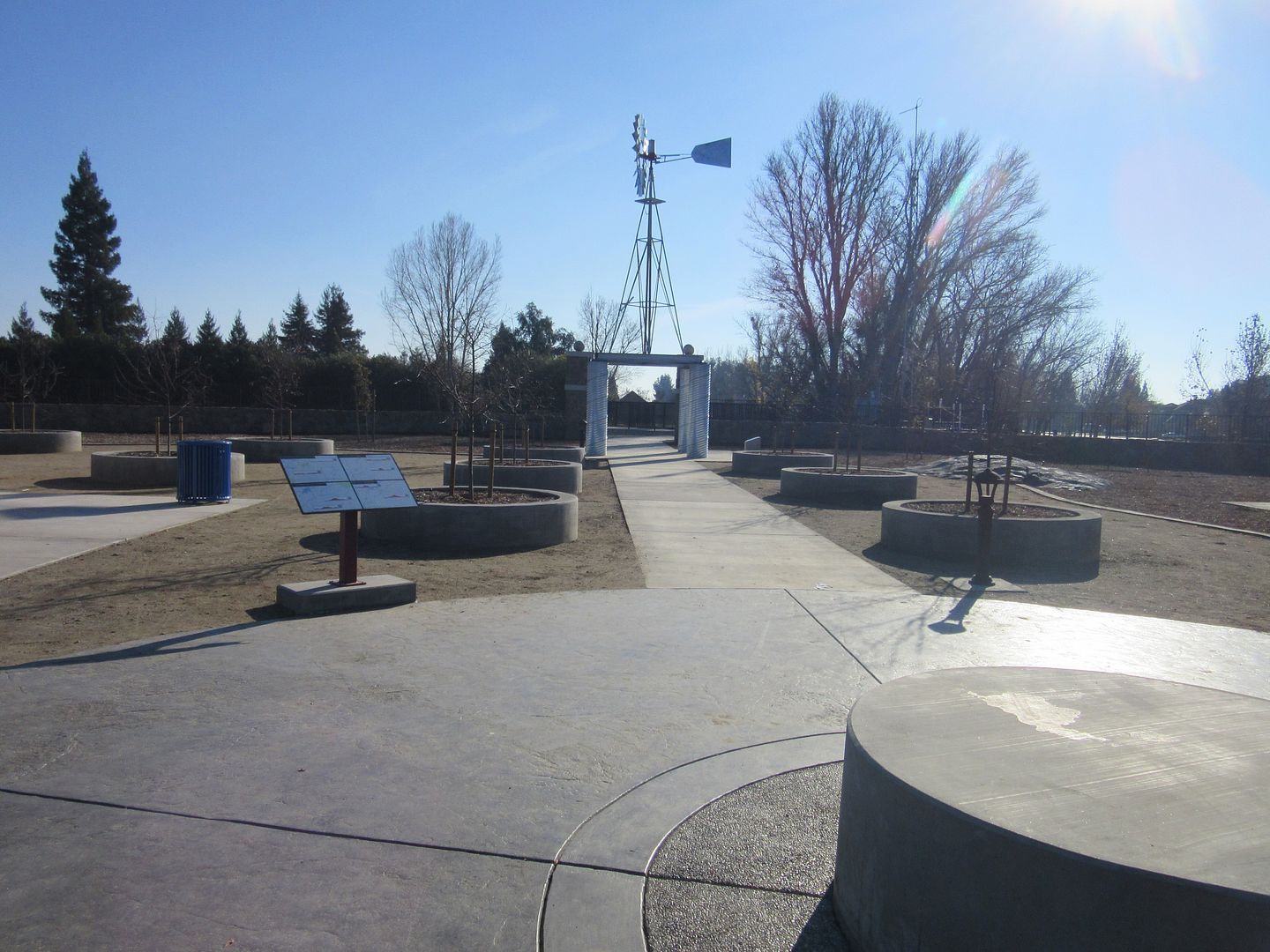 More trees. I mean, they'll look nice when they're big, but there's not a whole lot to do here? They really need to add hammocks.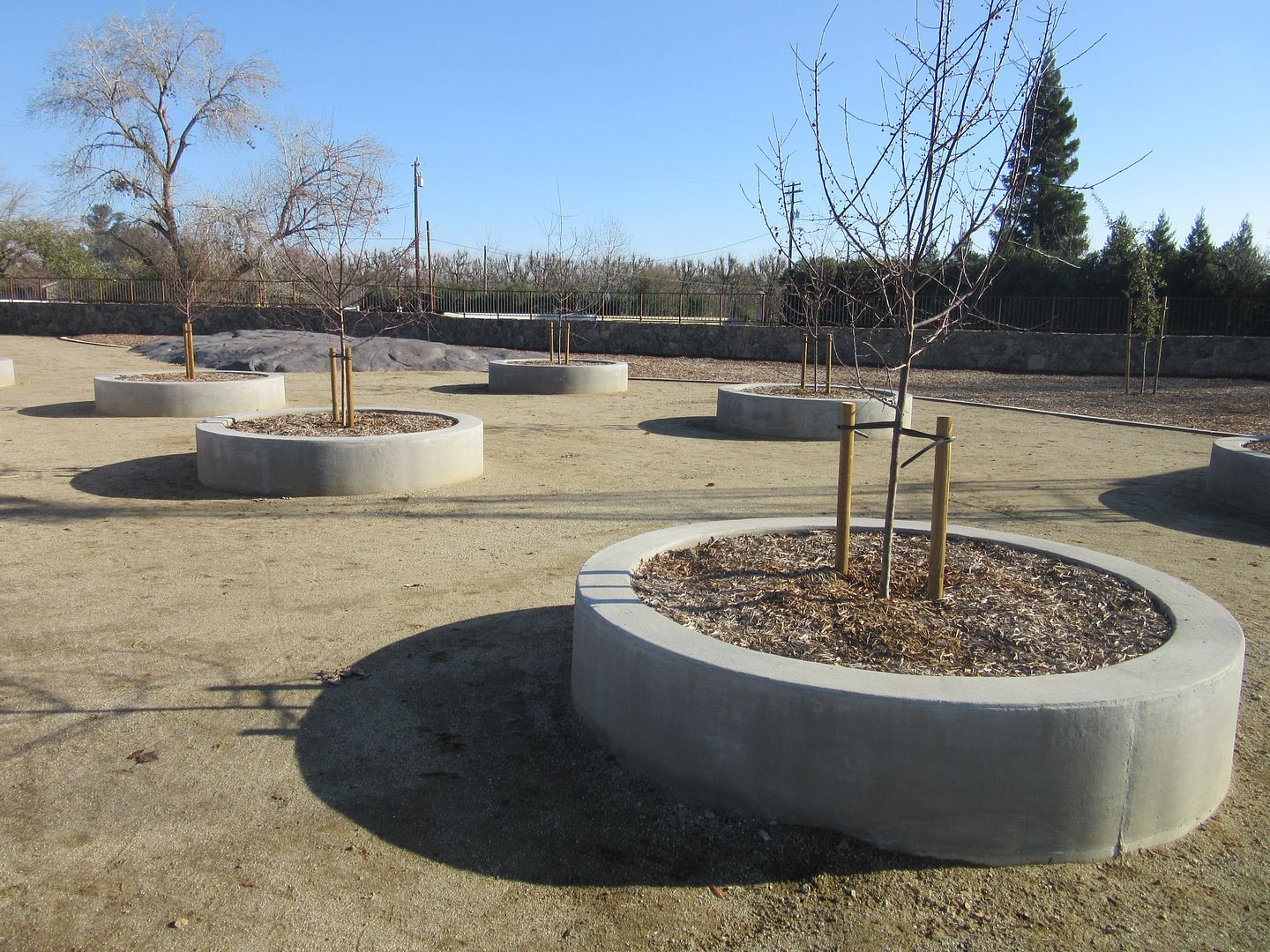 Windmill thing
And this path leads over the dam, towards the trail that existed before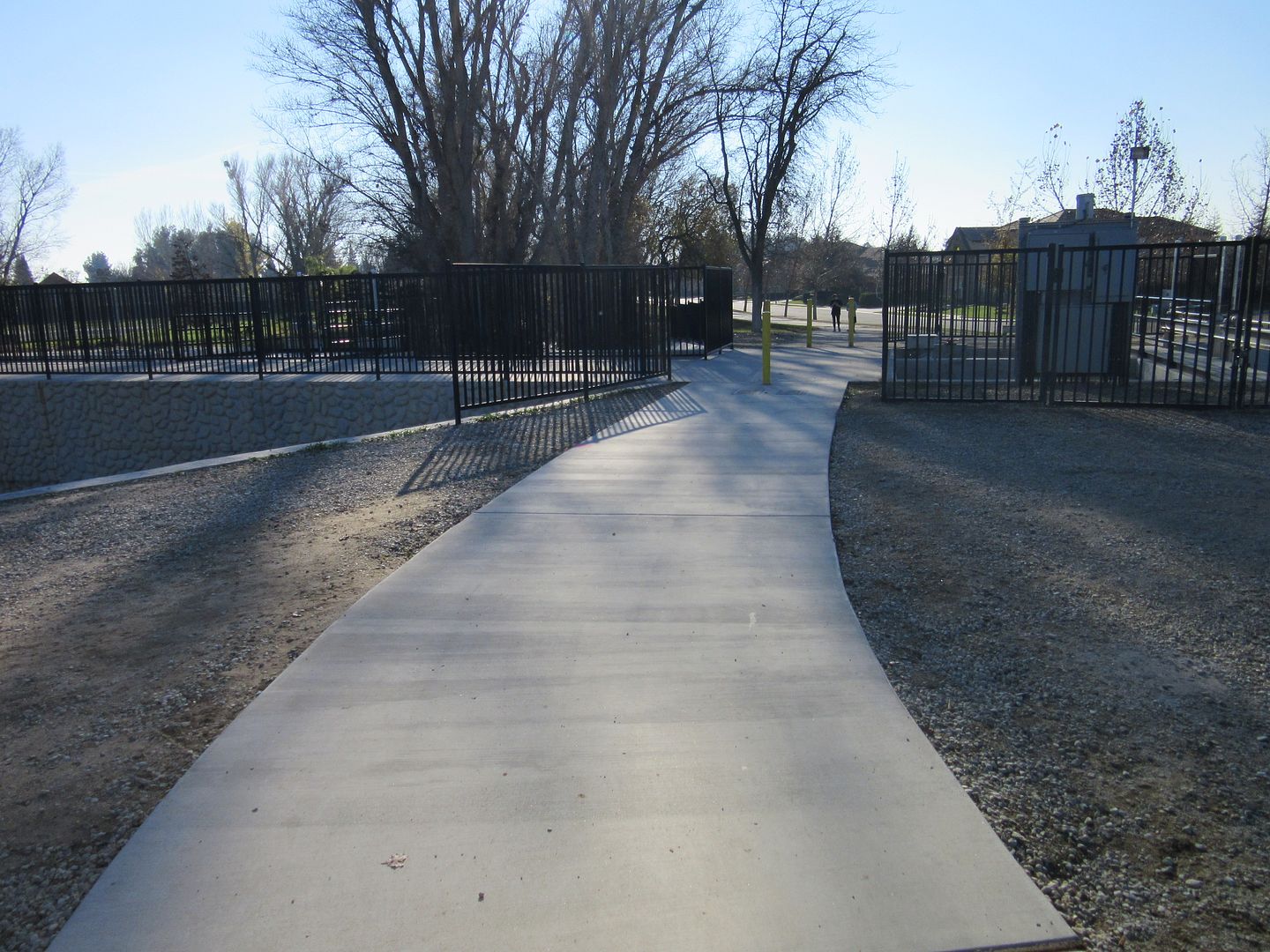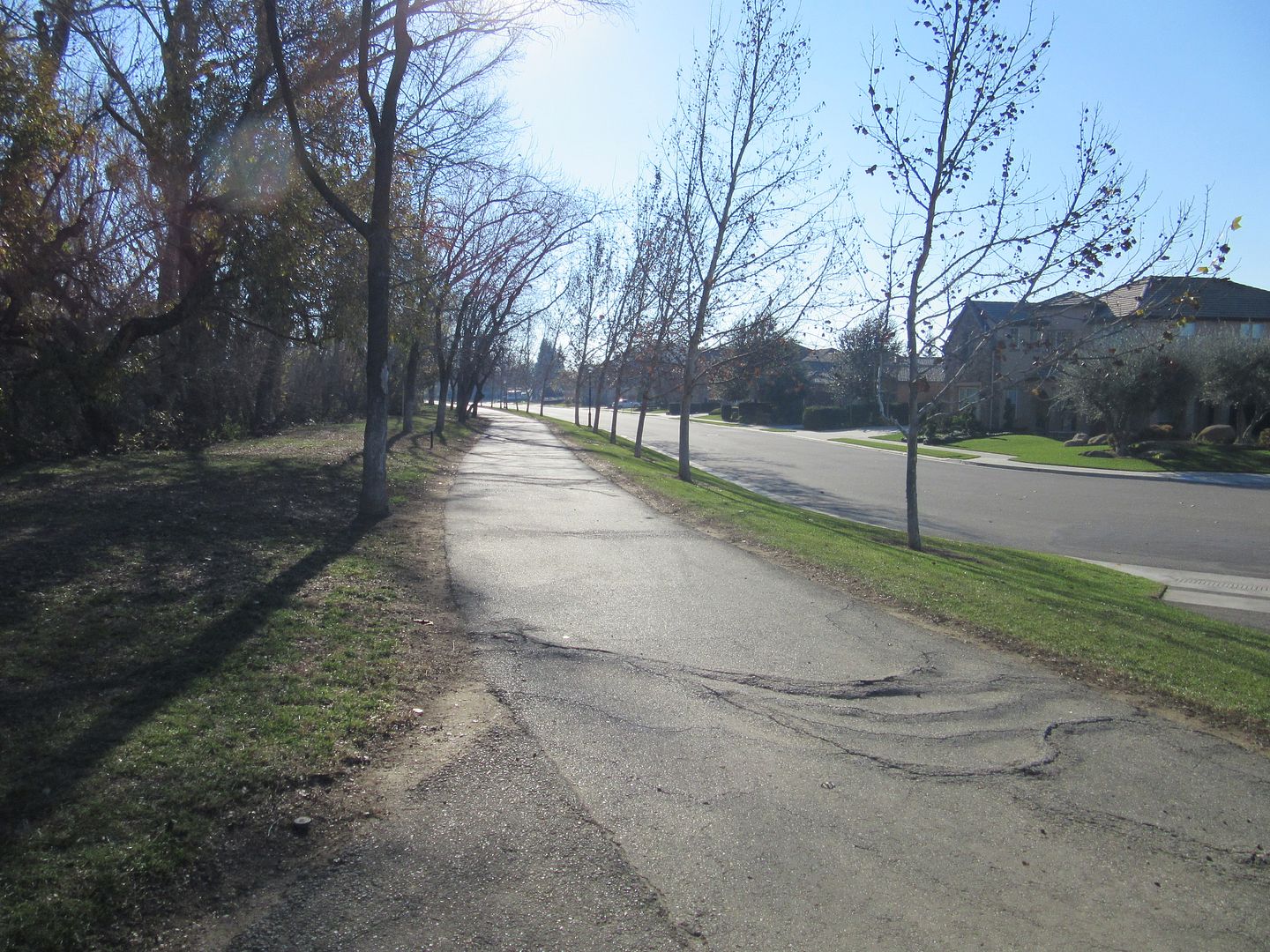 Standing at the last position, looking back, a dead area along the canal. You can see the park across the canal, fenced in for some unnecessary reason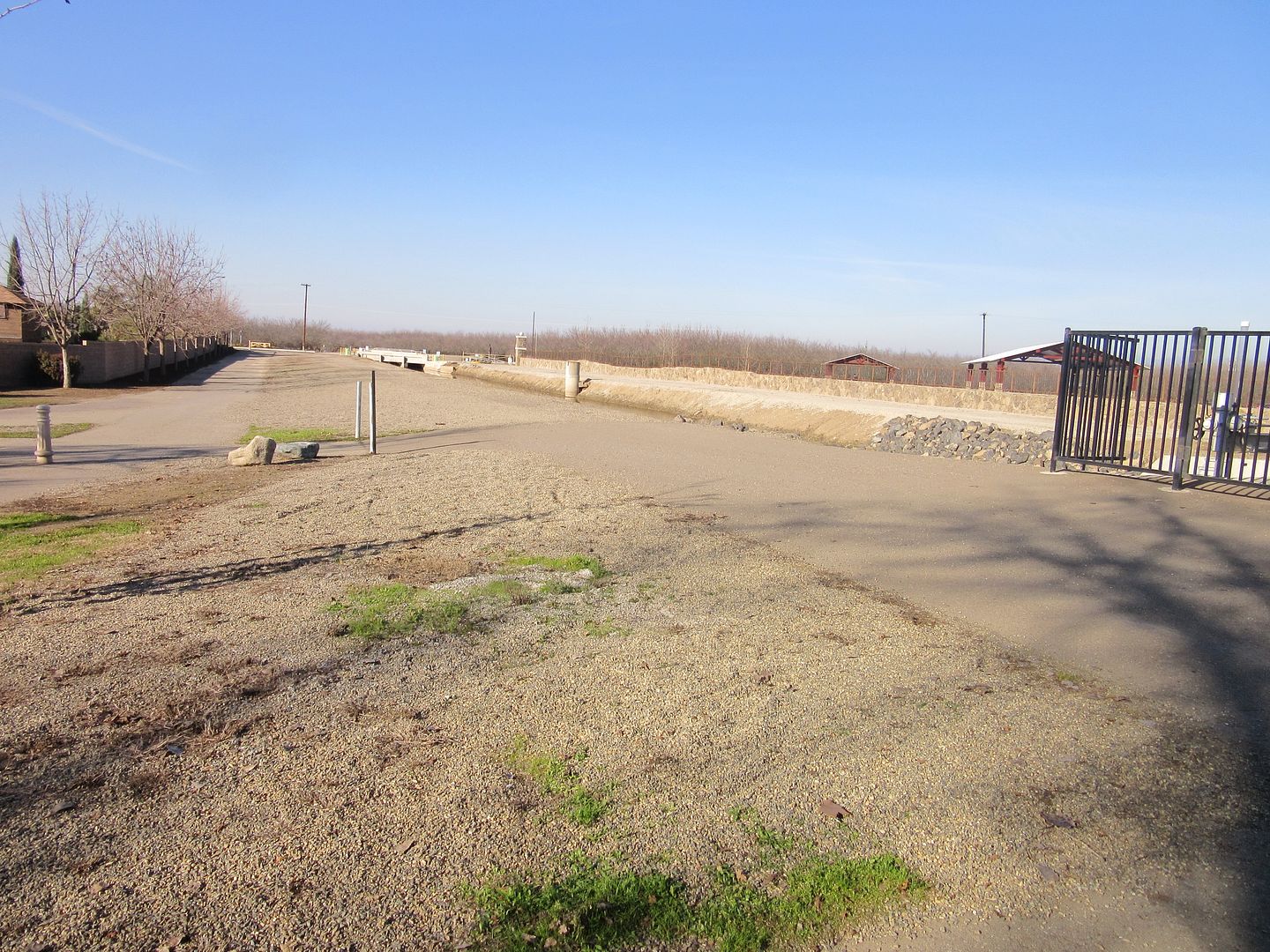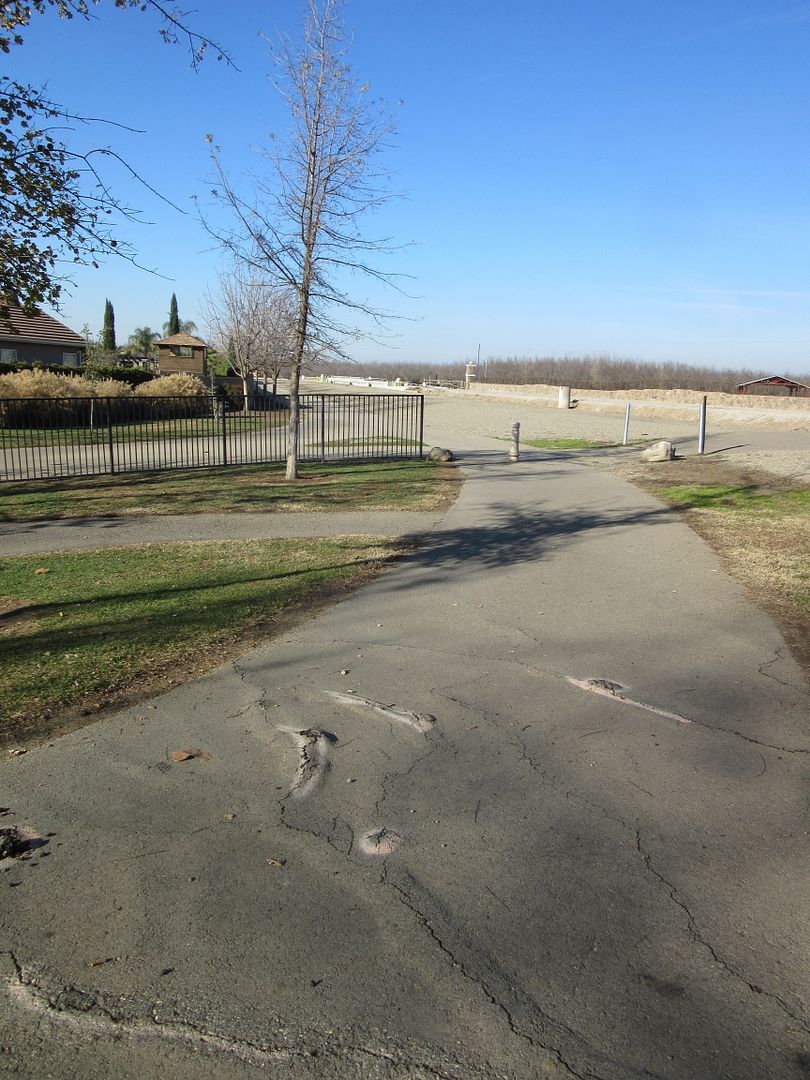 In the other direction, the canal is dead. There is an empty lot.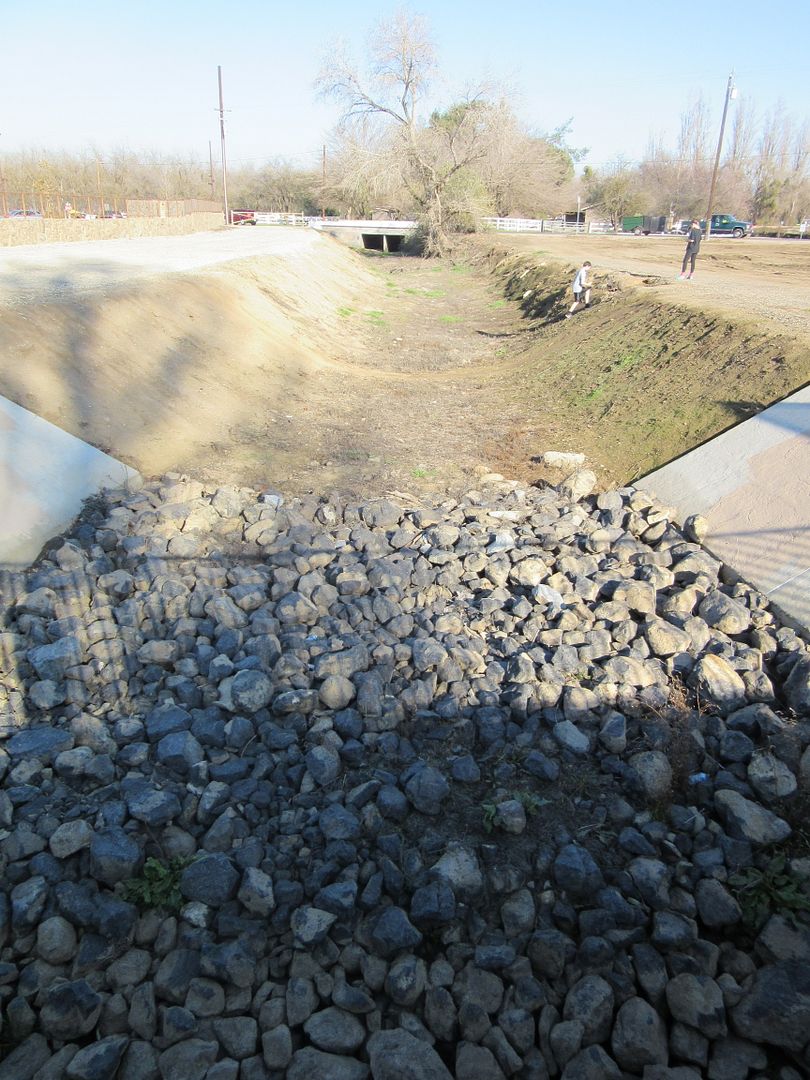 If you look straight, you would follow the canal with water, and eventually reach the yellow trail from the second map. This new park was not built to support that connection, even though it's planned.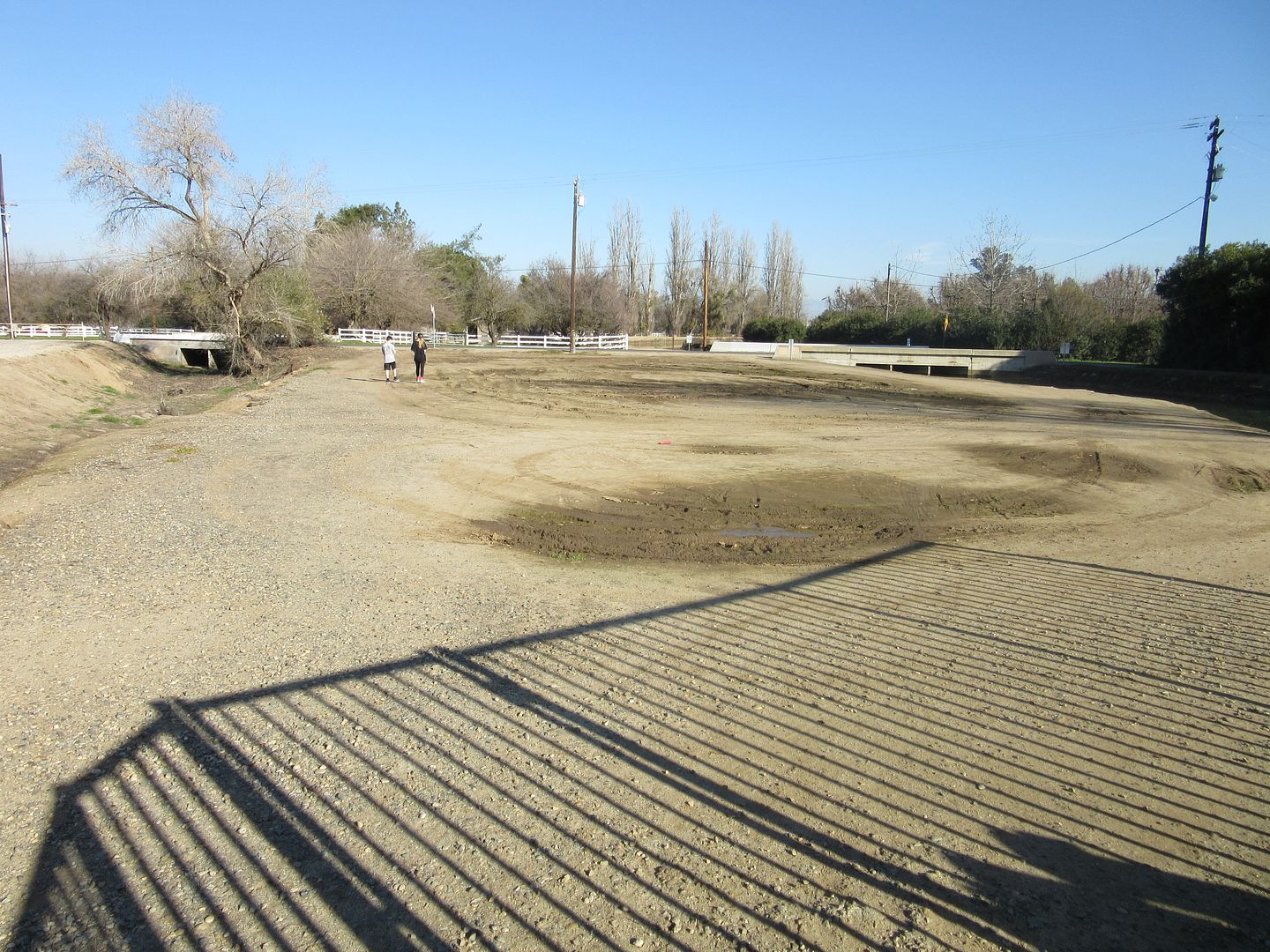 Not dry creak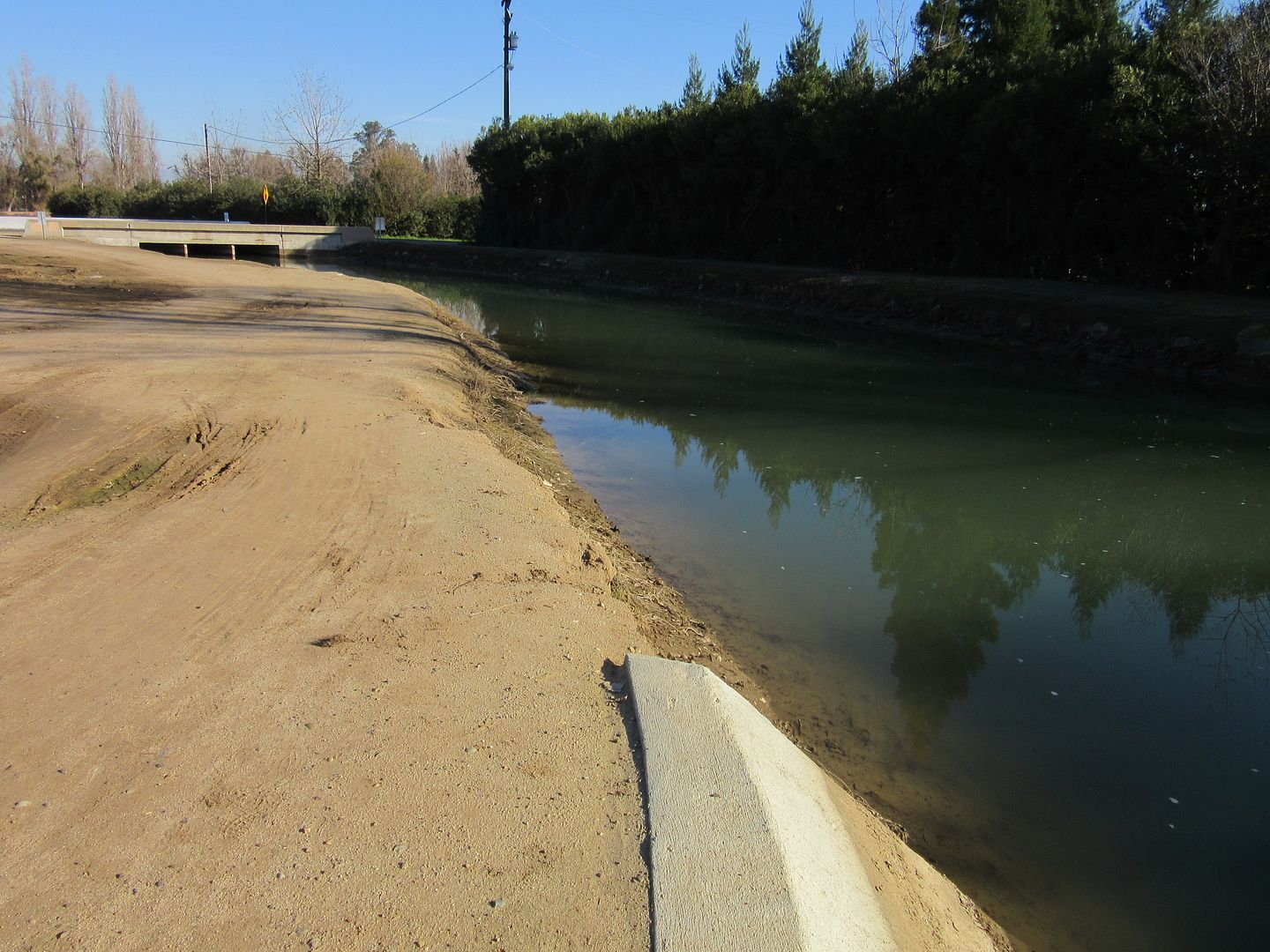 From the empty lot, across the dry canal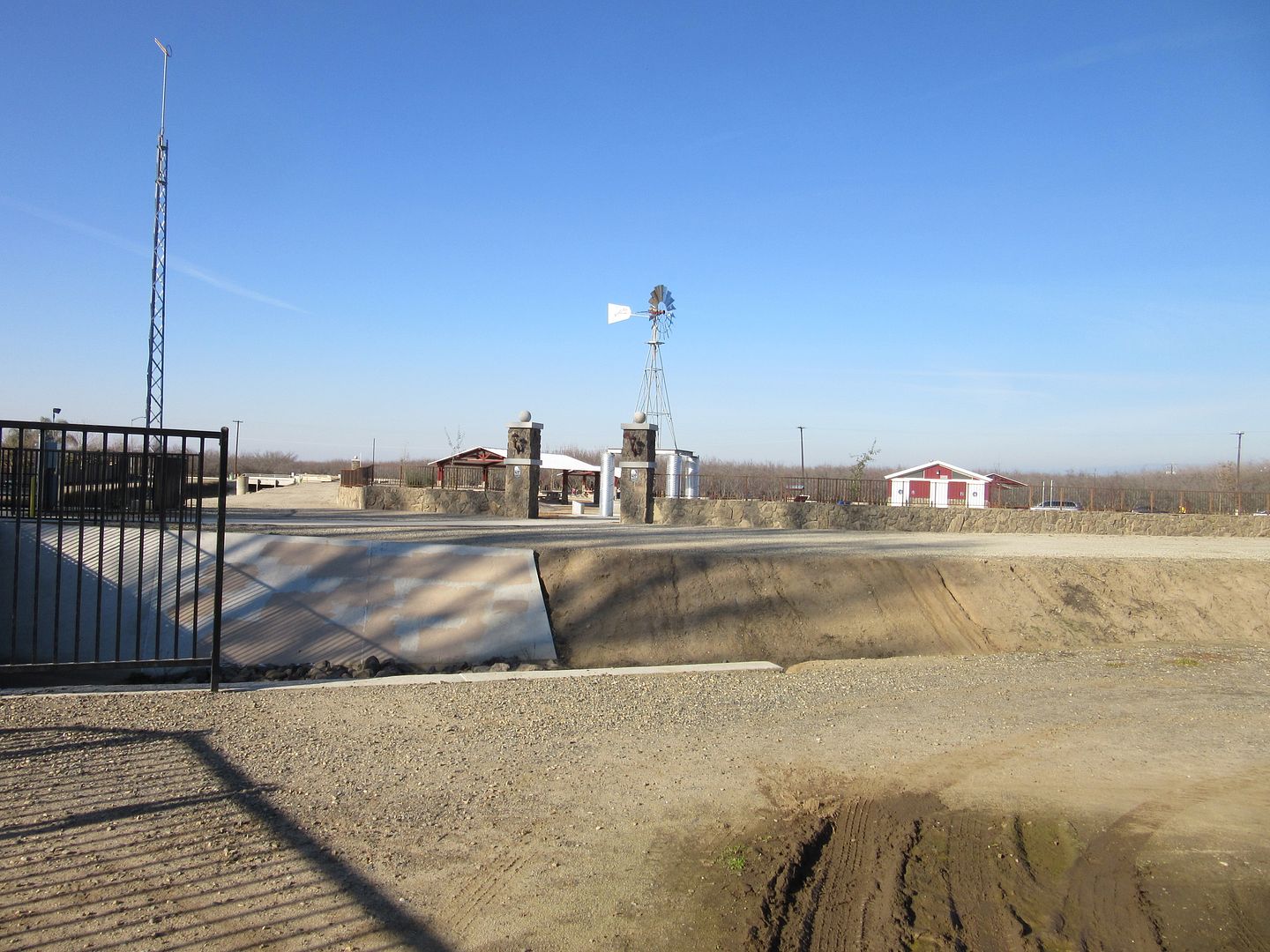 Let's head back in. I don't know if those lights are real.
Wasted land.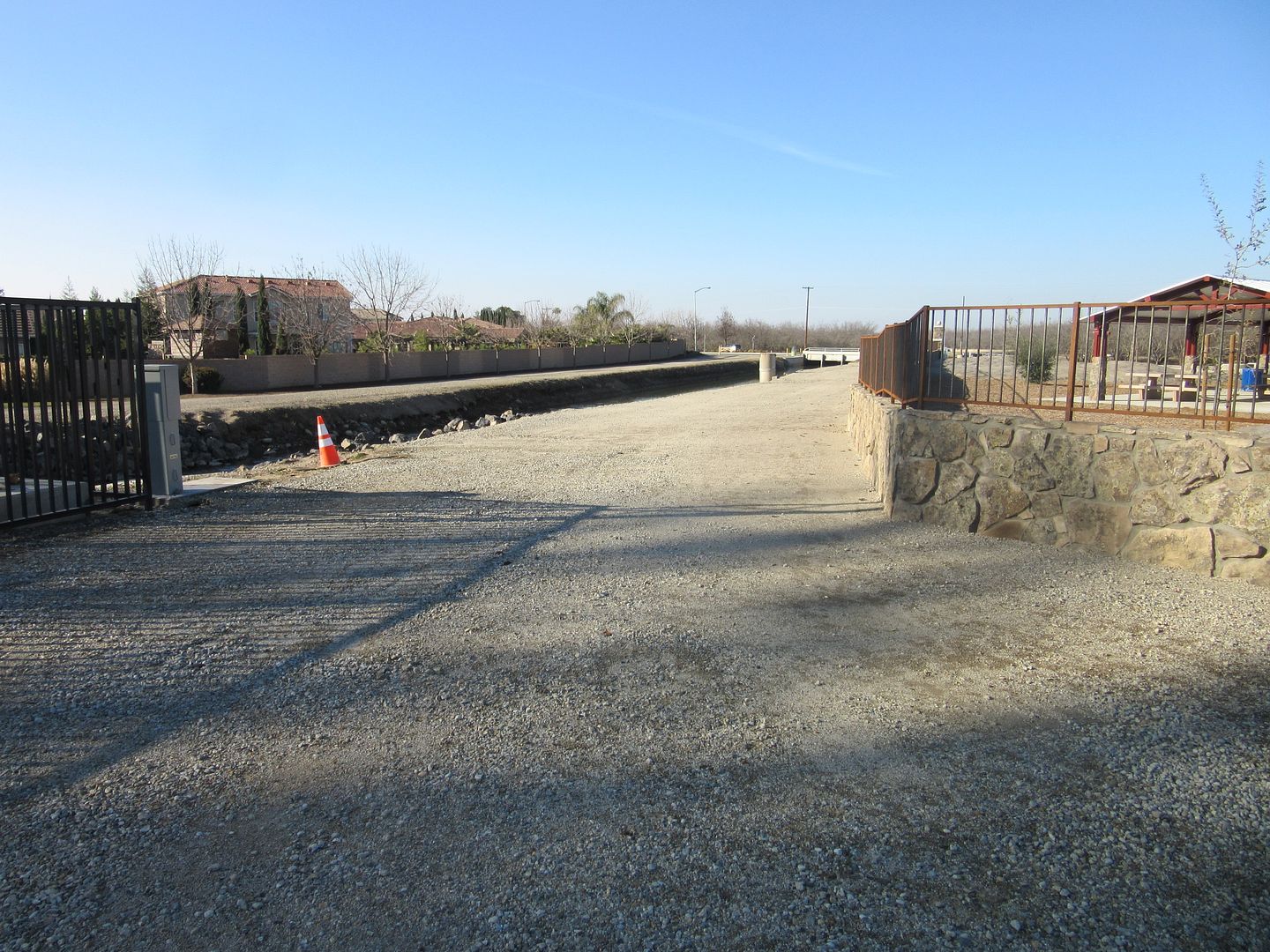 The new park includes fake rocks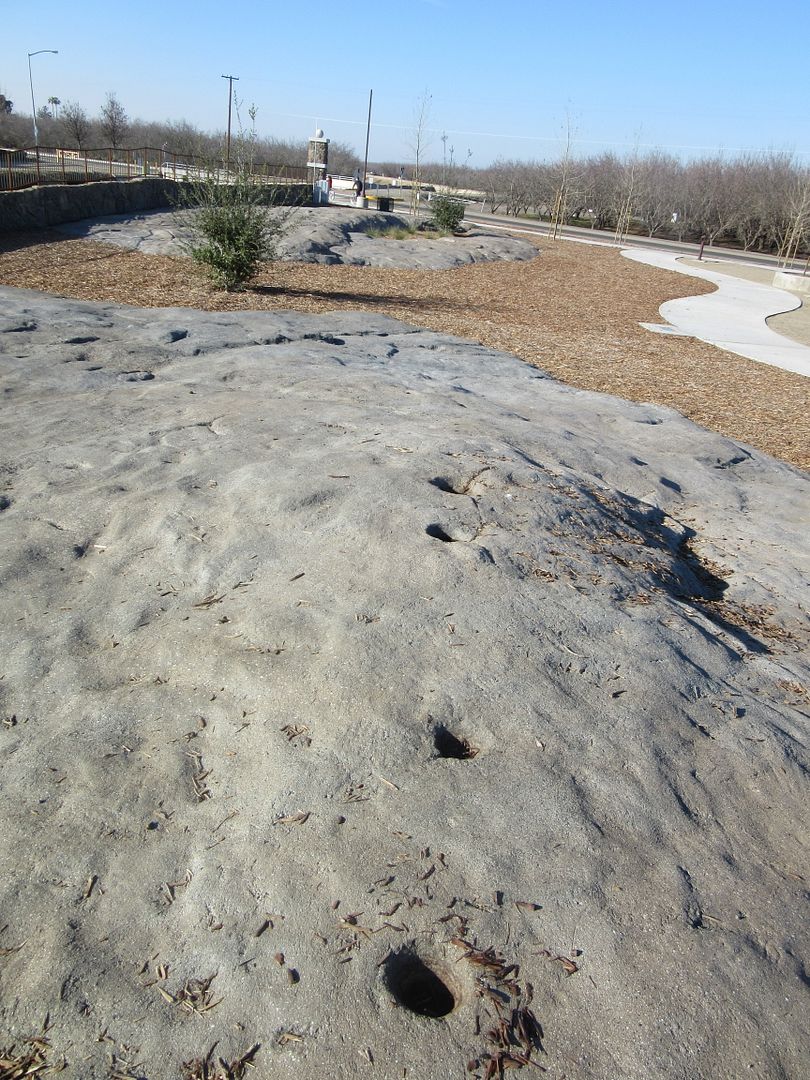 The bench area is nice, and has lights…but no grills!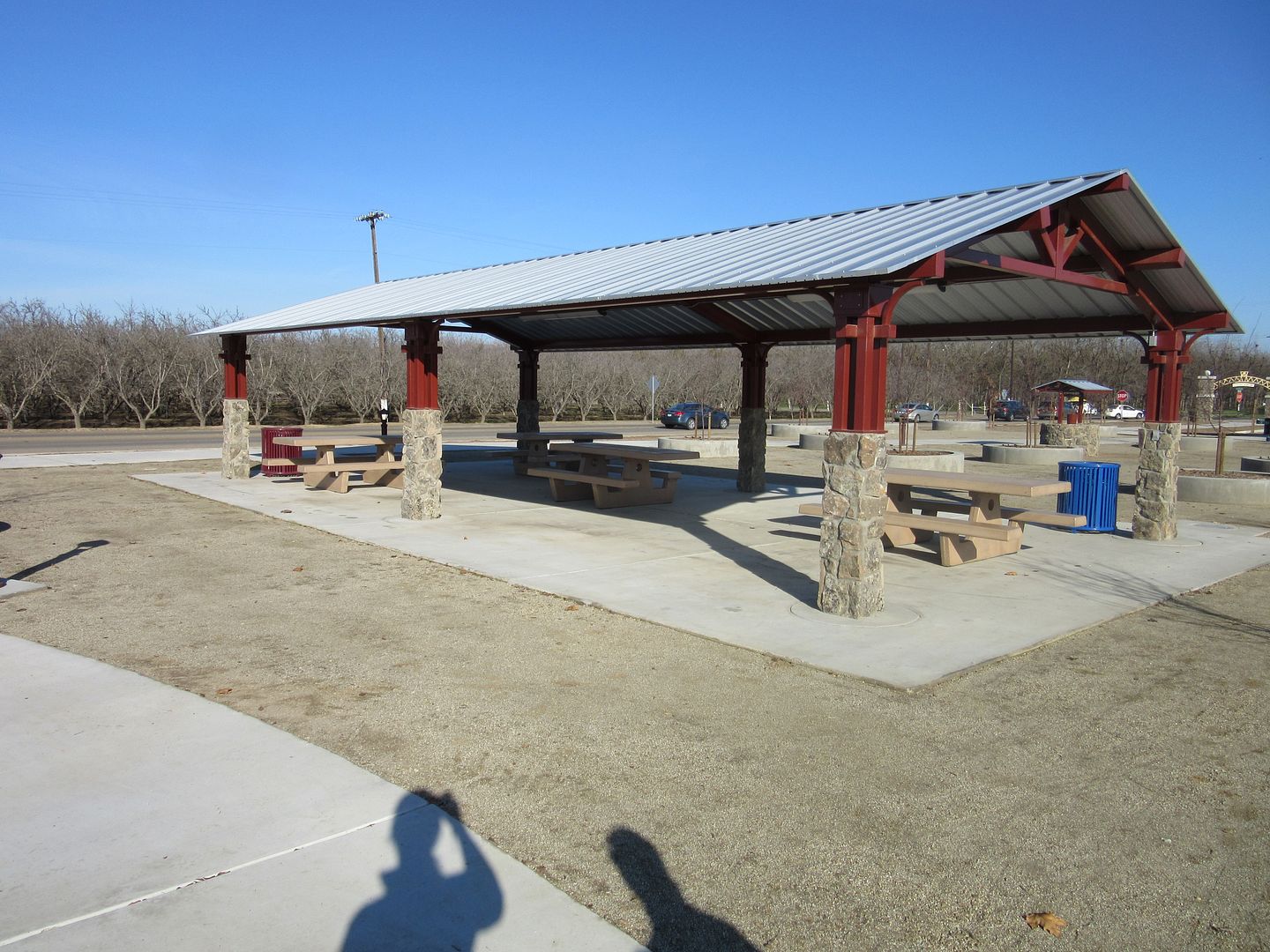 A sidewalk/trail was built to connect with the existing sidewalk on Shepherd.
Future light and/or camera
Existing sidewalk to the west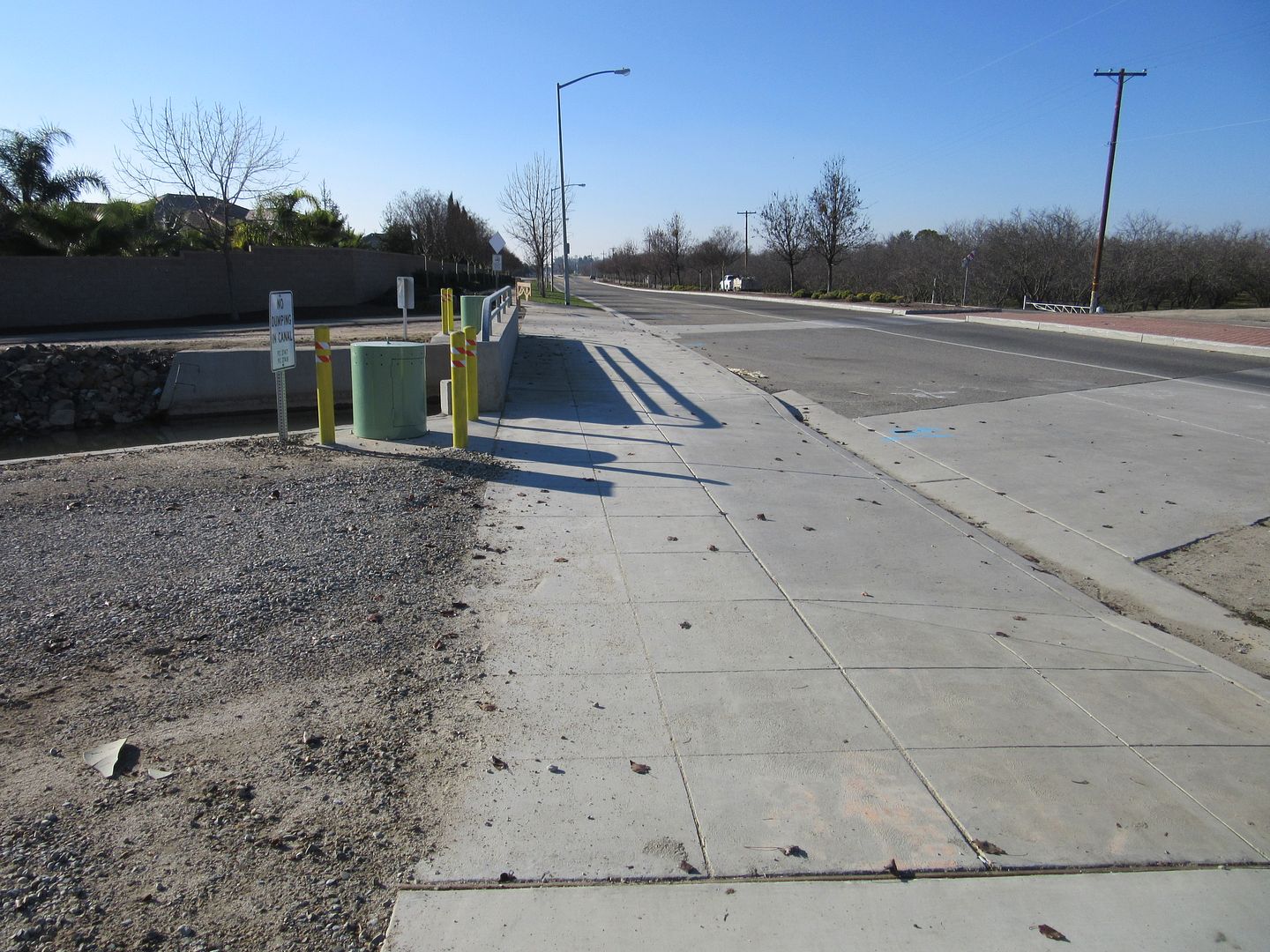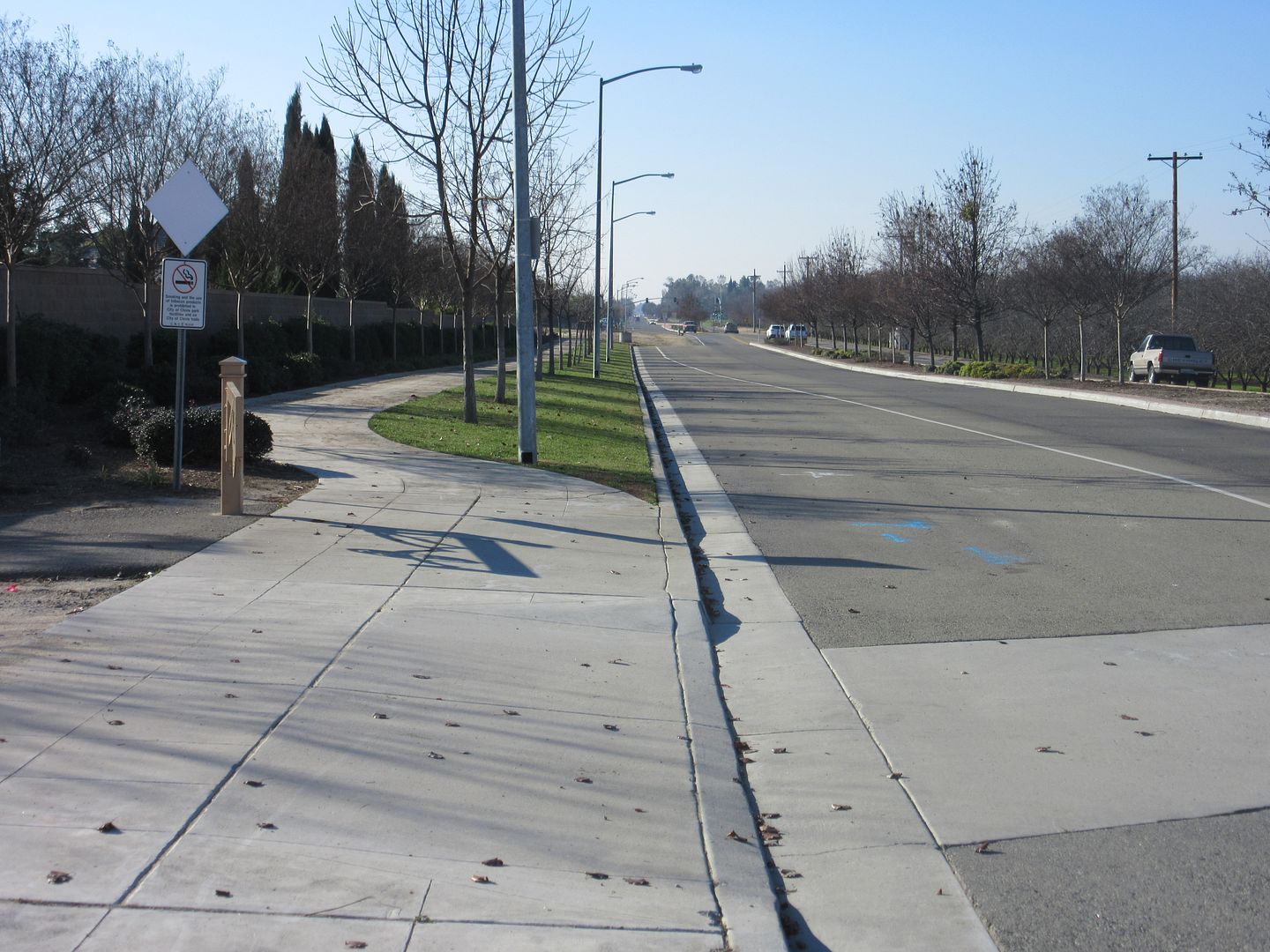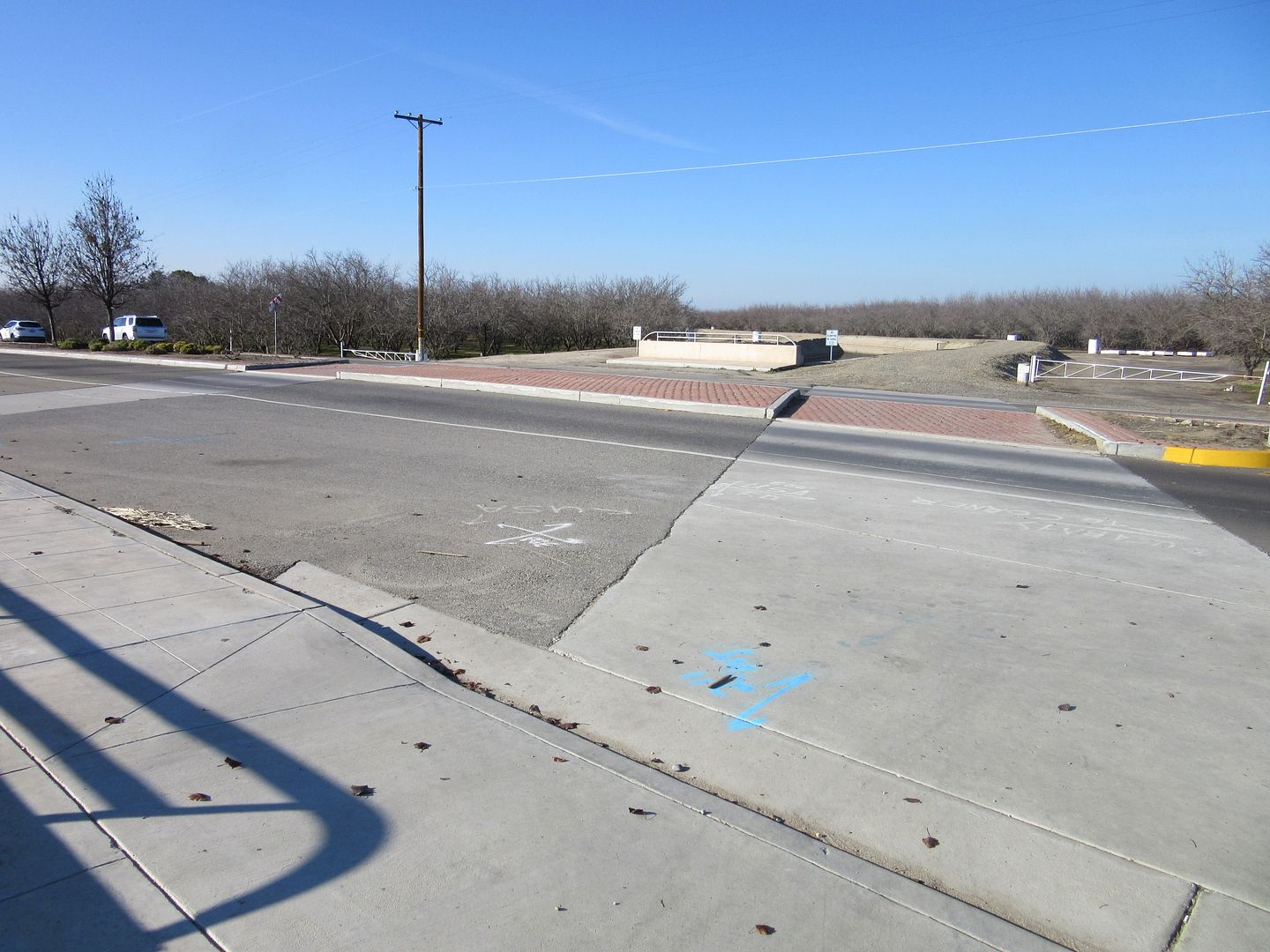 Looking back again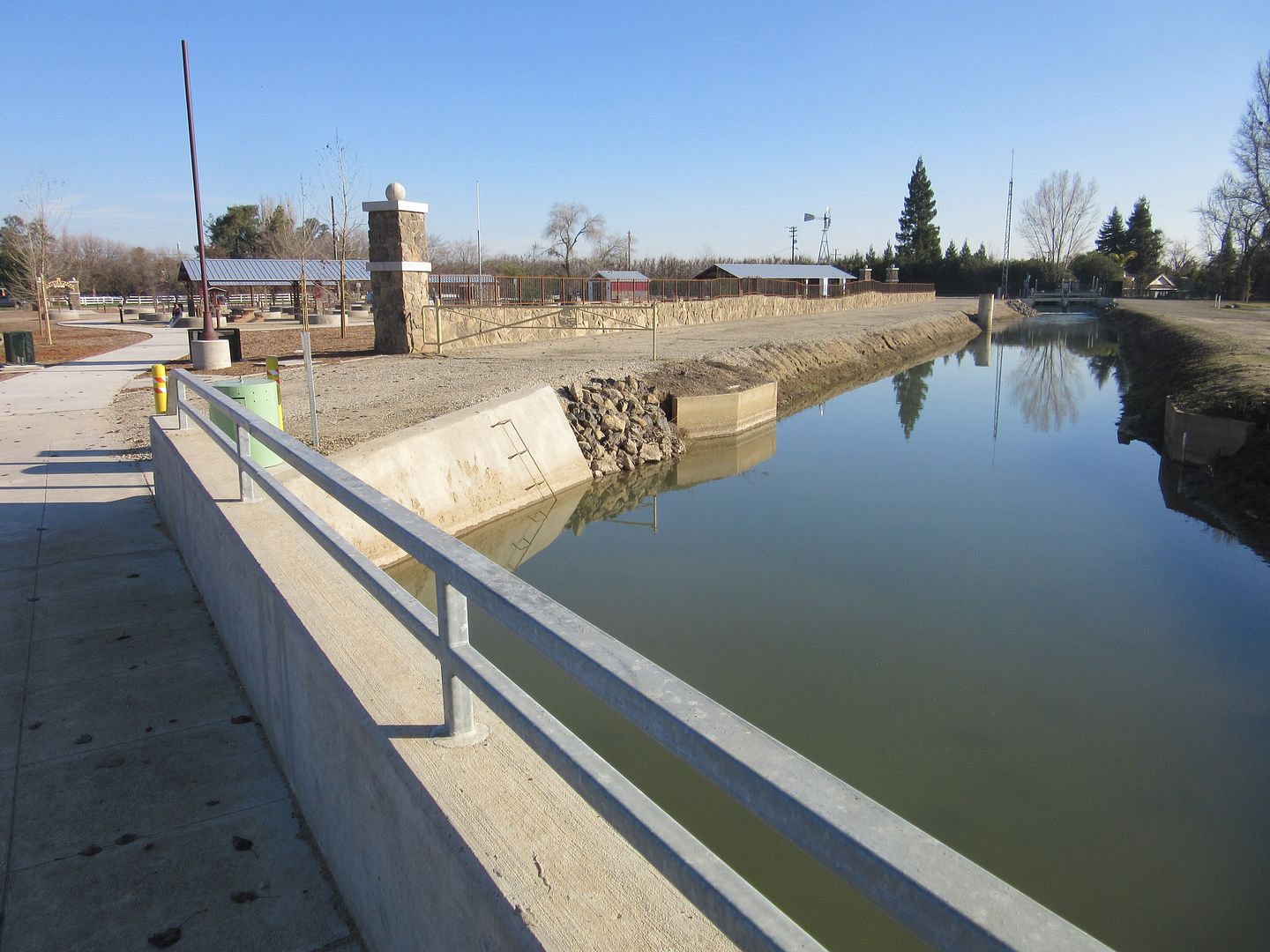 For whatever reason, they did not use the construction to widen Shepherd. And they also built the geometry really weird. No idea what the plan is here.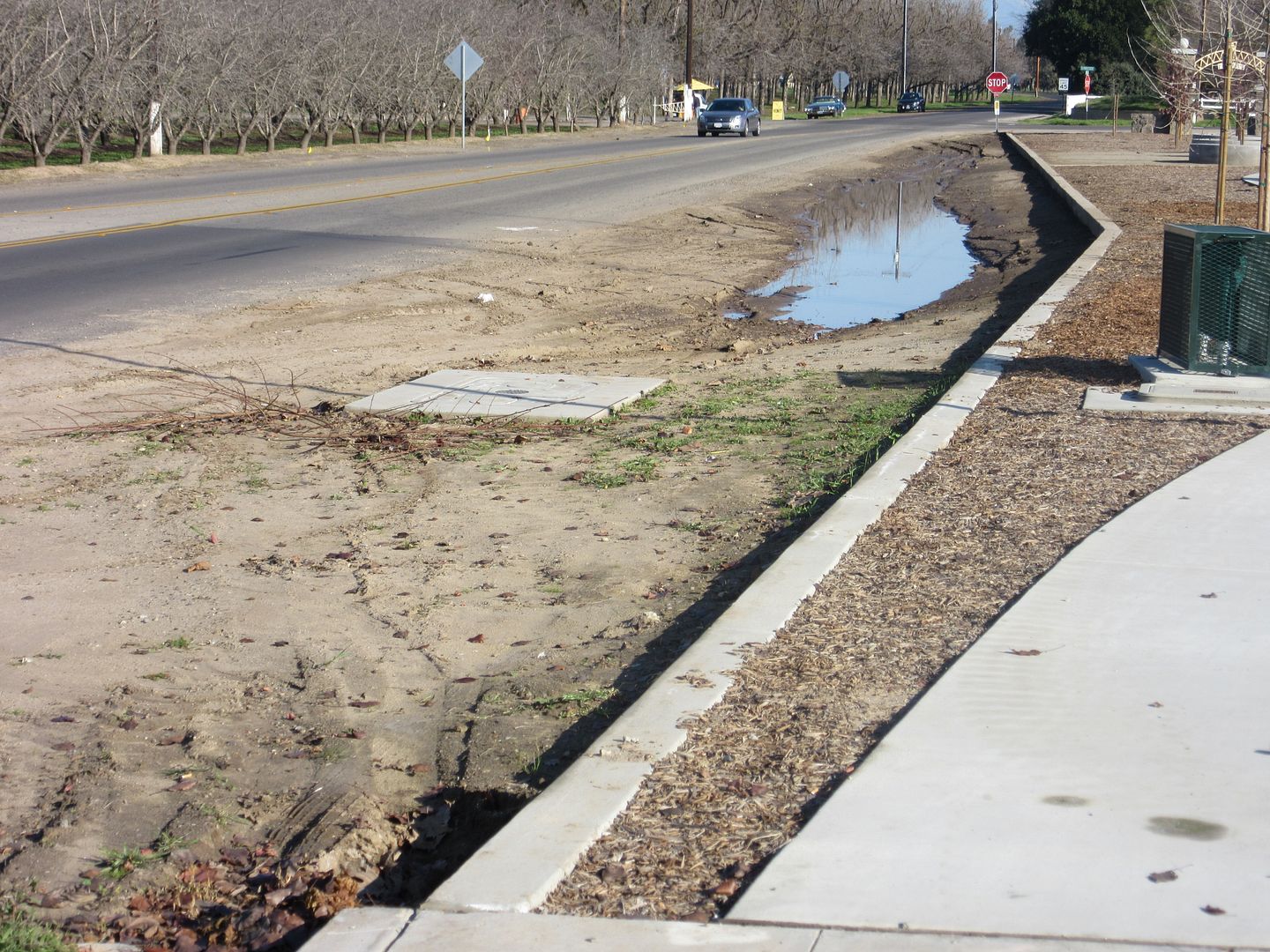 More trees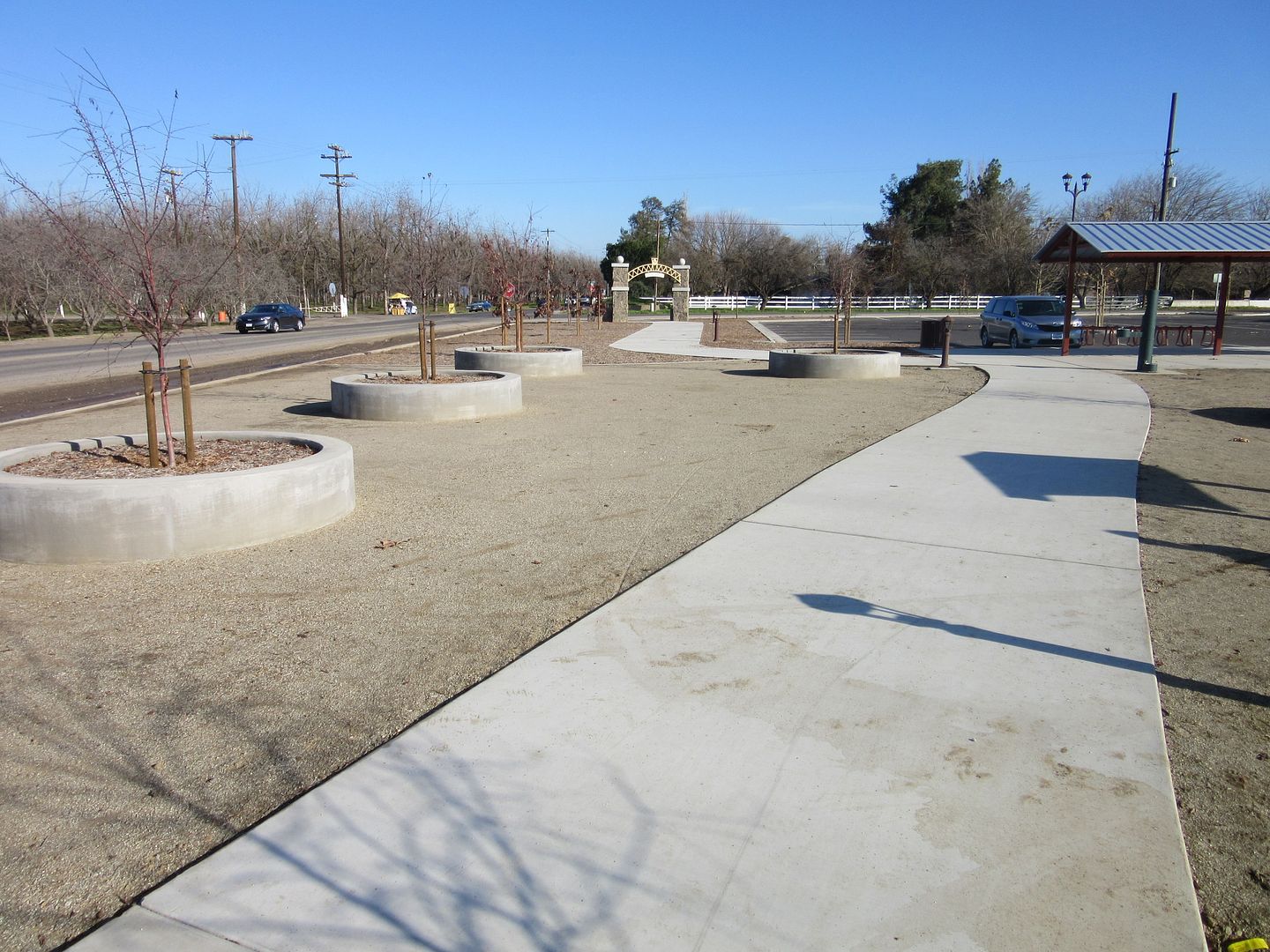 Decorative lights, not so great for seeing things at night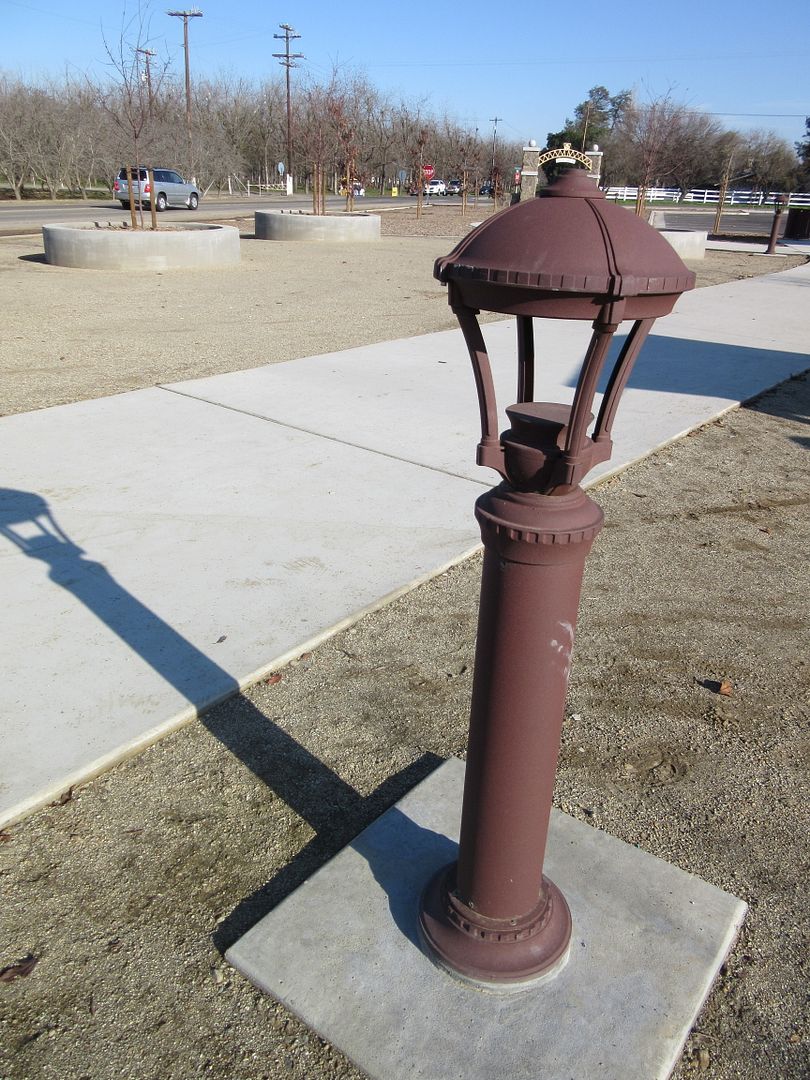 There's a fake well, with fake gold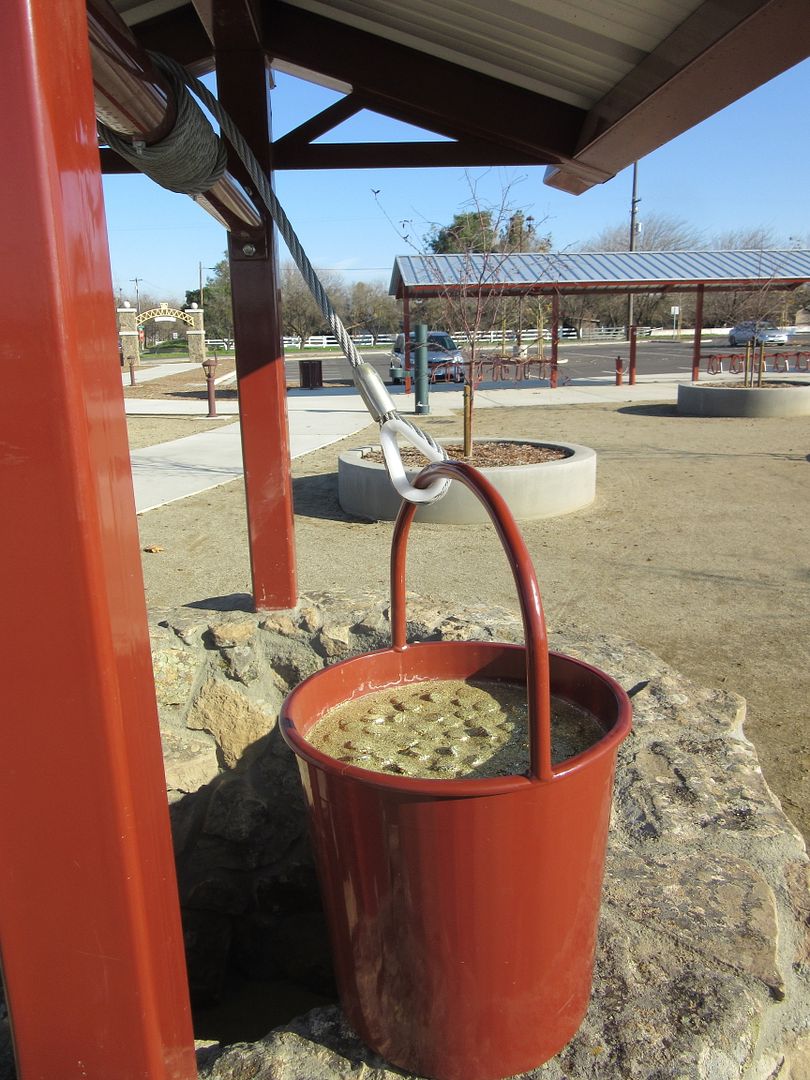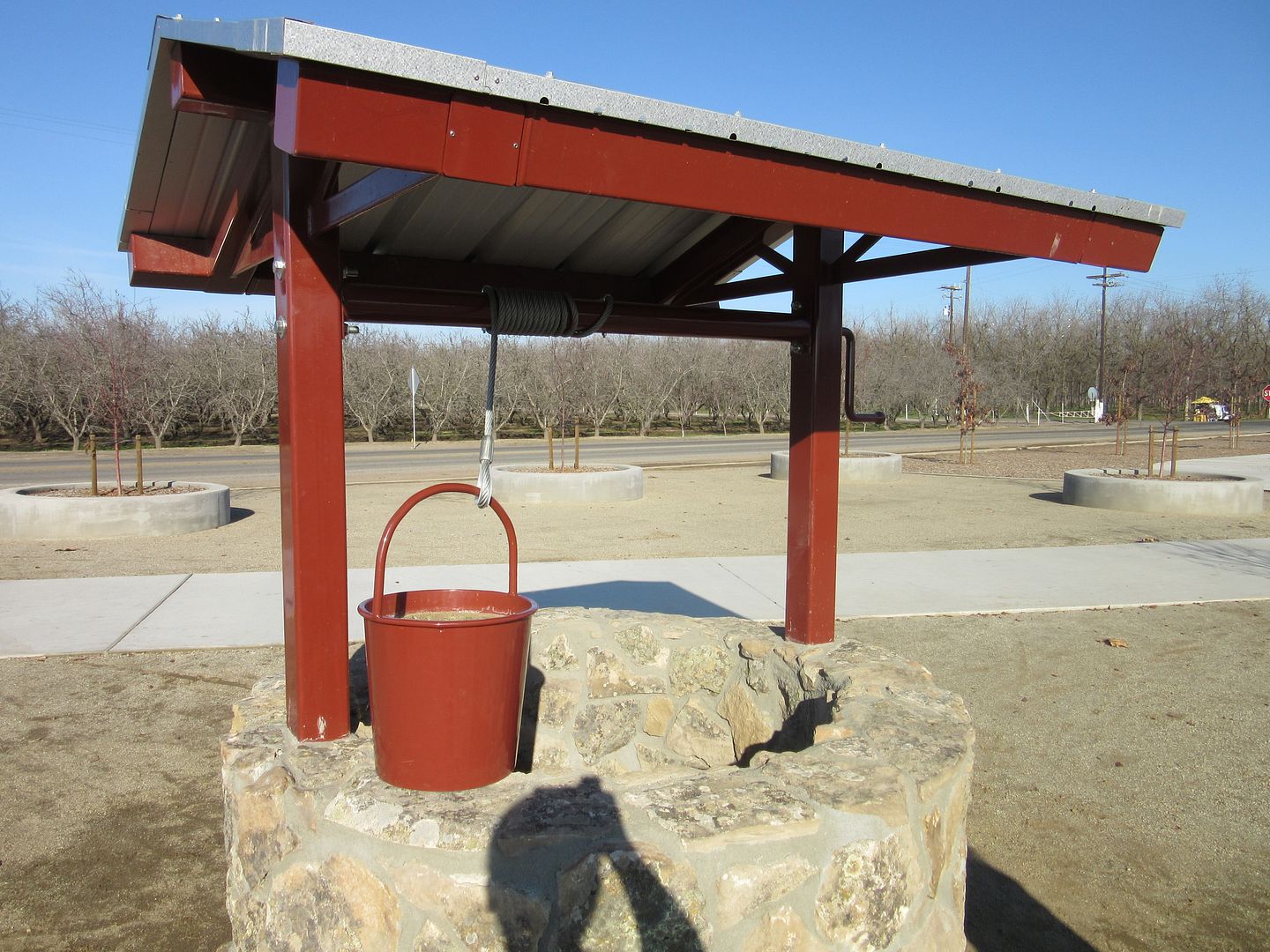 A bicyclist goes by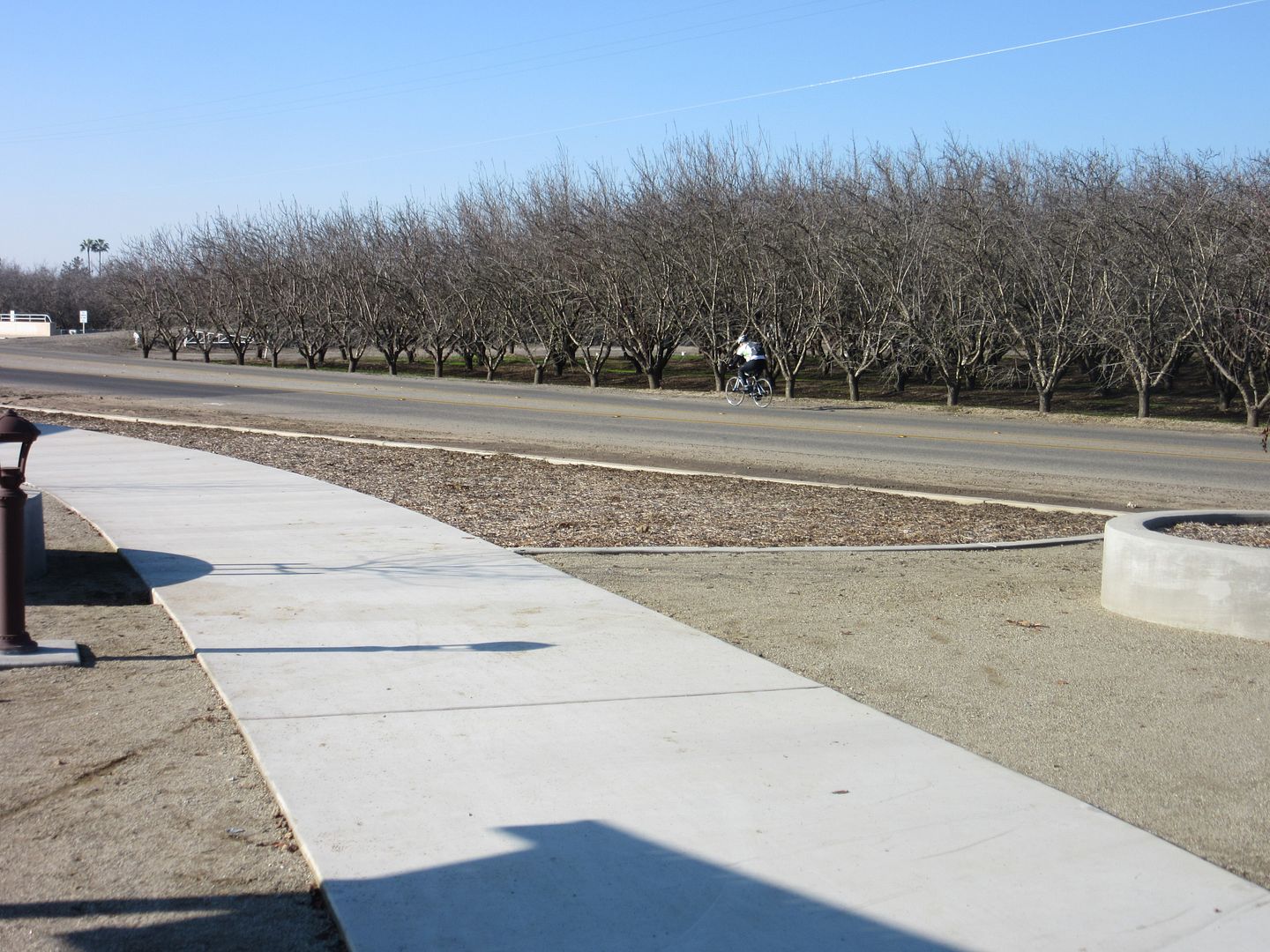 Clovis has modernized their water fountains! The usual drinking area for dogs and people, but now for water bottles too. Sadly, no mist feature. I don't think it was working when I stopped by.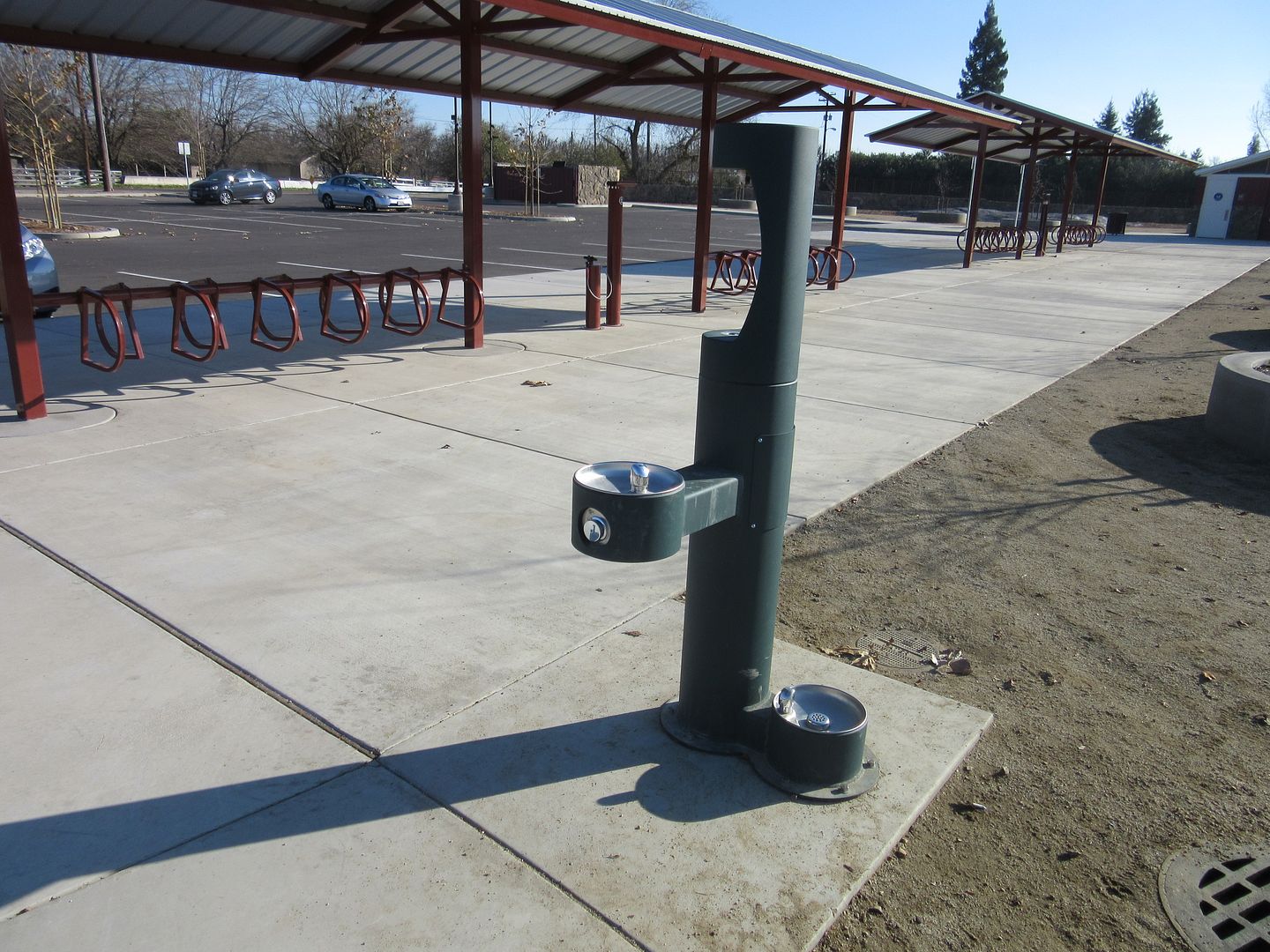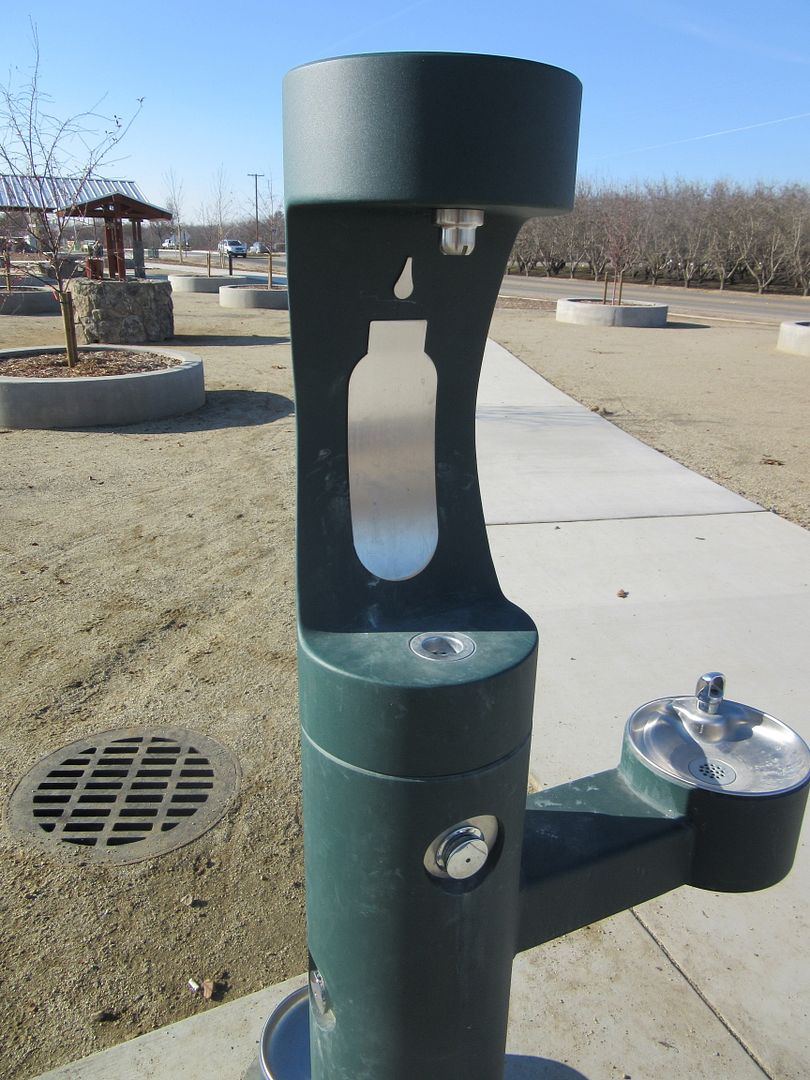 There is ample, ample bike parking. Good bike parking too, covered and of a decent design. But, uh, why would anyone use it…? Why would you lock your bike here? There's no where to go on foot really…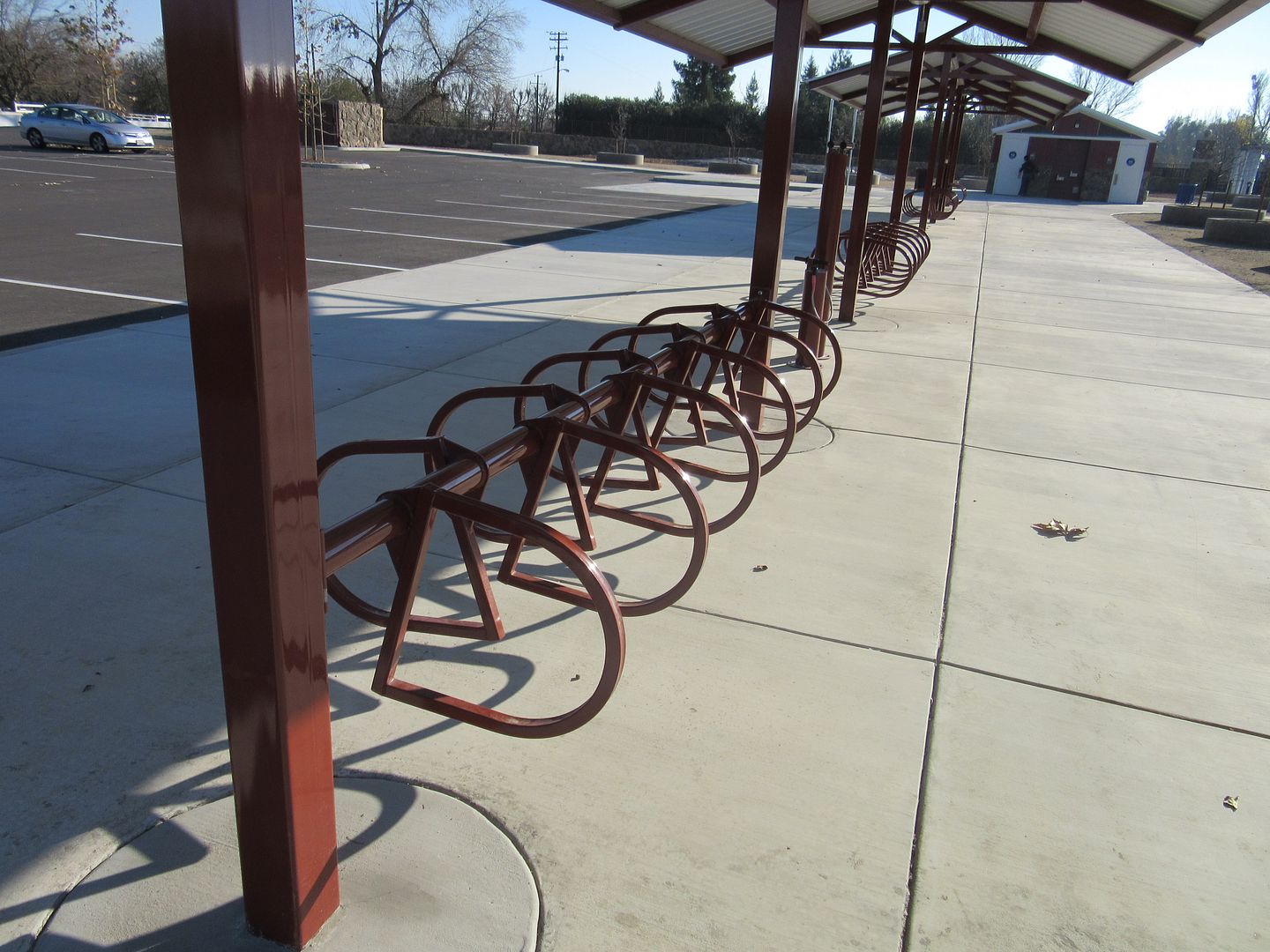 But here's something really great…. bike repair stations!
A pump
Tools
Repair instructions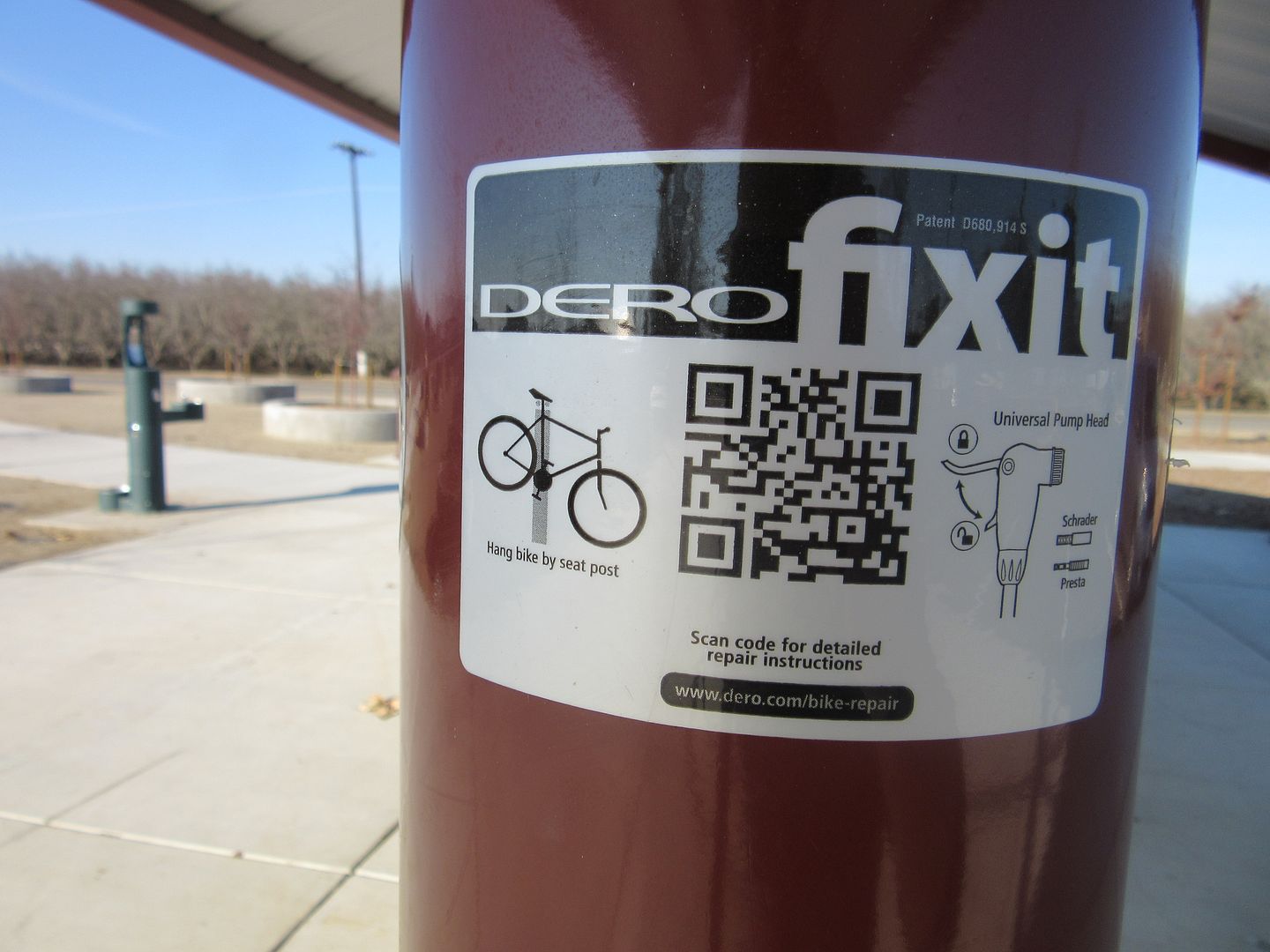 There are two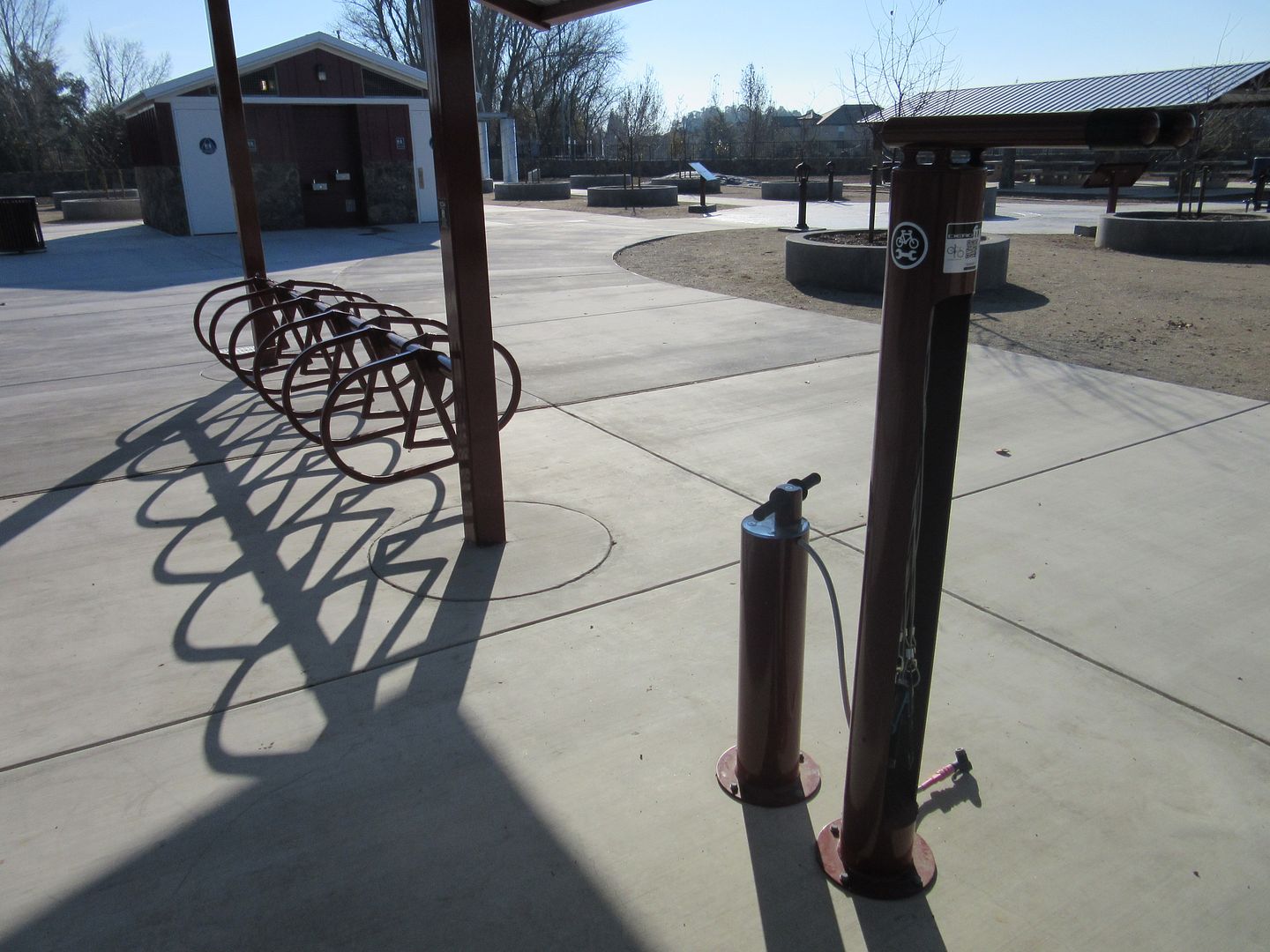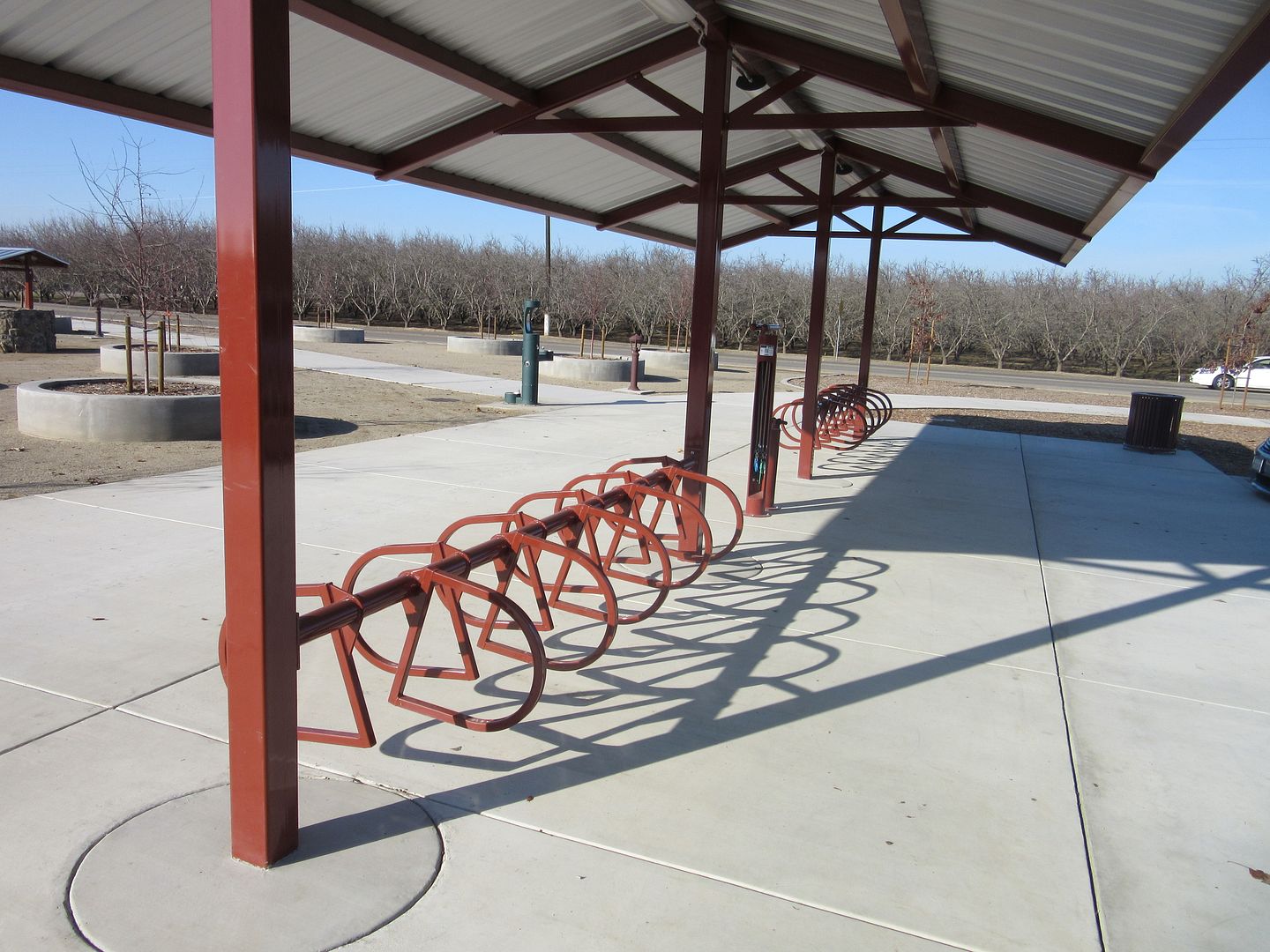 More trees!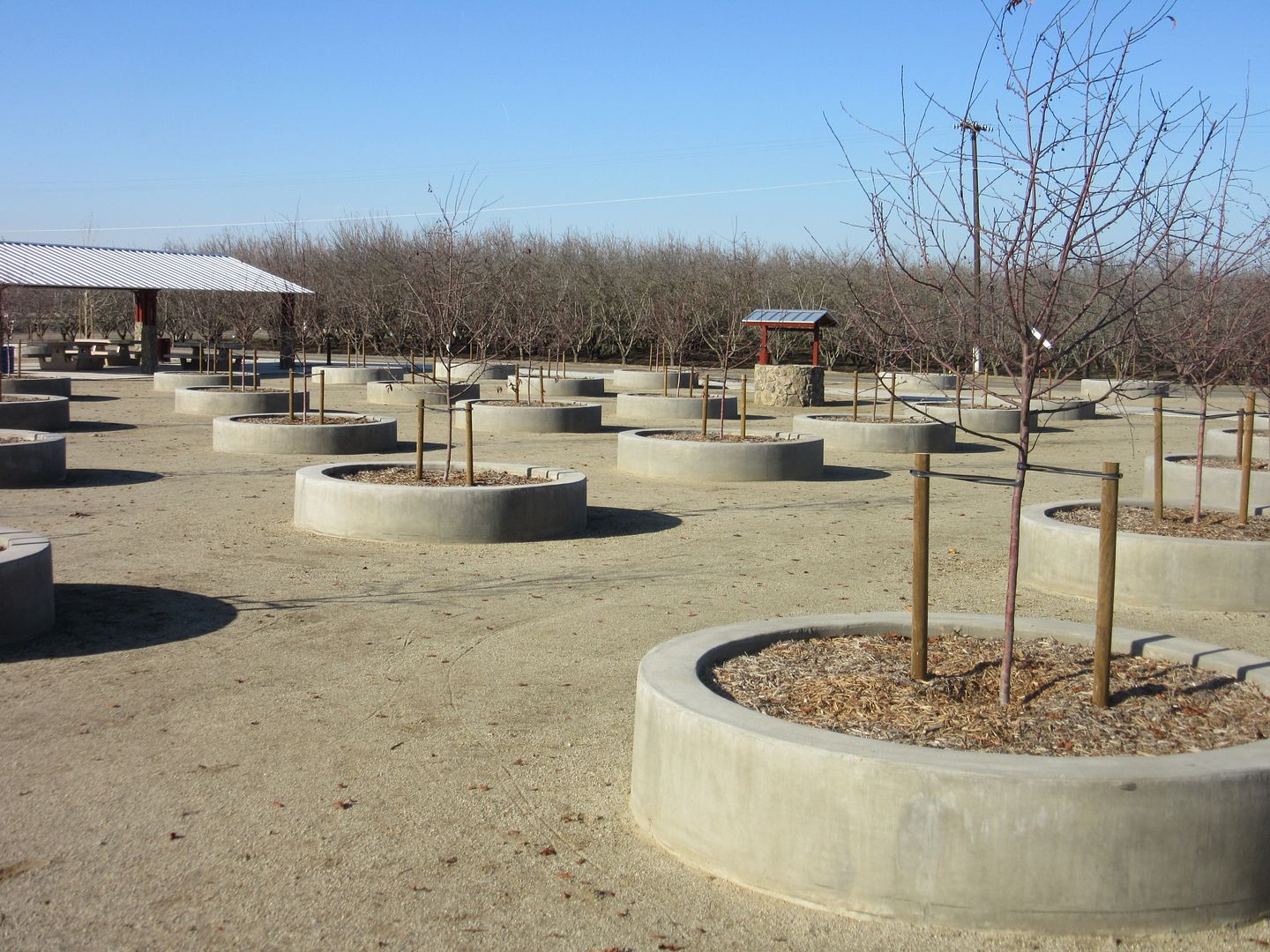 And let's take a look at the main entrance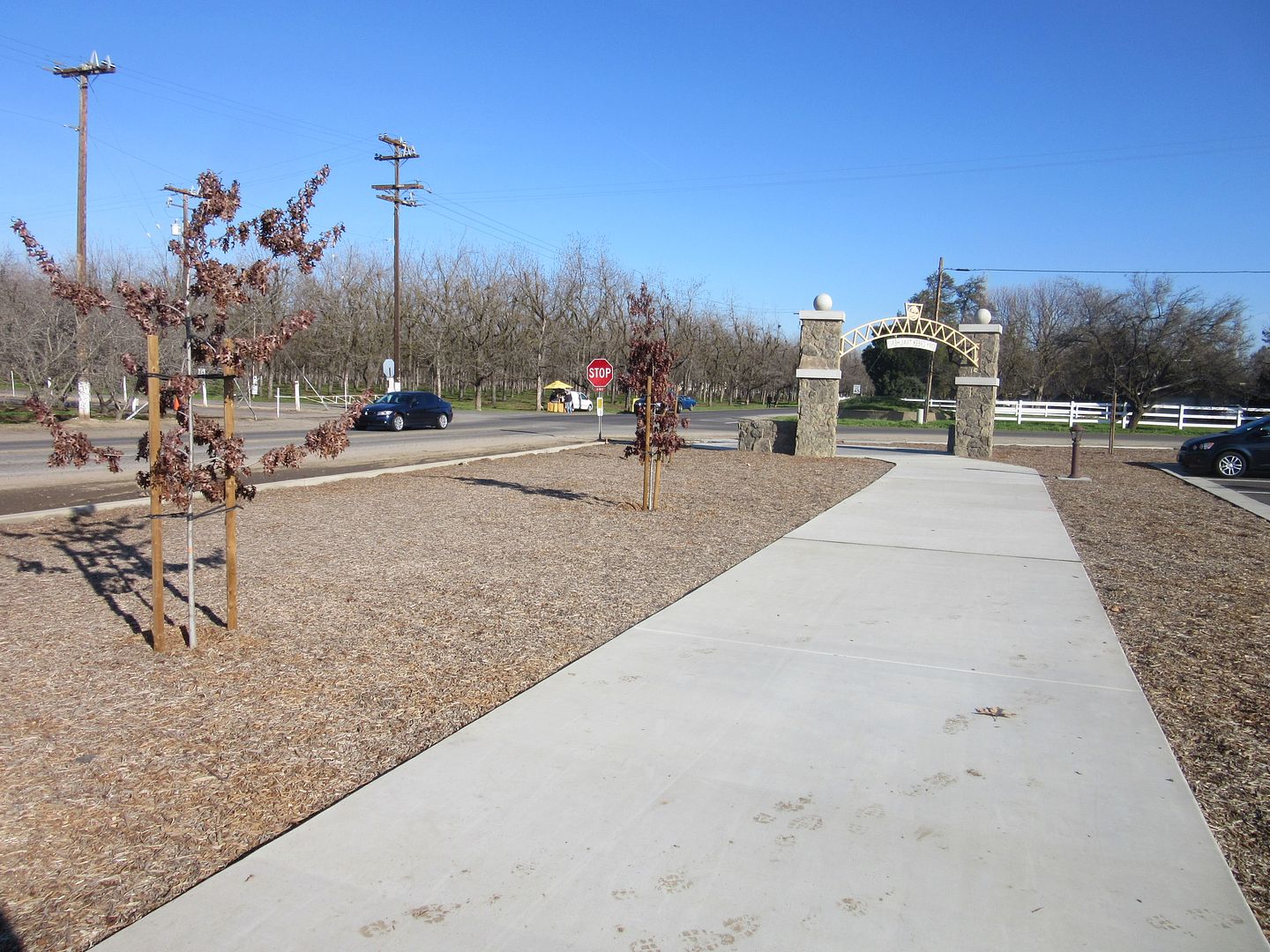 Oddly, they didn't finish the street and ramp?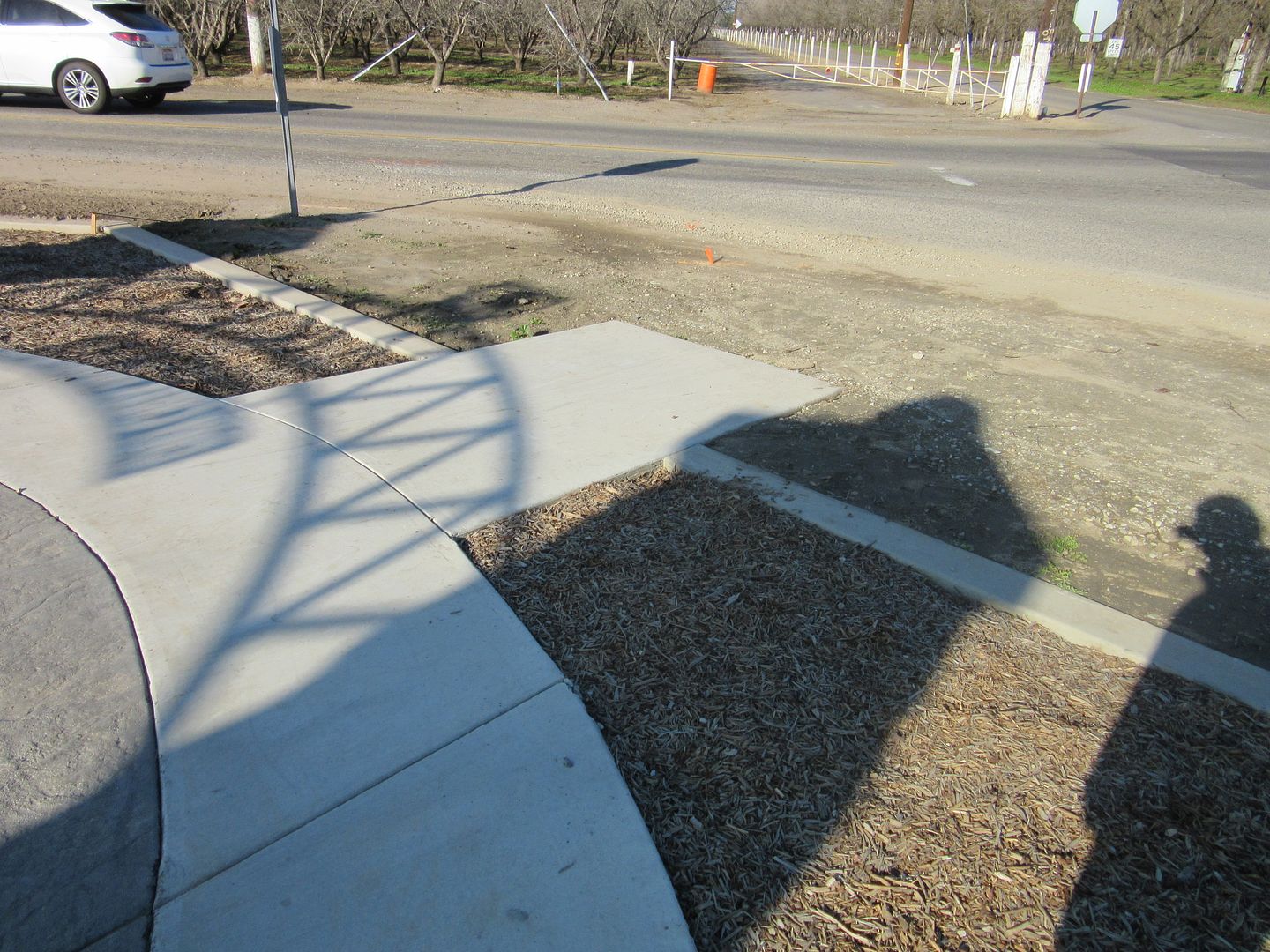 This is not good. No sidewalk on Sunnyside!?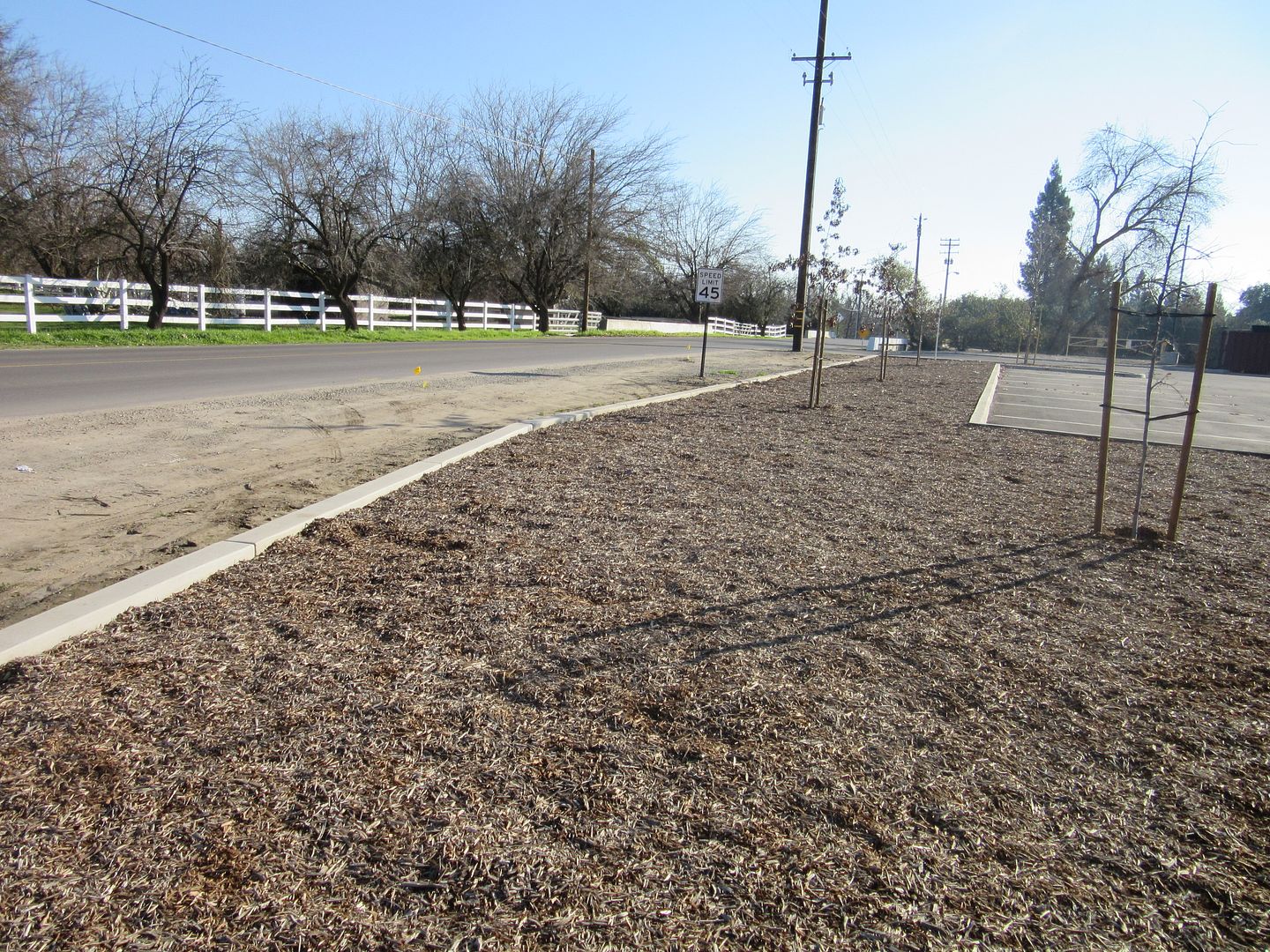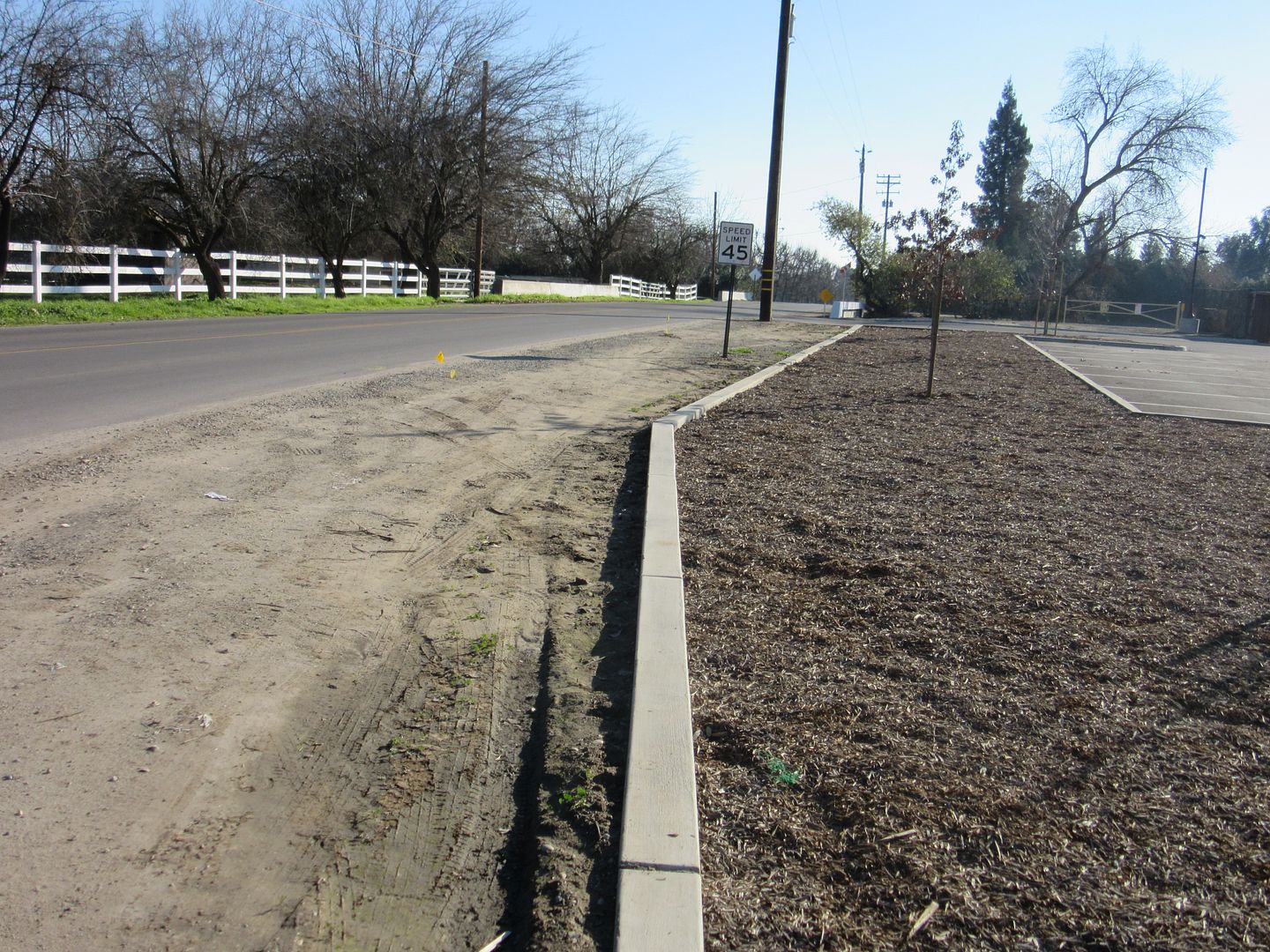 Honey for sale across the street
And the grand entrance
It's an interesting development. The bike repair station and water fountain with the bottle thing shows that someone on the project team does rides a bike and knows what cyclists need and want. The project was also built incredibly quickly, and looks nice.
On the other hand, the moonscape is very odd, and a lot more could have been done to make it interesting. There are also no traditional park elements, like grills and a playground, which makes you wonder why so much space was needed. Further, the parking lot cements the idea that Clovis sees the trails as only for recreation, and still insists on paying tens of thousands for a lot rather than simply stripe street parking.
Even then, with this continued trail development, Fresno is being left in the dust.
Speaking of trails, I have some very good news about the Old Town Trail for an upcoming picture post…
What are your thoughts?