There's something almost sinister about the way a developer gushes about the natural landscapes, beautiful views, and rolling hills he is about to bulldoze to build cookie-cutter tract homes.
The Madera County Planning Commission approved the tentative map for the first phase of the project two and a half weeks ago. Now, the builder is working on detailed plans which will bring more than 850 homes to what Bob McCaffrey, the company's chief executive officer, calls "the most romantic piece of land" he's ever seen.

Tesoro Viejo — which will eventually have 5,190 homes on 1,600 acres — will follow the natural ebbs and flows of the land which includes rock formations, high and low elevations and a river that flows along the northern edge of the property.
Fresno Bee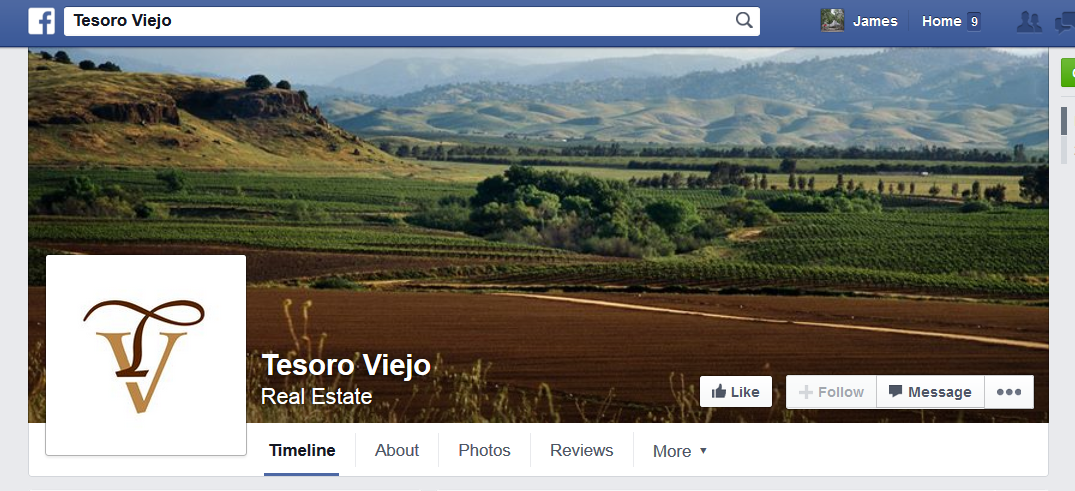 The Facebook page is filled with images of what the site looks like now, before the homes start popping up
The Fresno Bee recently* wrote about how the McCaffrey company is ready to start construction on the first 850 homes of their Tesoro Viejo complex in Madera. The developer is eager to talk about the land they're about to destroy.
*This post was scheduled to be published over a month ago but apparently stayed in draft form. Thanks blogger schedule post system for not posting it.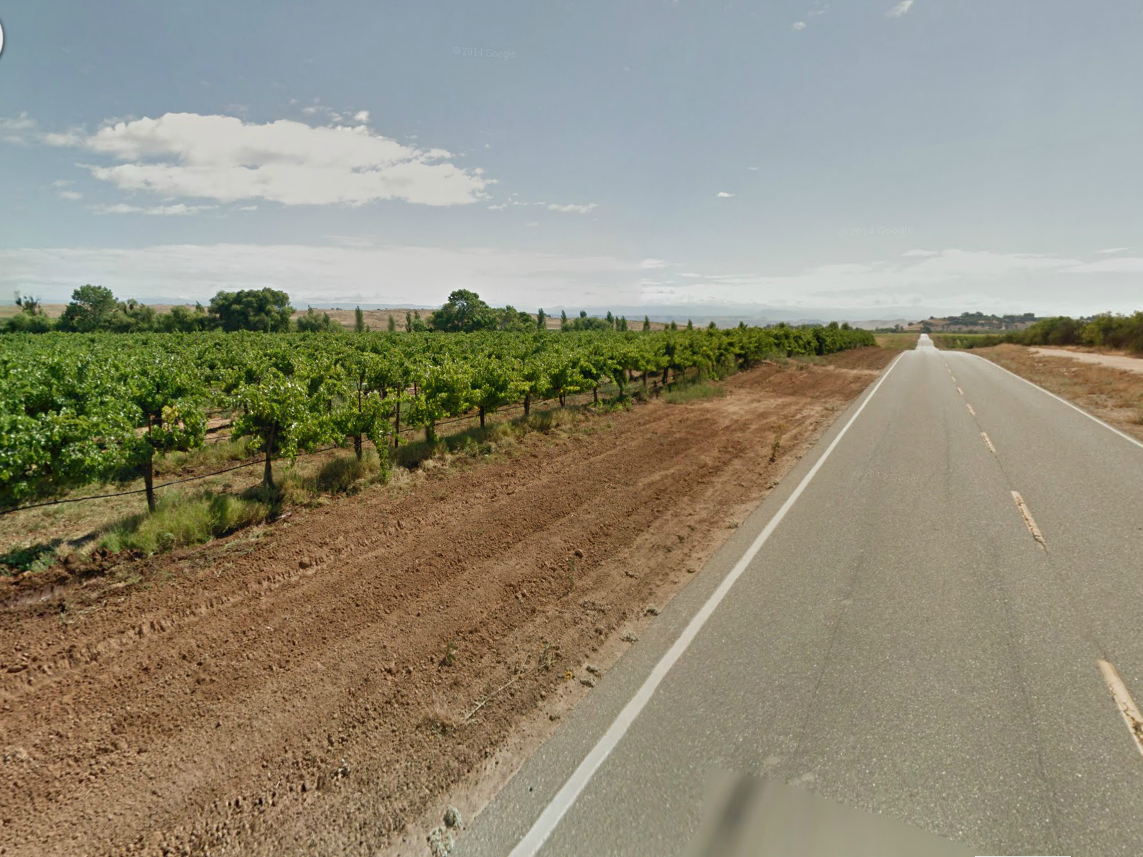 The closest streetview available today
From their press release:
Tesoro Viejo is a breathtaking site of about 1,600 acres of gently rolling hills and vistas. The community is situated at the foot of Little Table Mountain and has been thoughtfully designed to capture its scenic surroundings, offering residents views of the sloping hillsides and the dramatic Sierra foothills.
They took the Bee along for a photo tour of the land they're about to pillage. It makes me think of the type of person who shoots an endangered animal, so that they can stuff it and then have their guests over for wine to talk about its majestic beauty.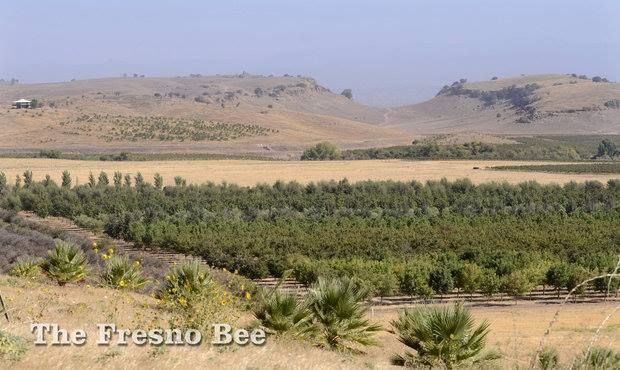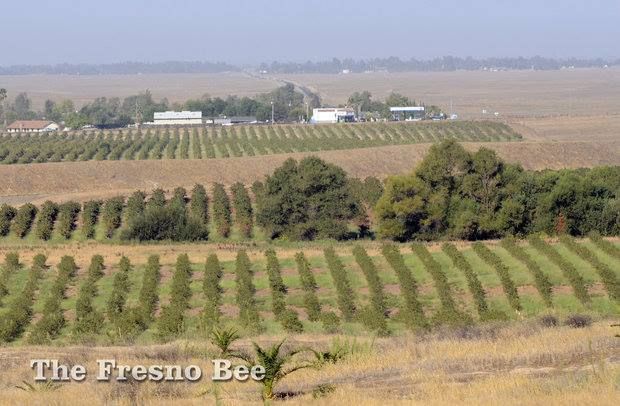 Note the smog. Fresno Bee
The plan of course, is as cookie cutter as they come. Low destiny, single family homes, set one after another, separated by drab driveways and tree-less lawns. Most, of course, on cul-de-sacs. I'd assume three, maybe four models, some rotated to give the impression of more.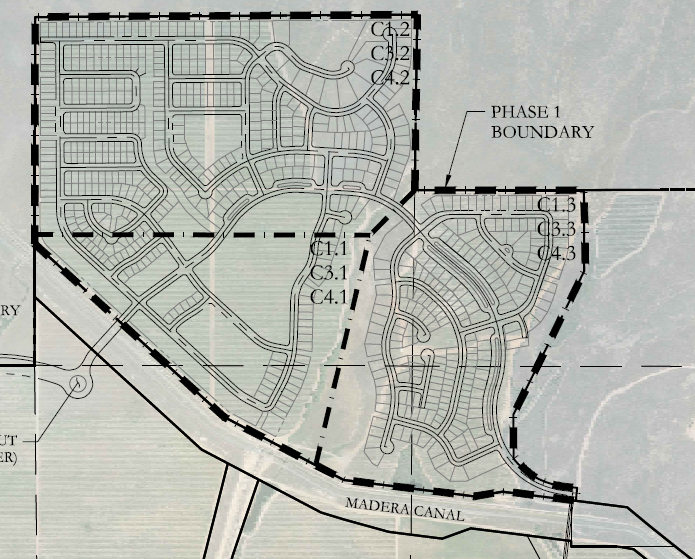 Actually, the cookie cutter bit isn't entirely true. The developer seems to have too much land to know what to do with, so some of their internal streets will be of a design that I thought went extinct many moons ago.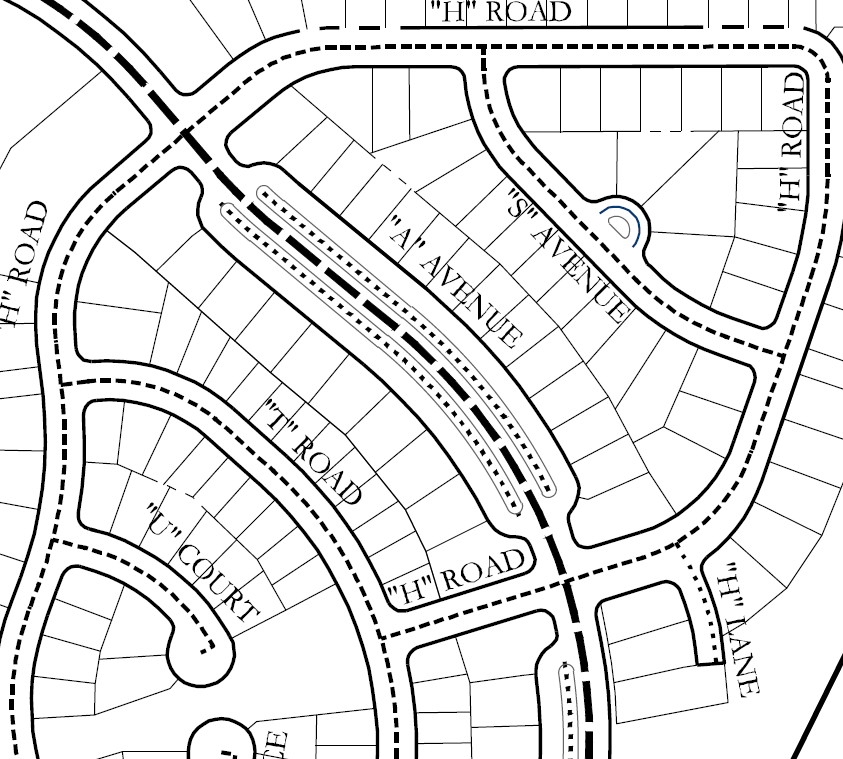 In the above image, do you see what's going on in the middle? They're calling it a "collector with double frontage road" – or an astronomical 146 foot right of way.

Six lanes of traffic, four lanes of parking, and naturally, nothing for bikes.
Combine this type of roadway with curving cul-de-sacs and roads that aren't connected, and what do you get? Well, in developer terms…
A model of innovative design and sustainable living, Tesoro Viejo will be a vibrant hub for southeastern Madera County with housing and business opportunities, a walkable Town Center, green living, thriving industry and neighborhood parks and schools where residents can live, work and play.
Uhuh. Yeah, I've seen this model before.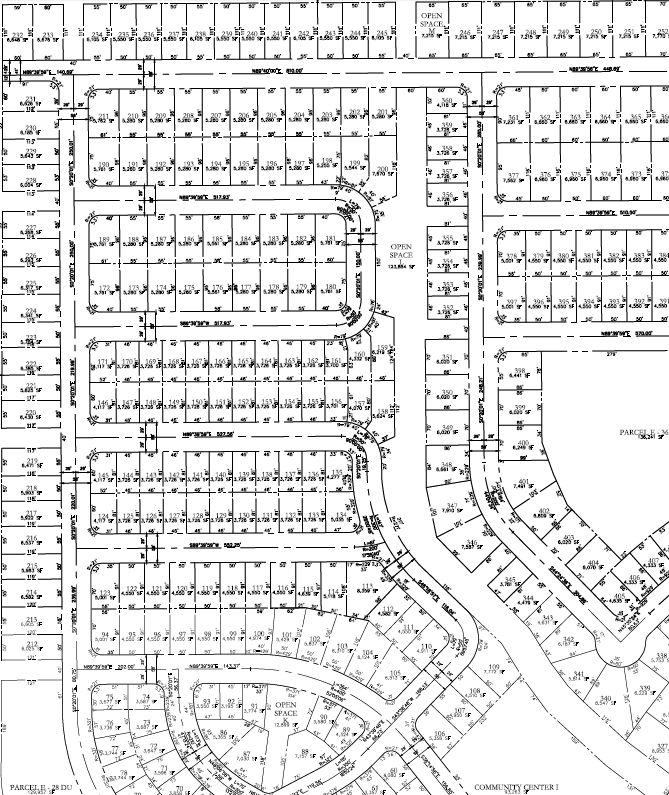 Nothing is more sustainable and walkable than a suburban tract plan pulled from 1970, set in the middle of nowhere.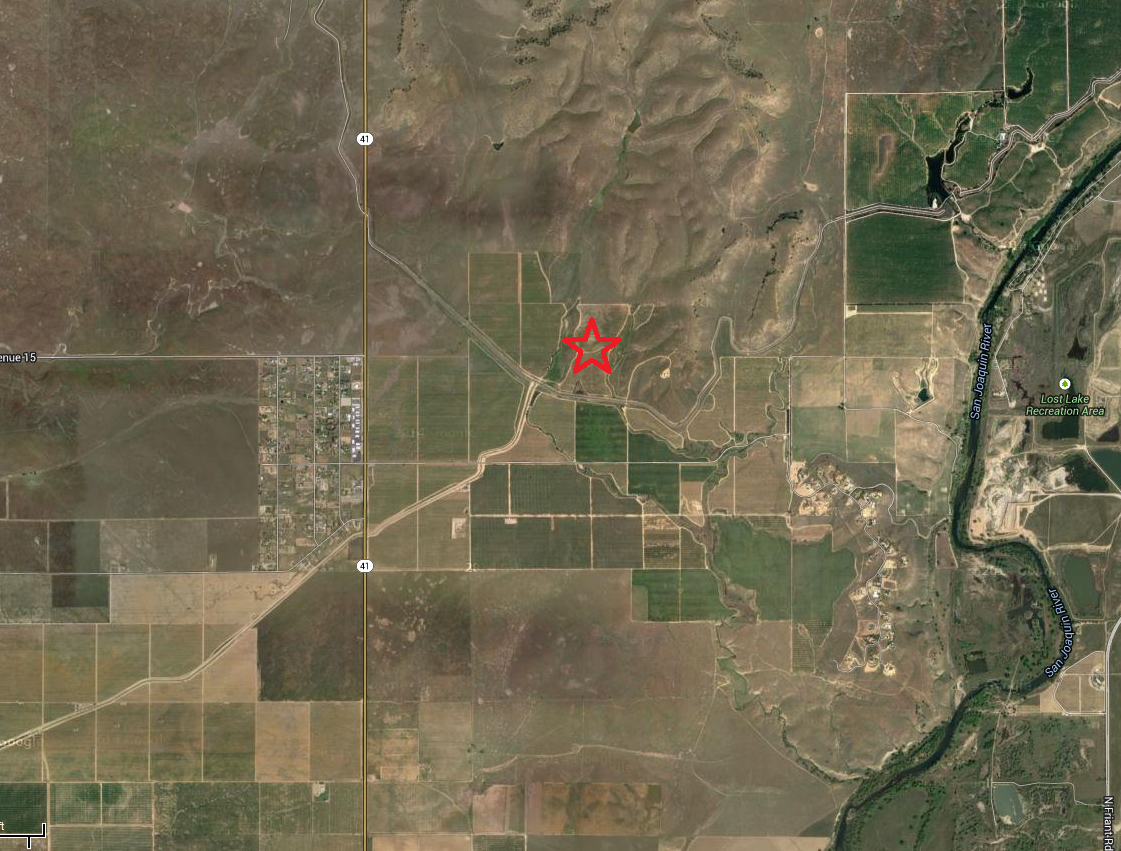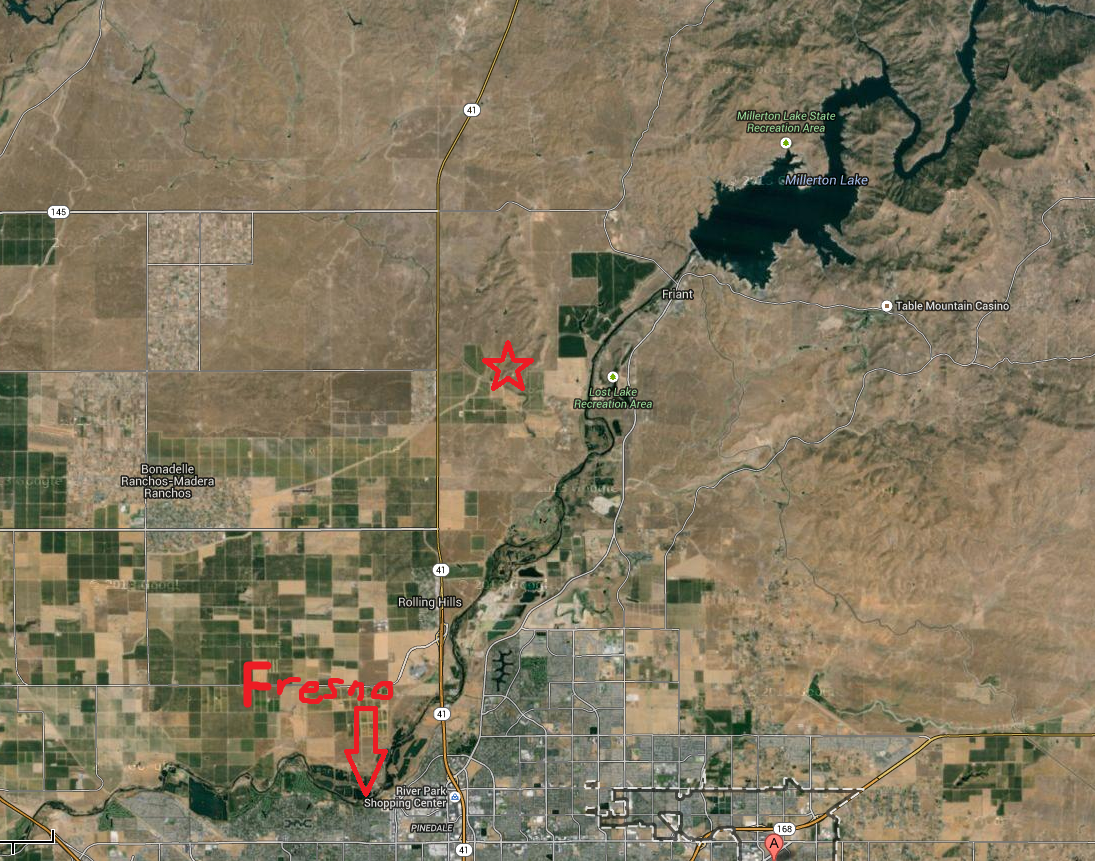 Naturally, Fresno is the big loser here. Madera County sees one, and only one thing: Dollar signs.
A big supporter of the project has been Bobby Kahn, executive director of the Madera County Economic Development Commission. Kahn feels the project will give Madera County the opportunity to be the home of a planned community that will be the envy of the Central Valley.

"This project will not only create construction jobs but will also be developing three million square feet of commercial and industrial space that will create about 7,000 permanent jobs," Kahn said. "This project is a positive game changer for Madera County and the entire region. The McCaffrey Group is a great development company with the upmost integrity."
Sierra Star
Mind you, some of those dollar signs don't quite add up…
"No one has ever done that in Madera County," Wheeler said. "At build out, this new community will provide many jobs and will generate millions of dollars in in property and sales tax forever. The project will create a place for people to live and work and will mean more children for our schools that have all experienced declining enrollments the past few years. This development getting to this point has been a long process. It will be a big economic boom for Madera County."
Um, more kids usually means more expenses. And we all know those property taxes won't cover a fraction of the eventual costs. And those sales taxes? Yeah, the stores are in Fresno.
With zero jobs or stores in the area, every last one of those residents will be making the drive into Fresno, polluting the air, and adding congestion to the one and only road into town: Highway 41. Without a toll-booth on 41, its the Fresno residents that will bear the brunt of these exurban commuters trying to get into town. Look forward to proposals to spend $100m+ to widen 41 to 6 lanes.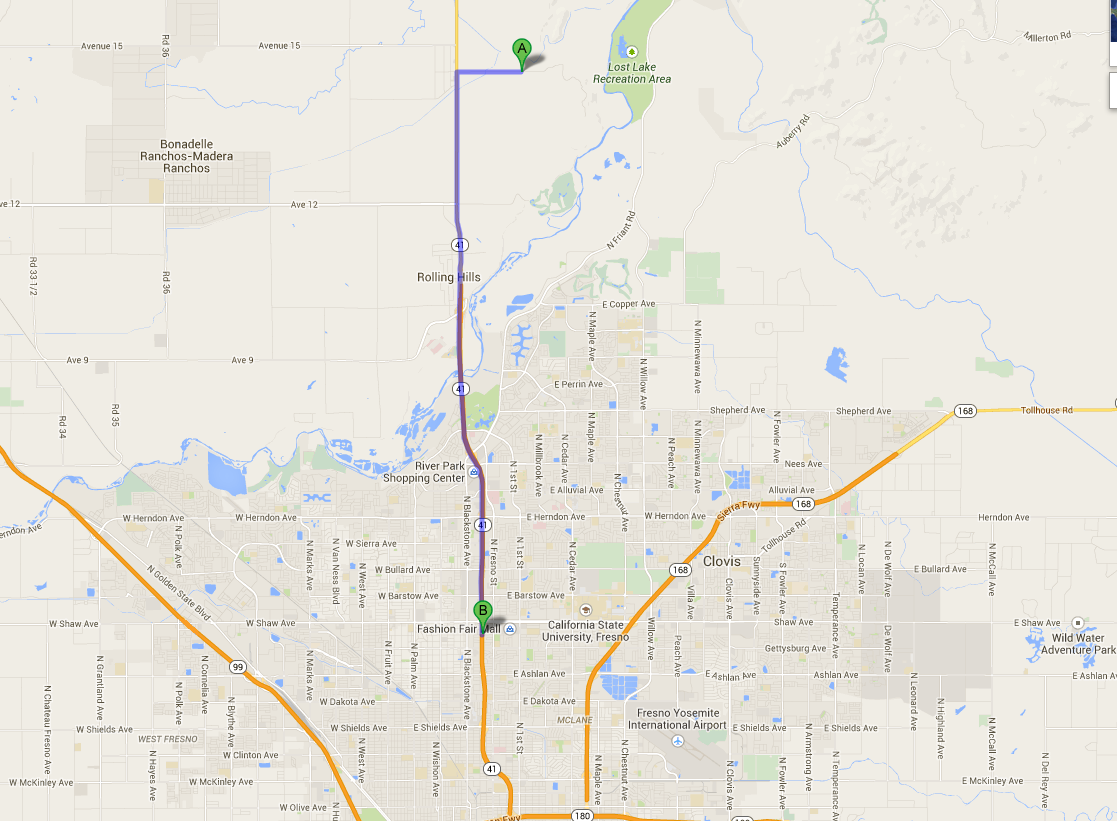 Actually, there's one other big loser: The kids of any family who moves in.
The closest High School is almost 15 miles away, naturally, in the middle of nowhere. Sustainable and walkable they said?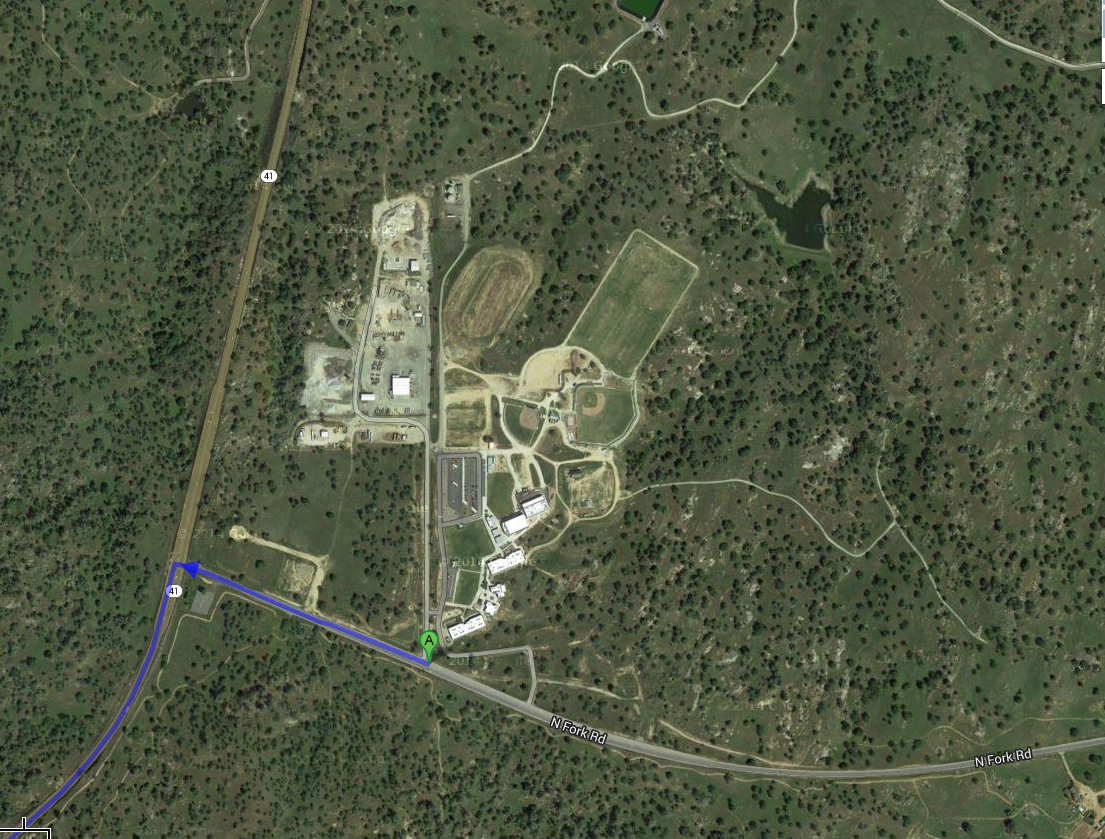 Minarets High School
Map
Some excellent planning went on putting the school here…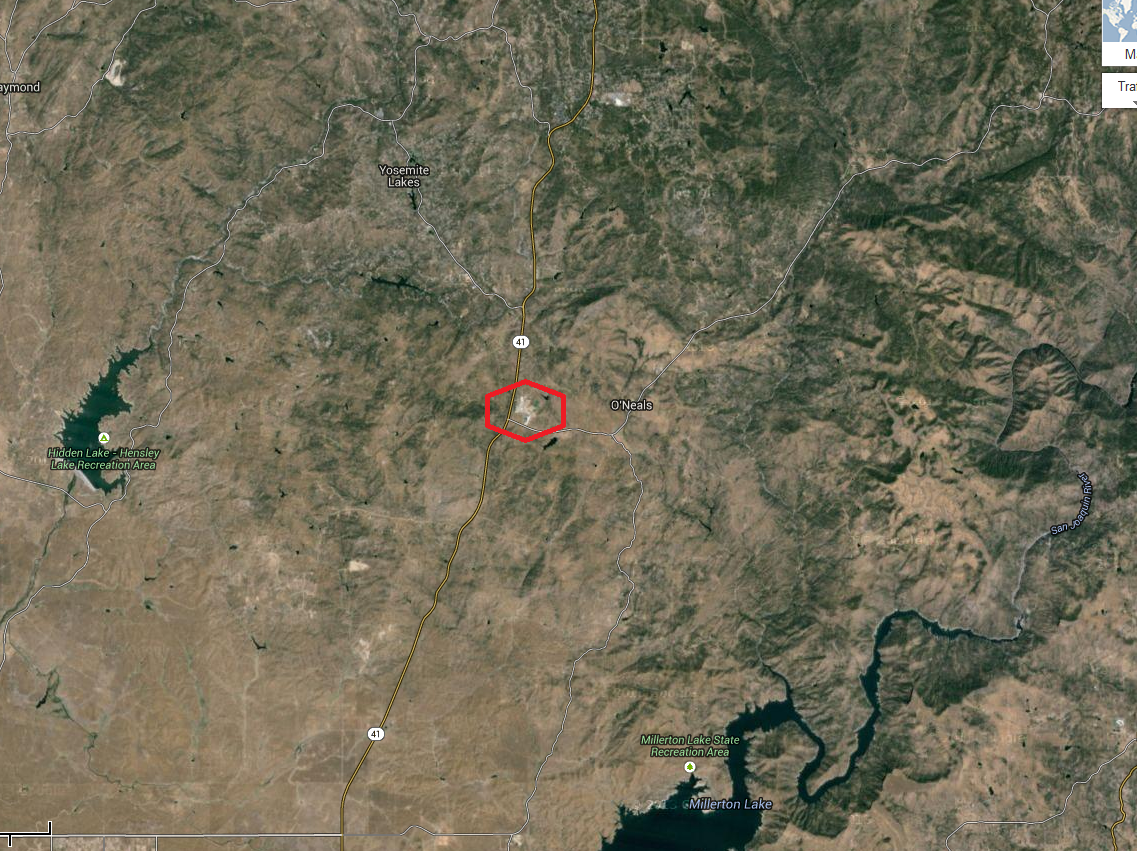 It's 2014, and the Central Valley hasn't learnt a thing. Air pollution? Congestion? WATER? No problem, as long as the developers get to keep developing every piece of land they can get their hands on.
You can find more details on the plan the county approved here (item 4).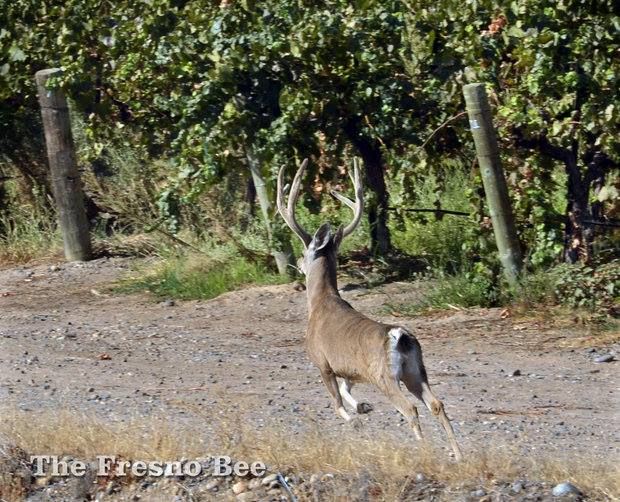 The current residents will be evicted, Fresno Bee
This post was originally written over a month ago, but due to a technical glitch never published. I don't know how I didn't notice.