I was pleasantly surprised to see last month that the City Council approved the general plan update on a vote of 5-2. Honestly, I expected them to punt it to 2015 on some sorry excuse about a need for more input. If you haven't been following the new plans puts a focus on infill growth, rather than sprawl.

Mayor Ashley Swearengin, who championed the plan, said the real work is just beginning as the city now must take steps to implement the document's vision.

"Excellent vision and excellent execution may not be enough," she told the council. "We will all challenge each other to execute as best as we can."

"Tonight it's important to reflect on the historic nature of this vote, the fact that we as a community came together and said it's time to start taking care of our existing neighborhoods," Swearengin said moments after the vote. "I want to celebrate this occasion, and then tomorrow morning we'll wake up and realize that we have so much work left to do."
The mayor is right. A plan doesn't mean much unless implementation follows. As long as she is mayor, we can expect good support from City Hall. However, there's one serious barrier:
NIMBYs. (not in my backyard – people who oppose nearby development)
In late 2014, two good projects came before the city to do exactly what the plan is calling for. That is, to build high-density (for Fresno) housing in an older neighborhood.
One was killed due to local opposition. The other just squeaked by.
It's too dense! Too much traffic Out of character with the neighborhood!
The most alarming part? One of these proposals was for detached, single family homes. That's right, the neighborhood was complaining that building single family detached homes on an endlessly vacant lot was out of character in the single family detached home neighborhood.
And if the planning board or city council agree, there will be no change.
The other was for student housing near Fresno State, in an area built up with apartment complexes.
Let's take a look:
A local developer wants to take advantage of the city's new-found passion for infill development by building three single-family houses on an empty lot in southeast Fresno.

Niko Homes, whose investors have interests throughout the state, has been trying for the better part of a year to get the green light to develop the small (about two-thirds of an acre) site on Winery Avenue between Washington and McKenzie avenues.

But neighbors are fighting back. Some say three houses is too many. Others say their privacy could be compromised if the homes are two stories. All fear what such change might do to neighborhood integrity.
Fresno Bee
It's straight from the Onion.
3 detached homes.
Lot sizes ranging from 5,649 to 8,750 square feet.
A density of 6 dwelling per acre.
Too dense.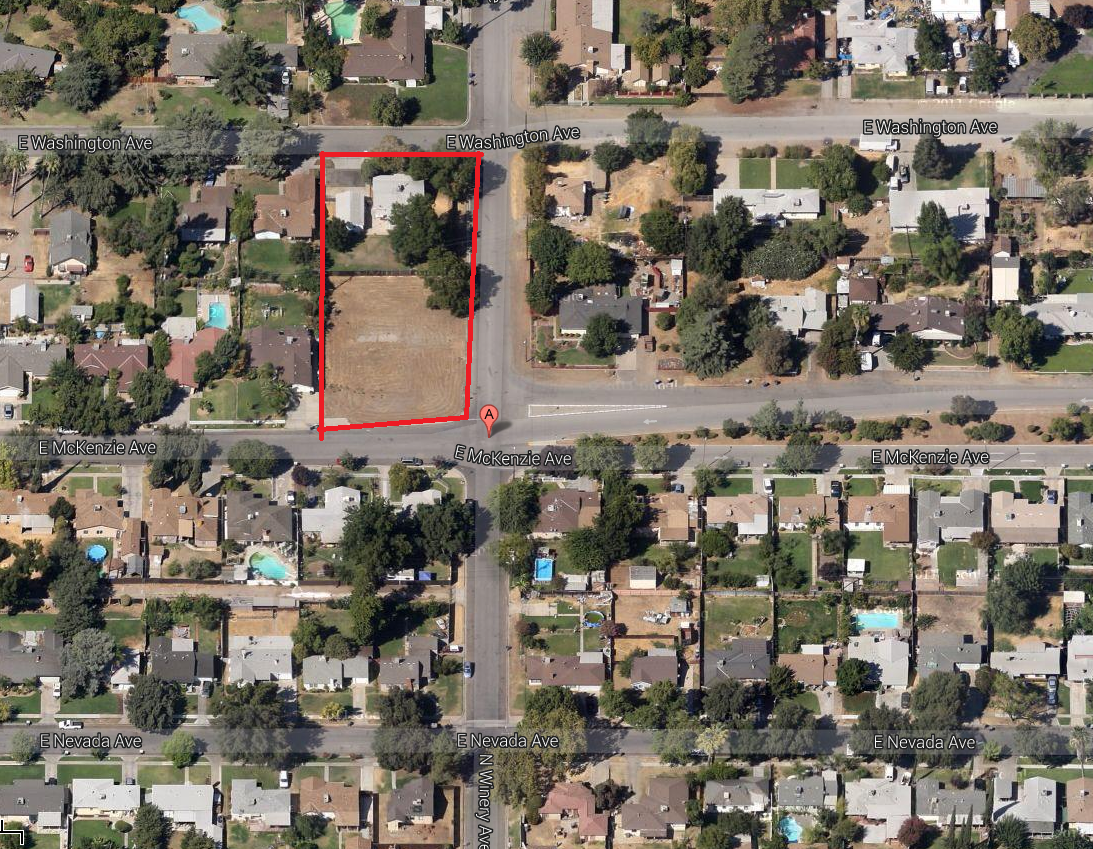 http://goo.gl/maps/ffkHQ
I believe the existing home on the top of the parcel is to be demolished and replaced with a modern one.
"That lot is too small for three houses," said Sara Rojas, who has lived on the northeast corner of Winery and McKenzie since 1961. "Some people have four or five cars. Where are they going to park them?"
Gee whiz Sara, parking will be a nightmare.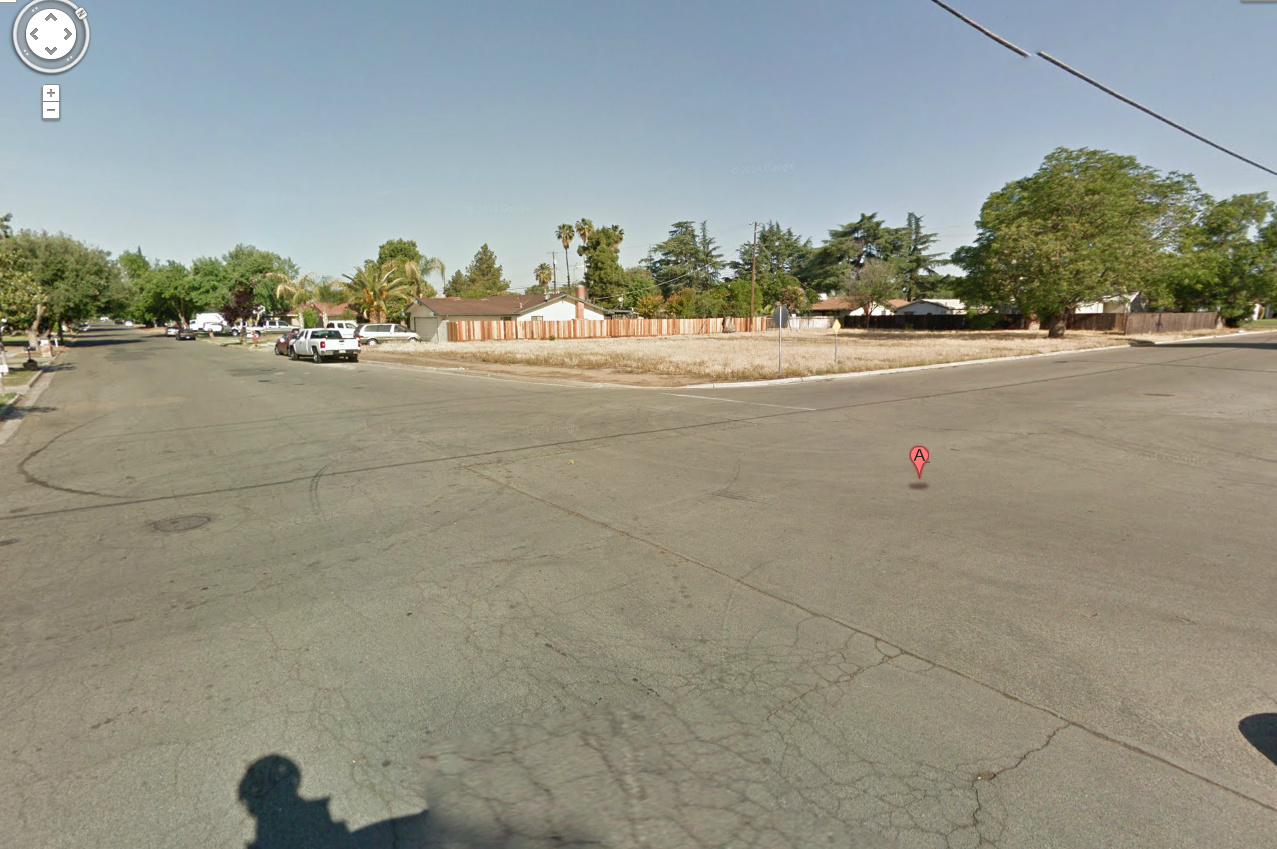 Fortunately, this proposal passed….barely.
The council on a 4-3 vote gave the green light to Niko Homes to build three houses on an empty lot in southeast Fresno. Neighbors said two houses are enough. The developer said it's three or zero. Council Members Clint Olivier, Sal Quintero and Oliver Baines voted no, but gave no hint it was a life-or-death issue for them. After all, "infill" has replaced "bankruptcy" as City Hall's favorite word.
Fresno Bee
That's a tight vote for an insignificant proposal in what should have been a no-brainer. Imagine if the proposal had been townhouses?
A slightly denser proposal across town was not so lucky.
The developer, a company in Newport Beach, wanted to build a four-story complex for Fresno State students. There would be parking and an activity room on the ground level. There would be 10 apartments on each of the other levels. Each level would have six four-bedroom apartments and four two-bedroom apartments.

Total: 30 units, 96 bedrooms. Each bedroom would have its own bathroom.
Well, one detail was eye-catching: the location. The developer wanted to build on .79 of an acre at 1470 Bulldog Lane, a short walk west of Bulldog Stadium.

The site (now bare dirt) is sandwiched between the Sigma Chi and Delta Sigma Phi fraternity houses. Several fraternity houses to the north are only a few yards from the site. A stone's throw further to the north are two rows of sorority houses.
Fresno Bee
A perfectly reasonable project aimed at students, just blocks from Fresno State. In the below map, you can see the proposed location. Just to the east, everything to the right of the orange line is Fresno State. You can see the surrounding area is already built up primarily with apartments.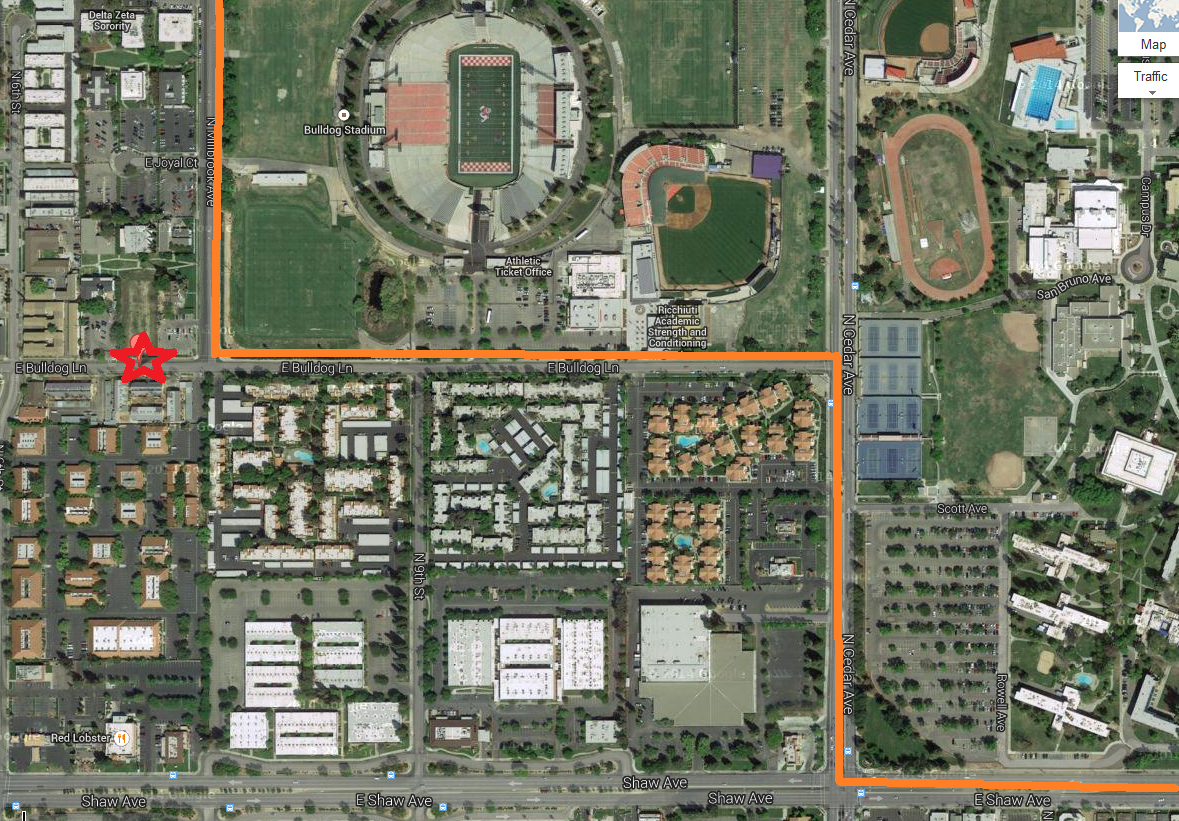 So when does construction start?
The project is all but dead. Project opponents called City Hall. The Bee started poking around. A representative of the developer on Thursday left a voice message at The Bee, saying the project would be sidelined until further notice. The caller gave no hint whether it would ever return. That's probably just as well.

The project apparently failed to find a single champion in the neighborhood or at City Hall.
What could possibly be the objection?

The toughest critic probably was Dan Waterhouse, a Fresno State graduate and member of the alumni advisory board of the local Pi Kappa Alpha fraternity (the chapter house is a former apartment complex on Shaw Avenue)

They boiled down to this: The project was a bad fit for the site. "It would stick out like a sore thumb," Waterhouse told The Bee.

Based on city records and interviews by The Bee, Waterhouse had a lot of company. City and university officials were tactful. But, they made clear, they doubted whether the tiny lot at 1470 Bulldog Lane was best suited for a 30-unit, 96-bed apartment complex.

On the negative side, the cultural integrity of a tiny but historic Fresno neighborhood — that slice of land bounded by Bulldog Lane on the south, El Dorado Park on the west, Barstow Avenue on the north and Millbrook Avenue on the east known as Greek Mall — would have been compromised. Greek Mall would never be the same.
It would stick out? The cultural integrity of the neighborhood? What are we talking about here, classic mansions converted to frat homes, like at USC? Let's take a look:
The property to the right….a parking lot.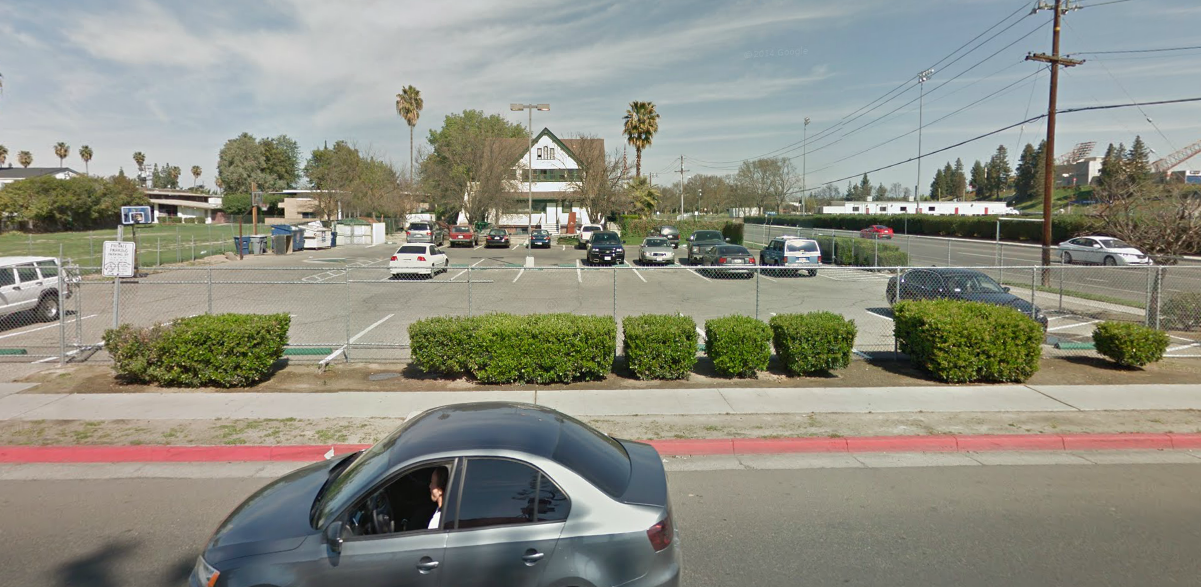 The property to the left…a parking lot (with nice landscaping).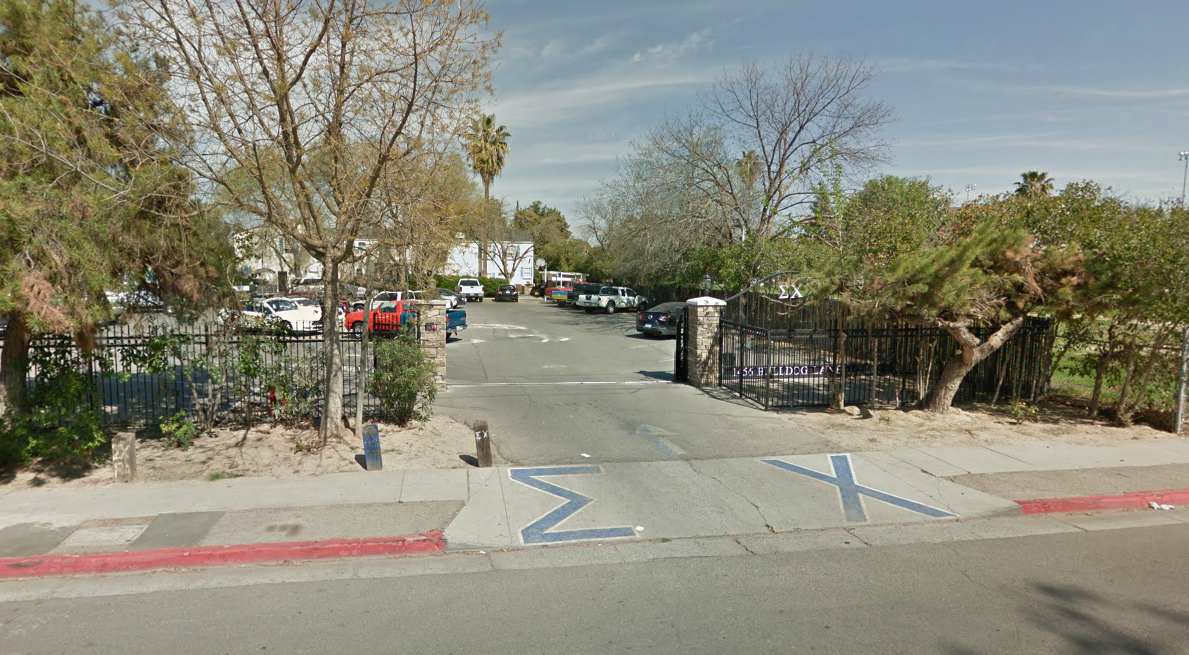 And my favorite, the property directly across the street, with all of its unbelievable charm: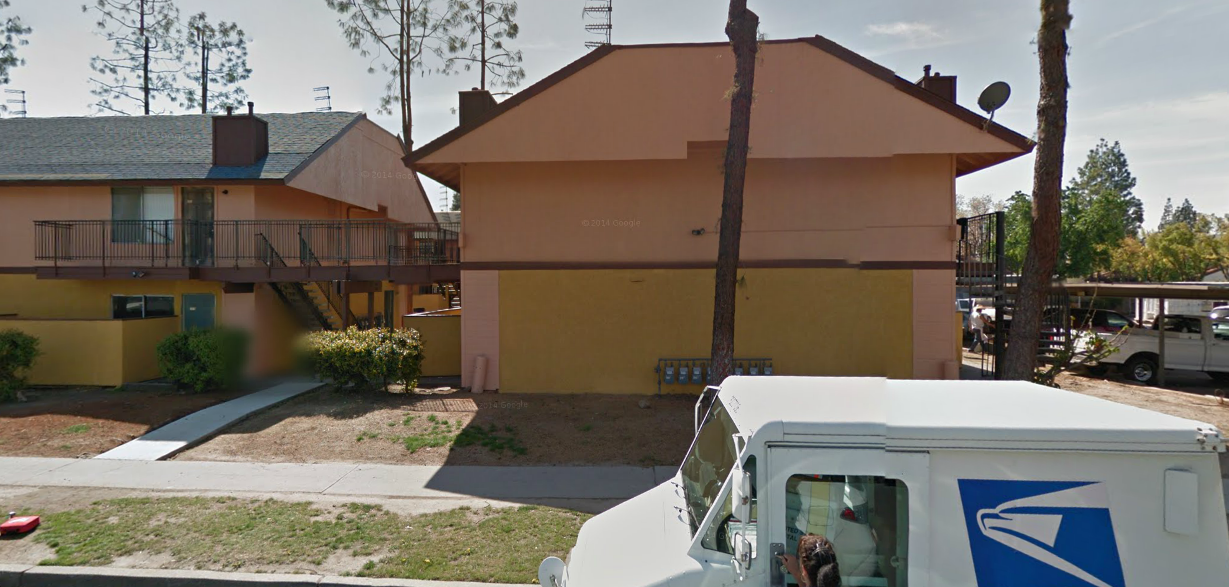 The end of the block isn't any better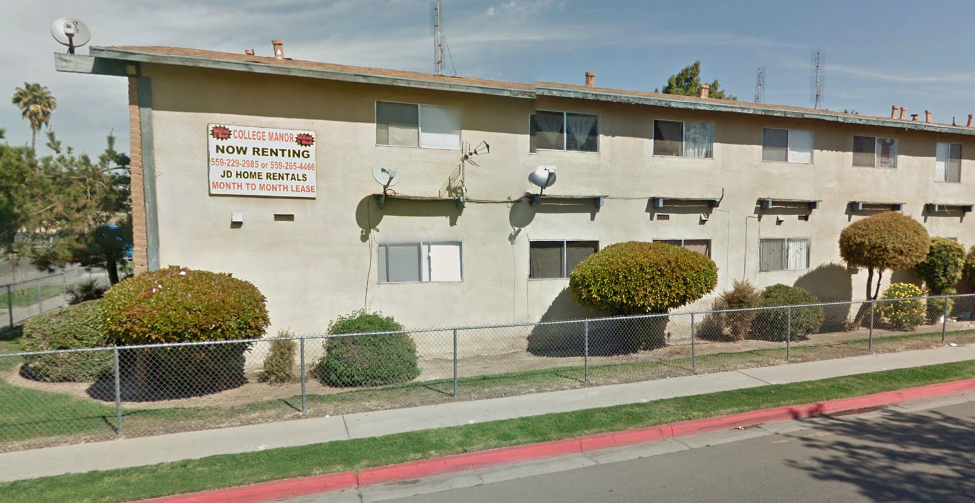 Feel free to explore the beautiful historic block on your own with this streetview link
http://goo.gl/maps/d2dHk
While I could not find a render of the proposed 4 story building, I have a feeling it would look a little better than the existing neighbors.
Going forward, it's going to be hard for Fresno to fulfill the goals of the general plan if every infill proposal gets denied while business as usual sprawl keeps getting the green light.
As George Hostetter put it:
Council Member Lee Brand several years ago chaired a council subcommittee on infill development. City staff submitted a map showing (in red) the locations of bare lots in Fresno. The map looked like it had measles. Each dot represents an opportunity to change the status quo. Each dot could be a battle like 1470 Bulldog Lane.
Without spine, that's a battle that could be lost every time.
I have a lot of downtown construction updates to post, so look forward to those in the near future.