If you would have asked me previously which would most likely come to Fresno, Streetsblog or Jetblue, I would have guessed Jetblue (but not seriously).
And yet on Friday this happened:

Following the launch of Streetsblog in Texas, Ohio, Saint Louis, and
the Southeast, we have more good news to bring. Starting in early April,
Streetsblog will launch its newest news site, Streetsblog California.

As part of the grant from The California Endowment that will allow us
to launch the new Streetsblog, we'll be hiring a writer in Fresno to
cover the Livable Streets beat in the Central and San Joaquin Valleys.

Part-Time Writer for Streetsblog California

Job Description

We are looking for a professional journalist for a part-time position
based in Fresno or elsewhere in the Central Valley to be a local
correspondent for Streetsblog California. The position will be expected
to provide regular coverage of local transportation projects including
but not limited to bicycle and pedestrian planning, transit service,
high speed rail, urban planning, and other issues.
Streetsblog
With 8 counties and close to 4 million residents, the San Joaquin Valley has a lot to write about. Expanding the definition to the Central Valley, which adds Sacramento and areas north, and you get 6.5 million people and the following metros:
Sacramento Metropolitan Area (2,527,123)
Fresno Metropolitan Area (930,450)
Bakersfield Metropolitan Area (839,361)
Stockton Metropolitan Area (696,214)
Modesto Metropolitan Area (518,522)
Visalia-Porterville Metropolitan Area (449,253)
Merced Metropolitan Area (259,898)
Hanford-Corcoran Metropolitan Area (153,765)
Madera Metropolitan Area (152,925)
Transportation-wise, that allows for coverage on the nations first real High Speed Rail line, two of the most popular Amtrak lines in the country, attempts at BRT, light rail in Sacramento, and commuter rail. Never mind bike and pedestrian news including plenty of good and bad news. Throw in Davis (unsure where Davis gets classified) and you have one of the premiere bike towns in the country.
It's also an area that needs more coverage.
The Streetsblog network includes only two blogs in the San Joaquin valley – this one, and the Fresno Bicycle Coalition, which hasn't updated in almost two years.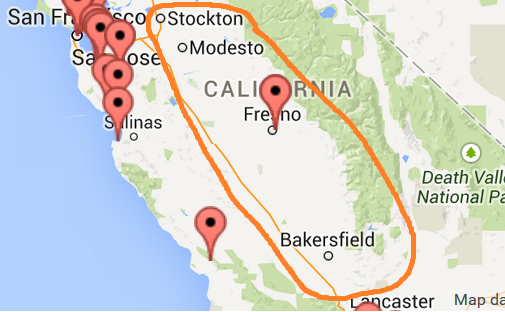 The Bay Area, on the other hand, has dozens.
It will be great to see the area get more attention on widely-read platform, as a significant gap does exist.
Oh and as for Jetblue, they recently made the surprise announcement of direct service from Boston to Sacramento, on a seasonal basis for now.

Nonstop flights begin June 18 and will run
through Sept. 7. JetBlue will fly four flights a week (Mondays,
Thursdays, Fridays and Sundays) on Airbus A320 aircraft. JetBlue also
flies from Sacramento to its biggest hub at New York JFK and to Long
Beach, Calif.
JetBlue's service will give Sacramento its first-ever regularly scheduled airline service to Boston, according to The Sacramento Bee.

"We
have been trying to get nonstop service to Boston for many years and
are thrilled that JetBlue has decided to invest resources in this
route," John Wheat, Sacramento County Director of Airports, adds to the Bee.

The
new Boston route will be a red-eye in the eastbound direction,
departing Sacramento at 9:40 p.m. and landing in Massachusetts at 5:59
a.m., all times local. The westbound route will depart Boston at 5:20
p.m. and land in California at 8:49 p.m., all times local.
USA Today
Last month Jetblue also expanded into Reno, adding service from JFK
JetBlue Airways today announces it will be the only airline to offer nonstop service
between Nevada's Reno-Tahoe International Airport (RNO) and the U.S.
East Coast as it launches service from New York's John F. Kennedy
International Airport (JFK) on May 28, 2015. Reno-Tahoe will be the
airline's 89th destination and is among a number of new JetBlue routes
in the West.

"A nonstop link between

Reno-Tahoe International Airport and New York City is long overdue.

JetBlue is pleased to provide the only direct service linking the East

Coast to an airport that is the gateway to so many great year-round

destinations in the Reno-Tahoe region. Customers will finally have easy

access to Reno, beautiful Lake Tahoe, the great historic town of

Truckee, Donner Lake, Tuolumne River and the majestic Sierra Nevada

Mountain range — home to Yosemite National Park, Kings Canyon, Sequoia

National Park and two National Monuments," said James Hnat, JetBlue's General Counsel and Executive

Vice President of Legal & Government Affairs.

Yahoo News
I wouldn't exactly cite Reno as being close to Yosemite and Kings Canyon though…
Now, Reno gets more attention than Fresno, thanks to Tahoe and all the ski resorts. For comparison, Reno sees 3.5 million passengers a year, vs well under a million in Fresno. So while I wouldn't expect a flight from Fresno to Boston or NYC any time this century, I think Jetblue using one of their Embraer plans for a more local flight could happen one day. Maybe to Burbank, Long Beach, San Diego or as far away as Portland?
Who knows. But Streetsblog came to Fresno, so anything can happen.