Due to upcoming High Speed Rail (HSR) construction, Greyhound will be relocating from their own station near Chukchansi Park to a vacant section of the Fresno Amtrak Station. This move is scheduled for later this year, and will remain this way until the new HSR station is constructed, with space for Greyhound. That is, the lease runs for 10 years, but Greyhound is allowed to leave whenever their new waiting area is finished.
Greyhound ticketing and waiting will be kept separate from Amtrak, as can be seen in the site plan: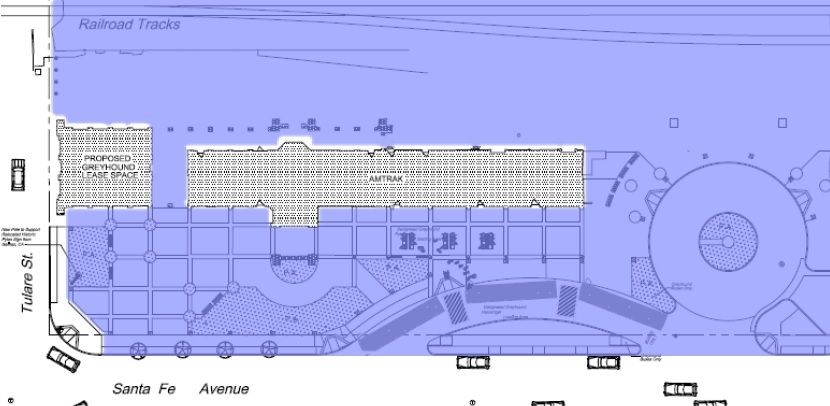 The new Greyhound will be fronting Tulare. Because the train station is a historic site, they cannot modify the facade at all, except to add some appropriate signage.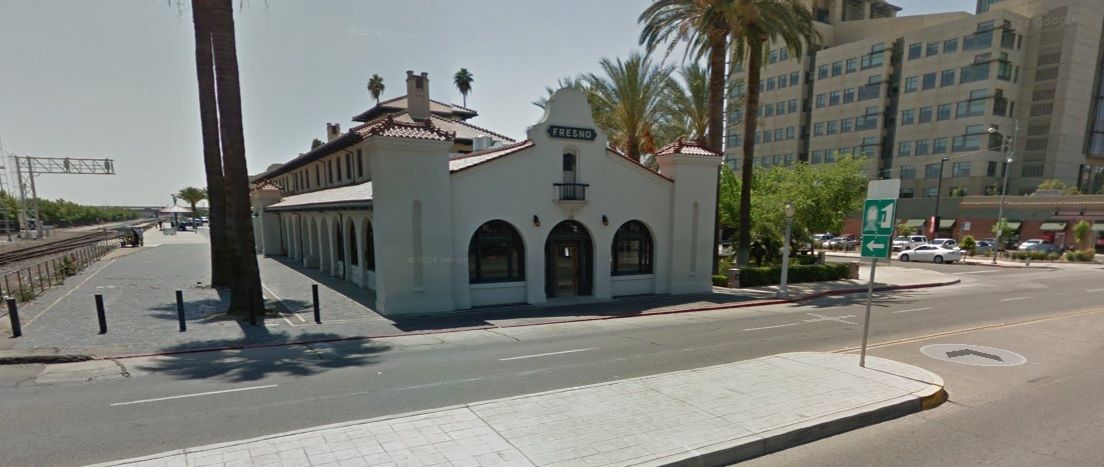 Gryehound passengers will probably make use of this empty plaza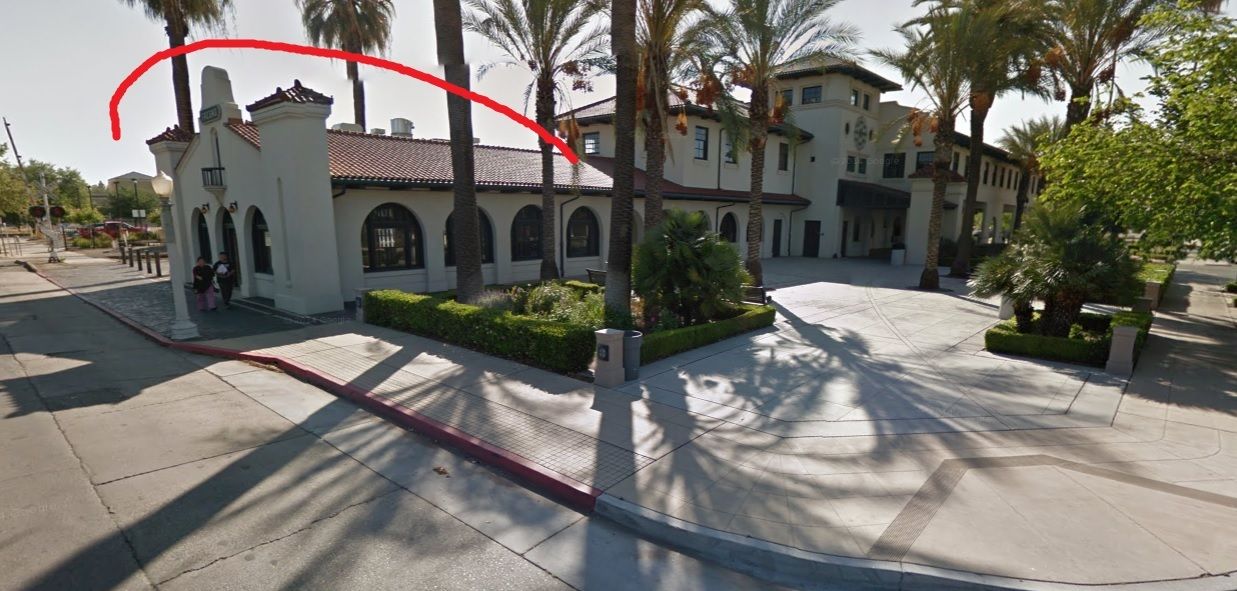 Having a multi-modal terminal will be an asset to passengers leaving from Fresno. Riders will better be able to compare schedules and prices between Gryehound and Amtrak, and also pick another service if their original planned transit provider is experiencing delays or problems. It also opens up transfer possibilities.
While the waiting areas will be separate, Greyhound customers will now be across the street from a new 7-11. This is in contrast to the existing Greyhound station, which sits isolated from all retail. Apparently the Greyhound station used to have a cafeteria, but that has been closed for a very long time. This image shows that the Greyhound Station has existed for many decades, with the Post House Cafeteria on the right (now rotting plywood).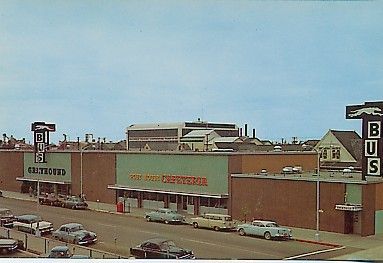 Source
Another benefit for riders will be taxi service. Rather than being split between the two stations, more taxis will be available at one place.
One question is, where will the buses go?
As you can see in the following aerial, the existing greyhound terminal is a serious bus station, and can fit in 13 buses at gates, with an additional two on the side. Incidentally, the building that says Charter High School is an old train station. It will be preserved by HSR construction. The future train station will exist over it.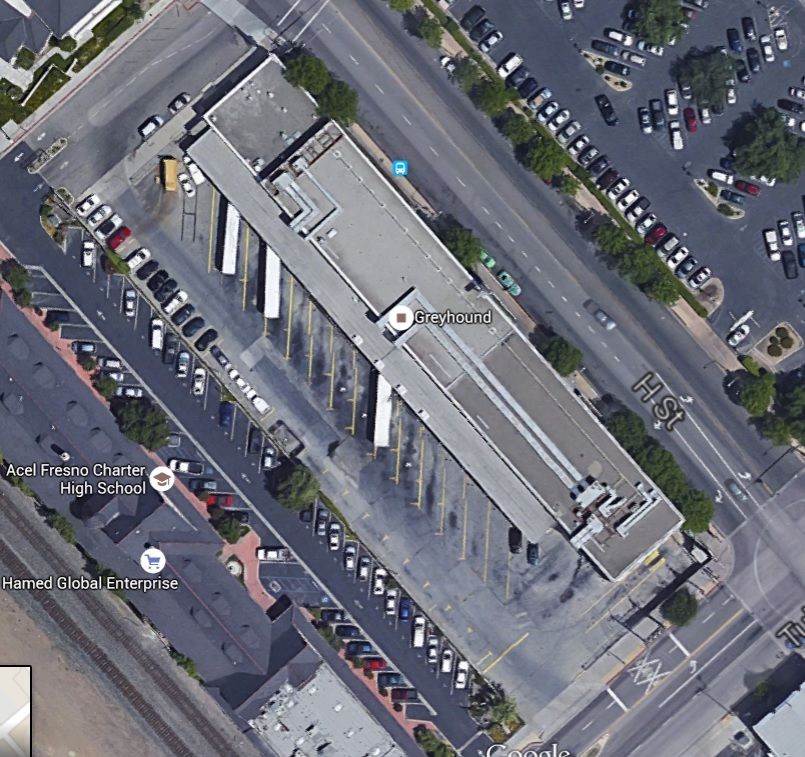 However, the Amtrak station has no such bus infrastructure. The agreement with Fresno indicates that Greyhound will be given use of 15 parking spots, but there is no statement as to in which lot.
In the following map, I show some potential loading areas for the bus.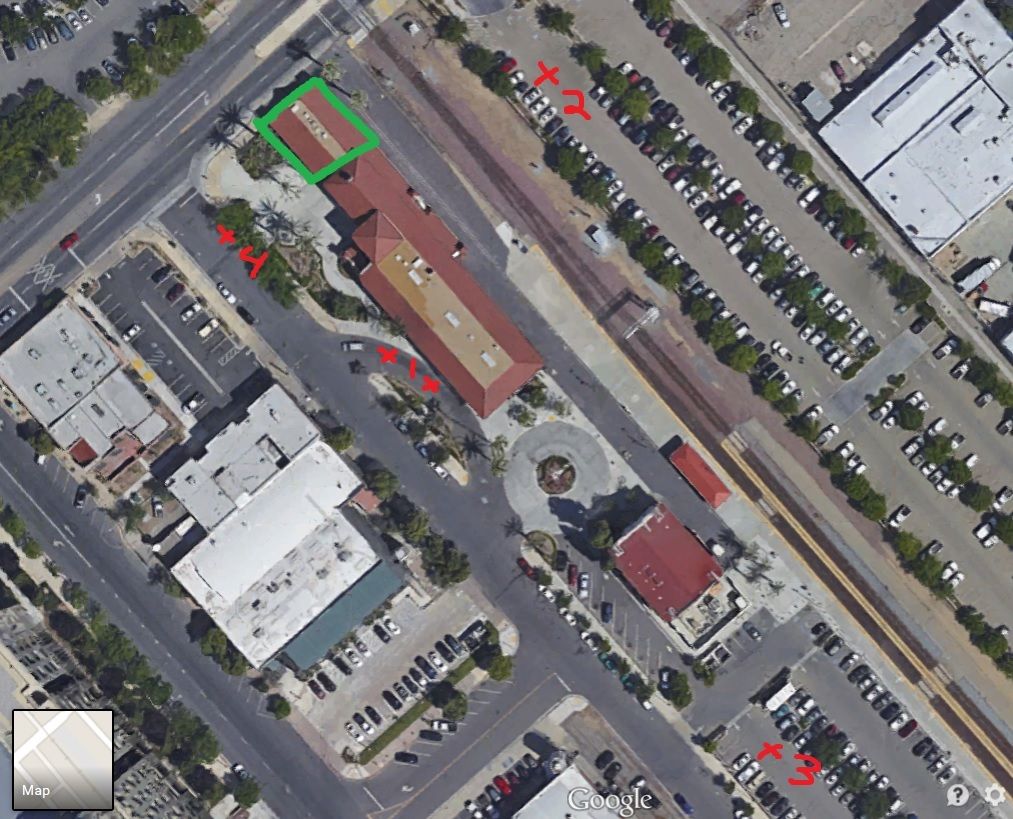 Loading buses at 1 would be very close to the waiting room, and very convenient to Greyhound riders. However, buses idling there would make the Amtrak experience less pleasant, as their waiting area sits right behind the drop-off.
4 is even closer, but it would require removal of parking meters.
3 is the existing Amtrak parking lot, which is almost always at capacity. Would the city really kick out Amtrak customers to allow buses to sit around? It's also quite a walk from the future Greyhound area. To the right of that, there's an even larger surface lot owned by the sits that almost always is empty. That would be great for buses, but again, it's far.
Finally, the city owns a number of surface parking lots in the area, including number 2, north of the tracks. That would be a very short walk from the waiting area, but the problem is that it sits across the track. A slow freight train rolling by could delay buses and passengers by five minutes.
Aside from bus layover logistics, the location is also a downgrade for riders not getting on or off in Fresno. Because the Amtrak station is much further from the 99, all trips will see the addition of up to 10 minutes.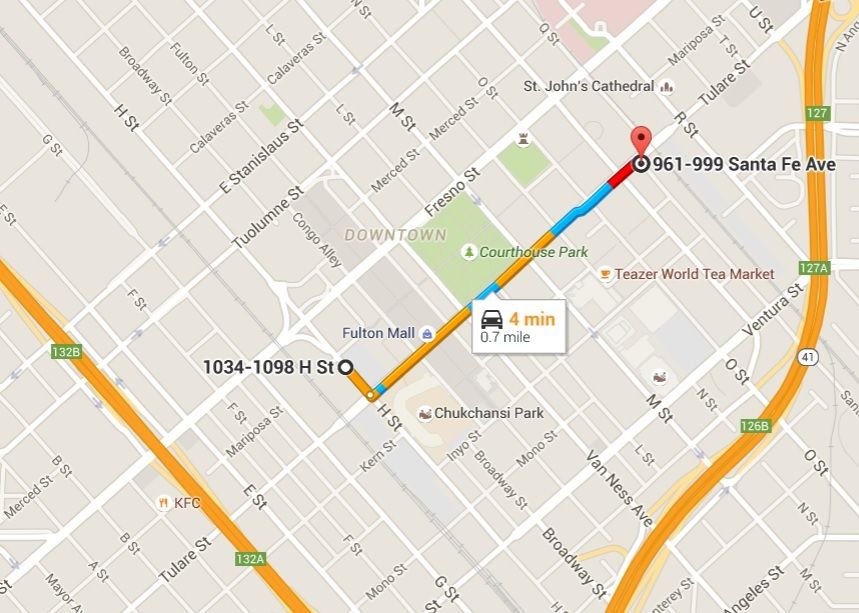 On the other hand, the YARTS trip just got 5 minutes shorter.
Incidentally, if you're curious, the rent will be 85 cents per square foot, which I assume will be significantly cheaper for Greyhound that maintaining their existing depot.