I actually began writing this post in early April, and was getting ready to publish under a VERY different title: "Fresno caves on proposed shopping development – goodbye master plan, we barely knew you."
But here we are in June, and what at early glance appeared to be a swift win for a suburban developer, and a loss for the residents of Fresno actually has ended up with a happy ending for all involved, well, almost all. As far as land use planning goes, this was one exciting ride.

It all began in mid-March, when the Fresno Bee ran an article on a proposed development on Blackstone and Clinton:
Fresno City Hall is a house divided over a grocery store proposed for Blackstone Avenue. It has come — the first big test for Mayor Ashley Swearengin's general plan. Who is in Fresno's development saddle, business as usual or high ideals?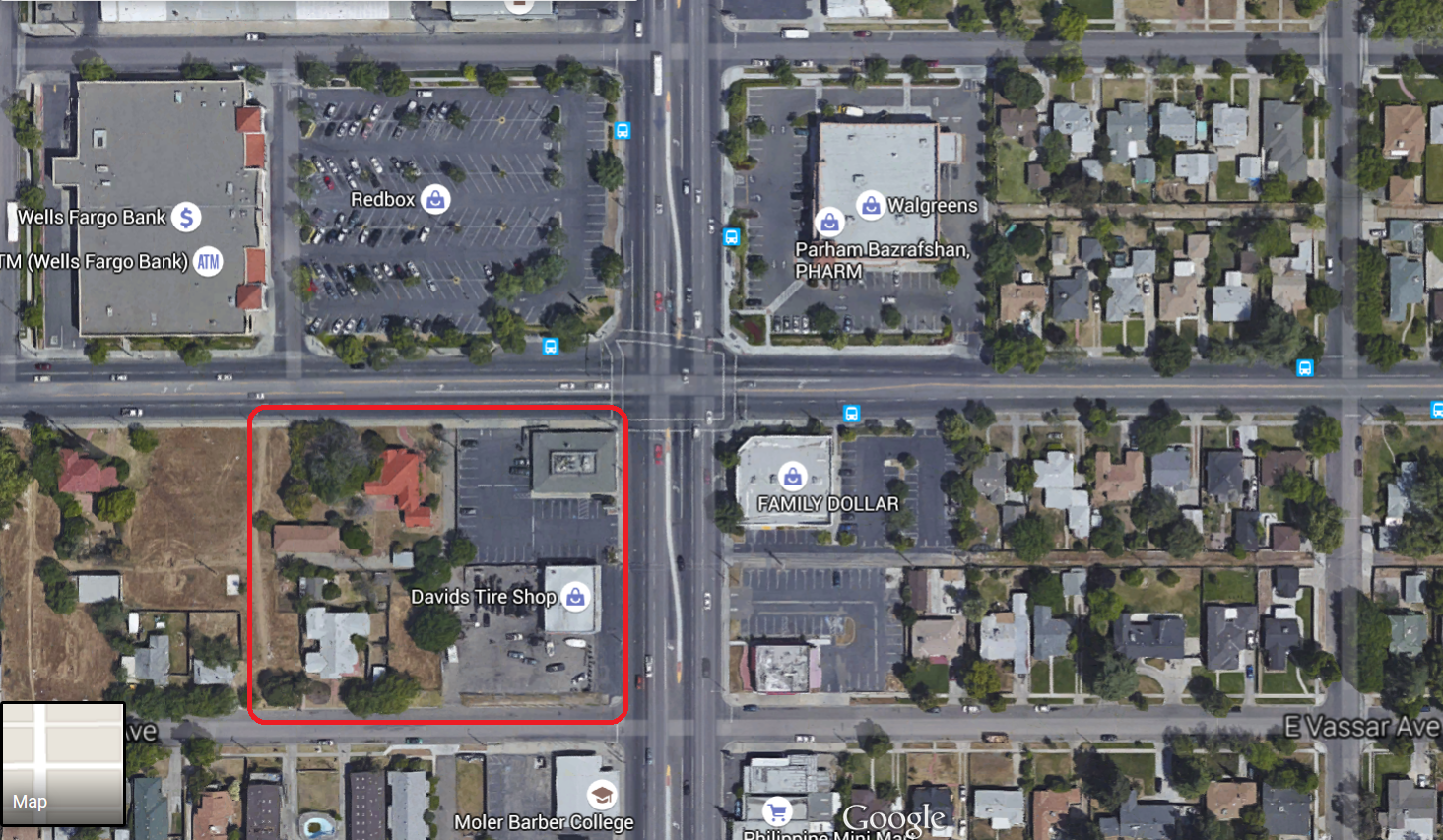 The battle was simple: Smart and Final wanted to build a new store, inside the red rectangle above. They wanted to set it up allll the way on the back of the lot, and line Blackstone with acres of asphalt parking. Oh, and a drive-thru fast food restaurant of course. You know, your cookie cutter suburban layout, that design one guy came up with in 1956, the layout which has been reused time and time again, with little or no modification.The same layout, incidentally, that currently exists across the street, where it says Wells Fargo (it's actually a Save Mart supermarket).
But it's not 1956! You see the city of Fresno went through a very lengthy public process which culminated with the January approval of a new general plan, one which puts infill first, and asks for urban design ideals.
And so, following the voice of the people, the city asked Smart and Final if they would consider putting the store along Blackstone, with parking in the back.
The developer said no.
So the city asked if they would put an additional retail building on Blackstone, to create a street-wall.
The developer said no.
You see what the city wanted is what the shiny new general plan had set aside for the area. The area has been designated as Neighborhood Mixed Use, which means
"local-serving, pedestrian-oriented commercial development, such as convenience shopping and professional offices in two- to three-story buildings. Development is expected to include ground-floor neighborhood retail uses and upper level housing or offices…..the built form will have a scale and character that is consistent with pedestrian-orientation…Automobile-oriented uses are not permitted"
What Smart and Final proposed: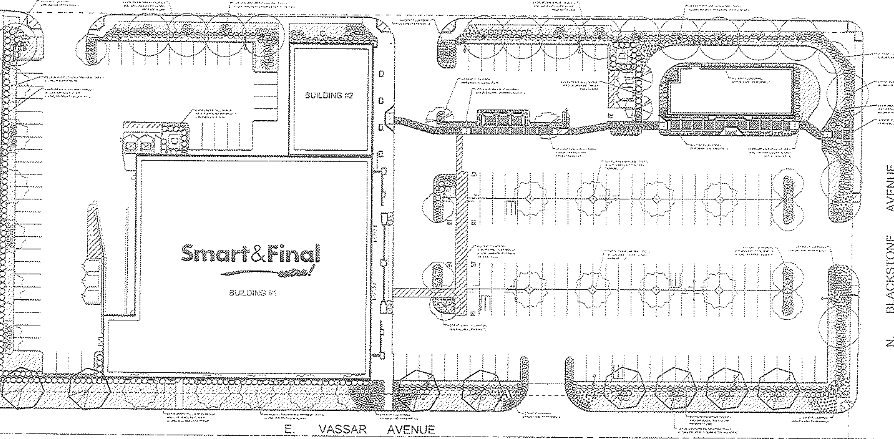 Pedestrian oriented? NOPE. Massive parking lot with the retail set all the way back.
Two to three stories? NOPE. Single story big-box
Mixed use? NOPE. Only retail.
Banning automobile oriented use? NOPE. Fast food restaurant with wrap-around drive-thru at the prime corner.
So why was this even a fight? After all, if the plan requires the developer follow the rules, how could the developer ask for the exact opposite?
The reason is because the development was set in motion BEFORE the new general plan came into effect! That means it got to follow the old guidelines that have allowed Blackstone to look the way it does.
So Fresno has no legs to stand on, and the developer wins right?
No! Fortunately, way back in on March 26, 1991, the Tower District Specific Plan (PDF) came into being. And while few would stand on Clinton and Blackstone and feel a part of the district, it just so happens that the boundaries extend to that very corner!
The Tower District Specific Plan states that new development must " Eliminate and prevent on-site parking which fronts on major streets and develop urban, in contrast to suburban, standards for provision of on-site parking"
And there it is. The Smart and Final plan, as presented, is not allowed, and hasn't been for twenty years! Oddly enough, this critical detail, about how the new general plan wasn't really at issue, was never brought up by the Fresno Bee in their 4 or 5 articles…
But another problem arises!
The city was ready to allow development with a modification that would meet the Tower plan, but not in any way shape or form meet the new general plan. That is, by adding a second minor retail building on Blackstone, and improving the pedestrian walkway.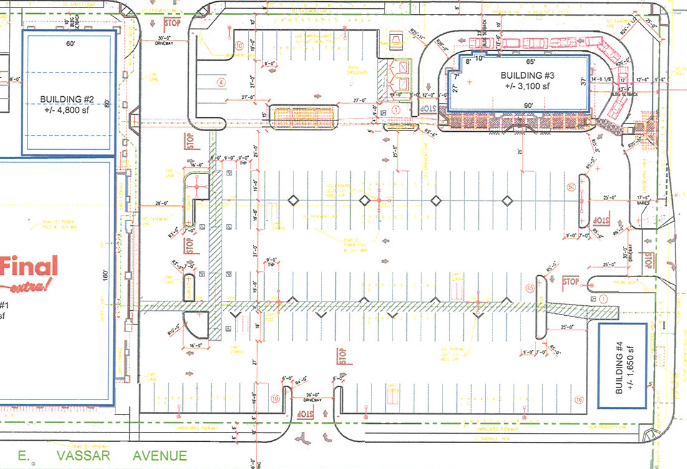 It was at this point, when the above plan appeared close to final, when I was ready to publish under the original title…
That's when things got really political. All this was going on at the planning level, but some of our most enlightened city councilors decided to get involved, long before it would reach their room.
Indeed, Fresno City Council Member Clint Oliver came out guns blazing, with the kind of logic you'd expect from a freshman taking econ 101:
"I always side with the free market. Who knows more about retail, Smart & Final or the city of Fresno?" says Council Member Clint Olivier, whose district includes the project site. "In a case like this, I always side with the business owner. I always side with the free market."
Fresno Bee
What Mr. Oliver failed to understand is that his job is to represent the people of Fresno, not the shareholders of Smart & Final. He is correct that the company most likely has more expertise when it comes to moving cheap overstock products, but that's not the question at hand. The job of the planning commission, and then the city council, is to vote on a site plan that affects all of Fresno.
The people of Fresno had at this point spoken time and time again about what they wanted, and it's not more of the same.
Zoning laws, and the planning process which followed, were created because municipalities quickly discovered that the development whims of the individual should not trump the welfare of everyone else.
For example, I am sure Mr. Olivier would reject a proposal for a scrap yard or an oil refinery or a nightclub immediately adjacent to his property. Would he care that the scrap yard people know more about scrap yards than him or the city? Would it matter that the oil people are the authority on oil refining? Would it be relevant that the proposed nightclub management could run the best nightclub in the world?
Of course not, because that kind of development would have a negative impact on him and his neighbors.
One can stroll down Blackstone Avenue to enjoy the fruits of half a century of siding with the free market. Lot after lot of undervalued or dilapidated and abandoned development, built by the free market, and abandoned by the free market, left to the public to clean up the mess.

There is an old, abandoned Happy Steak building at Blackstone/Clinton and a tire shop at Blackstone/Vassar. There are a few houses, at least one empty, and lots of weeds on the site. (Fresno Bee)
Like most of Blackstone, the lot in question is an eye-sore, a failed development concept. Smart and Final proposes to come in and build in the same style of 50 years ago. That style of development may in fact serve them well, but in fifteen years, when their cheap building begins to rot, and require additional investment, they might simply abandon it and move elsewhere, as the neighboring businesses did.
Mr. Oliver thinks Smart and Final knows better than the people of Fresno, who came to meeting after meeting to demand new development standards. Mr. Oliver forgets who he represents. That is unless, he thinks he represents developer campaign contributions.
Fortunately, the mayor and her team actually listened.
And so a few days before the matter was set to come to vote again, it was tabled, for backroom talks.
That was in April.
May came, and so did some supermarket news for Blackstone:
Two Vons stores in Fresno are set to close June 12, leaving 127 supermarket workers with an uncertain future. The Vons location near Blackstone and Ashlan avenues, as well as the store on Nees Avenue and First Street, were underperforming, confirmed Keith W. Turner, senior communications & government relations manager for Safeway Albertsons. Business Journal
The Blackstone Vons is just a few blocks away from the controversial site. Another vacant box coming to Blackstone. Why did Vons fail? A new Walmart Center opened a block away – also on Blackstone – just a few months ago. If I recall correctly, Mr. Oliver praised the Walmart for bringing revitalization to Blackstone, and jobs.
Then June arrived, with another bang.
Save Mart is closing its Clinton and Blackstone avenues store, citing competition, the company said Tuesday. The news comes just weeks after Fresno learned it would lose Vons stores near Blackstone and Ashlan avenues and First Street and Nees Avenue.

The Save Mart store is one of a few full-line grocery stores in its neighborhood, and will close June 27. All the store's 62 employees will be moved to other area Save Marts, said spokeswoman Stacia Hill Levenfeld. Prescriptions at the Save Mart pharmacy will be transferred to the Save Mart at First Street and Bullard Avenue. Save Mart owns the property and a new tenant could already be in the works, but nothing is finalized yet.
Remember the map near the top of the article? The big box with acres of surface parking across from the proposed Smart and Final development? Yup, that's the Save Mart. Indeed, here's the picture of the corner the Bee ran with in March: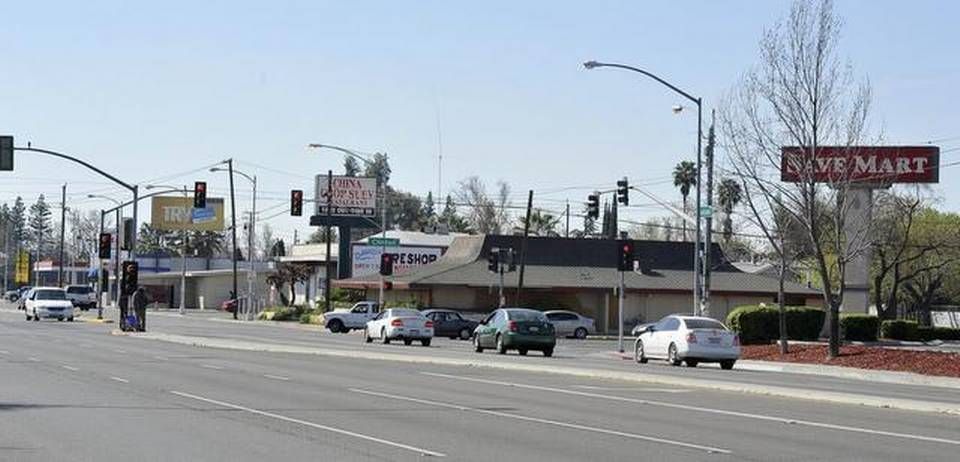 "Over the last several months the competition has become more intense and we made the decision to close the store," she said. City Council Member Clint Olivier, whose district covers the area, said he doesn't know the retail business well enough to know "if the presence of a Walmart for 90 days can drive an established grocery store three miles away out of business. I think the loss of this Save Mart to the surrounding neighbors is like a one-two punch in the gut," Olivier said. "We've lost Vons and now Save Mart."
Fresno Bee
So I just had to go back and check…
"On behalf of District Seven, I'm pleased to welcome Walmart to the Blackstone business corridor," said Clint Olivier, Fresno City Councilman. "Walmart will bring new life to a key corner of the district, bringing convenient shopping options, new jobs and additional customer foot traffic to surrounding businesses. This announcement is just another example of the steps my office has taken to re-energize and improve a very crucial part of our city's business core." Walmart
Sounds about right. Claiming credit when Walmart decided to open. Claiming ignorance when two established supermarkets go out of business shortly after. All while claiming that the free market knows best, but are another two vacant storefronts an asset to his district?
And what would this all mean for the Smart and Final project? Would Clint and his supporters claim that anything was better than nothing, even if it went against all the city plans?
But here's the interesting part; Save Mart just so happened to be at the same intersection Smart and Final wanted. And Save Mart just so happened to have the very same outdated layout that Smart and Final craved. And Save Mart was now vacating the premise in 30 days, and looking for a tenant.
A match made in heaven!
A match so perfect, that Mayor Ashley Swearengin had to bring it out during her State of the City address.
At today's annual State of the City luncheon, Mayor Ashley Swearengin announced Smart & Final has just signed an agreement to open a new store in a building at Blackstone and Clinton avenues currently occupied by Save Mart.
In fact, the deal was carefully coordinated with Smart and Final
During the mayor's speech, a spokeperson for Smart & Final actually sent out a press release confirming the deal.
"Smart & Final recently signed a lease for the Clinton and Blackstone space and is currently working with the city of Fresno to finalize details," the release stated. "We plan to put in a full-size Smart & Final Extra! store which will offer a full produce selection, bulk foods, organic and natural food products and an expanded meat section."

The Smart & Final announcement's timing served as an exclamation point to the mayor's upbeat address.
Busienss Journal
A happy ending for all! And such great coordination between the city and the private sector!
All happy….except City Councilor Clint Oliver, with an egg on his face. And rather than celebrate the happy ending, he decided to throw a fit. After all, his rants about the free market and the city scaring away business were completely wrong. Turns out, you CAN follow the people's mandate AND bring in big business.
Even before the mayor finished speaking, City Councilman Clint Olivier, whose district includes the blighted stretch of Blackstone, tweeted: "Cheering smart & final going into existing building is laughable. There's still blight at Clinton and Blackstone. Still crime and filth."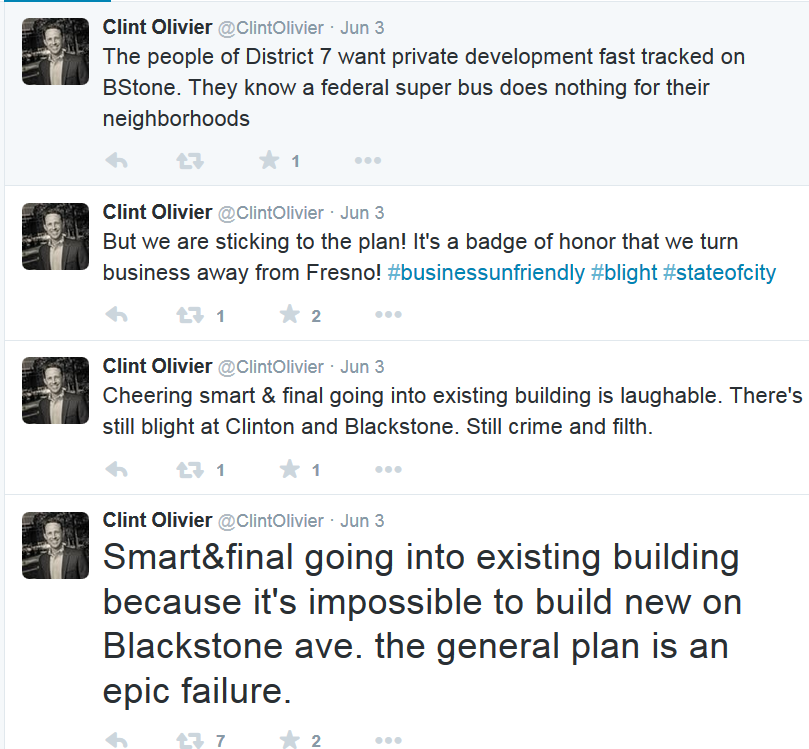 Of course that logically makes no sense. Had Smart and Final done what they originally wanted, there'd be a shiny new blighted parcel across the street from an old blighted parcel. One which might have vary well been vacant for a decade.
And everybody who lives in Fresno knows that building new while letting the old become abandoned and blighted is a recipe for disaster.
After all, that's 50 years of Blackstone Avenue in a nutshell.
Oh, and curious on what sent Clint off? It just so happens that today, Clint Oliver announced he would be running for CA31. I'm going to guess his little fit was because an entire campaign strategy had to be redone after the Mayor's announcement. It's hard to run on "good urban planning destroys business" when it all worked out in the end. Well, all except for the businesses which went under after Walmart came in.