While most of my posts related to airlines have been connected to High Speed Rail discussion, I do like to follow aviation news. A couple of days ago, United announced that they would abandon JFK airport in New York and "retreat" to their fortress hub at Newark (EWR). This came as a big shock to many following the industry, because JFK is typically considered the premiere airport for the New York region, and NYC, of course, is the business capital of the continent.
Plenty has been written about what it means for the aviation world (alliance partners, connections, fares etc.), but personally, I am more interested in what it means for transit at Newark International.
One can argue all day about which airport is most convenient to Manhattan, and quite frankly, there's no winning argument. By road (via yellow or black car) which airport is most accessible to Manhattan corporate headquarters depends on the day of the week, the time of the day, and how many collisions happen along the way. With zero traffic, they're equidistant, but it's New York City, and there's never zero traffic.
That of course, is one of the main advantages of transit. Assuming proper funding, transit can provide something a car cannot: proper trip planning. When you plan on taking a car to the airport, you need large amounts of buffer time to account for traffic. If there is no traffic, congrats, you're wasting valuable time at the gate. If there's too much traffic, you miss your flight. With a train on the other hand, you can more easily plan your trip with a schedule, from the office door to TSA line, down to the minute.
United of course understand how important accessibility is to their customer base. From their press release:
Manhattan business travelers, particularly those who work on Wall Street and throughout lower and western Manhattan, enjoy easy access to Newark Liberty, the most convenient of the three New York-area airports.
Again, by car, it depends. But by transit? They're correct, thanks to the 24/7 PATH subway line, which links the World Trade Center and Wall Street to Newark Penn Station.
PATH, you say? United? Where I heard those two together before?
In talks with United Airlines, the Christie representatives have suggested that they would direct the Port Authority of New York and New Jersey to begin a long-contemplated extension of the PATH train to Newark's airport rail station, providing a long-desired direct rail link with Lower Manhattan, these people said.

In exchange, these people say Mr. Christie, via Port Authority Deputy Executive Director Bill Baroni, has asked United to provide service to a slate of cities from Atlantic City—a small airport with a spotty track record of supporting commercial service. United is the dominant airline at the Newark airport, carrying about 70% of the passengers.
September 2013, WSJ
The rest of the article claims that United would not serve Atlantic City, because they don't really care about PATH. That was September, 2013.
And yet in that November, United did announce service to Atlantic City, from Chicago and Houston. And shortly after that, the PATH extension suddenly gained a lot more traction. (Those flights have since ended)
That wasn't the only trade United made to get the PATH extension funded.
Were the friendly skies of United a little too friendly to former Port Authority Chairman David Samson? Elected officials, airline watchdogs and even Samson's successor say they are concerned by reports that United Airlines and the Port Authority of New York and New Jersey have been subpoenaed for records involving Samson's travel from Newark to an airport near his home in South Carolina.

United launched the service in September 2012, after Samson became chairman in early 2011. It then dropped the three weekly flights by its ExpressJet regional subsidiary three days after Samson resigned last March amid an investigation by the U.S. Attorney's office in Newark prompted by the September 2013 George Washington Bridge lane closures.

That means each flight averaged just under 25 passengers, or a 50 percent booking rate, well below the rate of 85 percent or higher common among carriers. Flying that kind of route for 19 months just doesn't make sense, unless short-term ticket sales are not what you're after, said Kate Hanni, founder of California-based fliersrights.org.

"No airline would continue a flight that was regularly half full, unless it was receiving government subsidies," Hanni said. "If not subsidized, then United was operating a flight that was losing money, again airlines don't continue flights that are burning a hole in their pocket unless they have someone important of great influence on board."
NJ.com
Connecting the dots together, what has happened here is clear. United has known for a long time that they were going to leave JFK and focus on Newark. United also knew that the only way to do so and continue to be successful is to convince people that Newark is the most convenient airport from Manhattan.
Today, it's debatable. But with a PATH extension, it wouldn't be.
United has proven that they can't really compete on price or service with the rest of the industry. Jetblue, for example, offers an extremely attractive premium product at less than half what the dinosaurs charge. They just announced an increase in trips from JFK, as a result of the United move.
However, by consolidating at Newark, United can compete on their large network, and with a PATH extension, on convenience.
Convenience. Convenience is key. And it can be sold at a premium.
Convenience is so important to United's future business plan that they will lose millions on one flight to cater so a single executive, and millions more in serving an airport that everybody knew had no demand. United was clearly investing in the PATH extension.
Unfortunately for United, it turns out that the PATH extension is a really bad idea for everyone who isn't United, and would cost way too much. As such, momentum slowed, especially after the feds started investigating that special chairman flight.
That doesn't mean United doesn't get what they want though.
It just so happens that as the PATH extension became politically infeasible due to exploding costs, another solution was found.
Earlier this year:
The 19-year-old AirTrain monorail system at Newark Liberty International Airport is being targeted for replacement.

Thursday's authorization votes come four months after the Port Authority issued its first contract for preliminary work to extend the PATH commuter rail system from Newark Penn Station to the airport rail station, a project estimated to cost $1.5 billion.
NJ.com

This announcement reeked. A 19 year old rail system being at end of life? That's unheard of! It's only the end of life if you bring out your shotgun to the shed.
Especially since in 2014 it was closed for 3 months during the peak summer tourist season to undergo a complete refurbishment. Why would they spend all that time and money to refurbish the system if they were looking to get rid of it? Obviously, they weren't and the refurbishment was planned before the PATH extension unfolded, and the organization had to scramble for an alternative.
Here is what I believe is happening:
The PATH extension is dead. United however, needs better rail. Solution: A brand new, state of the art AirTrain that travels at 40mph, rather than 15mph, can carry more than 4 people per car, and serves the current PATH terminus, Newark Penn, rather than the Airport Rail Station.After all, if the entire system is at "end of life" and has to be replaced anyway, why not just extend the track another mile or so into the existing Newark Penn? If you're spending a billion or so on a brand new system, what's a little extra to add some extra track?
For United-bound travelers, any transit trip from Manhattan requires transferring from rail to AirTrain (also true at JFK). Making that connection at Newark Penn or Newark Airport Rail Station is no different to the air passenger. However, serving Newark Penn rather than Newark Airport Rail does provide significantly more transfer opportunities, as every single NJ Transit and Amtrak train stops there, along with intercity bus carriers and Newark Light Rail, and of course PATH.
And for the Port Authority, extending a light-weight elevated monorail is significantly cheaper than a legacy rail system in a limited right of way.
If you can't bring PATH to AirTrain, you bring AirTrain to PATH. I'd put large sums of money on this being put in motion very soon.
One problem: United is moving in October. Any new AirTrain would not open until 2018, under a very best case scenario.
United cannot afford to bleed customers in NYC for 3 years. So what can they do?
Easy: Make EWR convenient today, by leveraging existing transit options.
The Lower Manhattan Customer: PATH + Shuttle
Today, PATH terminates at Newark Penn. Passengers going to the airport must either board a local bus ($2.35), which stops at all terminals, or take an NJ Transit train for about 60 seconds, and then transfer to the AirTrain, and pay something like $10 for the privilege of hauling luggage through three different rail systems. That's the opposite of convenience. Not even a railfan would wish for that. The local bus is fine, but let's face it, for most flying passengers, the idea of boarding a local public bus in Newark is not attractive.
But a United branded bus from Newark Penn to the United terminal, free with proof of United ticket? That's not scary at all. Between terminal shuttle buses and rental car shuttle buses, airport shuttle buses are an ingrained part of the airport experience. There's nothing scary about boarding a sleek bus with GIANT UNITED branding on the side, and no need for an additional fare.
That's convenience.
An example of a bus used by an Airline company to transfer passengers
The (high end) Midtown Manhattan Customer (and Connecticut!): Amtrak
Today United is the only US airline to offer a code-share agreement, a partnership that has existed exclusively at Newark since it was a Continental Hub.
United Airlines and Amtrak have teamed up to provide the ultimate experience in seamless travel and to offer you the opportunity to earn more award miles. Earn award miles on qualifying Coach or Business class fares per segment on Amtrak when you fly United and make a connection at Newark Liberty International Airport to or from any of the following Amtrak destinations: New Haven Rail Station, CT; Stamford Rail Station, CT; Philadelphia 30th Street Station, PA; Wilmington Rail Station, DE.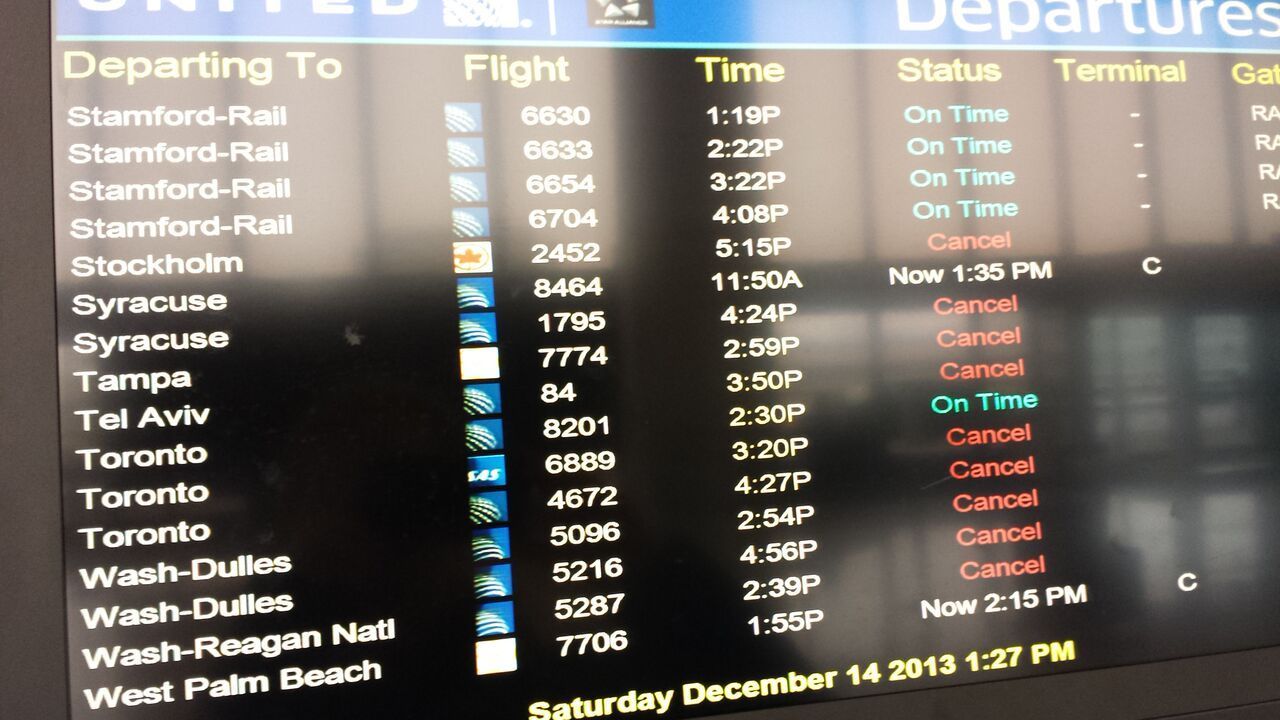 Amid an ocean of cancellation, United's partnership with Amtrak stood out clearly before a winter flight.
United Elite passengers can also take advantage of the Acela Clubs at stations such as Boston and New York Penn.
United Club Members with a valid United Club Card are entitled to access ClubAcela locations and may bring in two guests or their spouses and children under the age of 21. United Global First or United BusinessFirst passengers with a flight coupon or boarding pass with a same-day, international segment in United Global First or United BusinessFirst are also entitled to ClubAcela access.
And United even offers a ticketing counter at Penn Station.
All sounds great, except for one little problem: The program hasn't really been looked at in a decade, and the existing form can be more of a hassle, rather than a convenience.
For one, few Amtrak trains stop at EWR. Further, there is a United rule that they will not book you on an Amtrak train that departs/arrives less than 90 minutes before/after your flight, even though the transfer can be done in under 30 minutes.
And finally, the codeshare agreement doesn't include NYC Penn Station!
The problem:
Your high level executive paying $3,000 bucks to fly to LAX is wary about going to Newark from midtown. He does not care for the boarding zoo at NYC Penn. He also is not interested in NJ Transit, because, ew, NJ Transit, and how do you even pay for that when the secretary books your trip?The black car is great, but people keep crashing in the tunnel and missing the flight is simply not an option.
But Amtrak? They're alright. The executive takes that every other week to Boston.
The solution:
Enhance the United partnership with Amtrak to include code-share into NYC Penn Station. There's already Club Acela access with priority boarding, keeping the executive away from the Jersey masses.
And more importantly, work with Amtrak to ensure that the right trains stop at EWR. Again, most trains skip EWR now, and there are large gaps in service. By working together to ensure the schedules work out, so the right trains stop at EWR to get these high rollers onto the LAX flight, EWR has become infinity more convenient than JFK.
In fact, the comparison is no longer EWR vs. JFK – it's Penn Station vs JFK, and Penn Station is 3 blocks away.
The (common) Midtown Manhattan Customer: NJ Transit
That's all great to fill the front of the plane, but how about everyone else?
New Jersey transit already offers service to EWR, but like Amtrak, there's a schedule problem. While all off-peak trains stop at EWR, most trains skip it during rush hour in the peak direction.
See:

This again is where coordination could come in. Should every train stop at EWR? No. But if United has 80% of passenger share at EWR, perhaps it's time to take a look at the schedule to make sure the right trains are stopping. You can have 500 trains service the station, but if they all arrive 5 minutes too late for a transfer, it means nothing.
The Queens and Brooklyn customer: NJ Transit..???
There is no question that for any potential United customer east of Manhattan, JFK is closer and more convenient. Period. Getting to EWR via car or transit required diving into Manhattan, and dealing with tunnels and/or multiple transit agencies.
But what if it didn't have to be that way?
NJ Transit currently drives their trains from Penn Station to Sunnyside Queens, where the hang out, loop around, and return when needed.
But unless you have an NJ Transit uniform, that's a ride you can't take.
However, it just so happens that work is underway to build a new LIRR train station in Sunnyside, Queens, right before the yard and loop that NJ Transit uses. That is, once this new station opens, every NJ Transit train is going to slowly roll by the platform.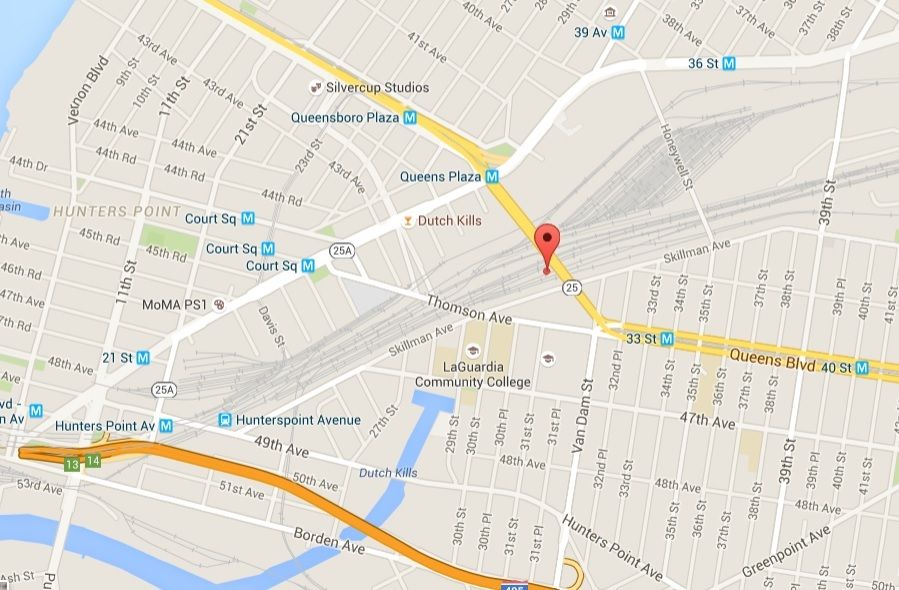 This future rail station will be conveniently close to a large number of New York subway stops
Imagine if rather than rolling by, the train stopped. And let people board. And then took those people to the Newark AirTrain. One seat. One ticket. From Queens to United check-in in 30 minutes or less!?
Seamless. Convenient.
EWR convenient from Queens, in JFKs back door? It could happen! With coordination and cooperation.
Seems hard to believe right? An American transit agency working to make travel within a metro area convenient? Fantasy!
Fantasy of course, unless there's a giant corporation behind the scenes who would really, really, really, benefit from this type of agreement. The kind of corporation who goes way out of their way to lube up those holding the planning purse with unprofitable flights. Oh, and a NJ Governor ready to throw billions at a PATH extension, and a NY governor who will ignore transit at all cost – unless of course money can be used to make flying easier.
There never seems to be money to make small improvements to transit service, especially for buses. But when it comes to airports, the money flows like champagne. I think there's a good chance United will be pushing for more transit to Newark, and I think our political elites are willing to pay for it.
And at the end of the day, the hardworking schmuck who needs to get to Queens from New Jersey may just come out a winner. Not on purpose of course, but that sure would be nice.