What happens when a city won't stop growing, but the transit system doesn't grow with it? The system becomes less useful. And the less useful the system is, the less riders will use it. Welcome to Fresno.
We know that bus ridership is down a tad nationwide, but in many cities, it is because riders have taken to trains. Unfortunately, that's not possible in Fresno, where the bus is your one and only transit option. That means a decline in bus ridership indicates more driving, or worse, less trips being taken (i.e, people not being able to get to jobs).
I last looked at Fresno bus ridership in March of 2012 when ridership appeared to be on a scary downwards trend. Three years later, has it changed? Sadly, the answer is no.
First lets take a step back and look at bus ridership over a decade. The following chart shows bus ridership from April 2002 until April 2015. The month of October is highlighted, which is typically the peak for every year (although in two years, March stole the crown).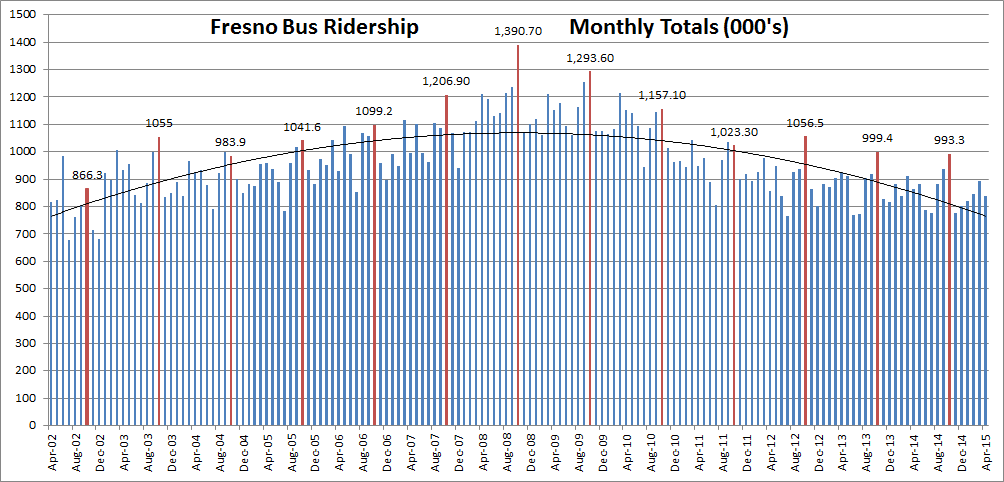 The most obvious thing is the trend. A good amount of constant increase…and then falling, and falling, with no end in sight.
Now let's take a look at what's happened in the past two decades. You'll note the system was quite active from 1999-2001, where multiple enhancements and changes were made. Further improvements arrived from 2005-2007… Green indicates a service improvement. Red, a decrease.
1999 – Multiple bus lines see route changes and adjustments
1999 – 28 Express introduced
1999 – 40 Express introduced
1999 – 58 Express introduced
1999 – 59 Express introduced
2000 – Sunday service added on all lines, service extended to 10pm on weekdays (from 7pm)
2000 – Route 49 eliminated
2000 – Bruce Rudd becomes general manager
2001 – Fresno eliminates freeway express service (59E)
2001 – Route 12 debuts
2001 – Route 29 eliminated
…
2005 – Bruce Rudd becomes city manager, FAX is left with no general manager
2005- 15-minute service implemented on Route 30 and Route 28 (Bee)
2006- Half-cent transportation tax promises improvements
2007- 15-minute service expands to Route 37 and Route 34
Let's summarize this period:
Alright! Investment yields growth!
Then the recession hit.
??? – All express routes eliminated, except 58E (unsure of exact month)
2010- 15-minute service shortened to 6 hours a day (peak hours), then switched to 20-minutes all day after midday buses exceeded crush loads
2010- Service on 3 entire bus lines eliminated (12, 18, 56)
2011- Fare hike from $1.00 to $1.25 (up from 85 cents if you pre-purchased tokens)
2011- Free fares for seniors eliminated, now 60 cents
2011- Downtown circular eliminated (Route 4)
2012 – First route changes in a decade proposed and even advertised ….and then quietly don't happen
2013 – Council discusses additional 25 cent fare hike (however, it didn't happen)
2014 – BRT scheduled to debut November 2014, instead, almost entirely eliminated by council
2014 – FAX gets its first general manager in a decade, Brian Marshall
2014 – FAX conducts ridership survey on potential route cuts or service changes
If you look carefully, you'll see that almost every improvement in green from 1999-2007 was eliminated. Frequent service? Decreased. Express options? All gone. New routes? Goodbye.
In fact that last improvement or expansion to FAX, that still exists today was the introduction of Route 58E, a line which runs with a single mini-bus to Children's Hospital, and is subsidized by the hospital (as a concession for locating themselves in an area where one cannot walk to or bike to). It only makes 12 round trips on weekdays, and 7 on weekends.
So what did this period of cuts do to ridership?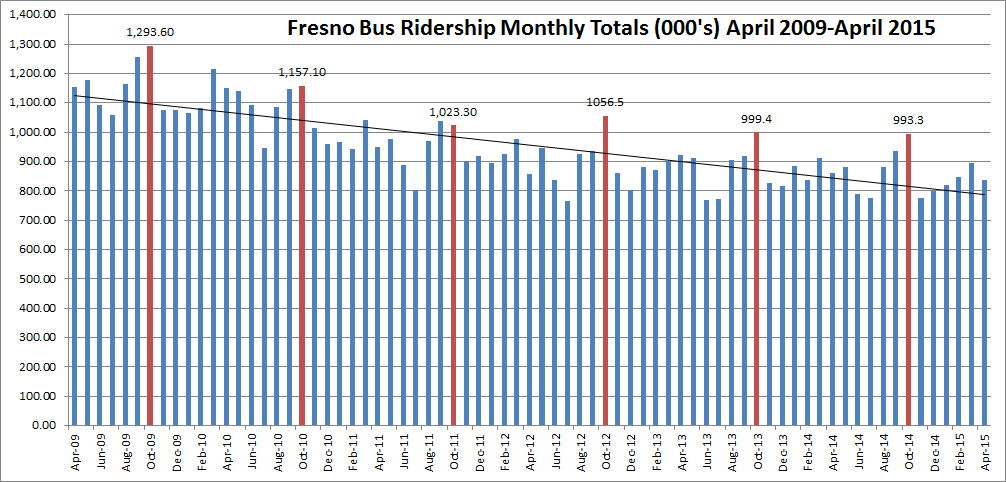 That looks very, very bad, doesn't it? (it would look worse if I included 2008)
Even more alarming is that population keeps increasing at a good pace. So on a per capita basis, the decrease is even more pronounced. Here we see ridership in April of every year (a very average month), and the city population. Fresno is not stagnant, it keeps growing and growing.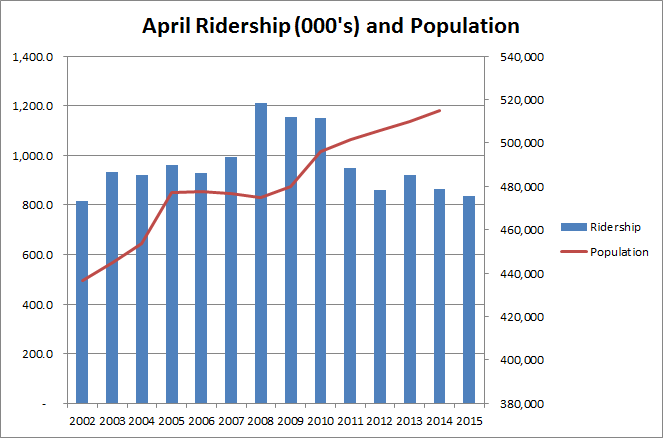 Of course, there are many factors that can affect ridership. Gas prices. Unemployment. Weather. Now we could run regressions all day to see how much each affects ridership, but I'll take a nice shortcut and simply look at what peer cities are up to. Visalia is just an hour down from Fresno, and has the same unemployment trends, the same weather, and the same gas prices.
How have they done from April 2007 until April 2015? Once again, October highlighted as the peak month.

Incidentally, that yellow bar shows when Visalia introduced bus tracking technology.
Bakersfield also show a downwards trend like Fresno, with a massive fall in July and August 2014. That's when the drivers went on strike, from July 15 until August 19. That's right, city leadership allowed their public transit system to shut down for five weeks over a 4% wage hike dispute.
The striking Teamsters originally asked for 4 percent raises in each year of a new three-year deal.

The deal that ended the strike: three-year contract that includes a 3 percent raise in its first year, followed by raises of 2½ percent and 2 percent in the second and third years.

GET said its starting pay for part-time drivers is $14.23 per hour. GET's top pay rate is $22.23 per hour.
Bakersfield Now
I know very little about the Bakersfield bus situation, but I'm going to guess that any government that lets their buses stop running for 5 weeks isn't one which is investing in the system.
Unfortunately, Modesto stopped reporting ridership in 2009, and Clovis does not report, limiting the selection of peer cities.
Remember how I mentioned that Fresno has grown, but the bus system hasn't?
Here's a map showing what the bus system looked like in 1977, when FAX underwent a redesign, and what it looks like today.
1977 is in blue, 2015 is in red. The two northernmost routes, in orange, are the only real new lines (58 and 58E), and they use a small shuttle bus and run an extremely limited schedule (and 58E).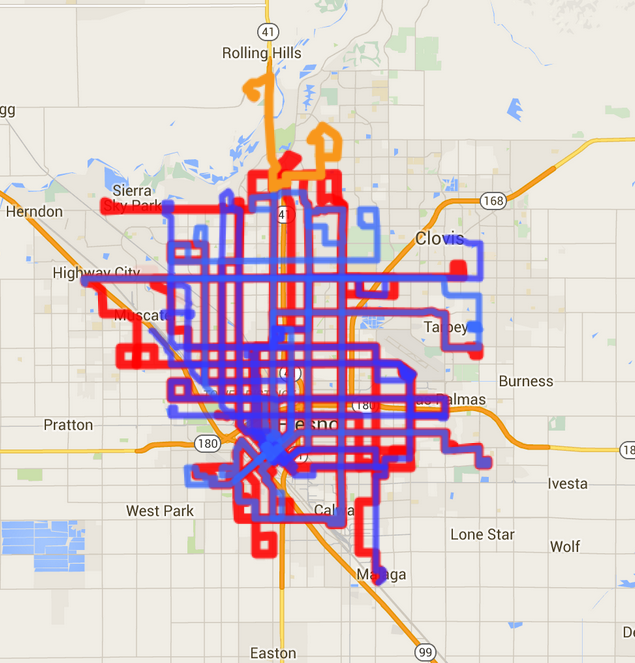 So your only real changes in almost 40 (!) years has been the extension of a few routes one mile north into River Park, a bus which runs once an hour through only a portion of Herndon, and some minor changes on the periphery. Oh, and significantly less service in Clovis.
Pay special attention to the crosstown (east-west) routes. Note how they all exist on Shields and points south, with the exception of the Shaw bus. How much business do you conduct south of Shields these days?
Fresno has changed a lot in those 40 years. Not just in population, which increased by over 135% (from 217,491 in 1980 to 515,986 today) but also in structure. The economic center shifted. The boundaries grew. The type of jobs are different, and what people eat, do and play has changed. Even the hospitals moved. In 1977, there were 5 hospitals south of shields. Now, 5 are on Herndon or points north, and only one is left at the southern end.
But not FAX. The bus system no longer links people to their destinations. That means jobs are out of reach, trips can't be taken, and economic activity cannot be generated. The ridership shows this, but unfortunately, no one at city hall is paying it any attention.