The Fresno area trail system is growing slowly, but every few months a new contract goes out to bid for a half mile or so here and another mile there.
A quick refresher on some recent construction:
Old Town Clovis Trail Gap Filled
New Clovis Trailhead
Enterprise Trail Section
Here's what has been approved this summer:
1)
Veteran's Boulevard Trail, between Hayes and Polk, approved 7/16/2015.
Here's an interesting one. Veteran's Boulevard is a long-planned 6 lane highway to cut diagonally across the west side of Fresno. It is currently scheduled to begin construction in 2020, but it looks like a small trail section, which will parallel the highway, will open sooner.
On the north end, it will terminate at Herndon and Polk. It will then follow the curving line of homes and reach Hayes, where a tiny segment has existed for at least a decade. The trail will be 12 feet wide and include lighting.
The dashed section is what will be built this fall. Solid green are existing sections.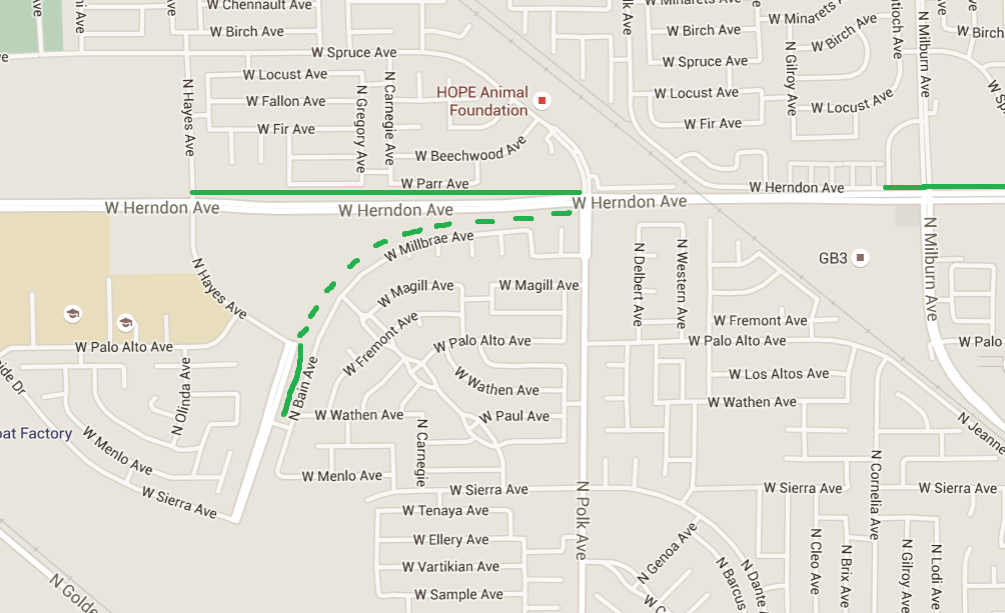 Here is the southern end, connecting to the existing road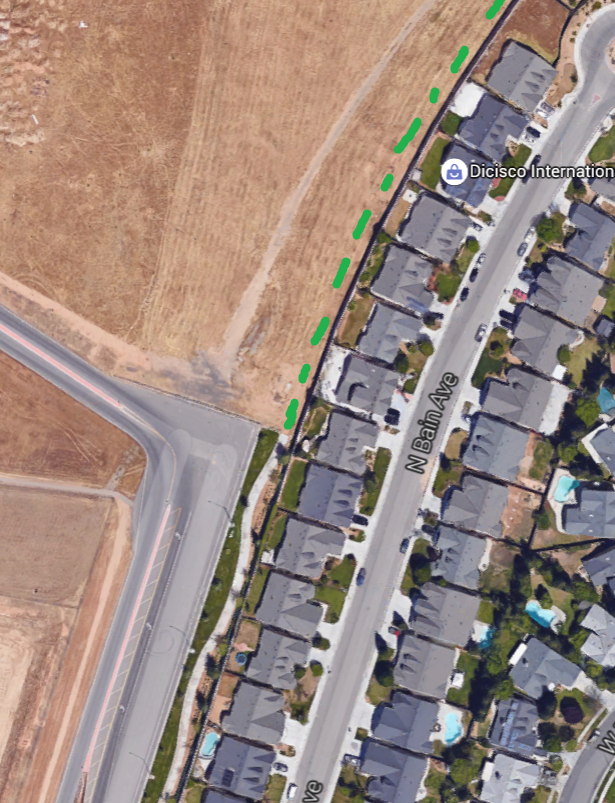 2)
Clovis has also just hired a consultant (Fehr and Peers) to develop an Active Transportation Plan to help increase walking and bicycling. The Clovis Bicycle master plan was last updated in 2011, so this would be published 5 years later. There will be two public meetings, dates to be announced. Hopefully the new plan is a bit more progressive than the last one, which as focused only on recreation. (But to be fair, many miles of it has been built).
3)
This last bit of news is from May, but I did not post about it previously.
Swearengin's 2016 budget aims to keep the momentum going. Among the budget's highlights:

Construction of more than three miles of new trails, including two grant-funded projects to build the first segment of the Bankside Trail on Shields Avenue between First and Fresno streets.
Fresno Bee
Shields has sub-standard sidewalks and inconsistent bike lanes which only exist at random intervals. The trail is proposed to run adjacent to the canal. Here the canal is dry, although it usually carries water. I am not sure on what side of the canal it will run, but I would guess closest to the road.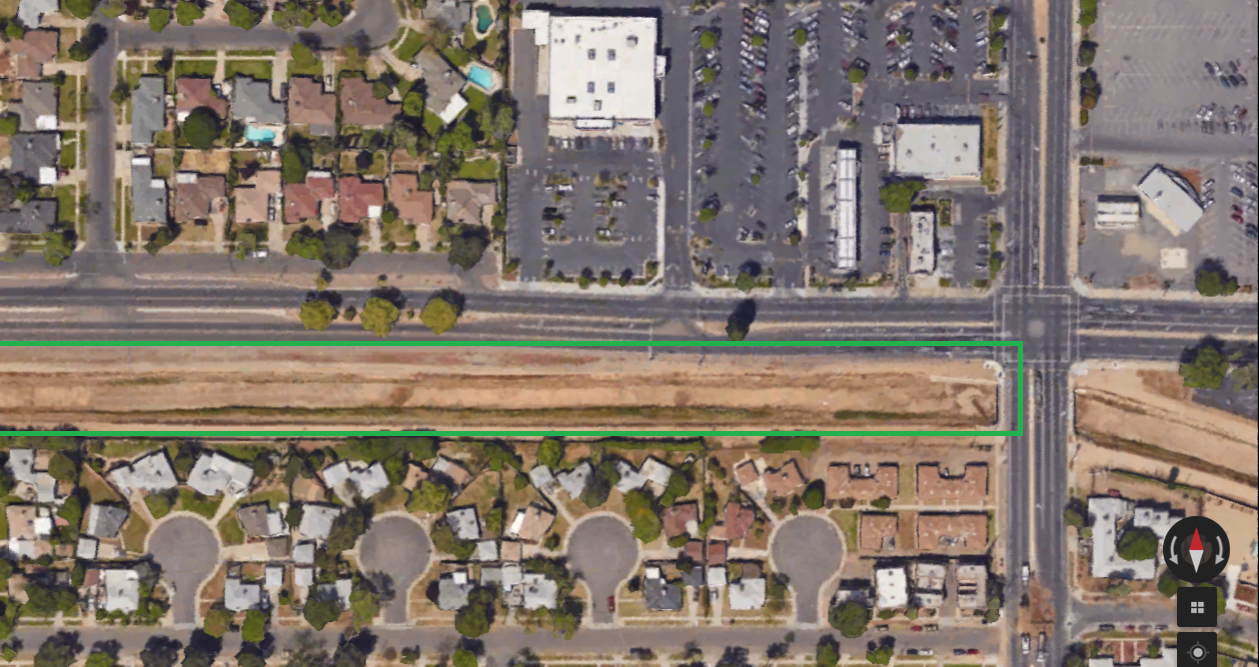 When finished in many years, it will make for a good crosstown options, and also a recreational opportunity for a section of the city with limited park space.
My big question is, do they have plans for crossing 41 and 168? It was criminal to build these highways with onramps that make walking and bicycling in the area extremely dangerous.
And on a random note, a friendly comment let me know that Caltrans has released their bicycle guide for the Central Valley.
Did you know that you can bike on I-5 over the Grapevine? I did not! In fact all of I-5 is open to bikes in the valley.
The guide is 99% about where you can and cannot bike on state highways, and you can download it here: http://www.dot.ca.gov/dist6/planning/docs/BicycleGuide.pdf