Darius Assemi is the president of Granville Homes, one of the most prolific residential developers in the Fresno area (one which oddly doesn't have a Wikipedia entry). According to his LinkedIn profile, he has been president for 6 years, and served as vice president for 25 years before that. The guy knows the Fresno market well, especially when it comes to selling single-family homes.
But how much does he know about funding our infrastructure? Let's take a look at his Fresno Bee editorial on the subject. Here are his main points:
Deteriorating roads cost Californians $44 billion a year in repairs, accidents, time and fuel
Deferred repair costs exceeding $57 billion
Caused by diminishing purchasing power of gas tax

Not tied to inflation
More fuel efficient cars mean less gas taxes

Funding solutions include:

Raising gas tax
Indexing gas tax to inflation
Increasing fees
New usage based fee

Cost solutions include:

Caltrans performance should be equal to or exceed private performance

More efficient staffing
Increased transparency

Only use gas tax for construction and maintenance of highways
CEQA exemption for roads using existing right-of-way
Design-build projects
Multi-modal future
Generally, it's a pretty standard set of recommendations. The only big controversy is the "highway only" line for funding, although it appears he's more concerned with the previous raid of the transportation fund to plug other budgets rather than eliminating all subsidies of mass transit. It is unclear if he also wants to eliminate that. As a suburban developer, I wouldn't be surprised if transit didn't even cross his mind when he penned his piece.
However it is not these points that I think are worth discussing: it is what he does NOT talk about.
This guy is a big housing developer. Isn't it rather curious that the link between highway projects and his business is not touched on?
He says we can't maintain our existing highways due to a lack of funding. Hm, maybe some of it is because we keep building new highways so developers like him can subdivide more land and sell tract homes?
Take Highway 180. In about a 20 year span, we will have spent $473,900,000 on its expansion/widening. You can see the costs on this page (scroll to the bottom for additional phases to add it all up).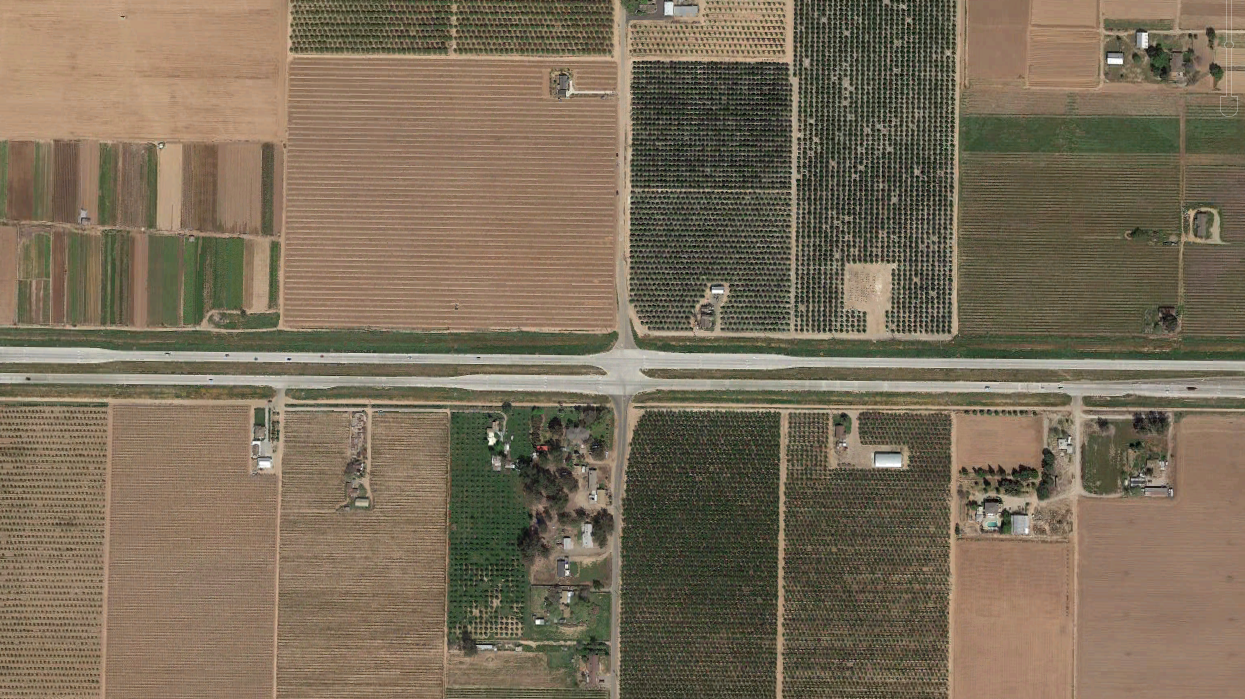 Look at the heavy traffic rolling through all the new pavement.
That's one highway, which connects farmland on one side, passes through Fresno, and then connects a whole lot of farmland on the other side. It dead-ends in a national park. That sum does not include a proposal to make it 5 lanes all the way to I-5 ($82.6 million), or the previous work done through downtown Fresno in the 90's. In all, you would probably exceed a cool billion on this highway. A highway not built to relieve congestion today, but to allow for development 20 years from now.

This aerial shows the current end of the divided highway. Work is kicking off to plow through that small town on the right, and keep the highway party rolling east.
Now the thing about farms is that they don't need a 6-lane divided highway to bring produce to market. Nor do the national parks, which are 2 lanes anyway.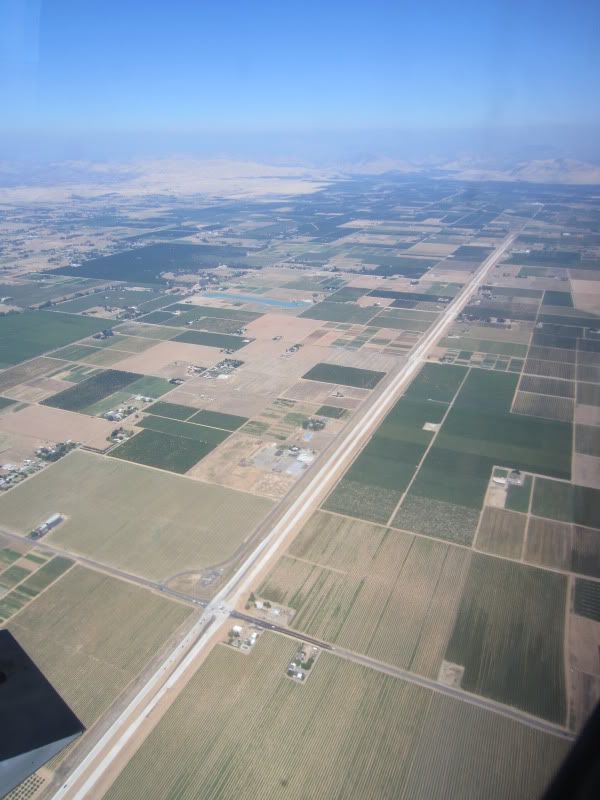 As seen from a flight I was on a few years ago
So who does?
Developers like Granville which want to sell single-family housing, and to do so by advertising "easy freeway access" and "less than 30 minutes to every shop and job!".
The relationship between freeway construction and sprawl is well understood. The effects have been seen over and over again. It's not even something brushed under the table. From when I posted on the last 180 expansion announcement:
"This will connect us all in a more meaningful way," said Henry Perea, chairman of the Fresno County Board of Supervisors and one of many speakers at a ground-breaking ceremony Friday. "When I see this freeway, I see a gateway to economic prosperity."
Since the first phase of the expressway was built, Sanger's Mayor Joshua Mitchell said that "more families bought homes in Sanger month after month than any other city in the Fresno area."
Highway = new home construction = economic prosperity. Fresno summarized.
In Clovis, here we see the brand new 168 in 2002, shortly after it was finished.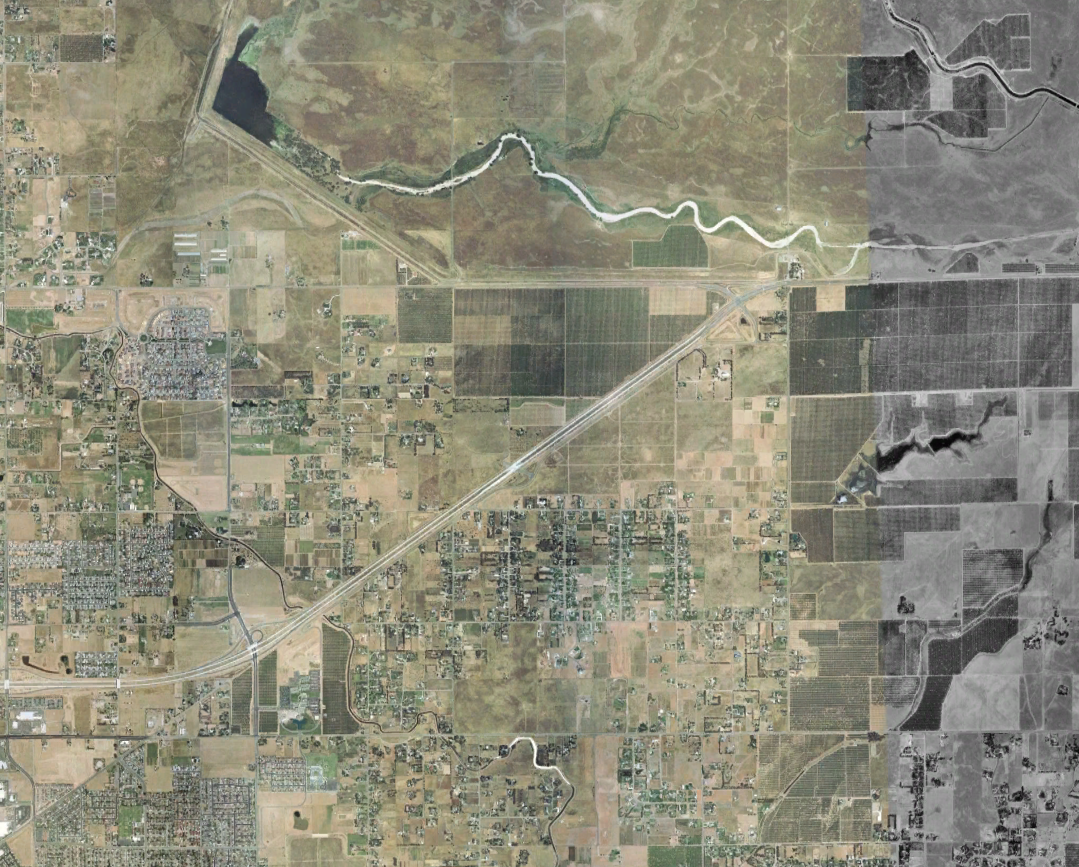 And here it is just over a decade later.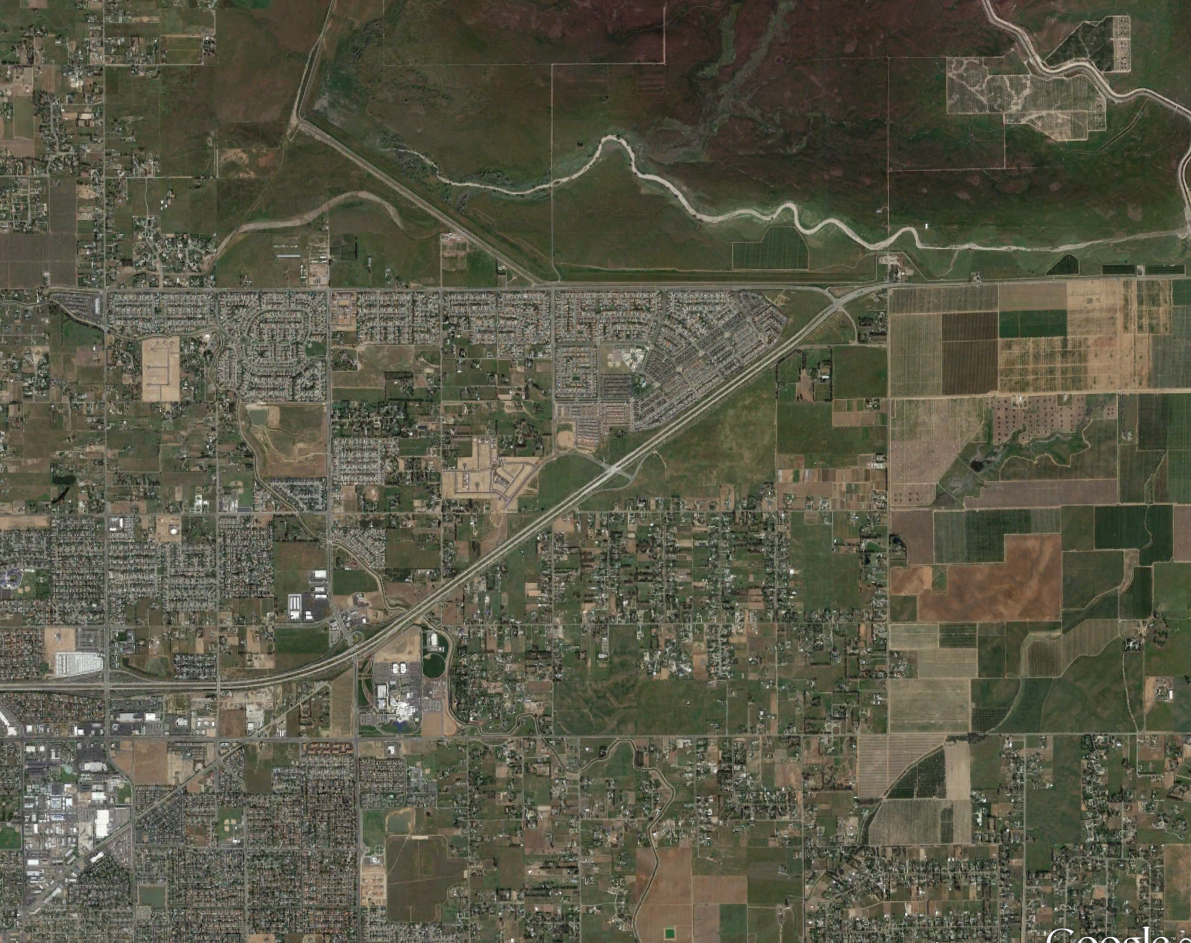 Wouldn't a more prudent path to ensure we have money available to repair highways be to stop building brand new ones as a device to subsidize wealthy developers?
Sure, developers will argue they pay fees, and some of those fees go to "improve" nearby roads, mainly by adding signals and turn lanes.
That's all well and good, but here's the thing.
Say for example you're developing these parcels here: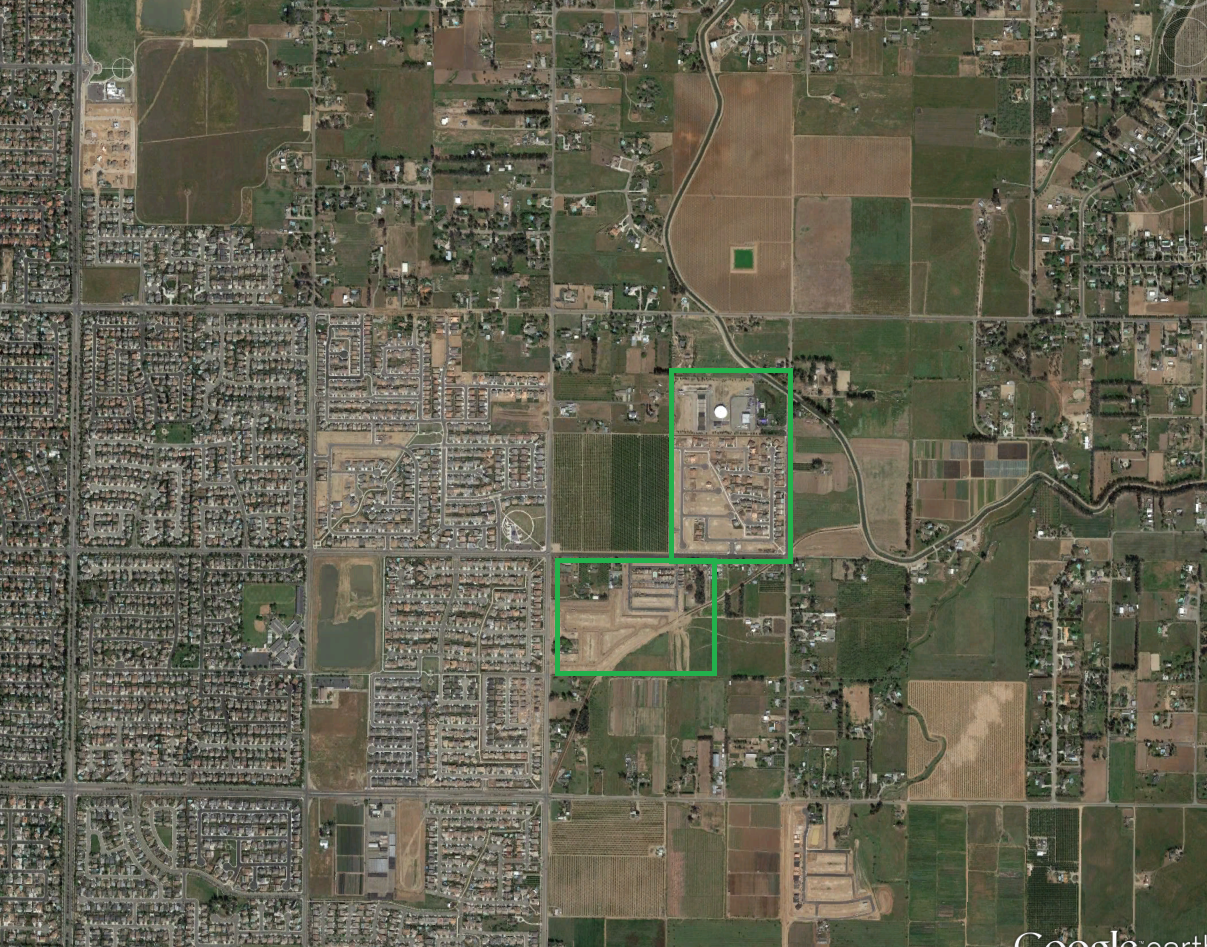 And as mitigation, you pay to widen this road here, along with the two intersections: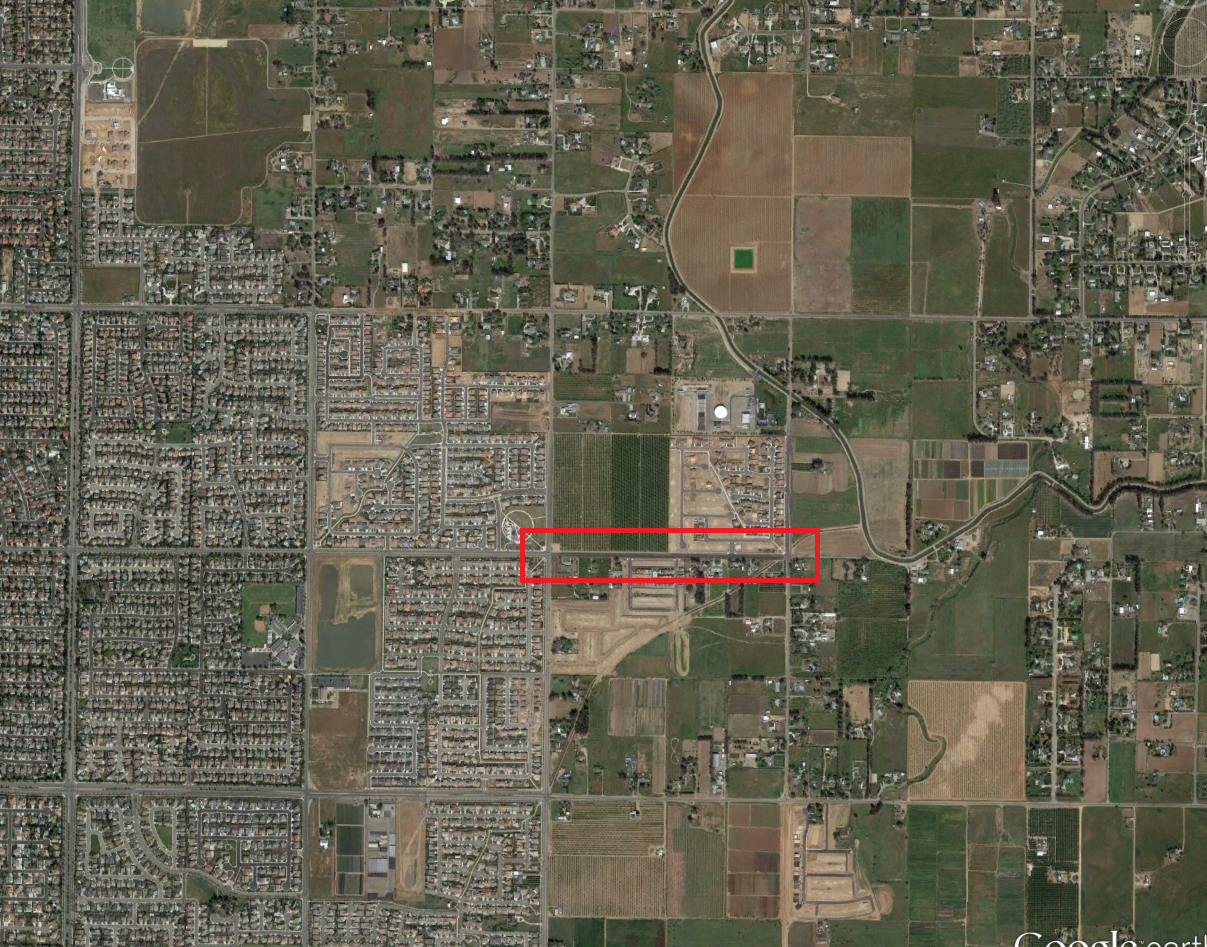 We know there are no jobs to the east. Zero. Nada. We also know the nearest bus is about 2 miles away, and unless you work at a school, the nearest job is no closer than 3.5 miles away. AKA, if you buy a house there, you're driving.
That means all of these roads and intersections, are going to get a lot more traffic – a lot more wear and tear that the developer contributes nothing to.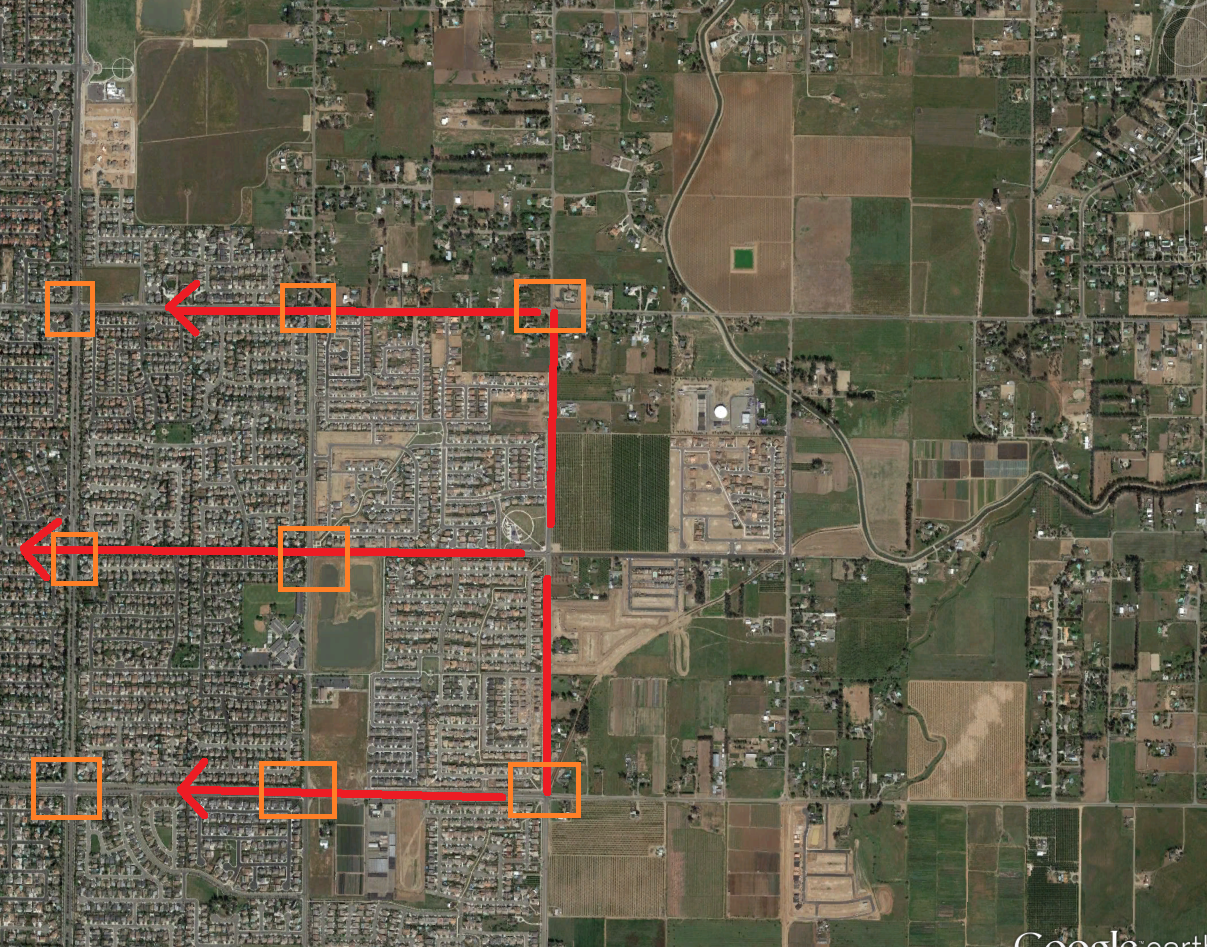 But wait, surely that new homeowners pay taxes that help support those existing streets right?
Well, no. That's why this whole editorial came about wasn't it? Because the existing tax structure cannot support maintenance of what we have, since we keep adding more and more miles.
Or try this, drive in an older part of town and compare the quality of the pavement, the sidewalks, the lighting, the landscaping. Garbage, compared to the new stuff. And in 30 years, the new stuff will look just as bad if we keep allowing developers like Granville to spread us out, and to suck up all that potential maintenance money in new construction that we can't afford.
Back in 2013, Granville announced they'd build a huge new medical college up by Millerton lake. That project has been quiet, but as soon as they start moving bulldozers around, get ready for talk on widening Friant road again. I guarantee funding for that won't come from a toll on those users or from the developer, but from the same tax base that can't support what we have to today. I wonder what Mr. Assemi will have to say about highway funding then.
Here are on-the-ground pictures of the development I highlighted near the end of the post. Not a Granville project, but no different from what they build: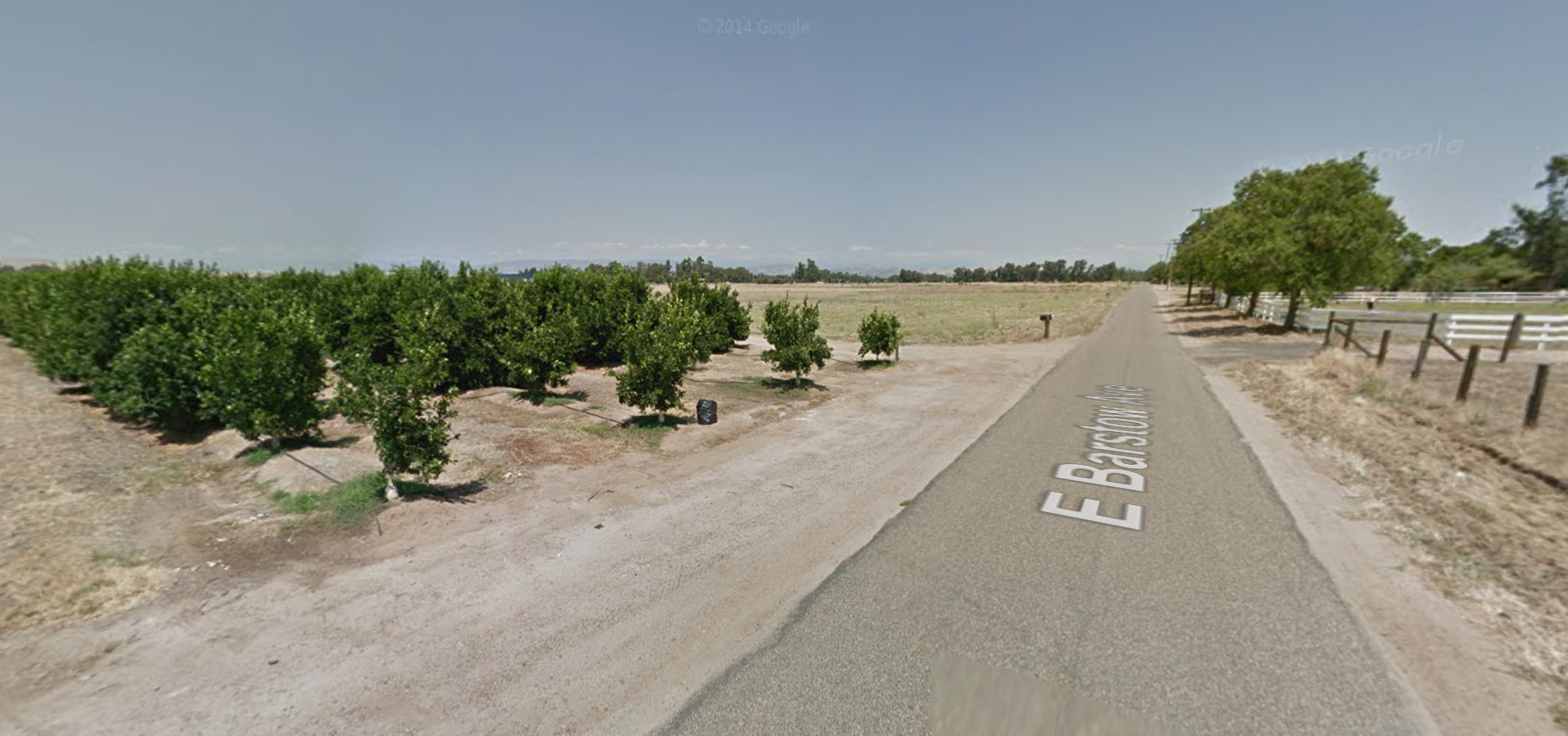 (I must have a dozen pictures of my own, taken of this road over the course of a decade…unfortunately, with over 40,000 pictures, they're sometimes hard to track down).
Developers love to name their little neighborhoods based on what they demolished.
This is looking the other way, with The Grove directly on the right. See how much wider the road got? From maybe 12 feet total to maybe 40 feet.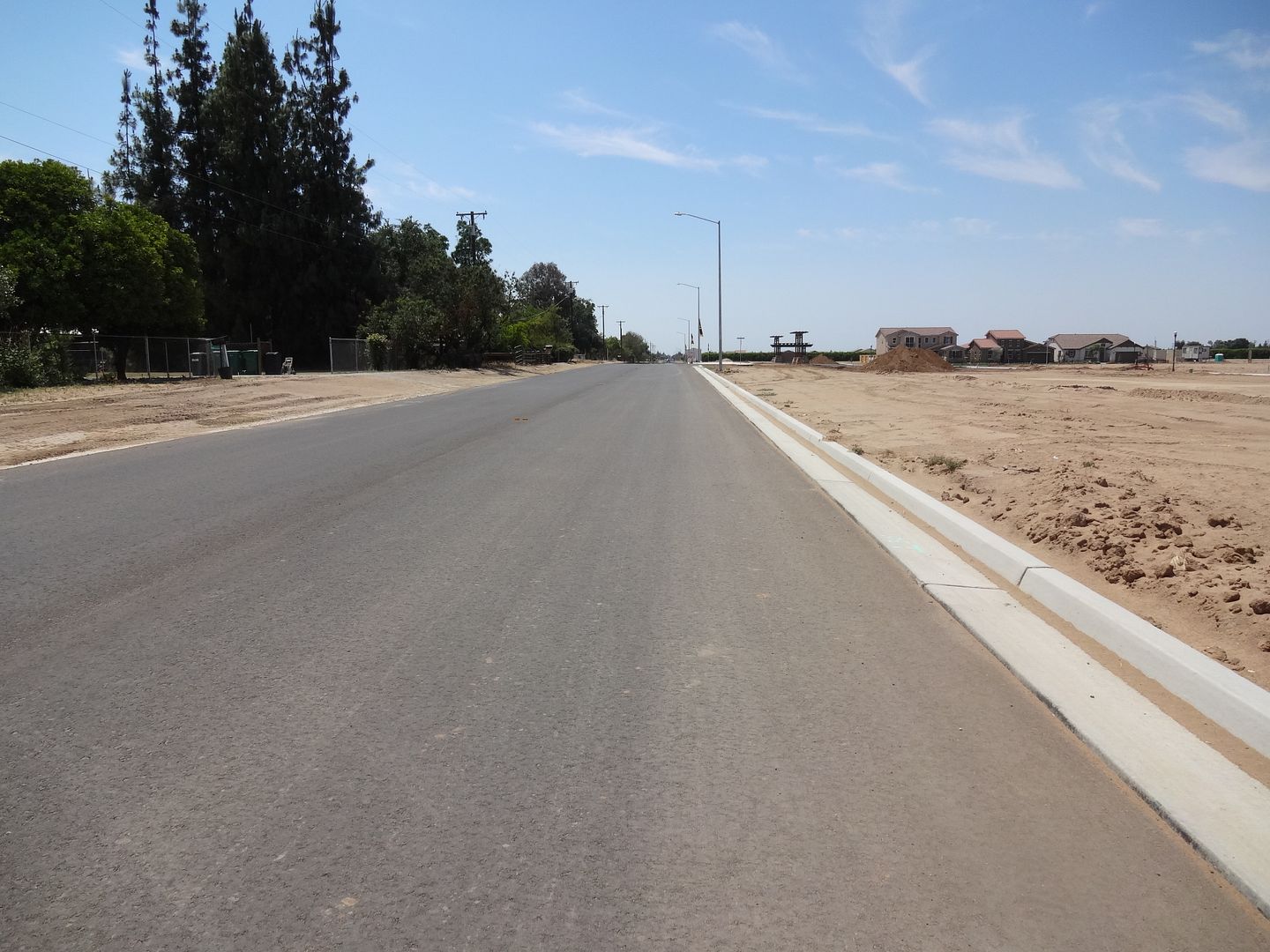 And here are some examples of other nearby road projects due to these developments