When it comes to rewards points, a new press release is a frequent traveler's worst nightmare. Enter Amtrak:
A simpler process and more flexible earning and redemption options will be hallmarks of Amtrak's completely overhauled Guest Rewards program, set to be implemented January 2016.
Travel Pulse
Translation: If you ride Amtrak California frequently, you need to use your points before a massive devaluation hits in January.
We are confident this program combines what passengers want most — the ability to grow points earnings rapidly with the freedom to use those points in the way that best fits their individual travel needs."
Actually, Amtrak, what customers want most is to transform their paid rides into free rides. The new structure is a massive downgrade to California riders. Well, it's a downgrade for everyone, but because the California routes have always offered special redemption rate, the new system is especially poor.
That is, if you ride on the Northeast Corridor, where redemption was 4,000 points, these changes are minor. And that's probably what the accountants at HQ put into their spreadsheets. Problem is, it's a nationwide program, and Amtrak doesn't operate the same nationwide. So what was a minor change for them has resulted in a HUGE downgrade for those of us on special routes.
The crimes:
100 point minimum eliminated
Bus transfers no longer provide extra points
Redemption no longer a fixed amount
Note that points 1 and 2 were never even relevant in the northeast corridor. AKA, HQ probably didn't even think about them when making these changes.
Let's compare the current and future rewards system:
NOW:
Earn
$1 spent = 2 points
100 point minimum
Spend
1,500 points for any special route coach ticket
(Special Routes include the following: Blue Water®, Wolverine®, Cascades®, Pacific Surfliner®, Capitol Corridor®, San Joaquin®, Hiawatha®, Downeaster®, The Lincoln Service®, Illini Service®, The Carl Sandburg®, Missouri River Runner, The Illinois Zephyr®, The Saluki®, The Hoosier State®, The Pere Marquette®, The Piedmont®, and The Heartland Flyer®.)
Aka: 15 train rides = 1 free ride. It was even better just a couple of years ago when you could get a free ride with just 1,000 points.
Oh, and the secret bonus: A free bus transfer meant you got another 100 points, i.e. when going to LA or San Francisco. In those cases, it took half the time to get a free ride, and the redemption was valid for both segments (although you could only book these trips over the phone).


In the above image, you can see that I earned 200 points for a trip from Fresno to LA (counted as two segments, with a transfer in Bakersfield) but it only cost 1,000 points (in 2012) to redeem the same trip on my return from LA to Fresno.
Even more important is what you're spending. Under the current system, you could travel from Fresno to Madera for $8.50 and get 100 points.
Then come Thanksgiving, you could redeem your free ride on a $80 ticket to Los Angeles. (or even a more expensive trip from Sacramento to Los Angeles).
So in that hypothetical scenario, it meant you could spend $127.50 (15 cheap rides), get a free $80 ride (67% rebate)
In my case, it meant spending $525 (8 regular rides) on trips to LA or SF and getting a free $60 ride at some point (12% rebate)
Now, this system did allow for some abuse when booking large amounts of low-fare trips and redeeming for a super-expensive sleeper trip across the country. However, very few people actually travel across the country in a bedroom, so the abuse was very limited.
The biggest crime of the new system is that it eliminates the 100 point minimum. So now those Amtrak California trips that would bring in at least 100 or 200 points (with bus transfer) now bring in only two times the dollar amount.
So that $8.50 trip? Now 17 points. A loss of 83 points from the old system.
But it gets worse.
Previously redemption was always 1500 points, regardless of distance or time (again, within California).
But now it's based on ticket cost!
So that $80 Thanksgiving ticket would cost 2,760 points!
Instead of 1 free ride every 15, it would take you 162 rides to get the same ticket as a reward.
Looking at my more "normal" scenario, where I travel between Fresno and LA on an average fare, and then use my reward ticket during a high demand time: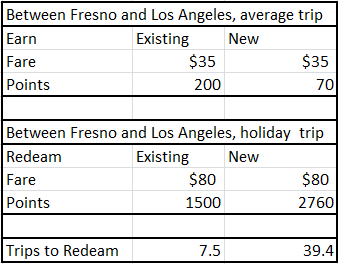 What used to be a reward ticket every 8 trips is being turned into a reward ticket every 40 trips.
That's a hell of a downgrade.
And it makes this feel like a heavy, heavy slap on the face:

Incidentally, Greyhound offers a free ticket for every 16 rides. They're about to move into the Fresno Amtrak station, and as an aside, have confirmed that buses will load from the little turnaround thing in the front. I have a feeling Amtrak is going to be bleeding some frequent riders to the Greyhound Express service.
Oh, and if you're wondering why Amtrak should even offer a rewards program, it's because they are competing with other modes (including buses), and have excess capacity. It doesn't actually cost Amtrak a cent to let you sit in a seat that would have gone empty.
You have until January 24, 2016 to earn and redeem under the current system.
You can read more about it on their website here.