It's been a long time coming, but just this week a private company finally opened a new "terminal" in the US that connects you directly into the Tijuana airport.
An innovative privately operated international port of entry connecting San Diego with Tijuana's A.L. Rodriguez International Airport launched operations on Wednesday, opening a new chapter in cross-border travel.

Years in the planning, the 9 a.m. opening of the Cross Border Xpress took place with little fanfare — just the presence of luggage-toting airline passengers who smiled broadly after taking minutes to cross from Tijuana to San Diego. They emerged from what looked like a long hallway spanning the international border, presenting documents to U.S. Customs and Border Protection inspectors, and proceeded to their destinations.
sandiegouniontribune.com
The main advantage is that if you want to go to the airport, you can skip the masses at the standard border crossing in San Ysidro. This can get very congested, resulting in some very long waits at times. Instead, you are funneled through a customs checkpoint exclusively for airport users. Of course, for people at the standard crossing, every person that opts for this bridge is one less person ahead of them in line, so everybody wins.
The Tijuana airport, the second best connected in Mexico, served nearly 4.4 million passengers last year. More than half of the users of the airport — according to one study, as many as 60 percent — cross to or from California, and CBX's owners are counting many of them using their facility. Valle hopes the new bridge will entice others to fly out of Tijuana, including non-Latinos interested in flying to different parts of Mexico.
The lack of windows is a shame, but maybe it's a feature to keep people from thinking that they're in an active warzone
The LA Times has a video in their article – they state the lack of windows is for "security."
Here is where the airport is located in relation to the border and the main border crossing (the star).
This image from April shows the construction on the US side, which is a massive parking deck, a terminal to get your boarding pass, customs, and a bridge directly into the main airport terminal.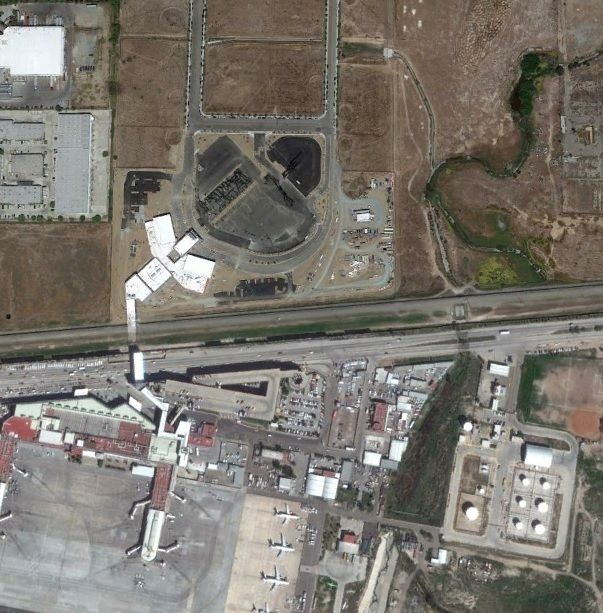 Why use the Tijuana Airport? Primarily, for flights within Mexico. You'll have access to more Mexican airlines, and thus, more competition, meaning significantly lower pricing than from San Diego, LAX or FAT.
You also get to fly Interjet. I flew them for the first time this past Thanksgiving, and it was a fantastic experience. They're a low cost carrier, but the legroom is enormous…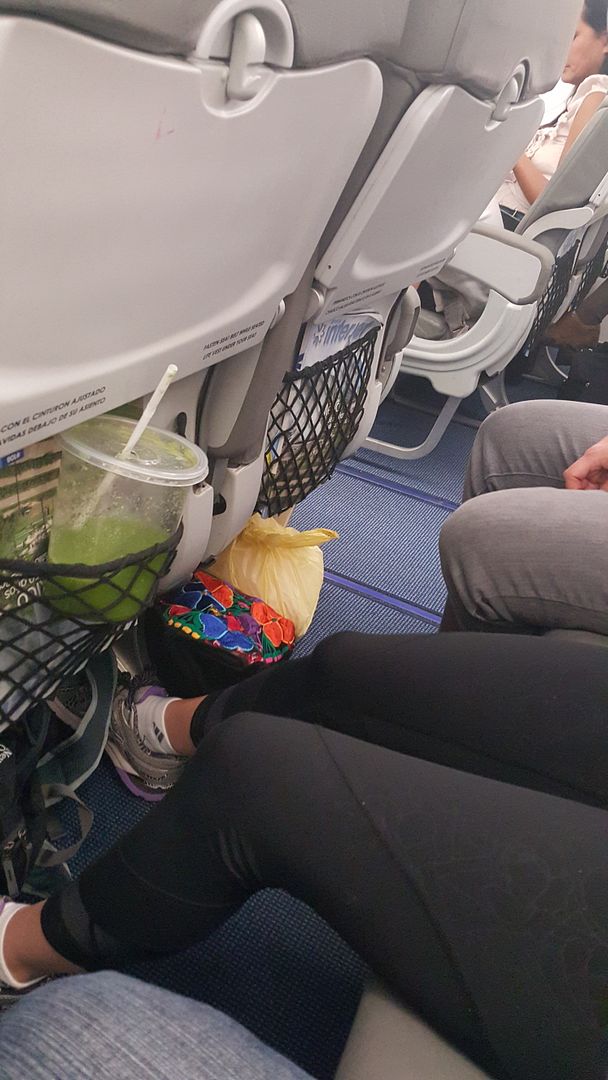 And for a 90 minute flight, you get some free goodies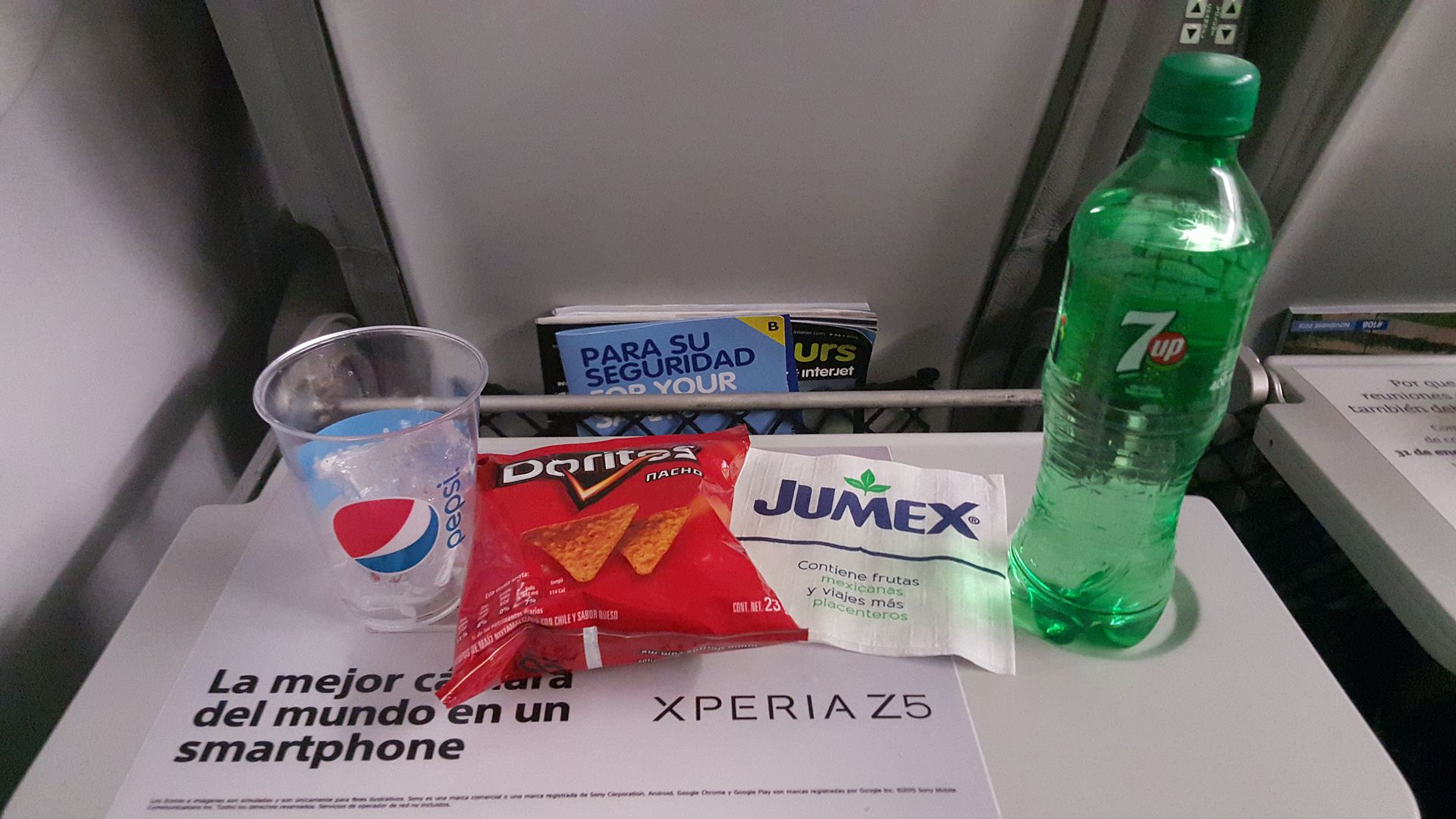 Much better than what the American companies offer you.
Another advantage is that the Tijuana Airport has no noise restrictions, unlike the San Diego one. That means it allows bigger planes. There is currently a flight to Shanghai, and it's possible more flights to Asia or Europe could exist in the future if use of the airport becomes more popular by people in the region. Also, as popularity increases, the airport could grow, something the San Diego airport cannot do, as it has no room to expand.
Because this project was financed privately (and cost $120m), to use it you're required to pay an $18 toll. That's reasonable considering the time saving and convenience, but obviously should be considered when shopping for deals.
I'm curious as to what the bus companies will do. Right now, there's an extensive network of buses that extends as far north as Washington. They serve the entire western corridor and their primary destination is mostly the Tijuana airport. Various buses stop in Fresno, and also smaller cities like Madera and Fresno.
The companies include Intercalifornias, Fronteras del Norte, and Tres Estrellas.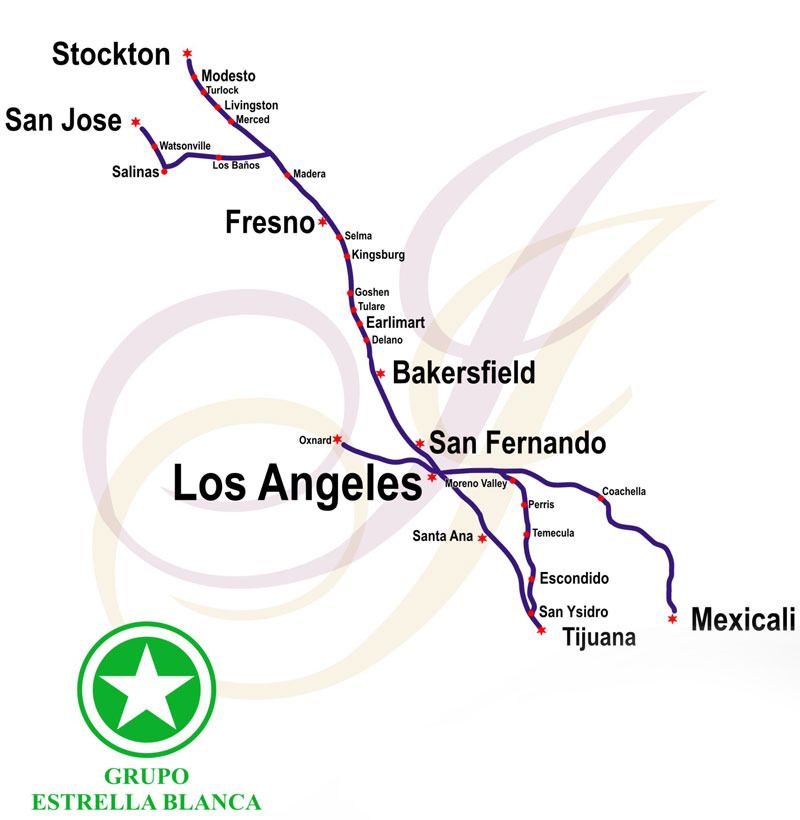 If you've never heard of them, it's because they have a limited online presence. They conduct most business the old school way – cash for paper tickets.
I wonder if they'll serve the new access point as a way to save them the headache of crossing the border.
Anyway, in the era of infrastructure projects that can't get off the ground, and hysteria about the border, it's good to see a functional, common-sense project open.