A minor item in this weeks city council meeting involved raising the speed limit of P street downtown from 25 to 30mph. While a small change, it's probably one in the wrong direction. P street is close to City Hall, the train station, and a fair amount of pedestrian-oriented businesses. Raising the speed limit might help a driver save 3 seconds, but will negatively impact the safety and comfort of the street.
The two sections being raised are on P between Divisadero and Fresno, and between Tulare and Ventura. In green is the section remaining at 25mph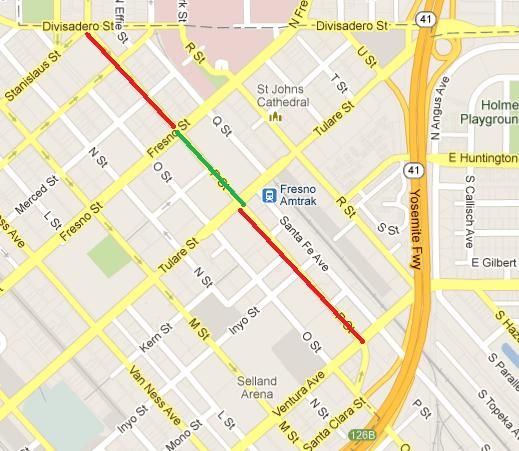 Across town, there is a change for the better – the speed limit is being lowered. The section is going from 40mph to 35mph and is on Fowler between Kings Canyon and Belmont. That just happens to be the location of the newest roundabout which I provided a photo tour of. Click to read more!